Wilderness XJ Build

01-03-2012, 10:50 AM

Wilderness XJ Build
---
This past fall I sold my TJ and bought an XJ because I needed more cargo room. I do enjoy wheeling for sport, but the main objective of this vehicle is to get me to hiking trailheads so I can photograph the backcountry as that's what I do. Therefore, I shall call this my Wilderness XJ.
Here's what ***** looked like when I brought him home:
He already had a 3" BDS lift which (after much vacillating), I decided is plenty for my needs. However, I wanted 31" tires and am a fan of the BFG KM2 so that had to happen.
It gave it a bit more of an aggressive look:
My quick and cheap "mod" of mounting my maglite:
Below is my current setup:
Suspension:
BDS 3 inch lift (full leaf packs)
265/75R16 Cooper ST-MAXX Tires
16x8x4 Black Alloy Wheels
Rough Country N2.0 Shocks
Rough Country Steering Stabilizer
Rubicon Express front lower bump stops
Drive Train:
4.0L
NP231
AX15
High Pinion Dana 30 Front Axle (open)
Chrysler 8.25 Rear Axle (open)
Advance Adapters SYE
Bank Exhaust Header
Magnaflow High Flow Catalytic Converter
703 Injectors
ZJ Tierod
Engine Fan Override
Armor:Recovery:Storage:Lighting:Communication:Interior:
How ***** currently sits: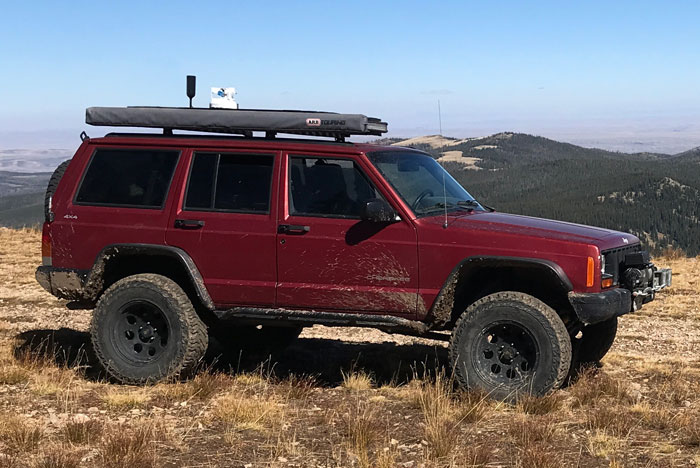 ---
Last edited by WillyXJ; 04-29-2018 at

06:41 PM

. Reason: Updated mods list

01-03-2012, 10:54 AM

---
I bought five tires rather than just four as I'm a big fan of rotating the full-size spare into the mix and not having to worry about tires being different sizes if I get a flat. But, that means the stock spare comes out of the cargo area and instead of putting a big ol' tire back there, I opted for a Surco rack and mounted my hi-lift jack, axe, and shovel as well. I need all the cargo room I can get for my gear (and sometimes others' as well).
---
Last edited by WillyXJ; 12-17-2016 at

03:38 PM

.

01-03-2012, 11:00 AM

---
One of the best mods I did on the TJ was also required on the XJ - JKS Discos. Instead of using a hammer to get the stock pressed pins out, I used my U-Joint press tool which worked really well...on the driver's side. It wouldn't fit on the passenger side because it was big enough to have the steering stabilizer get in the way. I ended up taking the stabilizer off to complete the job.
It got tested on a trail and I really like the ride of the XJ better than the TJ. It feels much more stable.
---
Last edited by WillyXJ; 03-06-2016 at

04:21 PM

.

01-03-2012, 11:04 AM

01-03-2012, 11:06 AM

---

01-03-2012, 11:23 AM

---
Before selling the TJ, I pulled my winch off it so I could use it on the XJ. Here's another time where I vacillated for awhile as I couldn't decided between a winch bumper from JCR or the backbone from Detours. After much consideration for both, I opted to go with the more budget-friendly backbone and keep the stock bumper. I actually like the stock look of the bumper and endcaps, too, so that's a win-win!
Getting the backbone installed was a breeze as the holes all lined up perfectly.
It was getting the bumper skin cut to fit where I had a bit of trouble as I don't do this sort of thing for a living. It did fit in the end after taking it off to make adjustments about 13 times. I also took the opportunity to take off the bottom plastic piece of the bumper and cut the end caps to match. Gives it a cleaner look and a better approach angle.
And now for the obligatory profile picture:
He's coming along quite nicely, I think.
---
Last edited by WillyXJ; 03-06-2016 at

04:22 PM

.

01-03-2012, 01:53 PM

---
If you look at the profile picture after I had the 31s put on, you will see that the tires (specifically rears) won't fit in the wheel well without rubbing. I encountered this quite a bit on this wheeling trip and here's a shot of the front (at one point my flare even popped off):
With more vacillating (apparently I'm quite indecisive!) between going back to smaller tires, different backspacing, or fender trimming (which I was opposed to from the beginning), I decided to get some of these to put on:
Now that I have the box, I need to get to cutting...
My other project is to tackle this unfortunate problem:
---
Last edited by WillyXJ; 03-06-2016 at

04:23 PM

.

01-03-2012, 02:57 PM
Seasoned Member
Join Date: Sep 2011
Location: Cumming/Dahlonega, Georgia
Posts: 311
Year: 2001
Model: Cherokee
Engine: 4.0L

---
Flats or Cut-Outs? Either way, I'm interested to see how they look! My XJ is sitting at about 3.5" with 31's, and I haven't seen many of us smaller build guys get Bushwackers.

01-03-2012, 03:33 PM
Seasoned Member
Join Date: Sep 2011
Location: Cumming/Dahlonega, Georgia
Posts: 311
Year: 2001
Model: Cherokee
Engine: 4.0L