98 Gunmetal Two Door

01-06-2018, 09:43 AM
Seasoned Member

98 Gunmetal Two Door
---
I have been here for awhile but havent gotten around to making a build thread. This will probably be long winded I have done alot of work since I purchased this vehicle in march 2017.
I had an old 77 Chevrolet K10 on 33s that was my snow capable vehicle for about 3 years. It was quite the rusty pile of crap but it was extremely reliable and I had alot of fun with it. It was to the point where it needed a new cab due to rust and other issues and I was tired of not having a nice 4x4 so I decided on a nice 4.0 five speed Wrangler and I was willing to pay to get exactly what I wanted. I have a few friends that have/have had wranglers and i always wanted one. Looked for a few months and just couldnt find the perfect one for me. So I started looking at XJs after talking to two other friends that both have an XJ. found alot of junkers and a few very nice overpriced ones. Found the perfect one an hour away on craigslist so and a buddy drove down to check it out on a friday night and the next morning i got a ride down to pick it up

98 4.0 5 speed. 167k, 231 case, power windows, mirrors, cruise, power locks, factory tinted glass in the back and the front windows have aftermarket tint. nice head unit with rear aux and ipod cable.
31s had hardly any miles on them still had the nips and flaps. brush guard. trailer hitch and plug. old Skyjacker shocks and a halfass 3 inch lift with 2 inch lift springs and 1 inch spacer in the front and I am guessing an added leaf and 2 inch blocks in the rear. aftermarket track bar and steering up front(didnt even know that till a buddy pointed it out)
I was actually looking for a bone stock XJ. The only thing I know i wanted for sure was a manual trans. I didnt even notice it was 2 door in the craigslist pictures. I fell in love pretty quick so I couldnt pass it up. It was actually the guy's wife's daily driver but she didnt like how she couldnt haul things in it like... all 7 of their children
He said it had just a little surface rust on the rockers which in person turned out to be a bit of a lie but it really wasnt bad compared to the rust buckets I had been seeing during my searching. I was well prepared for finding more rust than can be easily seen on the surface.
It had 4 months left on the inspection which was plenty of time to get everything fixed up that needed done
The day I brought it home
the previous owner used some kind of bedliner stuff on the bumpers and side moldings and I hated it at first but it kinda grew on me
hated the brush guard too till I took the side bars off
full size spare came with it
dirty dirty
---
Last edited by TrailerTrash; 01-06-2018 at

09:48 AM

.

01-06-2018, 09:47 AM
Seasoned Member

---
Brakes didnt feel good on the test drive or the drive home
wonder why
radiator was leaking at the bottom passenger side corner. replaced it along with the thermostat and radiator hoses. water pump looked pretty new but I will be replacing that and the fan clutch before summer
all new Ujoints in the rear driveshaft. they were pretty bad
one bump stop was missing lol replaced them before inspection
rear hatch bump stops

01-06-2018, 09:58 AM
Seasoned Member

---
There were alot of things that were simply neglected on the Jeep. No evidence of being abused or offroaded other than a tug mark on the trailer hitch loop. Made me think that they were the kind of people that don't fix anything untill it wont pass inspection then they just get what is needed fixed. Which is fine I guess i mean it was in great shape compared to others ive seen and I am not afraid to do work myself. In fact I do all my own work other than inspections and the rockers on this jeep
The exhaust was very poorly done. It had a huge Gibson muffler that high down way too far and it sounded bad
Someone put the o2 bung in the cat. then put the car on upside down... then clamped everything together.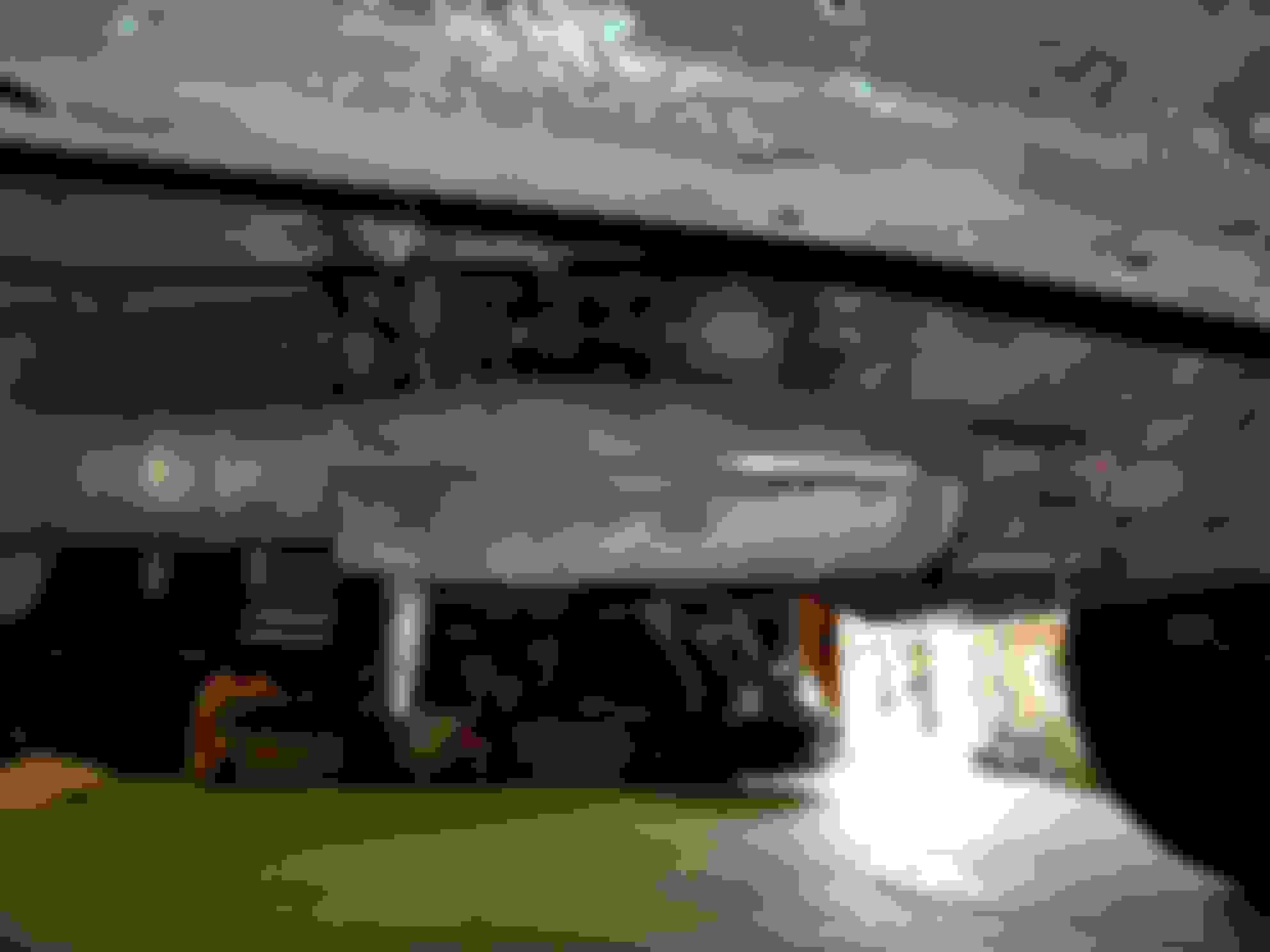 the o2 wire was doing half the job of supporting the exhaust
every clamp was leaking and loose
this was more of a hinge than a pipe junction
i didnt like the chrome tip at first but i decided to leave it on
i clocked the cat a bit so the o2 sensor cleared the underside and bought a Flowmaster to replace the 55 gallow drum of a Gibson muffler. I think the Flow is a Delta 44 I forget exaclty
I clamped the junction in front of the cat so the entire thing can be removed if need be. I also replaced all the hangers with new ones
before
and after

01-06-2018, 10:08 AM
Seasoned Member

---
The interior was very dirty. I was an auto detailer for several years and the carpet in this Jeep ranked in the top 10 of the dirtiest carpets I have ever cleaned. I forgot to get a picture of the front half of the carpet but believe me, it was disgusting. soda and coffee spills had the carpet black all across the trans tunnel under the seats and in the floor boards.
the rear had a rubber mat which I really like but it was hiding some nastiness
someone had an overhead console stuck up there at some point you can see the glue residue. after cleaning the headliner it started to fall off and sag so I plan to replace it in the spring. it is stapled up for now
the left stain looked like oil. i couldnt ID any of the others lol
grease or something. this came out well
still wet
I didn't realize that I had no before pics of the front carpet till now. But it was awful and it came out great

01-06-2018, 10:16 AM
Seasoned Member

---
Everything electrical works now other than the unlock switch on the drivers door. the lock works but not the unlock.
When I got it the interior lights didnt come on at all. There were no bulbs in them and the dome light had a switch rigged up on it that was connected to the ground
When I put bulbs in the lights, they all worked... but would not go off lol. Turned out that the driver side door jam switch was not adjusted properly and wouldnt turn everything off when the door shut. I turned it out like half a turn and it works just fine. So i replaced all the light bulbs other than the light ring around the ignition switch that had been removed. So someone took all the light bulbs out other than the main dome, rigged up a switch on that one, and took the steering column apart to remove the key light ring just to save themselves 30 seconds with an adjustable wrench adjusting the door jam switch
The heat works very very well. As does the cruise control. The AC doesnt come on I will probably check into that come spring it wasnt on the pre-winter to-do list this past year lol

01-06-2018, 10:31 AM
Seasoned Member

---
Found some floor pan rust under the carpet. and a hole in the passenger side quarter under the bumper molding. I have a half decent Lincoln 220v welder and a Hypertherm 30XP plasma. I can repair rust but it usually
doesnt look good lol
I use this stuff called Chassis Saver. Its something like POR15. clean and prep the surface then do a few coats with a brush. it can also be sprayed on. I have used it alot on different vehicles and it has held up very well for me. Plus I can go right down the road from work and buy it at NAPA
minor surface rust in the back.
This looks alot worse than it is. after going to town with the wire wheel and shop vac I stabbed it like crazy looking for rusted through spots but there were none. cleaned it up really well and coated it
cleaned every spot of rust after these pics
driver side was a different story.
It is not pretty but I am far from a professional lol
It was an odd spot for a hole. the bottom of the quarter was very nice
i decided to just coat this entire area
outside
and inside

01-06-2018, 10:43 AM
Seasoned Member

---
I shopped around down for quotes on getting the rockers replaced without paint work. Got a reasonable quote from a shop I have dealt with before and have a good rep so I made an appointment. I am all about doing my own work this was the first time I had ever had a vehicle in a shop for anything in my 11 years of owning vehicles. But I wanted this done right and I was willing to pay the money for it.
I told the body shop just put it in primer because I planned to paint it black from the side mouldings down. I had seen that on several XJs and I really liked the look how it blended the front and rear bumber side caps together if you know what I mean.
I removed the sill plates and rear fender flares to save the body guy from as much labor as I could
I had to use some easy outs on the sill plate screws

01-06-2018, 10:50 AM
Seasoned Member

---
Of course the studs snapped off. I removed them and replaced them with a combination of bolts, washers, and nuts that I found from a post by another member on here. It worked perfectly and I wish i could find the post so I could name the member and give him the credit he deserves
not surprised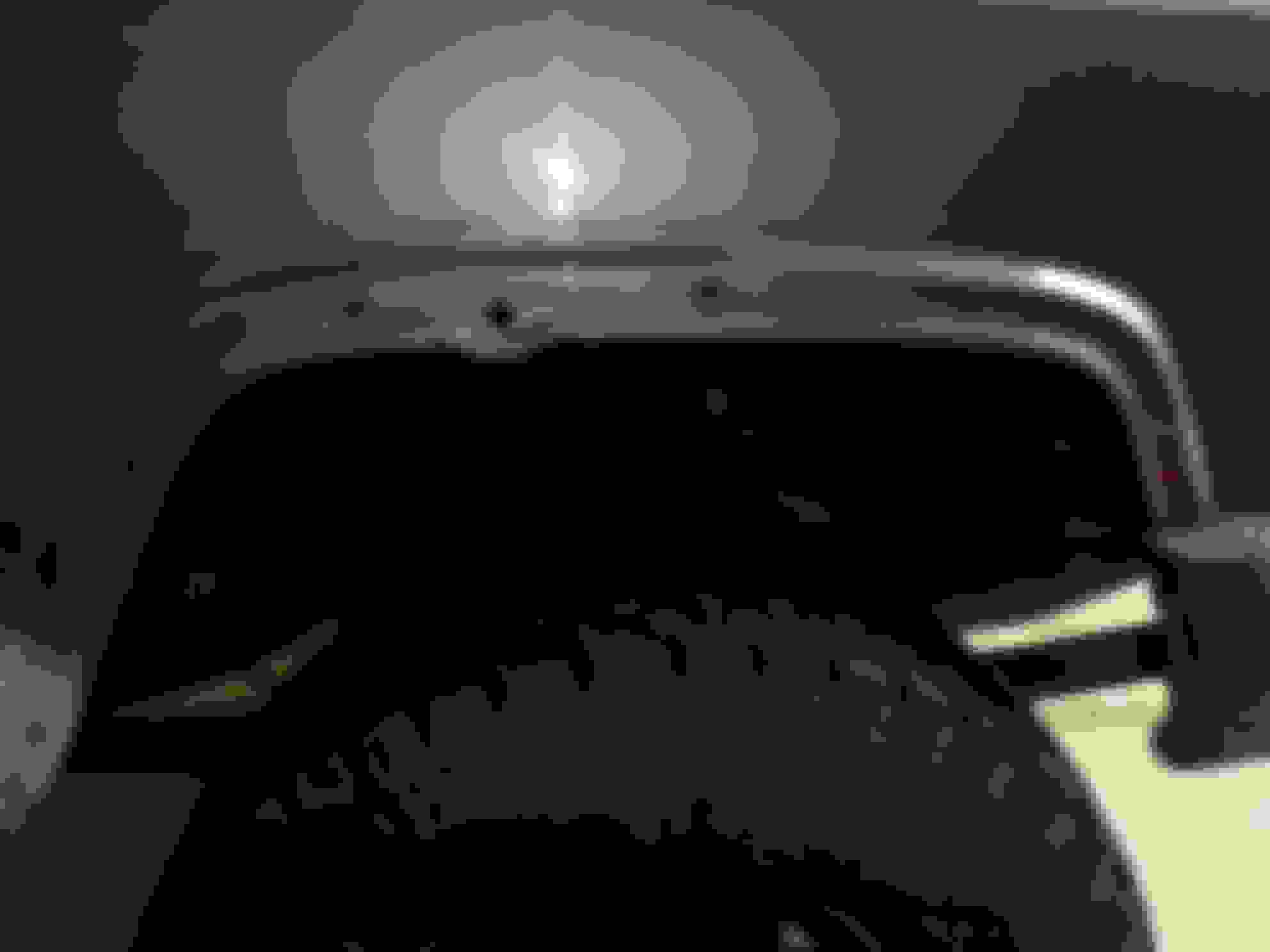 surface rust under the flares wasnt bad at all. I cleaned and coated it all with Chassis Saver
I had already coated the insides of the fenderwells at this point

01-06-2018, 11:09 AM
Seasoned Member

---
I dropped the Jeep off sunday night at the shop and they were on it first thing monday morning. I picked it up thursday afternoon. Just under $800 including the price of rockers. he had originally quoted me at $900. I was happy with the price and very happy with the work done.
I used this stuff all over the inside of both rockers. I also used chassis saver on the inside of the quarter panels in front of the rear wheels(farthest back section of the inner rockers)
After planning how to go about the black paint I decided to make that the backup plan and to attempt to color match the rockers myself. Then if it came out bad I would paint it black from the moldings down. I called up a local paint supply shop called Colours and ordered 3 spray cans of Gunmetal Pearl. It came out a bit darker that expected but I think it will fade and blend in nicely
I used a combination of plastic wrap, blankets, sheets, masking tape, newspaper, and aluminum foil
stainless screws in the sill plates

01-06-2018, 11:25 AM
Seasoned Member

---
I have a long list of repairs since march. heres some of them
-jhc7399's headlight harness
-drilled a hole in my old K10's front towhook I made so it fits the XJ
-replaced front pads and rotors and did the pad slide groove repair
-replaced the front axle seals
-front and rear diff gaskets and fluid. thats when I discovered it has 3.55s and not the 3.07s I assumed it had
-Brown Dog rubber motor mounts
-replaced the trans mount
-replaced the the four 5 1/4 speakers with 6 1/2s
-added a small Cobra CB, a PA speaker, and made my own tail light CB whip mount after seeing a buddy of mines homemade mount and before seeing them for sale on this site lol
-changed the tcase and trans fluids
-lubed door hinges, latches, hood latch, hatch latch, ect
and many many other little fixes along the way. I have driven it alot and worked about 99% of the bugs out so far to make it a reliable daily driver.
I have never owned a lifted vehicle before so untill I got it home I didnt even notice that it had a spacer/block lift on it. I plan to replace that garbage with a Zone 3 inch lift with full leaf packs. I wanted to do that before winter 2017 but between work, my other vehicles, other projects, and working the bugs out of the XJ I just didnt get to it.
So that is my main project goal for spring 2018. I have been planning, researching, and collecting all the parts I will need to go along with a decent lift kit with a SYE kit and a nice driveshaft. It has a Tcase drop right now I know that is a bandaid but it will have to do for now. I have been soaking everything with PB Blaster every few weeks for months. I drilled little holes to get the spray straw to the leaf spring bolts so hopefully that wont be a nightmare lol
I am sure it goes without saying but I love it here on this forum
---
Last edited by TrailerTrash; 01-06-2018 at

11:36 AM

.

01-06-2018, 11:32 AM
Seasoned Member

---
These pics are before the rocker repair but I havent changed anything since then other than adding the CB antenna. Other than that this is how she looks now. I added some stickers, removed the center caps, and removed the outer bars on the brush guard. After these pics I painted the wheel weights black. I don't really like the wheels so I might switch them to something different this year
---
Last edited by TrailerTrash; 01-06-2018 at

11:35 AM

.