Cyl. 1 misfire - 4.0 L

12-12-2015, 04:03 PM
Junior Member
Join Date: Dec 2015
Location: North Texas
Posts: 54
Year: 2002
Model: Grand Cherokee
Engine: 4.0 I6

Cyl. 1 misfire - 4.0 L
---
SO.... I am kind of stuck on this. I have googled the DOG out of this issue and I think I know what it is. Just thought I would ask you guys first.

One morning I start my Jeep (02 Grand Cherokee btw...) and the idle runs extremely rough. As I start driving the engine runs fine at a non-idle RPM but my check engine light flashes on and off. I get a P0301 code only so I guess it is a misfire problem on the one cylinder only?

What I have done:

Changed spark plugs, mine were extremely worn. Bought pre-gapped champions.

Visually inspected/cleaned fuel injectors. Switched injectors 1 and 2 to see if the code changes to cylinder 2. It didn't.

Visually inspected valve springs. They aren't broken but I have read they can become weak.

Now with that being said I have been mentally blocking out the inevitable. Every month or so my coolant reservoir reaches the "low" level and I have to add a little coolant. I never did find a puddle of coolant underneath indicating a leak so I have been ignorantly telling myself as long as my oil doesn't show any sign of an internal leak, I am good! However when I took my valve cover off there was a lot of moisture beneath. None of it milky or cloudy.... But enough accumulation that it ran and dripped out when I tilted it to one side.

Something I have read is there could be a slow coolant leak into the combustion chamber. I remembered that the spark plug for #1 looked like it was worn a little different than the other 5.... In the attached picture are spark plugs 1-6, respectively, and a new champion on the far right.

I'm a little sick to my stomach that I am about to have to replace a head gasket (wishful thinking that I don't have a crack somewhere). I know I can do it but I have a thorough displeasure of doing automotive work and currently lack the funds to take it to the pros. Any input is appreciated.

12-12-2015, 04:23 PM
CF Veteran
Join Date: May 2010
Location: Boston
Posts: 1,036
Year: 2000
Model: Grand Cherokee
Engine: 4.7L

---
It doesn't look like you had any really problematic plugs. Electrode wear looks pretty normal. #1 looks like it had some blow-by (judging by the wet threads, or is all that just splooge from oil spillage/leakage?) and maybe just a little evidence of oil fouling. #2 thru #4 seem to have the most deposits on them (probably running cooler than the others) but still very normal. #5 and #6 look very typical of a healthy 4.0L too. Can you swap ignition coil packs around? What about compression and leak-down checks?

12-12-2015, 05:13 PM
Junior Member
Join Date: Dec 2015
Location: North Texas
Posts: 54
Year: 2002
Model: Grand Cherokee
Engine: 4.0 I6

---
I didn't know you could move the individual packs around on the coil. I'll try that and get back with you.

I don't have the equipment on hand to do a compression or leak down test so I would have to wait until Monday to either purchase or borrow what I need. I'd really like to bust this out this weekend. Need to use it for work but am afraid to drive it too much behaving the way it does.

Also another detail I forgot to mention is after the engine gets up to temperature the problem subsides.... It stops running rough at idle and the check engine light doesn't flash on and off while driving.

12-13-2015, 12:52 AM
Junior Member
Join Date: Dec 2015
Location: North Texas
Posts: 54
Year: 2002
Model: Grand Cherokee
Engine: 4.0 I6

---
Okay! Please everyone excuse me for my ignorance.... I learn as I go.
I took the coil off. Lets say I want to hypothetically switch the contact for cylinder 1 with 2.... It seems the only thing that can be removed from the coil is the rubber boot that holds that spring in place.
Before getting wrist deep in this again I ran it for a good while to let it get up to temperature and, unlike before, the problem never went away. In fact when giving a little gas to get the engine up to 1500 rpm the CE light flashes. I overheated the other day and my entire cooling system has been replaced within the past 5 years (water pump being most recent). It is acting like air in my coolant.
On top of all this my exhaust has a little white smoke when starting after a day or so. My sense of smell is gone so I can't smell whether it smells sweet. I've been driving this for 5 years or so and things over the past week are acting exponentially worse.
If anyone has any last minute input it is very much appreciated. I am going to prepare to begin taking this thing apart tomorrow.
---
Last edited by Clayto1332; 12-13-2015 at

12:54 AM

.

12-13-2015, 07:33 AM
CF Veteran
Join Date: May 2010
Location: Boston
Posts: 1,036
Year: 2000
Model: Grand Cherokee
Engine: 4.7L

---
I apologize that my question may have mislead you into an unproductive action, although you (and I) just gained experience on the matter of swapping coil packs between cylinders.

Before going further, please note that if you're new to all this then remember the advice - Opinions and Questions should be verified somehow before you take action.

It appears that the answer to my question is NO. I hope nothing broke in the process.

From your description of the cooling system and events, if it were mine then I would feel compelled to get the compression and leak-down checks before going too far in. You don't want this to become a crap-shoot.

12-13-2015, 10:57 AM
CF Veteran
Join Date: Nov 2010
Location: Manlius, east of Syracuse, NY
Posts: 11,288
Year: 2000
Model: Grand Cherokee (WJ)
Engine: 4.0L

---
Welcome to CF!
Okay, let's tackle the ignition first. It looks like your valve cover was leaking or someone spilled oil on the outside of the cover that got to the spark plug boots judging from the oil and dirt on #1 and #6. I also noticed they are NGK plugs which is fine. Some people like them better than Champions. You should replace all 6 boots to start with.
rockauto.com
has a set of Denso boots for $12.00. I used them on my 2000 4.0. I'd replace all 6 plugs, but I shouldn't have to say that. The contact springs seem to be fine.
Next is the water inside the valve cover. If it's clear, it's just condensation from not running it long enough to evaporate the moisture that is sucked in when you shut it off and let it cool. Short trip can cause this and it's not unusual. What's worrying is when it's coolant colored. To get rid of accumulated moisture it is best to run it for over an hour at highway speed once in a while. This also removes built up carbon deposits on the valves and pistons.
I was chasing a slow loss of coolant myself and finally found it. The water pump has a small chamber underneath the shaft seal that holds a small amount of leakage and allows it to evaporate. When the leakage gets bad enough, it drips on the pulley and gets thrown off on start-up. I noticed this when we started the engine on the lift to bleed the brakes and the coolant flew off the pulley and ran down the engine to the floor, then stopped leaking. I panicked and replaced the water pump. That's when I read about the "weep chamber". I was loosing about 2 quarts every 750 miles at that point.
I DID however have to replace my cylinder head later on because it had the infamous 0331 head that cracks between #3 and #4 cylinders. Luckily mine only cracked into an intake port which created lots of steam out of the tailpipe and loss of a quart of coolant per day. The 0331 head came on the 99-01 4.0s but was replaced for 02 with a better head. I bought a "Clearwater" cylinder head from Odessa, $455 complete with valves and shipping BOTH ways (core return) and had it in 3 days. Installation cost me $700. It weighs 8 lbs more than the stock head!
There is a test that can show you if the head gasket is leaking or not. It involves a clear cylinder with liquid in it that fits on the radiator filler cap. If the liquid turns color with the engine running, it shows exhaust gasses in the cooling system.
But I'd start by replacing the plugs and boots and see if that cures your miss.

12-13-2015, 11:24 AM
Junior Member
Join Date: Dec 2015
Location: North Texas
Posts: 54
Year: 2002
Model: Grand Cherokee
Engine: 4.0 I6

---
Thank you for your replies guys. I put new plugs in first. I think they were champions but I might be mistaken.
Anyway I just knew something was seriously wrong and getting worse....
I took my valve cover off again. A week ago when I did it was absolutely covered in dirt and grime as if someone poured engine oil over the top of it. Me being OCD cleaned it with degreaser, then again with dish soap and finished it off in my shower. The thing was clean enough to eat out of. Now look...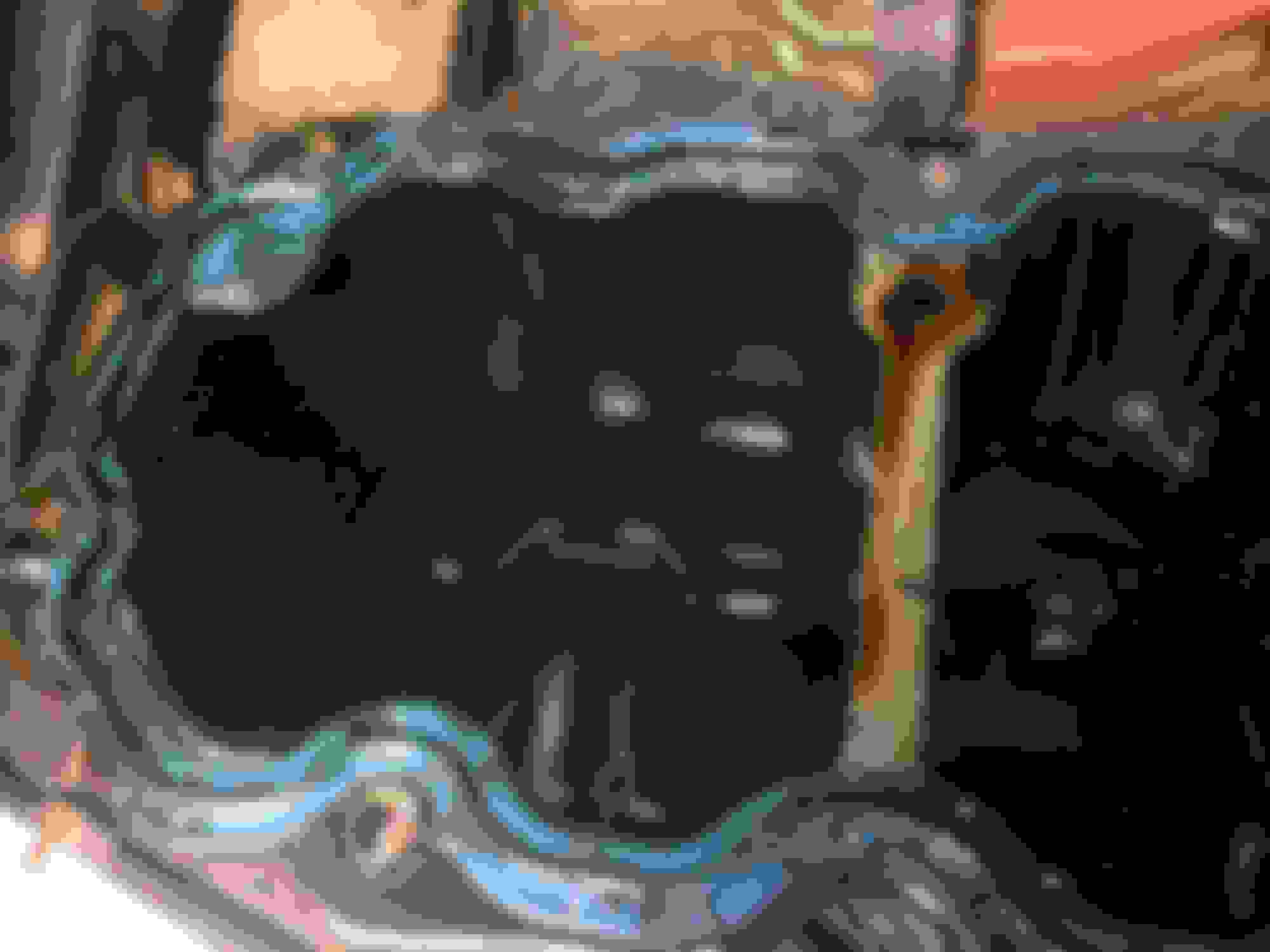 The first image is from the cylinder 1 side of the valve cover. There wasn't anything like this a week ago.... And since then it has only ran a total of maybe 60 minutes? I'm no mechanic but I can almost certainly say I have a head gasket problem. Going to remove head today. I'll report back in with my findings.

12-13-2015, 11:54 AM
CF Veteran
Join Date: Nov 2010
Location: Manlius, east of Syracuse, NY
Posts: 11,288
Year: 2000
Model: Grand Cherokee (WJ)
Engine: 4.0L

---
No head gasket problem. A cracked head, maybe. You are probably running HOAT coolant, right? Not the green stuff? One end has sludge in it and the other is clean. If you had a head gasket leak, the coolant would be in the oil and throughout the entire engine, not just in one end of the valve cover.

For future reference, kerosene and a scrub brush, followed by a garden hose blast works great for cleaning anything engine related. Then set it in the sun to dry. Just towel dry cylinder bores and bearing surfaces first. Compressed air works also.

12-13-2015, 05:00 PM
Junior Member
Join Date: Aug 2014
Location: Washington state
Posts: 37
Year: 2004
Model: Grand Cherokee
Engine: 4.0

---
have you tried spraying carb cleaner around the manifold to check for vacuum leaks? what are your fuel trims at idle versus cruising? I recently bought a Bluetooth adapter and Torque app that turns my phone into a scanner. I have been using it too much. this app and observing my fuel trims helped me diagnose some rather large vacuum leaks. you can also test the coil with a multimeter, you should get about 15,000 ohms across secondary coils 1 and 6, 2 and 5, and 3 and 4. then the primaries will be like 0.9 ohms between the ground plug and the other three

12-13-2015, 09:36 PM
Junior Member
Join Date: Dec 2015
Location: North Texas
Posts: 54
Year: 2002
Model: Grand Cherokee
Engine: 4.0 I6

---
Okay! Lots going on here. I'll try and remember everything.


I had a hell of a time today removing that cylinder head. After I finally got everything undone from the engine there was a couple things I noticed when removing the head bolts. Everything on the left side was chipper. On the right however the bolt on the front driver side corner of the head was the hardest to remove. Once I took it out it had a grayish-black residue in some of the threads. I'm terrified that the bolt was seized up and screwed up the threads on the block...


The next consecutive 3 bolts (2, 3 and 4 out of 7 on the driver's side) were difficult to break loose but once removed I noticed a lot of rust on the threads. This means that water was leaking in some way to the bolts right?


Looking at the block itself, I really think the water was leaking into cylinder 6 which means that the cylinder 1 misfire was another issue. Really cylinders 1-4 looked the best.

The head gasket got mangled as I was trying to remove this thing. I left the intake and exhaust manifolds on when I took it out and I didn't want to call anyone to help me so it is hard to say what part of the gasket had damage already. The one tear in it happened while I was scraping it off the block and there wasn't any obvious blowout. It really seems like coolant was running between the gasket and the block on the cylinder 6 end of the engine.


I cleaned up the head right around cylinder 5 and 6 and I don't see any cracks. I just gently cleaned and then sanded off with fine grit sandpaper. I'm sure there is a better way to look but I can't find anything. There is a machine shop in town that I am going to take the head to so he can check and see if it needs to be resurfaced. He knows what he is looking at also and would be able to find cracks and things like that.


On the head side of the gasket the only thing I saw that could be a problem was between 3 and 4. It looked as if there was no longer a seal and all the black soot from combustion accumulated between the two chambers.


As I was taking everything apart there was a bunch of issues with electrical connectors and vacuum lines. Whatever sensor is on the backside of the throttle body broke completely... And almost every vacuum line that goes from the intake manifold literally crumpled in my hands as I was trying to take them off. Also the locking connectors on the fuel injectors did the same thing. The hours and hours of travel in the Texas heat must have taken a toll on all of this. I understand the vacuum lines and sensors are specialty parts that I either have to, or need to get from the dealership.


I think I want to do as much as I can while I have this thing apart. I don't always have time to spend chasing around a bunch of BS on my work vehicle. Aside from the obvious things, what else should I just go ahead and replace? I have read about weak valve springs and sticky valves. Should I just go ahead and replace all of this? I guess I would just have to buy a spring tool which is okay. I have also read things about the ignition coil that state ohm tests are not always accurate under the engine's load and that when spark plugs get wore out like mine were it is common for coils to need to be replaced. Should I go ahead and just change it out?


I'm attaching some pictures. You folks that know what you are looking at any info or feedback is appreciated.


Edit: Uggg... This website is not so good about handling picture uploads. Give me a little time and I will put them somewhere and embed them into the message.
---
Last edited by Clayto1332; 12-13-2015 at

09:45 PM

.

12-17-2015, 12:37 AM
Junior Member
Join Date: Dec 2015
Location: North Texas
Posts: 54
Year: 2002
Model: Grand Cherokee
Engine: 4.0 I6

---
Sorry for just now getting back. Since I had taken everything apart I had a machinist take a look at my head and it is warped. Here is a pic of some of the bolt threads on the cylinder head that had rust from coolant leakage.
Here is a picture of the back two cylinders where it was apparent coolant was leaking into the 6th cylinder.
Picture of both gaskets. Not a lot of help since the head gasket stuck while removing everything and got all bent and damaged.
And a poorly-lit picture of all 6 cylinders after removing the head and gasket.
I have cleaned up the head with hot water and detergent repeatedly.... Dried it, and cleaned most of the crevices with wire brush bits. I don't see any cracks but I have zero experience. I am taking the cylinder head to a machine shop tomorrow where they will give it an acid bath, clean the rest of the deposits and professionally check for cracks... Then resurface. I have a 0331 cast "TUPY" head and it doesn't appear that I have the common 3-4 cylinder crack.
I have the reassembly party this weekend. Nothing conclusive in causing the cylinder 1 misfire so I suspect the problem to recur unless a replacement vacuum line fixes it. Almost every one I had to remove crumpled so I am replacing all directly connected to air intake and manifold.
Good news is the engine oil just started looking bad after having all these problems so HOPEFULLY the coolant didn't have enough time and exposure to ruin any bearings and anything else.

12-17-2015, 05:50 AM
CF Veteran
Join Date: Nov 2010
Location: Manlius, east of Syracuse, NY
Posts: 11,288
Year: 2000
Model: Grand Cherokee (WJ)
Engine: 4.0L

---
The "TUPY" head is a recast of the original 0331 head using a different casting alloy and was supposed to cure the cracking. It looks like it still warps after an overheat, though. If you have to replace the head, I'd recommend buying the "Clearwater" head from Odessa Cylinder Heads in Clearwater, FL. It's $455 complete with valves and springs, ready to bolt on, with paid shipping both ways. (core return) It's a heavy duty casting that weighs 7 lbs more than the original head. It's designed to replace both the 0630 and 0331 heads.

While you have it apart, I'd replace the lifters as well. I used Sealed Power lifters from rockauto and when the engine is cold, they make the famous "Four-oh Rattle", but after warming up, they are quiet. They are $4.78 each at rockauto.

12-19-2015, 02:12 PM
Junior Member
Join Date: Dec 2015
Location: North Texas
Posts: 54
Year: 2002
Model: Grand Cherokee
Engine: 4.0 I6

---
Got the cylinder head back from the machine shop. No cracks thank you baby jesus! They did a hell of a job resurfacing and cleaning up. Paid 150 cash for the whole thing (he said a resurface only would be 75).
I wanted to at least get the engine started last night since the local parts store closes on 12 noon Saturday but it didn't happen. This damn exhaust system..... It is slightly different than previous models and has two pieces, feeds into two exhaust pipes (2002-2004 is like this I believe). Haynes manual makes no mention of it. Anyway it was my biggest hang up taking everything apart due to awkward angles and lack of clearance for a rachet from above and below. Both pieces swivel together and are really heavy... If you look closely you can see where I zip tied it to the transmission lines.
This is how far I got when my wife told be to call it a night. I got to where I was cursing loudly and throwing things. It was 1:30 AM....
Also note that I plan on putting a manifold gasket on it. In the picture I loosely bolted that on there to try and help hold the two pipes still. I plan on firing her up this evening so I'll post results.

12-19-2015, 07:53 PM
CF Veteran
Join Date: Nov 2010
Location: Manlius, east of Syracuse, NY
Posts: 11,288
Year: 2000
Model: Grand Cherokee (WJ)
Engine: 4.0L

---
The double pipe and cat setup is for the CA emissions. It seems all vehicles delivered to NY have CA emissions since 2000. IDK about other states. You can thank the EPA for that!

Don't tighten those flanges until the manifolds are mounted. The 4.0 manifold bolts have always been a PITA to torque and the cast manifolds and larger intake make it worst!

Just as a point, did you check the block deck for flatness? I had a Chevy 350 that kept blowing head gaskets around cylinder #8. I found a dip in the block deck near the extreme corner. I just used a thick gasket and sold the truck. It was an 83 2wd beat to **** anyhow.