My First Jeep

08-05-2011, 11:36 PM
Newbie
Join Date: Mar 2011
Posts: 20
Likes: 0
Received 0 Likes on 0 Posts
Model: Cherokee

My First Jeep
---
I bought my first jeep in march of this year. It was a bone stock 92 cherokee laredo with running boards(shutter). First thing i did was get some steel wheels and 31x10.5x15 bfg at and pull off those god awful running boards. Then picked up a 3.5" RE super flex kit and put that in. Bought a roof basket and then after driving it for a couple months made a stainless TC drop and put that in this week. Also have a 8k winch waiting for the nates bumper to arrive and bought some dana 44 axles today. Future mods planned are get the rear dana 44 in and possibly the front, a couple more inches of lift, 33's and most likely front and rear lockers as well as some sliders and skids.
here are a couple crappy cell phone pics
stock with the 31's
a little test flex after the lift was installed
TC drop
how she currently sits

08-13-2011, 09:32 PM
Senior Member
Join Date: Sep 2010
Location: Llewellyn, PA
Posts: 905
Likes: 0
Received 0 Likes on 0 Posts
Year: 1998
Model: Cherokee
Engine: 4.0L I6

08-13-2011, 10:18 PM
Newbie
Join Date: Mar 2011
Posts: 20
Likes: 0
Received 0 Likes on 0 Posts
Model: Cherokee

09-26-2011, 11:43 AM
Newbie
Join Date: Mar 2011
Posts: 20
Likes: 0
Received 0 Likes on 0 Posts
Model: Cherokee

---
copied from another forum so don't mind the dates in my post.
Haven't got too much done lately. Fixed an overheating problem and installed a new rad, thermostat and a couple hoses. installed a 1000cfm electric fan to aid in cooling when not moving too much. Did get the winch installed and it works great.
Ordered some parts and am awaiting a few more before the install of them all. Waiting on RE adjustable upper and lower control arms(should be here on tuesday). Have RC control arm drop brackets and shackle relocation brackets sitting here waiting on the arms. Also have all new extended stainless lines to go in when i boost it another 1.5"-2". Picked up a parts xj for some goodies
ford 8.8 with 4.10's and a lsd.
and rebuilt this yesterday to go with the RE sye.
work was done
out with the old
new going in
new shiny bits waiting to see some use
Both axles are in. Sye is installed. Shackle relocation brackets are in and jeep is holding it's own weight again. Just need to bleed the brakes, hook up e-brake cables, disable abs light, sort out sway bar and links, and modify the hitch to work with the relocation brackets. Then to get an alignment and I should be good to go. Will try and get pics tomorrow. Sitting a fair bit higher now too.
well measured it today and it's about 7" of lift. a bit more than i wanted. i was hoping for around 5.5". the shackle relocation brackets were touted to give 1.5" of lift but they give at least 3". look how much lower the shackle mounts now. oh well might have to step up to 35's now :
. just gotta get the e-brakes hooked up and some new shocks and should be ready to roll. will try and get better pics in the light tomorrow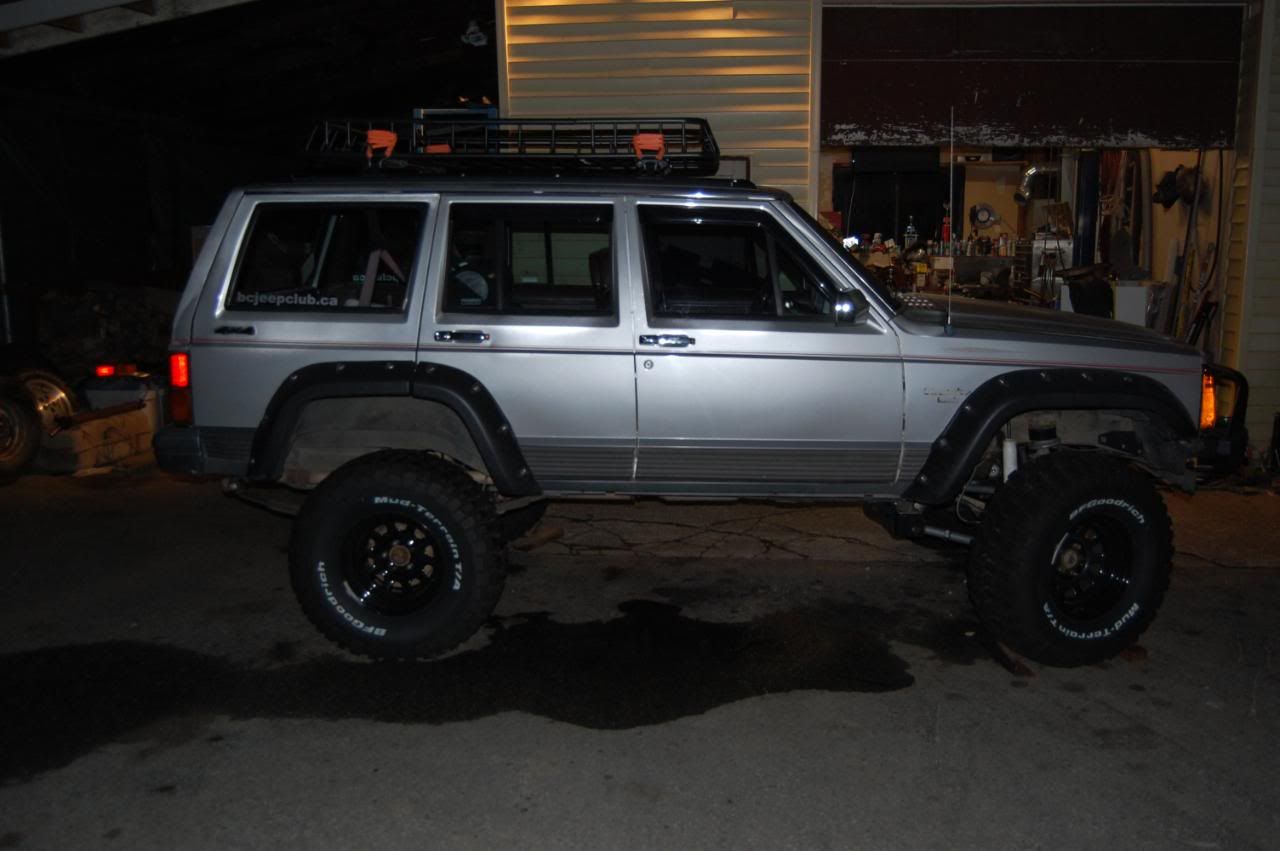 Thread
Thread Starter
Forum
Replies
Last Post
Currently Active Users Viewing This Thread: 1
(0 members and 1 guests)