'95 Country

06-26-2011, 08:37 PM
Junior Member
Join Date: Jun 2011
Posts: 32
Model: Cherokee

'95 Country
---
So I sold my truck and started my search for me a jeep. Have owned cj5's and 7's in the past but never a cherokee. I looked at them until my eyes bled. Some were beat to
[email protected]
, some absolutely falling apart. After looking at around a dozen I found a one owner 95 country. A hour of driving to see it paid off. Leather interior, power seats, ac, power windows ,locks and mirrors....and they all work. Interior is primp minis the drivers seat bottom being torn.
Since I picked it up I replaced the valve cover gasket, and the heater control valve. Did a general tune up. Tinted the windows( stripping the old tint off was big fun! ), and just picked up a roof basket for it.
Anyway, it will be an ongoing project but here it is so far.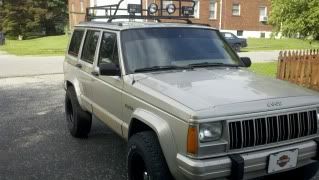 06-28-2011, 05:57 PM
Junior Member
Join Date: Jun 2011
Posts: 32
Model: Cherokee

---
Today I got the throttle body cleaned, whoooo boy was it nasty. Cleaned the air filter box and hose as well. Changed out the ccv valves...know how the came out? Yup, in pieces. So got those replaced. Blew out the a/c condensed. A/c does seem colder now. Cleaned on the engine bay some more. More to come....