88 limited project full widths

02-08-2013, 08:55 PM

88 limited project full widths
---
figured I would finally start a build thread for the ol jeep i bought it about two years ago from a guy that didnt really no what it was I knew it had some good parts on it but kinda put together wrong.
how it looked day i got it home.
guy says it has a 4.5in lift tooks a tad higher i thought but being my first xj thought well maybe. found out nope 7.5in lift on short arms
does have drop brackets and ended having a locker in the front which he did not tell me anyway. fast forward to last summer threw some 33in thornbirds on her and had alot of fun.
fast forward to today im so tired of fixing the dana 30 its time to upgrade
I have done alot of research and finally picked a path i want to go so i got the ball rolling 2 weeks ago.

02-08-2013, 09:05 PM

---
picked up this gem 78 ford f250 with a hp44 and d60. front axle just got brand new spindles calipers rotors upper and lower ball joints and new u joints rear got brand new brakes as well. picked up the whole truck for 300 bucks with a blown engine stripped what i wanted and a few other things to sell and its gone to the crusher they paid me 230 for the hulk so i did good.
so i got a bunch of parts on the way.
front axle
538 gears
spartian locker
rear
538 gears and wil be welded
also orderd my 7/8s steering kit from ruff stuff along with all my heims needed for some homebrew long arms and track bar. and some xj frame stiffners o and a tnt truss for the 44.
also found a deal on craigslist tuesday for some 38/12.50 swamper tsl's on wheels wanted 900 got them for 600 about 75% tread
sorry about so much reading in the first post but project starts now!
---
Last edited by Nathan9Mile; 02-08-2013 at

09:17 PM

.

02-09-2013, 11:32 AM

---
O i no its going to be a big build but not my first of this caliber. First real wheeling rig though so ill be open to ideas and all about learning. Cleaning the shop today so i can get started on disassembly and prep work
---
Last edited by Nathan9Mile; 02-09-2013 at

11:35 AM

.

02-16-2013, 11:54 PM

---
figured I would finally get this thing in the shop today got a bit done
this thing is such a pos lol bastard back is junk
blew the u bolts and got the ol turdy 30 out and in the scrap pile
who ever had this thing before was in a accedent the trailer hitch was welded on and rear frame rails are majorly damaged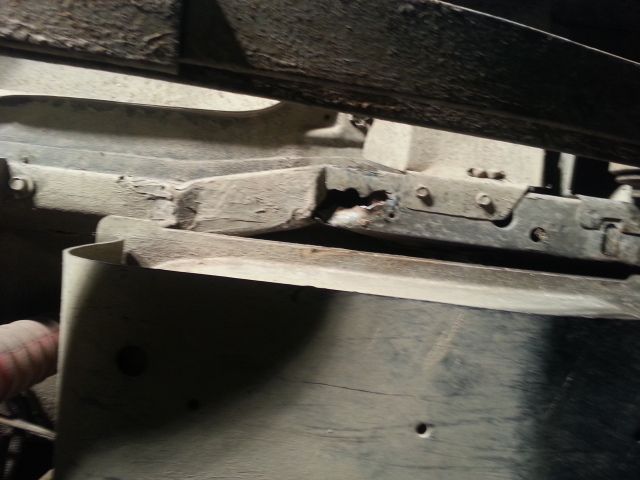 got a few tricks up my sleeve involving cutting and some 3x3 square stock
also got the hp44 up on stands and ready for some cleaning got my tnt truss and ruffstuff frame stiffners in so its time to get cleaning.

02-18-2013, 09:09 PM

---
thanks man hope it turns out how i have it planned in my head lol.
need to upload some more pics but sunday got the front diff out along with spring shocks ect. went ahead and cut the stock lower control arms off and ground down so no going back now lol. also got all the stock ford brackets cut off the 44 have to grind them down now.
this week/weekend plans are
get ruffstuff frame stiffners in
get my tnt truss welded on
also need to start cutting out the rear floor and frame rails and start mocking up new rails using 3x3 square stock slid into the old frame in front of the front leaf spring perch. and tied into the frame stiffners so thats going to need some work and im going to be ditching the stock style leafs in favor of some chevy 63in springs so ill be moving the d60 back a ways lol.

02-19-2013, 10:04 PM
Seasoned Member
Join Date: Apr 2010
Location: Baltimore, Md
Posts: 407
Year: 1996
Model: Cherokee
Engine: I6

---

02-19-2013, 11:09 PM

---
Only reason im thinking of raising the floor and keeping the stock tank is because of cargo room if i raise it i loose some but still can use the new floor where as with a cell im loosing most the room. And i wont get rid of the rear seat i want to keep it a 4 seater. But i am keeping the idea open. I am cutting the rear floor out regardless since im building new frame rails. And my friend that is helping me has a press brake. Options options lol

02-20-2013, 11:52 AM
Seasoned Member
Join Date: Apr 2010
Location: Baltimore, Md
Posts: 407
Year: 1996
Model: Cherokee
Engine: I6

---
Ha new frame rails will be a fun project. Just for reference this is how mine was.
The back seat was still functional and the cell could have been mounted closer to the side but I left that gap for the new fenders. However the cell works better when it sits parallel to the bumper which would be a a greater loss of space.

02-20-2013, 12:03 PM

---
Thanks for the picture man gives me a few ideas! The rails won't be to hard just time only replacing them from the front leaf spring hanger back. My factory ones are gone lol so bent and cracked. Also the new frame rails and 2x6 rockers will be plumbed to be used as my oba tanks

02-27-2013, 10:42 AM

---
Figured i should update this now that im starting to get some stuff done with alot of help from my friend.
Here is the mark to show how much of the casting you have to remove yo install the tnt truss
You have to remove 2 3/8s

02-27-2013, 10:50 AM

---
Also if u remember i showed pics of the damaged rear frame rails we started on that project too. Pulled back the carpet and found more junk lol
This is a picture where the previous owner had cut a hole to access the hitch Bolt im guessing
So we took care of those problems lol
Also went ahead and cut the frame rails out.
new frame rails are going to be built out of 3x3 3/16s material slip into the front frame rails and tied into the ruff stuff frame stiffeners. then going to build the new spring perches for the chevy 63in springs i picked up.