'87 restoration

03-03-2017, 07:42 PM
Member
Join Date: Mar 2015
Location: SE MA
Posts: 138
Year: 1987
Model: Cherokee
Engine: 4.0L

'87 restoration
---
Some of you, probably only a few, know me through the years on and off this forum; mostly through NAXJA. I mostly post trying to help others with their Renix-controlled engines since I've had mine for so long, and have a really good understanding of it. I decided to share my Cherokee story, and what I've done with it. I'll post pictures as I can, and I have a few recent ones floating out there in recent posts.
I purchased it in 1994 from the original owner in Sacramento, CA. As you can see in my signature, it's an AMC 1987 Cherokee, and the first year the 4.0L was ever sold. Most of the parts have been replaced, either due to preventative maintenance, or necessity. While traveling the 48 states as part of my occupation, eventually it came with me permanently to New England by 2000. I drove it daily until about 2005, and then on occasion until about five years ago. Since then, it sat, and for the last few years it has remained unregistered. It currently has about 255,000 miles on it. In my youth, I wanted to build a Jeep, but didn't have the money. Later in life, you have the money, but your interests change. This has seen some trails and a lot of miles. As I've aged, now it's time to make it capable, reliable, but still have some bit of originality to it without overdoing it. So, no— no Dana 60s.
Mechanically, it is sound. I had the engine replaced about 50,000 ago due to a knock, with a Mopar remanufactured long block, and most of the hard parts were, or already had been, replaced with various lifetime units through the national chain parts stores. While we were at it, we replaced the exhaust manifold with a Borla header, which they still made for 87s then. It had never failed an emissions test until the last year testing was required here in Massachusetts. So, I waited a year until it was then exempt. The Jeep's weakest link, the Peugeot 5-speed, has been rebuilt twice, and the transfer case rebuilt once since it was already sitting on the floor. Back in 2000, I found a Dana 44 in a '88 Cherokee, so I swapped my 35 out, and replaced the parking brake cables to match. At the time, I had a 3-inch lift, so replacing the rear driveshaft didn't come into play. Shortly before taking it off the road, I had a local shop re-gear the axles to 4.88, and install a front locker. Yes, shortly before that I increased the lift, and the tires inflated to TSL narrow 34s. This is why I took it off the road- no one would pass it with the lift and tires. Around the same time, we replaced the front bearing hubs, front U-joints, and other maintenance/upgrades.
Now, for the bad part. The body is in rough shape. AMC used fairly good paint, but due to our harsh weather, there are rusted areas— some just surface, and some rusted through parts. The worst is the driver's-side frame rail of the unibody. The fuel pump started failing, and then the fuel tank rusted and leaked. Add to that, the rear brake line rusted and burst in the most awkward place, behind the engine, low on the firewall. The driver's-side wing window rotted out and wouldn't close, the lift gate wouldn't open, and the hood cable broke while it was latched closed. So, I put it on Craigslist. I got a few kids responding, but no one wanted to come take a look at it to give me a best offer. I probably would have taken $1000 for it.
So, about 5 months ago, I decided to restore it, and give it a new shot at life. Brakes and rear lines replaced, master cylinder and booster upgraded, and the fuel pump replaced with a new tank. I got the hood opened, and replaced the cable to open it, and got the lift gate open to repair the latch, and replaced the broken handle and lift supports. I found one of the rear springs broken at the eye, so I called Rubicon Express who warranted their spring— new leaf springs in the rear (not so much lift this time). I stripped the carpet out, patched the holes in the cargo area, sealed where necessary with body joint sealer, primed and painted with an oil-based paint. The rear undercarriage is now wire brushed and sealed with oil-based paint, including the fuel tank skid pan, axle, brake lines, and whatever else I could get smeared. The wheels are 17" Mopar steel rims off of a Charger, covered with LT235/80R17E rubber from Treadwright. The jounce is now controlled by Bilstein. I upgraded the old steering to Crown Automotive's beefier version of the Grand Cherokee's tire rod and ends.
There wasn't much to do mechanically. However, I chose to replace the EV1 injectors with EV6 injectors, and have sent the throttle body out to be bored to 60mm. That should help take advantage of the Renix-era Mopar Performance ECU I acquired a few years ago, and the K&N filter I have. I replaced the entire exhaust that wasn't Borla's stainless steel parts with new 2.5-inch pipe and an unusually large muffler, including all new hangers.
So, now it's on to the floor pans, and the driver's-side frame rail. I just picked up a new mid-section of the frame rail, which was really difficult to find. Once the interior metal is done, it will be time for new carpet from ACC with mass backing, and additional 8-pound dense padding. I haven't decided on whether to have the original seats reupholstered, or purchase Carbeau's Sport seats and mounting adapter. When the interior is finished, I'll move on to the exterior in hopes of getting it ready for a professional paint job, right down to the original cream color and gold pinstripes.
Comments, opinions and hind-sight experience is welcomed.

03-04-2017, 05:46 PM
Senior Member
Join Date: Nov 2008
Location: Herndon, VA
Posts: 980
Year: 1996
Model: Cherokee
Engine: 4.0

---
Nice job so far, and I'm looking forward to pics. As XJs get harder to find (and they most certainly will) it will be nice to have some low owner mostly stock examples to look at. I plan on keeping my 20 year one owner (I am the second) mostly the same.

03-04-2017, 07:44 PM
Member
Join Date: Mar 2015
Location: SE MA
Posts: 138
Year: 1987
Model: Cherokee
Engine: 4.0L

---
Cut out the rotted mid-raid on the driver's side, and got the new one in. Still a little patching to do rear-ward in the rail where I've had to cut into the rail to get to the captive nut on the inside for the front spring eye and where rust did some for me, but the worst part is ready for the floor and seat bolts once that's done. Time to order floor pans.
---
Last edited by ajpulley; 03-04-2017 at

07:50 PM

.

03-10-2017, 07:04 PM

---
Nice! I'm doing something similar with '87 Wagoneer. Love the old gal. I'm keeping the upgrades to a minimum. I've got a 2'' lift and have recently acquired a set of turbine wheel s and a really nice set of the OEM five star wheels - trying to decent which ones to put on. Right now I have some aftermarket steel wheels w/31's...but when these wear down I'm going back to stock wheels with 30's.
Very jealous of your OEM performance computer; would love to find one of those. I've got a '90 ECM in mine with an '88 Transmission Control Unit (highly suggest you find one of those from '88-90, better shift points).
Btw, I had some new rubber runners custom made for the frame rails on the roof. Let me know if you want some. I sell them on eBay for $50/shipped, but I'll sell any CherokeeForum members some for $30/shipped!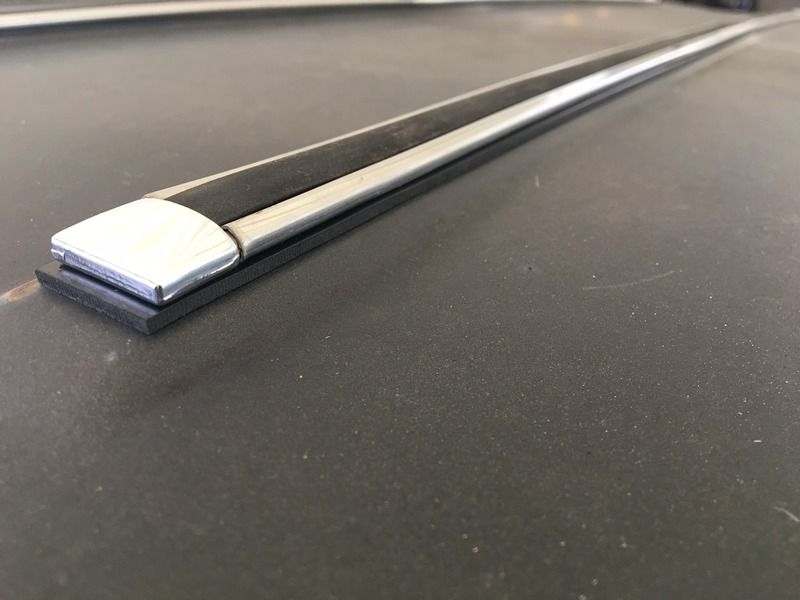 Will be following your build!
PS, here's my gal!
As she sits:
When I got her. I know it looks ok, but it's really very poor shape. But I do like the OEM wheels better, so they are going back on:

04-11-2017, 07:48 PM
Member
Join Date: Mar 2015
Location: SE MA
Posts: 138
Year: 1987
Model: Cherokee
Engine: 4.0L

---
Originally Posted by
MayerMR

Very jealous of your OEM performance computer; would love to find one of those.

Btw, I had some new rubber runners custom made for the frame rails on the roof. Let me know if you want some. I sell them on eBay for $50/shipped, but I'll sell any CherokeeForum members some for $30/shipped!



In fact, I would be interested!
It took me a few years to find the Mopar Performance ECU. I had it shipped from Australia.
---
Last edited by ajpulley; 04-11-2017 at

07:52 PM

.

04-11-2017, 08:01 PM
Junior Member
Join Date: Aug 2012
Location: SW Ohio
Posts: 88
Year: 1988
Model: Cherokee
Engine: 4.0

---
I''m excited for this build thread. I love these old renix Jeeps for some reason and have an 88 and an 89 . I'm pulling the ba 10/5 now to swap for an aw. I just can't justify rebuilding it.
---
Last edited by tonytwotimes; 04-11-2017 at

08:05 PM

.

04-11-2017, 08:13 PM
Member
Join Date: Mar 2015
Location: SE MA
Posts: 138
Year: 1987
Model: Cherokee
Engine: 4.0L

---
Took a break from the unibody, but the floor pans are here, and I have some sheet metal to bend on the brake to finish patching the rail.
In the meantime, I updated the cooling system... new water pump, thermostat, belt, fan shroud, all the heater hoses and the radiator hoses, new cap for the overflow bottle, idler pulley and bearing, and a new radiator. The radiator is much different from my old 3-row, metal tank unit. The new one has one row, but very wide and aluminum, and the tanks are now plastic. I'm still waiting for a new heater valve to replace mine that broke.
Pictures were taken in the garage in the evening.
While I was at it, I replaced the alternator and amended my electrical system. As many of you have experienced, the early Cherokees have voltage drop throughout the system. Mine had all the fusible links connected to the starter relay's post as the vehicle's distribution point. On top of that, the alternator-to-distribution wire is rather small when running extra circuits. So, I deleted it, and replaced it with 6AWG cable to the battery, then to the starter relay. I moved the vehicle's circuits to the battery, and put my circuits on the starter post. My circuits are for the headlights, utility lights, HVAC blower when on high, and electric cooling fan. I also took advantage of the CS-130 alternator's sense circuit. By replacing AMC's harness connector which is two wire only, or (L) and (I), I added (S) to detect voltage drop on the ignition circuit at the fuse panel under the dashboard.
---
Last edited by ajpulley; 04-11-2017 at

08:28 PM

.

04-11-2017, 08:24 PM
Member
Join Date: Mar 2015
Location: SE MA
Posts: 138
Year: 1987
Model: Cherokee
Engine: 4.0L

---
While I was replacing some of the parts of the cooling system, I'm also restoring the air conditioning. So, blower motor and a new blower wheel were installed, along with all new a/c components, including a parallel-flow condenser, dryer/receiver and a compressor. I haven't replaced the expansion valve because I haven't yet flushed the existing evaporator. I decided not to install add-on retrofit fittings to convert to R-134a, but rather ordered new valves with the proper ports as part of the valve body. The original valves with the R-12 ports were in rough shape, and while I liked the front/back seating feature, it wasn't necessary.
This picture shows the new High side valve body and the original Low side body for comparison. Don't forget to make sure everything has new O-rings.

04-11-2017, 08:35 PM
Member
Join Date: Mar 2015
Location: SE MA
Posts: 138
Year: 1987
Model: Cherokee
Engine: 4.0L

---

12-10-2017, 04:13 PM
Member
Join Date: Mar 2015
Location: SE MA
Posts: 138
Year: 1987
Model: Cherokee
Engine: 4.0L

---
Still picking away as time permits. I've replaced most of the floor, but still have the front passenger's side to finish. The driver's side is done, other than some seam sealing left to do when I finish the passenger's side. Then, the whole floor will get one more coat of paint. Oh, and the driver's side seat bolts have to be re-installed.
The replacement frame rail for the uni-body turned out well. I have some spots in the rear rail that I have to patch, and some welds underneath, but its solid again now. I did a lot of spot welds along each side of the top of the rail where the floor meets it. The inside is fully welded, and most of the outside. I have some to do on the inboard side, but have to move the brake and fuel lines out temporarily. The last step, or course, is priming and/or rust converting, then painting.
I contacted Mark at Detours Hardware, and now I have a solid winch mount while keeping the original look. That is, when I bolt the bumper skin back on. On 1987s, there is no factory holes for right-hand-drive export models, so I had to drill two of the mounting holes myself. He supplied all the bolts that were needed; I reused the power steering box bolts. And, you re-use the bumper brackets. If you want the bracket for an extra set of lights, be sure to ask him as its extra.
I routed the cables as neatly as I could, zip tied, and ran the battery cables through the bottom of the grill.
While I was at the battery, I decided to replace the 2-inch 5/16 stainless bolt on the positive side to a 2-½" length, and separate the positive cable into three groups. I shortened the negative cable for the winch, but the wrong size lug arrived. So, hopefully I'll see the 4AWG lugs in the mail shortly. As an electrical contractor, I decided a wrap of red tape over the heat shrink on the positive cables was good enough for me rather than buying red heat shrink. By the way, those of you with early models, a group 34 size batter will fit- its what the later models already have, and has higher cranking amps.
I moved the fusible links from the starter relay, to the positive terminal. It just got too busy.
I also decided to rewire the headlights and fog lights. Years ago, I just used relays, crimp lugs and tape, which worked for a very long time. But, its time to neaten things up. So, I'm going to try a fuse/relay compartment where the fuses and relays for the headlights, driving lights and fog lights will stay neat, dry and out of the way. The driving lights will come on with the highs automatically, and the fogs operate with a factory switch with the lows or not at all. I'll add a switch and another relay to allow the driving lights to come on with the lows when off-roading.
I also use the principal that the Brite Box in my pickup uses by having the lows stay on when the highs are turned on. I use standard Sylvania bulbs, and not high wattage, and that has worked well in my pickup for the last 12 years. In keeping with the original look, I chose Hella's European sealed beam replacements with H4 lamps after seeing them first hand, rather than LED headlights.
---
Last edited by ajpulley; 12-10-2017 at

04:21 PM

.

01-18-2018, 08:01 AM
CF Veteran
Join Date: Oct 2017
Posts: 1,382
Model: Cherokee

---
Yea nice job on those floors!! Overall awesome job on the entire jeep. Question though did you put anything on the inside of your frame rails to ensure to keep rust or moisture from forming back up on the inside causing it to rust from inside to out? I would have probably used POR15 or quite possibly just laid down a bunch of oil inside. I would hate to se that nice new frame rail patch catch some cancer from the already existing pieces.

Either way I did not see that in your photos and was just curious how you did that if at all. I wish I had half the skills you and most have here to weld. I just got to keep practicing because I will be replacing my entire passenger floorboards due to rot soon!