OC Jeep Week 2013 - 8/22-8/25

07-16-2013, 01:35 PM
☠ CF Sheriff ☠

Join Date: Nov 2009
Location: Aberdeen, MD
Posts: 15,184
Year: 1995
Model: Cherokee
Engine: 4.0L HO I-6, 703 Injectors, Brown Dog Super Engine Mounts

OC Jeep Week 2013 - 8/22-8/25
---
August 22-25 is Ocean City Jeep Week! Post up if you plan on attending any events, and which ones you plan on being at!
http://www.oceancityjeepweek.com/
Pre-registrations
CLOSED
Map of event locations:
https://mapsengine.google.com/map/ed...c.khu9XxEa3EW4
Schedule:
Thursday August 22nd:
5pm.....49th and the bay........OCJW "Welcome to OC Party" at Seacrets...starting at 4pm, Seacrets helps OCJW welcome you to OC and help a great cause. $10 cover will be donated to Charity. Once inside you will be able to party like a Jamaican....Kick up and relax to live music and really great friends and fellow Jeep enthusiasts. Adams X-Treme Motors will be in attendance inside along with the folks from Mequires with door prizes, give-a-ways and a 50/50 Raffle. The OCJW-JK will be on display inside as well as a number of other jeeps in the taxi loop out front. The Ocean City Surfriders Foundation will also be hanging out with us and making the party everything you would expect from a group of Jeepers.
Friday August 23rd:
Beach Crawl
(IF YOU WERE SELECTED IN THE LOTTERY DRAWING)
...Staging at 7am and roll out at 8am SHARP. Leaves from Jolly Roger parking lot on 30th street and travels on the beach to the inlet.
9am -1pm Jeeper Breakfast Buffet directly following the crawl at 45th Street Village. A modest fee of $10 with your registration discount coupon will provide you with a great breakfast and a chance to link up with other Jeepers before heading off for the OCJW 2013 Scavenger Hunt.
Mini Obstacle Coarse at the 45th Street Village....hosted by the 45th Street Village and created by Adams Jeep and X-Treme Motors(Details still pending)
THIS EVENT HAD TO BE CANCELLED DUE TO LEGAL ISSUES AND PERMITTING REQUIREMENTS
10 - 11am - Scavenger Hunt 2013...Route TBA....This is a lot of fun and the route takes folks out of Ocean City and into some of the beautiful surrounding areas of Worcester County. We try to show people that there is more to the Ocean City area than just a 10mile stretch of beach highway. The ride will end at the Oasis in Whaleyville at 1pm with live music and an all out jeep party that promises to be a great time.
6-10pm - Hooper's Crab house in West OC has invited us back for their Annual OCJW Crab Feast. The menu has been redesigned for 2013 and includes Fresh Steamed Crabs, corn on the cob, Shrimp, fried crab cake sandwiches, hot dogs, cheese burgers and fries. $35 for adults and Children under 12 are $15 and this includes Beer and Soda! You Can't Beat That!
Late Night after feast party at the TAP ROOM at The 45th Street Village....Discount coupons for the party will be found inside your registration packets.....gonna be a hoot!
Saturday August 24th:
8am - Noon -OCJW 2013 Show-n-Shine....Hosted by Barrett's Jeep of Berlin, registration and staging starts at 8am and the judging will be ongoing from 9-11, Trophies provided by the fine folks at CC Customs will be awarded at 11:30 am and we roll out at 12 noon headed for The Pocomoke Fairgrounds.
12 -Noon - Road-Trip and Obstacle Coarse hosted by the Pocomoke Fairgrounds and the Eastern Shore Jeep Alliance. Lunch available at the concession stand inside the clubhouse.
JEEP Jam 2013 hosted by CC Customs will be going on as well from 10am-8pm and they are affording registered OCJW participants a 1/2 Price discounted admission price of $5 a head. The general public is welcome as well at a cost of $10/person. They plan on having an obstacle coarse, Mud pit, live music, a swap meet and more.
9pm - We are invited back to the 45th Street Taproom for a late night Jeep's on the Bay Party.
Sunday August 25th:
Eastern Shore Jeep Alliance Land Tour 2013...two scheduled escorted trips to the club's land for some wheelin fun! The club has 80 acres of land that they use for trail riding and they have agreed to drop there standard fee of $20 and allow registered OCJW participants to enjoy the land free of charge.There are two trips schedule to leave from the Wal-Mart parking lot on Route 50 in West OC/Berlin. The first will leave at 10am and the second at 2pm that afternoon. Pack a cooler....Pack a lunch.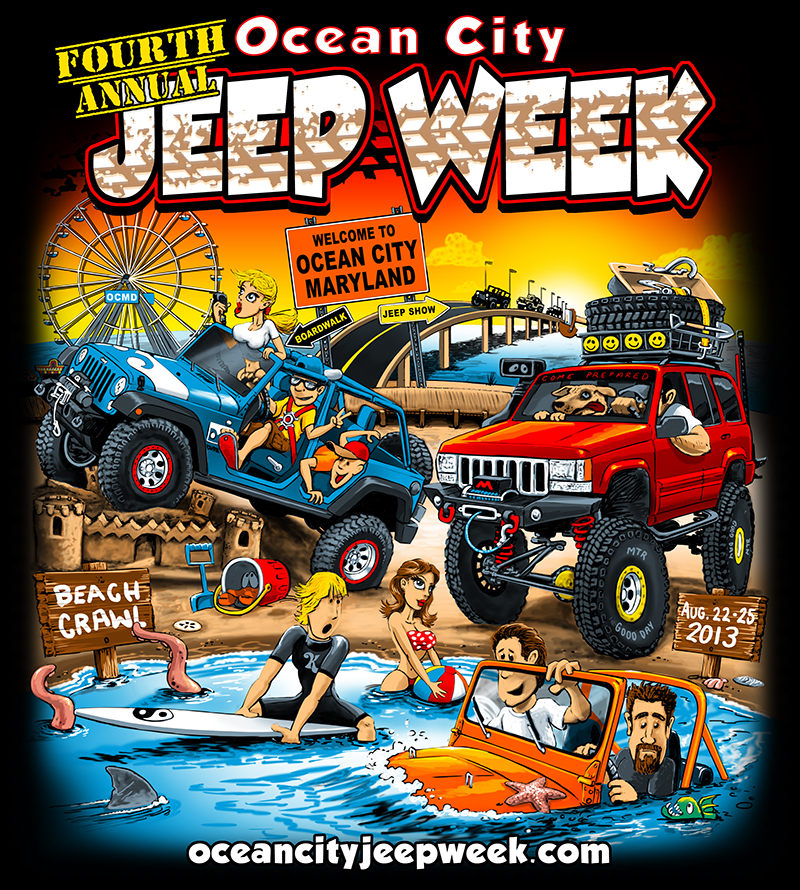 ---
Last edited by dukie564; 08-14-2013 at

08:15 AM

.


07-16-2013, 01:38 PM
☠ CF Sheriff ☠

Join Date: Nov 2009
Location: Aberdeen, MD
Posts: 15,184
Year: 1995
Model: Cherokee
Engine: 4.0L HO I-6, 703 Injectors, Brown Dog Super Engine Mounts

---
I plan on going down Friday Morning. Hopefully get a spot in the beach crawl. I'll def be at the show and shine, obstacle course, and Jeep Jam, and likely the Land tour on Sunday.


07-18-2013, 05:47 PM
Newbie
Join Date: Aug 2012
Location: Ocean City Maryland
Posts: 4
Year: 2000
Model: Cherokee
Engine: 4.0

---
I'll be there and like last year I will try to make all of the events or at least most.


07-18-2013, 06:01 PM
CF Veteran
Join Date: Jan 2012
Location: Baltimore, MD
Posts: 8,272
Year: 1999
Model: Cherokee
Engine: 4.0 I6 HO

---
Ill be heading down friday night probably and leaving saturday night. I'll be at the show and shine on saturday and maybe the other 2 events. I'll figure out exactly which events I'll be at when I get there.


08-14-2013, 08:15 AM
☠ CF Sheriff ☠

Join Date: Nov 2009
Location: Aberdeen, MD
Posts: 15,184
Year: 1995
Model: Cherokee
Engine: 4.0L HO I-6, 703 Injectors, Brown Dog Super Engine Mounts

---
updated first post with additional info

Thread
Thread Starter
Forum
Replies
Last Post
Stock Grand Cherokee Tech. All ZJ/WJ/WK Non-modified/stock questions go here!
Stock XJ Cherokee Tech. All XJ Non-modified/stock questions go here
Currently Active Users Viewing This Thread: 1
(0 members and 1 guests)