FS[SouthEast]: Stainless Steel Tail Light CB Antenna Mounts

09-02-2013, 01:37 PM
CF Veteran

Stainless Steel Tail Light CB Antenna Mounts
---
There are plenty of CB antenna mount options for the Jeep Cherokee out there, but I've either been discouraged by drilling into the body work, or didn't like the appearance of what I had available to choose from. So I made my own, I hope you like it.
I am fabricating stainless steel CB antenna mounts that will bolt right up to the tail light on any 84-01 XJ. No drilling is required, as the mount will use one of the factory bolts that is there already.
On 97+ XJs a tiny little bend should be made in the mount's upper left corner with some vice grips before painting to accommodate the lip of the Cherokee body. Older XJs do not need this.

UPDATE!
It would appear these mounts are also compatible with 1992-1998 Jeep Grand Cherokee ZJs! Thanks to JPXJMOAB for pointing it out. Slight modification of the tail like housing is necessary. You must either grind off some of the plastic surrounding the top bolt, or you must drill a new hole.
The mounts are welded for strength (can support at least a 5 foot fiberglass antenna), and come without paint, giving you the ability to choose the color you want. I recommend black textured Rustoleum, as it gives it the best look. Because it's stainless steel, you really won't have to worry much about rust.
I have mounts for both the passenger side and the driver side. You can get one of each to run dual CBs, or one or the other depending on your taste.
This is the finished product (you receive 1x CB mount for $31):
This is how it looks when you close the backhatch. The wire is tucked under the mount for a clean, factory-style appearance:
When you open the back hatch, you can see where I route the CB wire through the factory rubber seal. The bolt that holds the mount to the tail light also acts as a ground, since the bolt goes into the steel body behind the plastic tail light:
Also fits older body-style XJ's!
If you have any further questions, you can PM me or reply to this thread. I ship anywhere in the United States. All payments are done through PayPal, and orders are shipped within 1-2 business days after receiving payment!
Pictures on Jeep Grand Cherokee ZJ:
NEW – Customer Testimonial Pictures


Here are some photos of my mount installed on customers' Jeeps that have been submitted to me from many of my happy customers thus far: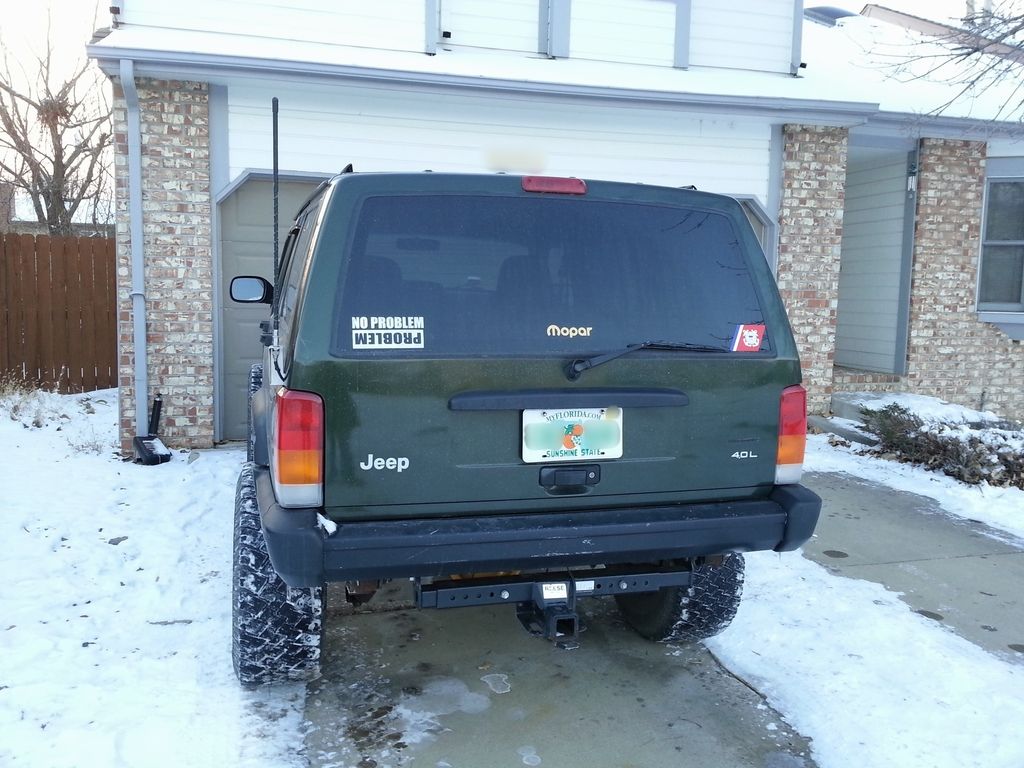 ---
Last edited by thatXJguy; 09-22-2016 at

02:45 PM

. Reason: New Photos Added

09-04-2013, 12:08 PM
CF Veteran

09-04-2013, 04:24 PM
CF Veteran

---
The base of the mount sits flat on the tail light housing and makes it so that there is no wiggle room. All you have to do is tighten down the bolt to put it in place.
I've been testing this design for about a year now, and I'm satisfied with it. It doesn't move around, it's very stable, and I've tested 3-5 foot firestik antennas (varying weights) with no problems.
In that, I've hit trees with my antennas, dealt with high-speed wind drag, and still the mount holds up well.
---
Last edited by thatXJguy; 09-04-2013 at

04:30 PM

.

09-08-2013, 01:49 AM
CF Veteran

09-08-2013, 01:13 PM
CF Veteran

---