See related guides and technical advice from our community experts:
Browse all:
Fuel System Guides
Leaky Fuel Line to Fuel Rail Replacement/Fix

05-20-2013, 12:26 AM
Newbie
Join Date: May 2013
Location: Georgia
Posts: 3
Year: 2001
Model: Cherokee
Engine: 4.0

Leaky Fuel Line to Fuel Rail Replacement/Fix
---
If your XJ is leaking fuel and you have pin pointed the spot as coming from the fuel line that runs to the fuel rail then this will solve that problem.
The main reason this happens is because the metal bracket holding the fuel line against the intake manifold is prone to rust, as all metal can do this over time. So this can lead to the fuel line rusting through as well, causing a pin hole or hairline crack, thus a leaky fuel line. Now this doesn't just cause you to lose gas and get horrible mpg's, it also causes low fuel pressure. We obviously don't want that.
This happened to my "Bweep," (as I like to call it) because I was taking out my fuel injectors to fix the "heat soak" issue. I did not have a quick disconnect tool at the time and thus moved the line just enough for the bracket to scrape the fuel line and make a hole.
Sooo let's get to it! This write up will show you how to entirely replace the fuel line coming from the bottom of the firewall to the fuel rail. This will only take about a minute to connect up but the prep of the new fuel line takes about 10 minutes.
Tools you will need:
Rags
Flat head screwdriver
5/16 quick disconnect tool
Socket wrench with 10mm deep well socket
Parts you will need to get:
2 5/16 Fuel line/hose clamps
(make sure they're for fuel lines not the ones for air hoses or coolant hoses)
2 1/2 feet of 5/16 nylon fuel line/hose
(now you can always buy the metal braided nylon hose or actual steel piping if you think it could get punctured from rocks or something else while off roading. I only have 2wd so I only needed the regular nylon fuel hose.)
2 new 5/16 quick disconnects
(I found these made by Dorman for Chrysler/Ford/Chevy)
First thing you want to do is disconnect the battery.
Now we have to relieve the fuel pressure (it may not be much since most is lost from the hole in the line).
Go ahead and unscrew the gas cap.
Then locate your fuel pressure release cap.
If you are not sure where this is, first locate your fuel line attached at the fuel rail.
It is about two inches forward and there is a little cap to unscrew.
Here is a picture pointing where the fuel line is, I had already taken it off.
The cap is right above that.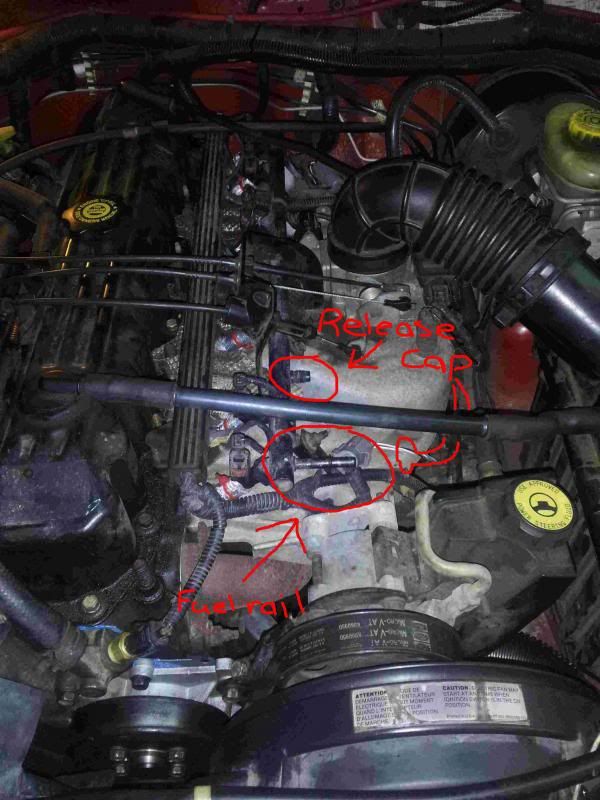 Now unscrew the fuel pressure release cap:
Attachment 193499
With it off take a rag and a flat head screwdriver and press the little pin in until all pressure is released.
Now you can disconnect the faulty fuel line.
First get the socket wrench with the 10mm deep well and unbolt the rusted bracket from the intake manifold.
I had already done this, so its only a picture of the location.
Now take a flat head screwdriver and pry off the metal retaining bracket.
Also make sure to save these brackets as we will use them on the new line as well.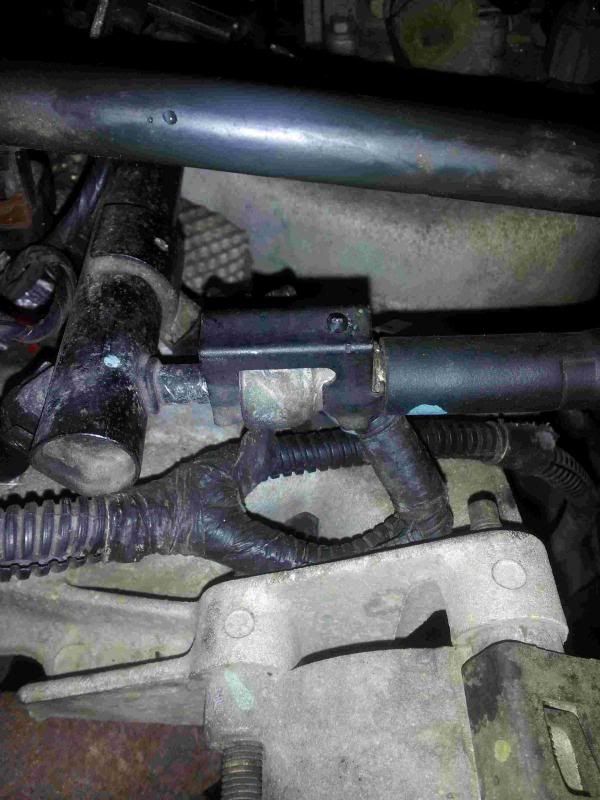 Then take your quick disconnect tool and insert it in, push right, and pull the fuel line off of the fuel rail.
Now take the quick disconnect tool and do the same for the bottom part of the line located under the firewall on the drivers side under your Jeep.
Now go ahead and pull the whole line out from underneath and toss it in the garbage.
We won't be needing it anymore!
Just make sure you remembered to keep the metal retaining brackets.
Now that every thing is disconnected we can assemble our new fuel line.
So take one of the new quick disconnects and press it in one end of your hose.
Go ahead and slide your clamps on now as well.
Then press the other quick disconnect into the other end of the hose.
Slide the clamps in place and tighten them up.
It should look like this on both ends.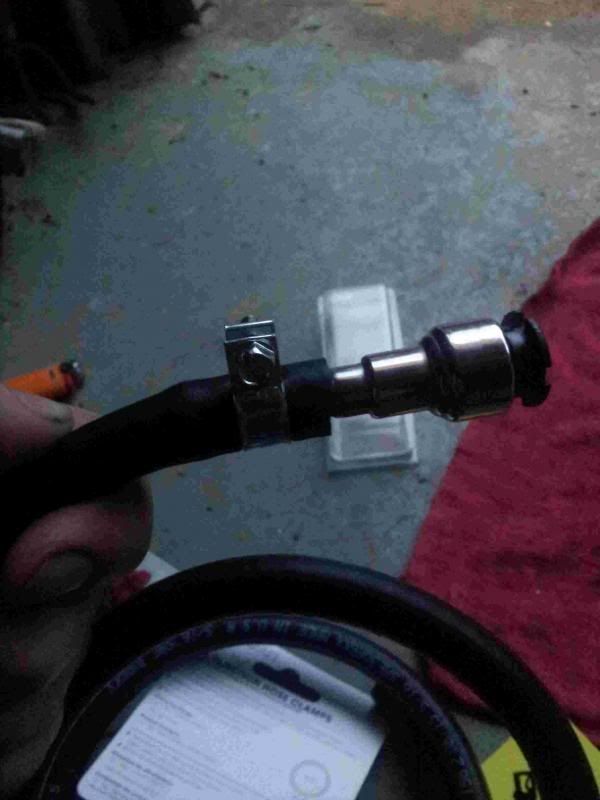 Now take your old metal retaining brackets and use their old plastic clamps and place them on the new hose behind the metal fuel line clamps.
Also while doing this I noticed the new quick disconnects have a plastic retaining bracket built in and I pried them out so I could use the old metal brackets.
To do so just take your flat head and and pry them right out.
So now it is time to hook up your beautiful new fuel line you just made!
We'll start with the fuel rail end first.
It will make it easier to just run the line down, rather then up from under the Jeep.
Take one end and push it right onto the fuel rail until it clicks.
Pull on it to double check its all the way on.
Then click on the metal retaining bracket to secure it in place.
Again make sure to pull on it to double check that it's not going to move.
It should look like this installed correctly.
Now run the line down to reach the other end of the stock fuel line located under your Jeep.
Follow the same steps as before and double check they are tight and will not move.
It will look like this installed correctly.
Now to finish, you can secure this however you would like. I did not reuse the old metal bracket and 10mm bolt to secure it to the intake manifold because it could puncture the new line.
Just make sure it is out of the way of your steering linkage and that it wont get heat from the engine and you should be good to go.
Also this should work just the same with metal tubing or the braided nylon hose as long as they are 5/16.
It may not look as stock as it could or very pretty for that matter, but it works.
I hope this helps someone else out with this problem, as it isn't very hard to do.
GOOD LUCK!
---
Last edited by xjobsessed; 05-20-2013 at

03:44 AM

.

Thread
Thread Starter
Forum
Replies
Last Post
Stock XJ Cherokee Tech. All XJ Non-modified/stock questions go here
Stock XJ Cherokee Tech. All XJ Non-modified/stock questions go here
Stock XJ Cherokee Tech. All XJ Non-modified/stock questions go here
Currently Active Users Viewing This Thread: 1
(0 members and 1 guests)