The W.I.P (Work In Progress)

06-14-2010, 03:45 AM
Member
Join Date: Jul 2008
Location: Daytona Beach, Fl
Posts: 222
Year: 1988
Model: Cherokee
Engine: 4.0

The W.I.P (Work In Progress)
---
Got this 1988 cherokee with 200k miles on it for a trade for a 1992 isuzu pickup. the girl i got it from needed something better on gas and i needed a 4wd cherokee lol. when i got it it wasn't in great shape. but everything mechanical was decent. the only things that were wrong was basic cherokee bs and a lil cosmetic damage on the front end. this is what came with it.
4.0l 6cyl
manual transmission
np231 t-case
dana 30/35
moonroof
black
What has been replaced
:
new plugs, wires, rotor, cap
front end now has 1992 cherokee bumper, grill, and header panel as the junkyrd called it. i like this better b/c imo i think there is a lil too much chrome on the 88.
Right Rear taillight (because the previous owner backed it into a tree.)
headunit
VIBE speakers in the front (they sound great.)
got 6x9's in the back in boxes
SOON TO COME:
New window seals
rust repair (door bottoms, floor pans have some on them too =/ )
new tint
painting chrome black.
subs and amp
true dual exhaust
Eventually to come:
6.5 inch lift
35" 's mt
4 15" 's
VIBE Audio Space 3D in the front doors with custom pods. (3 speaker component set)
paint job
custom grill guard
skid plates
special rear diff cover (black metal?)
roof rack, thats where the spare is going to go.
heres the pics the 2nd day i got it at the beach: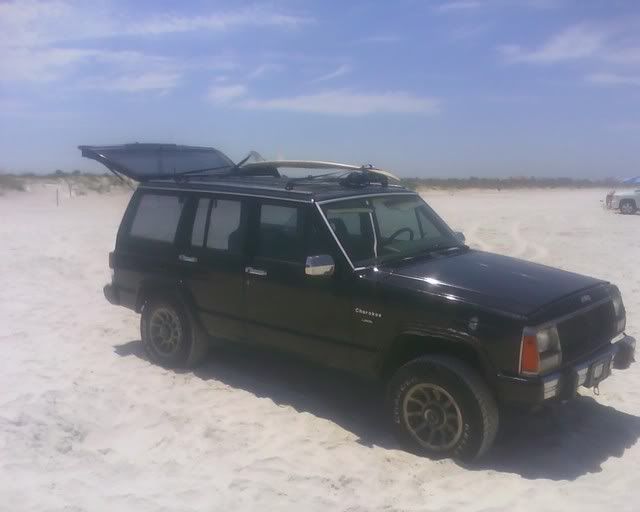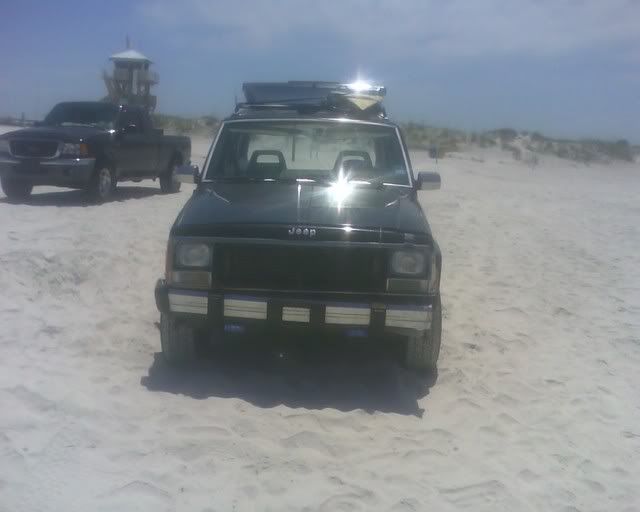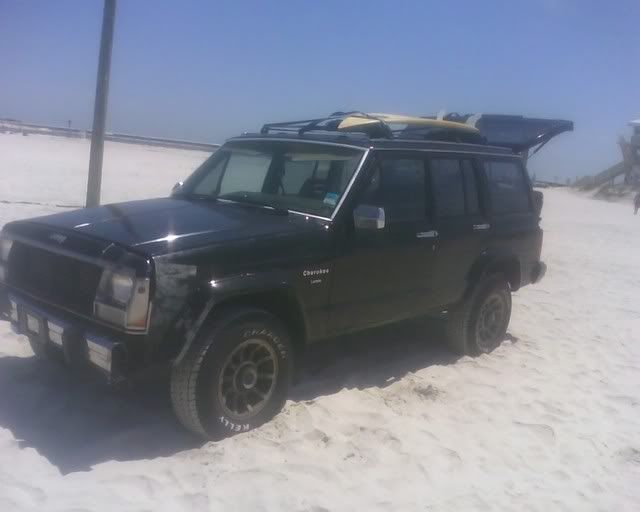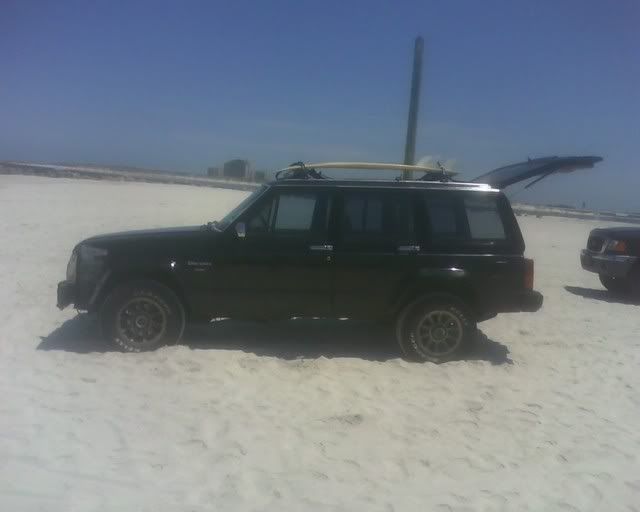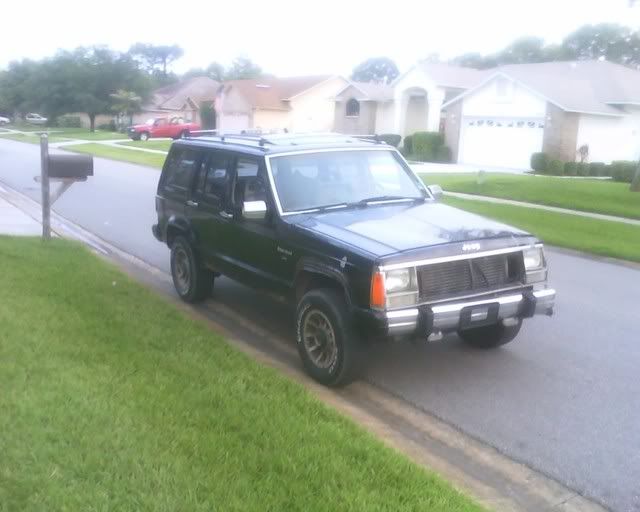 Ask me whatever you want about it

06-15-2010, 12:17 AM
Member
Join Date: Jul 2008
Location: Daytona Beach, Fl
Posts: 222
Year: 1988
Model: Cherokee
Engine: 4.0

---
and the money poor out. just got done today with a junkyard special header panel, front bumper, and 2 front quarter panels all from a 1992 xj sport. i gotta get the sport decals off. pics will be up tomoro. was going to spray paint new parts black, i like the black bumper instead of the stock chrome.

07-27-2010, 05:20 PM
CF Veteran
Join Date: Jun 2009
Location: Las Vegas, NV
Posts: 1,415
Year: 1999
Model: Cherokee
Engine: 4.0L

---
Looks good. a simple and cheap mod.... if you arent going to put fender flares back on, the front fender can be trimmed by the sidemarker. basically the top of the front bumper back. opens it up alittle bit and adds a clean look.
Thread
Thread Starter
Forum
Replies
Last Post
Stock XJ Cherokee Tech. All XJ Non-modified/stock questions go here
Stock XJ Cherokee Tech. All XJ Non-modified/stock questions go here
Stock XJ Cherokee Tech. All XJ Non-modified/stock questions go here
Stock XJ Cherokee Tech. All XJ Non-modified/stock questions go here
Currently Active Users Viewing This Thread: 1
(0 members and 1 guests)