replacement for DD eliminator

03-22-2010, 01:52 PM

replacement for DD eliminator
---
I sold my '90 eliminator to a local last week...didn't have time to finish it for him, but it's darn close.
The reason I sold it is that the money I got from it paid for both a '97 xj, and a '98 xj.
the '97 is fixable, the '98 is parts.
'97 is 4.0, auto, 4x4, 8.25 rear, 3.55 gears. has tow package, A/C, cd (aftermarket), premium sound, power mirrors. needs new front driver's fender, bumper, header panel, radiator (leaks from drain valve...may be repairable), steering column (ignition is screwed, column doesn't lock), and windshield.
paid $550
'98 is 4.0, 5 speed, 4x4, 8.25 rear, 3.07's, all power but seats, no cruise, a/c, CD (aftermarket). new radiator, h20 pump. paying $400.
'97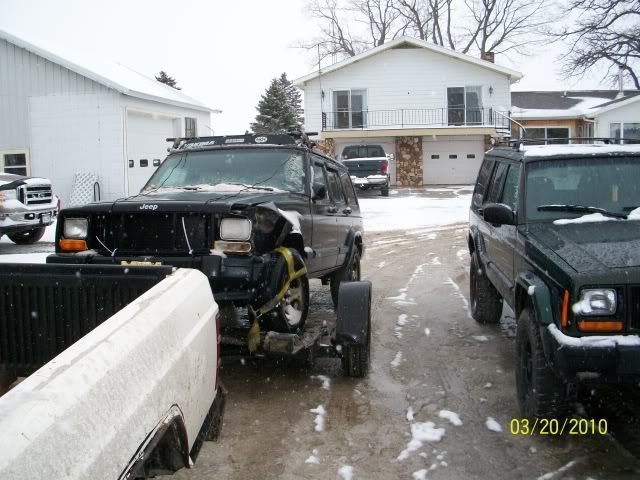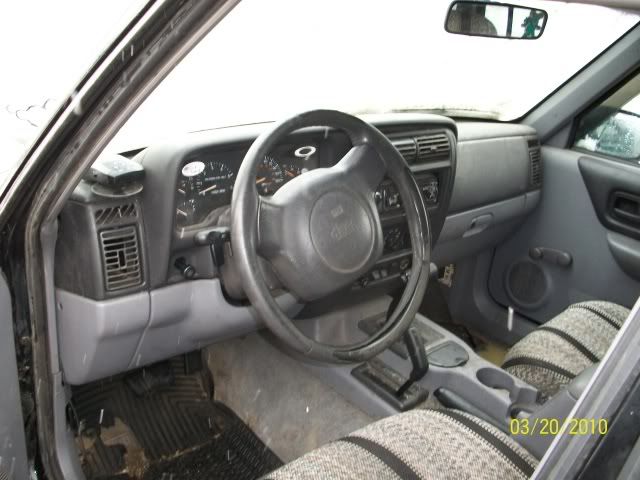 '98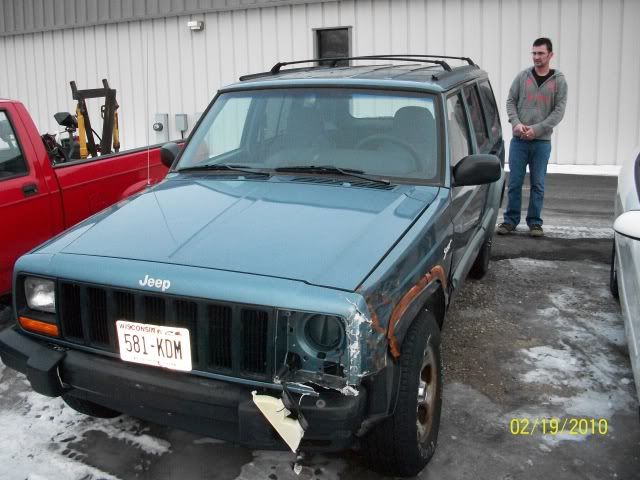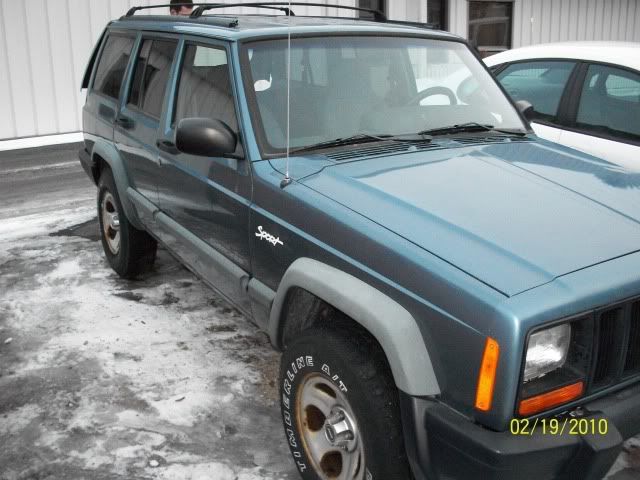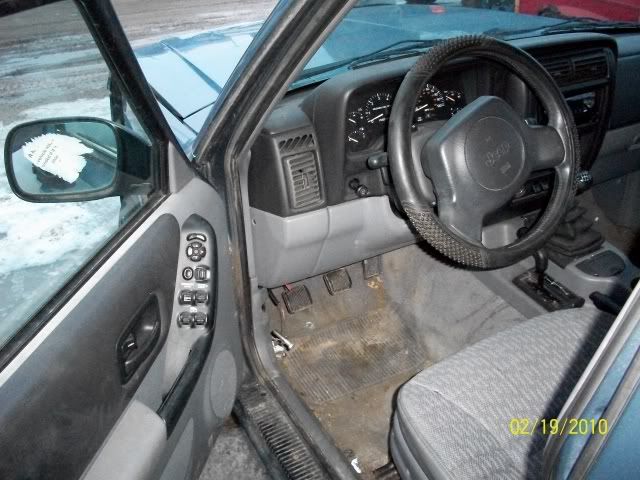 the '97 has some engine issues..won't stay running. I'm going to do a full tune up, oil change, and drain fuel then put new fuel in it. The PO had a coolant leak, redneck fixed it, and put h20 in the rad. before the winter. hoping the motor isn't cracked, but if it is, I am doing a full on 5 speed conversion using the '98 as parts.
also will be putting full power from the '98 into the '97 as well.

03-26-2010, 07:52 PM

---
motor's junk. exhaust comes out of the radiator cap, and the oil is white.
dipstick covered in "oil"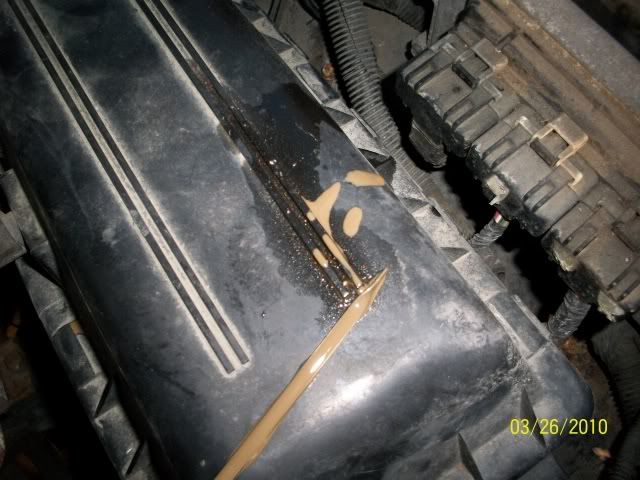 new battery and terminals
temporary plug on radiator....never had a petcock, I'm tossing the rad since the fins are rotting off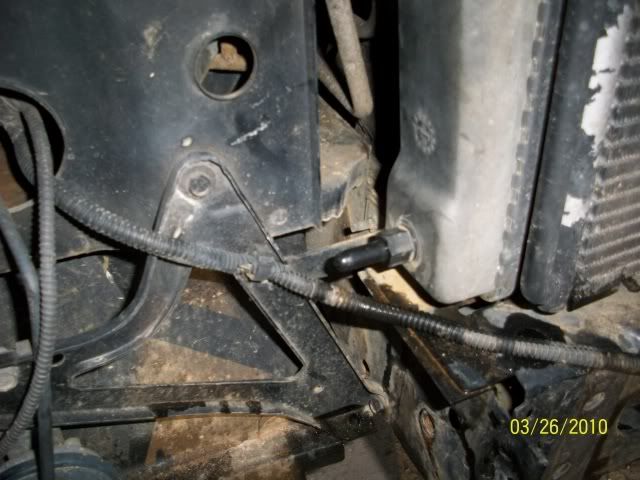 removed the push button starter. PO bypassed the relay, relay wouldn't close because the NSS wouldn't ground it. so, I removed the ghetto-*** NSS and bypassed the NSS temporarily until I can clean it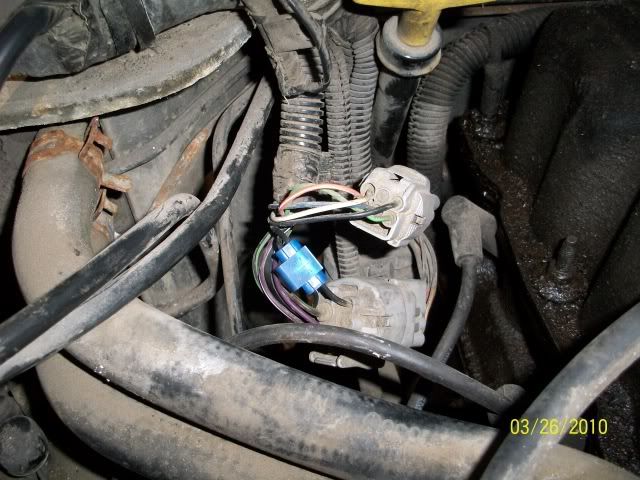 junk front clip off. the washer reservoir isn't even cracked...just needs one pump because the nipple cracked off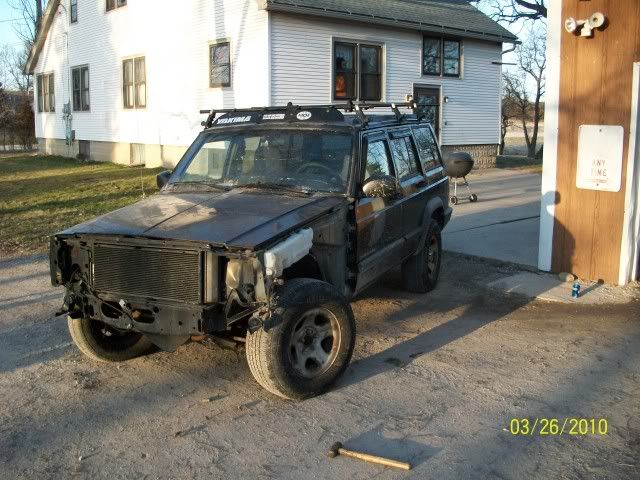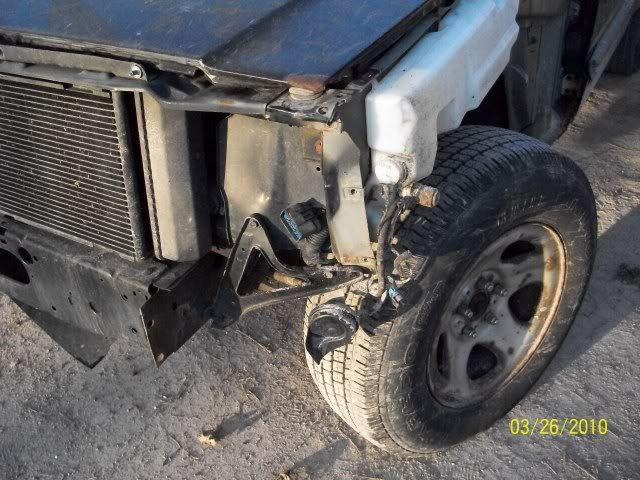 racks back on
interior all apart
nasty carpet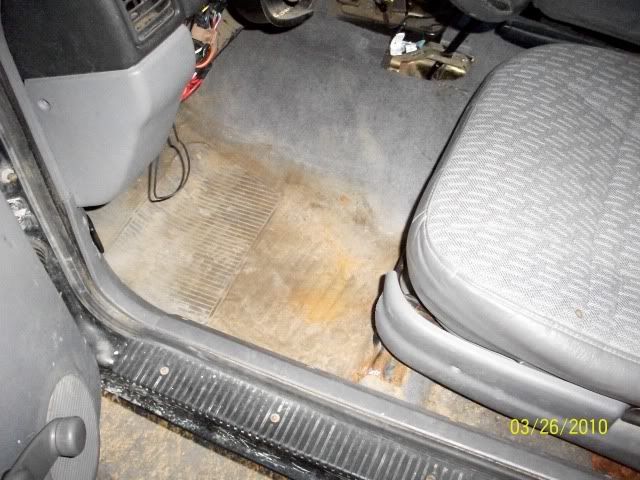 power, HEATED mirrors
rear trunk, factory trailer plug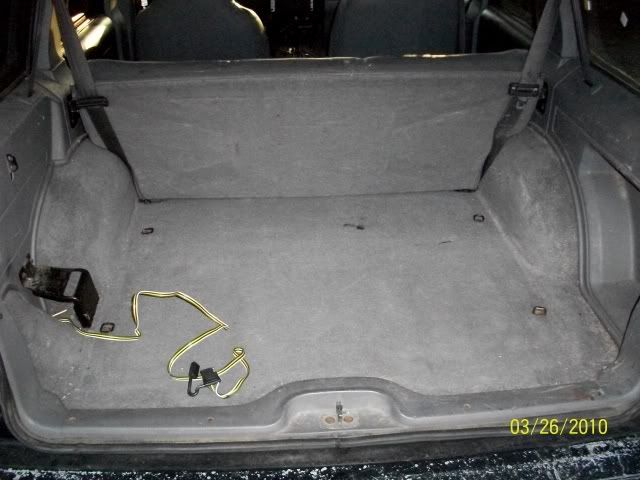 rear seat cleaned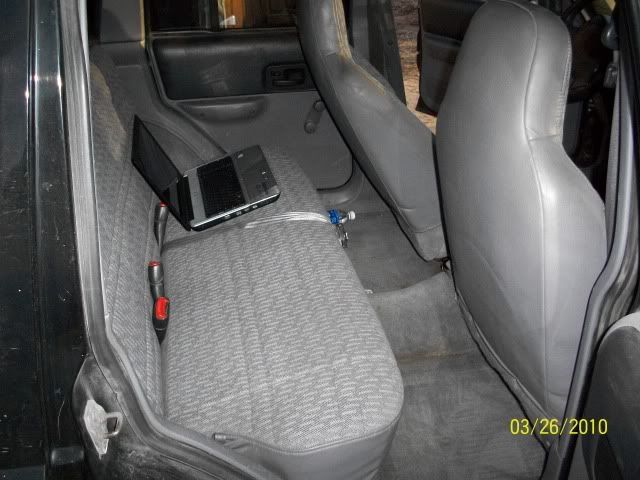 front clean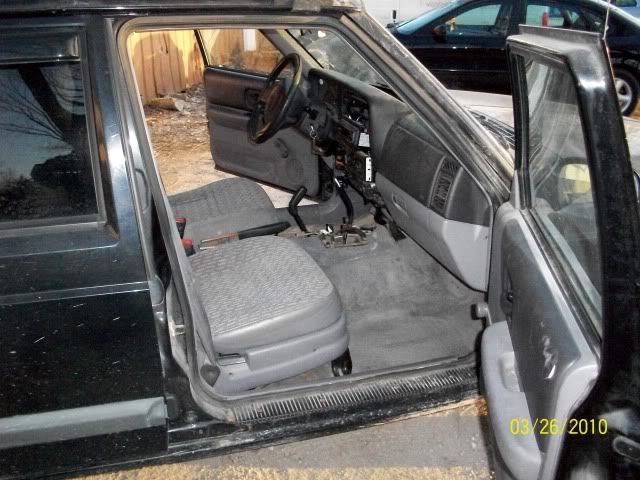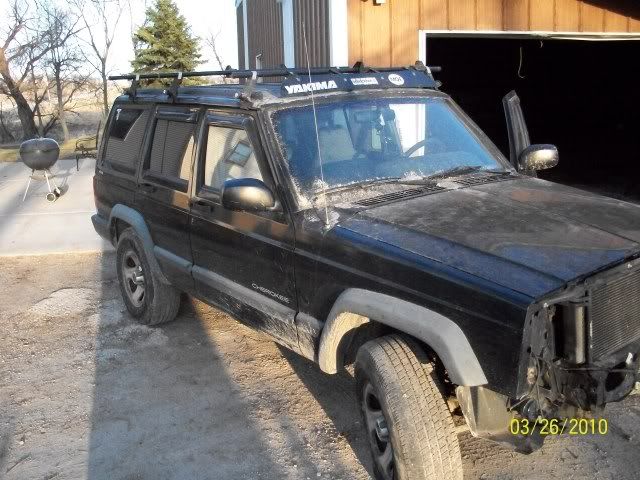 03-26-2010, 08:14 PM

---
ugh. the pictures do way more justice than the jeep deserves...
driver's seat has cigarette burn, rear seat has hair in it that I can't get rid of, rear seat back has tears on the top, passenger front seat is dirty, and I don't think there's a single interior panel without scuffs and scratches.
the interior on the '98 is nice and clean, though...so I'll probably swap all that. in when I swap the power stuff in.

07-12-2010, 09:07 AM

---
well, I picked up a 97+ factory brush guard, going to pick up a swing out tire carrier for the rear, comandeered my brother's front class 3 hitch, pulled the motor and trans, stripped the '98, swapped all of the wiring (from front to back...EVERYTHING), swapped most of the interior panels, and now I'm putting it all back together.

just have a bit to finish up on the wiring in the engine bay, drill out the center hole for the clutch master cylinder's push rod to go through the firewall, drop in the "new" motor and 5 speed, bolt it all up, connect it all up, and start it.

then, fix driver's side floor, put seats and carpet back in, and put the front end and accessories back on it.

oh, picked up a Yakima roof rack, too.

07-12-2010, 09:08 AM

---
and, last thing is JakeWI's old 4.5" lift and a set of 31's on cragar soft 8's that I have laying around. need one more 15x8, 3.5"bs cragar soft 8 and this thing will be tricked and useable. not going to bother with tow points...the class 3 hitches will suffice to pass inspections. maybe bumpers later on, though.

07-12-2010, 09:05 PM

---
update from a thread on another site :
well, the 98 is stripped and gone.
the '97 I decided to convert to 5 speed using the parts from the '98. unfortunately, I also wanted all of the power options that were in the '98, too.
so, that whole deal requires a complete wiring swap to do it without hacking wires together.
pics of the progress.
http://sphotos.ak.fbcdn.net/hphotos-...7_834617_n.jpg
auto vs. 5 speed pedal assembly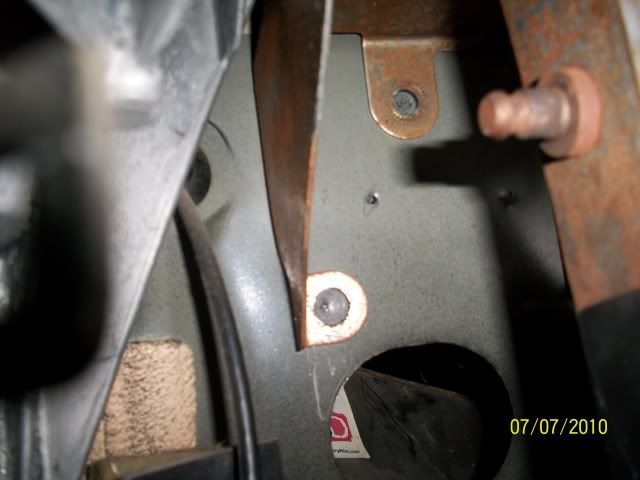 where I have to drill...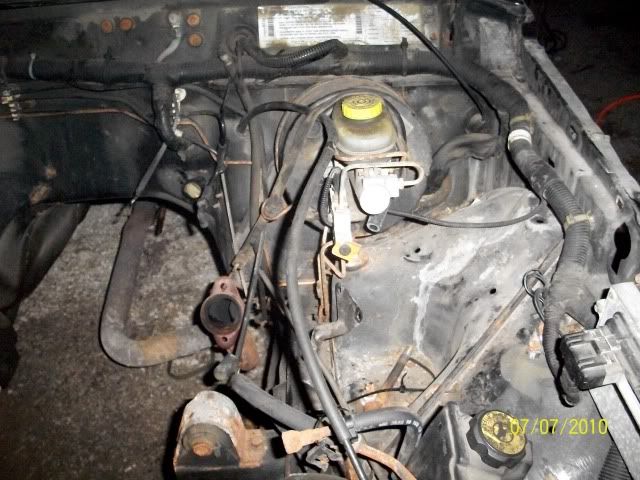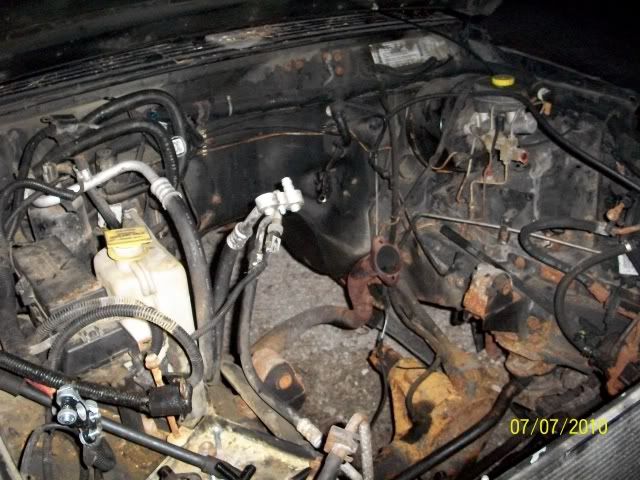 no motor or trans
dash is out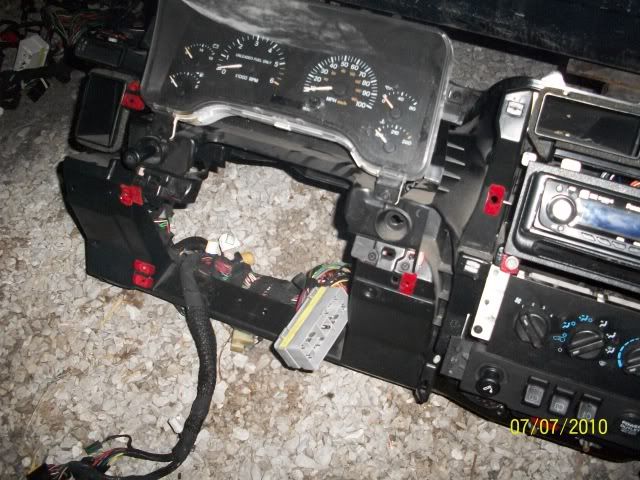 dash with components installed, and wiring swapped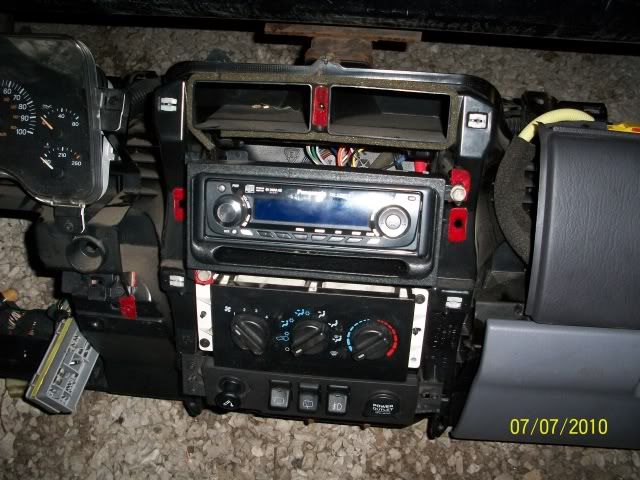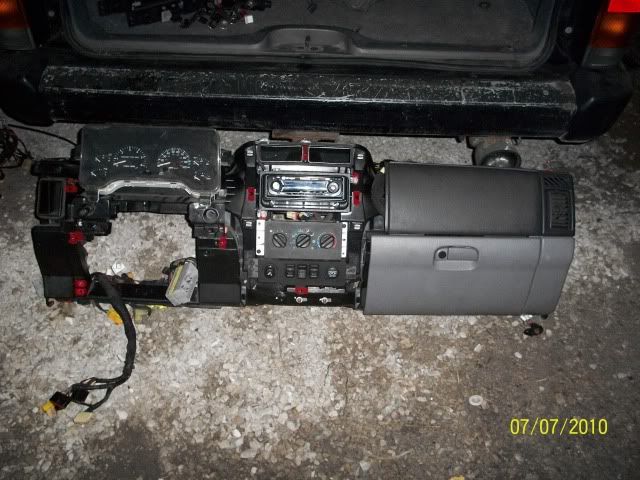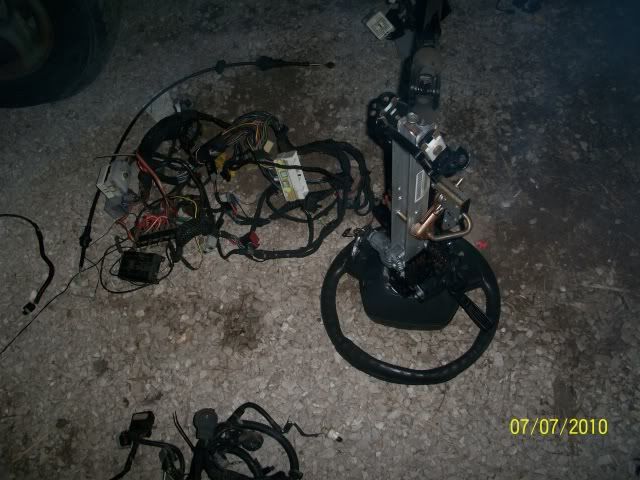 old column and dash wiring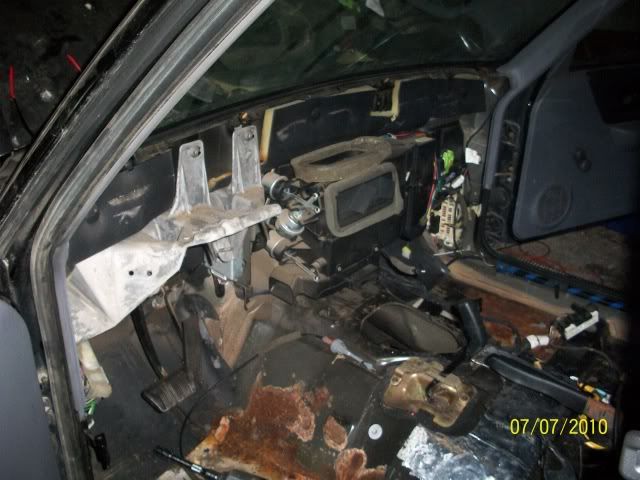 this was the old motor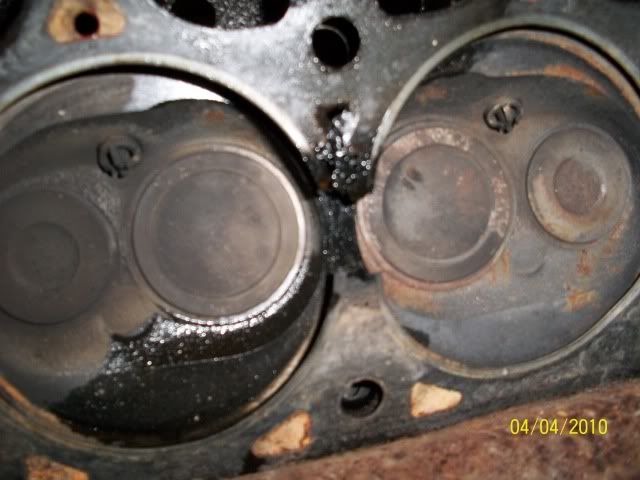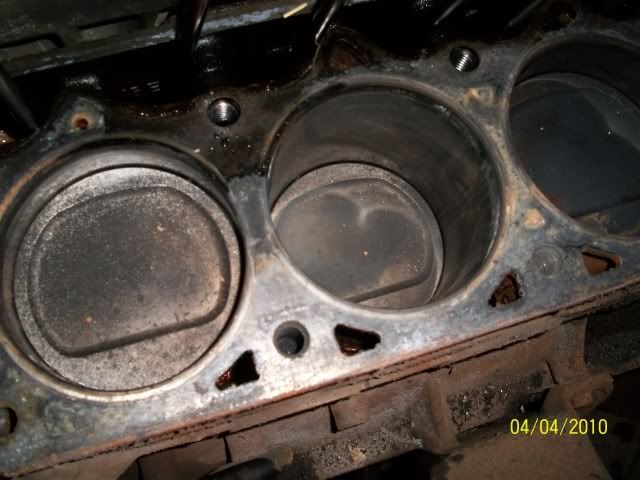 head gasket blew between 1 and 2 cylinders. so, new motor from the '98 is going in. I found MOPAR reman tags on the motor that came out of the '98. it has a brand new master and slave, clutch, and throwout (external slave ax15).
I'll be lifting it 4.5" with an eventual longarm.
also picked up a slightly used factory 97+ brush guard with fog lights


07-12-2010, 09:31 PM

---
finished the wiring swap from the dash forward. need to swap rear harness.
engine/trans are in. need to button down motor mounts, hook up 4x4 linkage, bolt up trans x-member, install cooling system, swap some sensors on the a/c system, get a new a/c condensor, button up steering pump and serpentine stuff, finish interior after I fix floors.
then JakeWI's lift, my 31's, cragar soft 8's, front end, factory push bar, front hitch, swingout carrier, and finish up by putting the power door stuff in along with the '98 door cylinders and glovebox lock plus liftgate lock.
not too big of a list. accomplishing a decent amount daily


07-13-2010, 12:00 AM

---
brush guard
cruise control controls...have clock spring and solenoid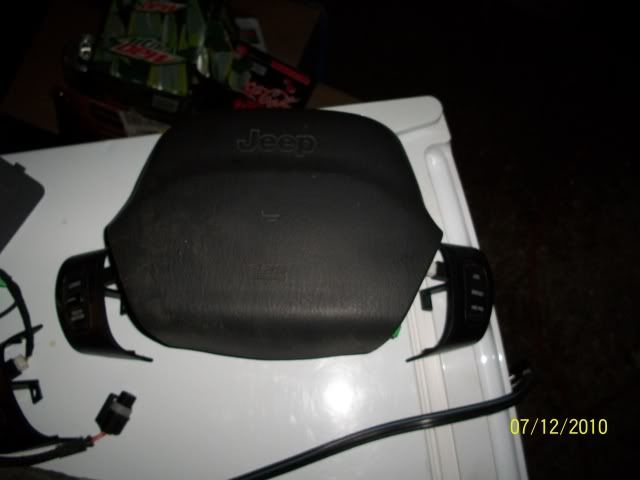 old wiring
yakima rack
'98 exhaust to replace crap '97 exhaust
all the spare '97+ parts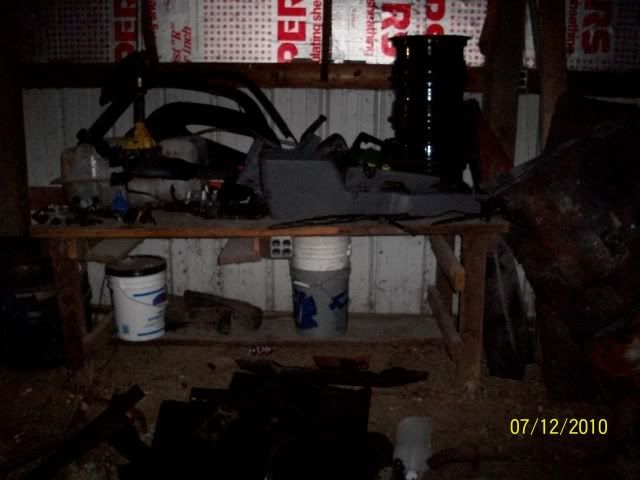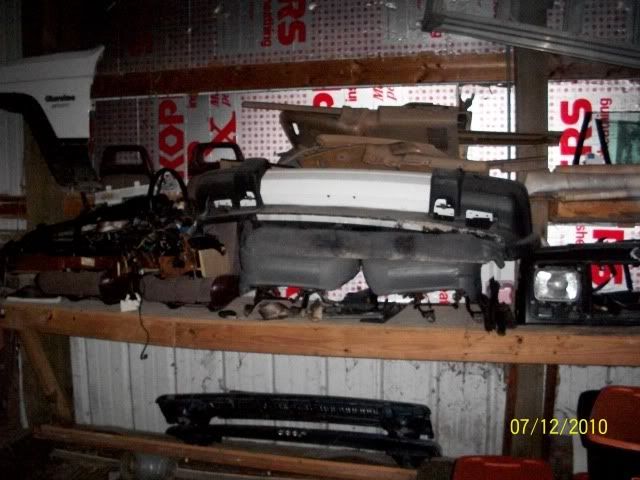 old engine
pile of tail light wiring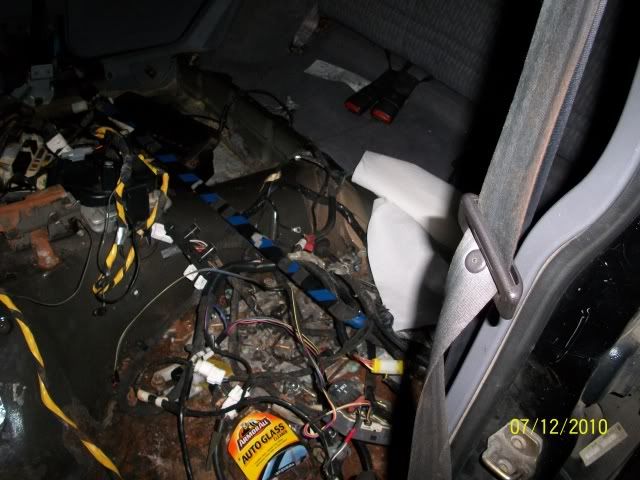 stereo lighted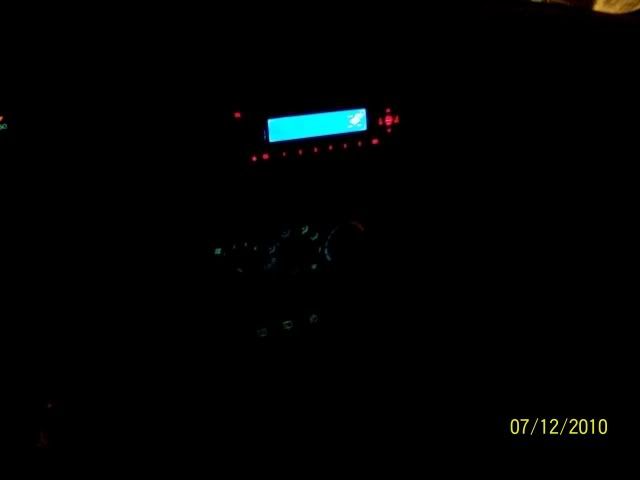 cluster
engine
I'll be building a stroker for it at some point, so I didn't bother cleaning this engine.

07-16-2010, 08:33 PM

---
bad floor out, new floor almost in. ran out of wire for the welder. fits almost perfect with some handy hammering and heating.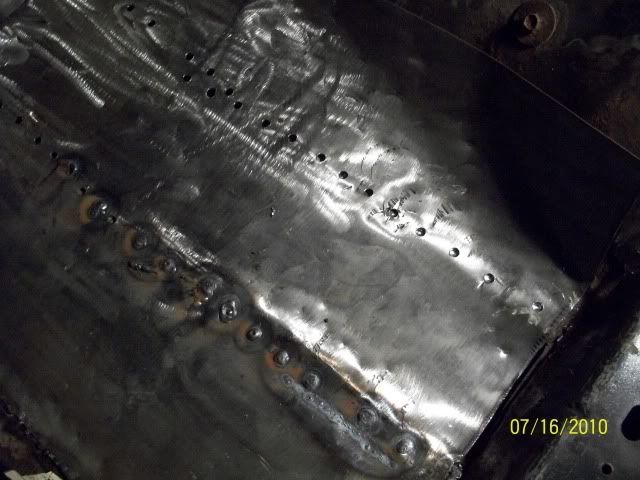 engine bay pretty much buttoned up. trans will be bolted up to the crossmember finally when the floor is done..I need it out of the way for floor repair right now.

07-18-2010, 10:02 PM

---
well, floors are done. spent some time learning to weld sheet metal...did fairly decent, some bad spots, some good spots, either way it's welded and done.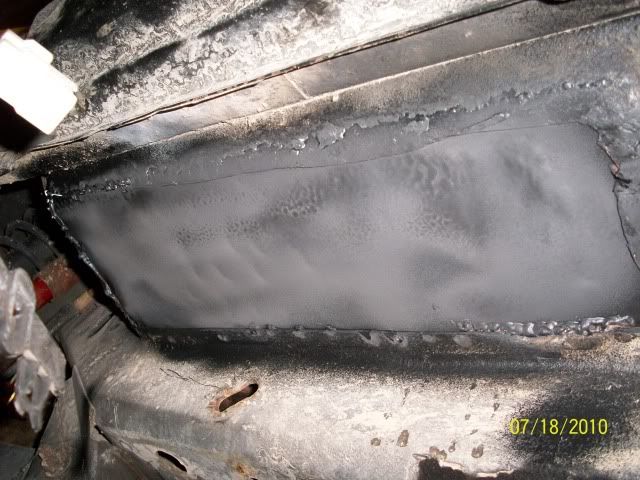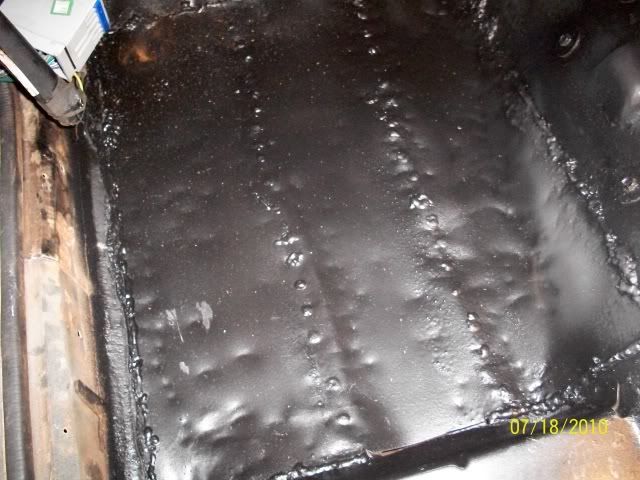 just need to seal the seams against the frame rail.
and, got the trans drop in and everything bolted up mechanically but the rear driveshaft, so I started it and drove it outside so I can wash it, lift it, and finish the interior.
more progress to come tomorrow


07-19-2010, 02:37 PM

---
bolted up the down-pipe, alternator, put on serpentine, fixed a small electrical issue, and washed it. it's got alot more little dings and dents than the pictures show...and it's still wet in the pics.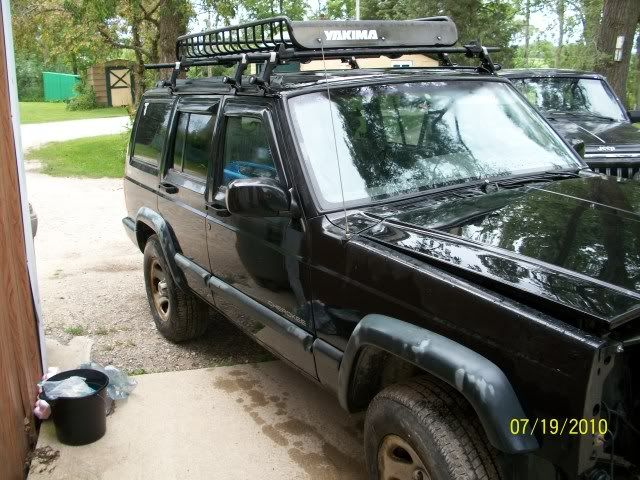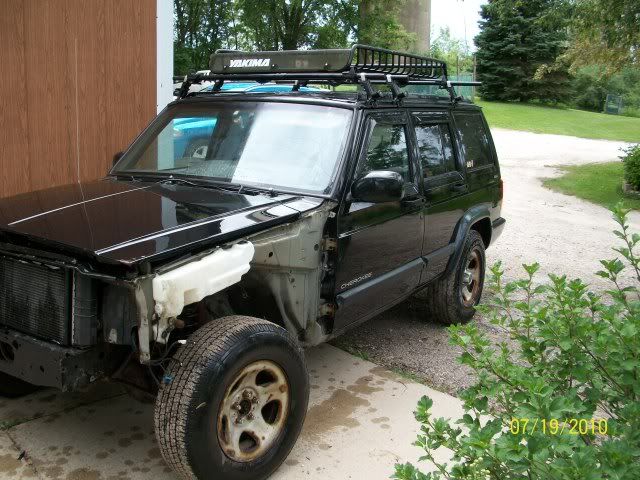 letting it dry, then removing the rear springs and putting the 4.5" ones in.
once I'm done with that, I'm finishing the rear harness swap, and putting the interior back together. then on to lift the front, and put the front end back on.