Project Cheap! (yeah right).

02-22-2014, 02:21 PM
Someone stole my badge!

---
Originally Posted by
Morat
What I have learnt today:
1. I'm an idiot
2. The vacuum bottle on a RHD Cherokee is on the other side of the bay (Left side, Port side, Passenger Side) because of the steering box.
3. The arch liner is secured by torture devices _specifically_ designed to wedge plastic under your fingernails.
4. The vacuum bottle is brittle, and if you try to pull the pipe off it you will snap the end off.
5. I've left the oil filler cap somewhere. Not sure where, not sure when.
6. see 1.
****

also:
I have a small transmission fluid leak from the join on the lower line to the transmission cooler.
I have an oil leak from the filter housing
The front disks have about a 3mm lip due to wear!
It's okay... we're all idiots

03-04-2014, 04:22 AM
Member
Join Date: Nov 2011
Location: Cornwall, England
Posts: 125
Year: 1998
Model: Cherokee
Engine: 4.0 I6

---

04-16-2014, 09:13 AM
CF Veteran
Join Date: Jan 2010
Location: North Riding of Yorkshire, UK
Posts: 1,135
Year: 1997
Model: Cherokee
Engine: 4.0

---
Originally Posted by
Brynjaminjones
mmm tan leather and that exhaust sounds great
Your Jeep is much further along than mine - kudos to you!
Anyway, back in Yorkshire the Jeep celebrated Spring by deciding to stop charging at idle. After posting for advice, I have ordered a replacement refurb Alternator from the USA.
Alt = £40
Shipping = £40
Tax = £16
Fees = £8
Total = £104
Still, the cheapest refurb I could find in the UK was nearly double that so lets just hope it fits. I've paid the tax so it should be in my sticky hands tomorrow. I'm away over Easter so I'll be looking to fit it the weekend after next.
---
Last edited by Morat; 04-16-2014 at

09:19 AM

.

04-26-2014, 02:41 PM
CF Veteran
Join Date: Jan 2010
Location: North Riding of Yorkshire, UK
Posts: 1,135
Year: 1997
Model: Cherokee
Engine: 4.0

---
And the new alternator is in! That has to be the simplest job on a RHD jeep. I stuck a new belt on at the same time. The old belt had cracks everywhere, although none had really gone through to the outside yet. Any way I have 14V at idle again.
As an added bonus I found the oil cap I'd lost. It was just behind the headlight, in front of the battery in the "I'll just put it down here" slot
And here's a pic of the way the belt works on a RHD XJ. The adjuster is behind the alternator, and super easy to use. In case anyone else wants to do this on a RHD XJ, you just slacken the bottom and top bolts on the alt, and slacken the adjuster so you can pull the belt off. Undo the 5 nuts on the back of the alt which hold the wires in and the get busy with 15mm spanners to remove the top and bottom bolts. The bottom bolt needs two spanners. Ratchet preferred.
I don't have a fan shroud on mine (yet) which made it a bit easier, but nothing else had to come off once I figured out that I needed to rotate the alternator in place to disengage it from the mount. You can reach all the bolts on the back of the alt before you loosen the alt without problems and the wires come off without any fuss.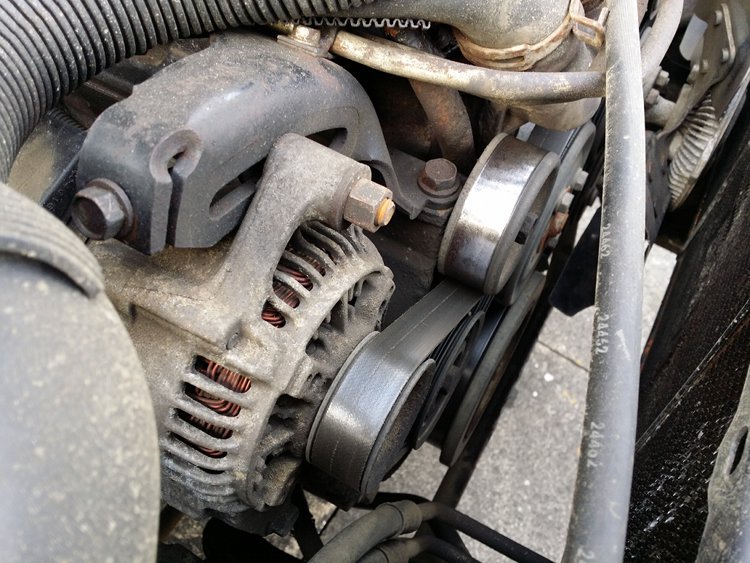 That's one of the "before" pics I always take in case I screw things up and can't remember how to put things together. The new alt is stunning looking, I got it from
http://www.acealternators.com/
via ebay and I couldn't be happier with it or them.
All the pulleys are solid, which was nice - apart from the aircon compressor which would shift slightly if I tugged on it. I don't know if that is normal due to the clutch arrangement or if it means the compressor has an issue. Either way, it spins pretty well without any dragging noise which makes me suspect it isn't the source of any weird noises that I was blaming on it earlier. Of course, the clutch might have just cleaned up a bit with use.
Right - next mini project will probably be the fuel pump. The current one is growling quite bad, and I still need it to start the Jeep from cold. LPG conversions are pretty bad for killing fuel pumps because it's tempting to keep the tank near empty (why buy fuel you're just going to cart around the place?) and the petrol pump keeps running while you're on LPG.
This has the potential to snowball because the LPG tank is 10 years old which means it is due an inspection, which generally costs as much as a new tank, and the petrol tank likes to drip fuel if you brim it and park facing up hill. So.. there may well be some photos of the LPG install with the fuel tanks sitting on the ground

Or I might get lucky and find that the petrol leak is due to the gasket for the pump/sender unit and the LPG tank is absolutely fine. But it doesn't normally go like that!
---
Last edited by Morat; 04-26-2014 at

03:37 PM

.

05-10-2014, 11:51 AM
CF Veteran
Join Date: Jan 2010
Location: North Riding of Yorkshire, UK
Posts: 1,135
Year: 1997
Model: Cherokee
Engine: 4.0

---
Fuel pump looks too difficult for now!
Instead I put in two fan shrouds and an e-fan. I found the socket for the e-fan and everything hooked up just right and worked. I was almost disappointed
Kudos to DorsetJeep the breaker who supplied the bits for 50 GBP posted, and even included two fan shrouds for the viscous fan. One complete and one cut at the bottom so it's easier to install/remove. I used the cut down one for now since I'll be back into the front of the engine again pretty soon, I reckon.
The aircon has now started kicking in again, along with the new e-fan. The compressor is definitely the source of the "bad steering pump" noise which goes away when the compressor clutch kicks in. What I really need to do is get the vacuum leak sorted out so that I can switch the air-con away from de-frost and see if the air-con actually works.
Temp holds steady at 90C/194F (ish) on the dash just as it always did.
Oil change. Nothing exciting - just nice to get rid of that black treacle and replace it with 5/30 full synth. Mileage is 139,660. I'll try and keep this oil change short since that was the first one I'd done and the oil was nasty. The oil filter came off by hand, like it should. Amazing! Also, I do like working on a vehicle I can get underneath without jacks/stands.
I tried getting the oil filter adaptor off so I could change the O rings but no joy. It wasn't shifting for my improvised 10mm spanner -> 14mm deep socket -> two socket extensions set up. I need to find a way to grip the torx bit in something with more beef. and length. I decided not to go full retard, this time
---
Last edited by Morat; 05-10-2014 at

12:07 PM

.

05-11-2014, 08:13 PM
Seasoned Member
Join Date: Apr 2010
Location: New Alexandria, PA
Posts: 410
Year: 1991
Model: Cherokee
Engine: 4.0 Litre HIGH OUTPUT

---
Is it the law to have those amber lights on the fenders of your vehicles? I always see those on Europe vehicles like Audi, BMWs. They still come with them over here in the US. Im guessing they are turn signals. Im guessing you dont have the Cherokee 2500 over their since I think you said Cherokees are rear over their. Atleast I know these were only avalaible in China only till 2005.
http://upload.wikimedia.org/wikipedi...2012-04-14.jpg
Ours discountined in 2001

. But I did more search and found before the Cherokee 2500 their was a bigger rised roof on China Cherokees, but were the same as the normal XJ.
http://www.productioncars.com/galler...ep&model=Super
Their called Super Cherokee.
http://s2.mojalbum.com/4219952_17601...3/20104345.jpg
It had a mixed of a 84-01 parts together like end caps and such too and even used the 2500 taillights.
This is a good site to read on the China Cherokees that no one really knew about.
http://www.chinacarforums.com/forum/...ead.php?t=3583
---
Last edited by Cherokee_Laredo; 05-11-2014 at

08:28 PM

.

05-12-2014, 09:23 AM
CF Veteran
Join Date: Jan 2010
Location: North Riding of Yorkshire, UK
Posts: 1,135
Year: 1997
Model: Cherokee
Engine: 4.0

---
Hi,
yes, those are turn signals (indicators in the UK) and all vehicles have at least four. Two on the front, two on the back and usually two on the front wing (fender?), or sometimes on the wing mirrors.
We've never had the flashing brake light = turn signal set up, at least - not on purpose
Jeep Cherokee XJ died in 2001 for us as well, due to emissions. I've love to get my hands on Chinese Jeep but they're not available in the UK. I suspect they'd need separate type approval to the genuine XJ which would mean meeting 2001+ emissions standards.
The name carried on in Europe, and was slapped onto what you guys called the Liberty so it wasn't such a shock for us when the "new Cherokee" came out this year.
In other news. I just checked up properly on the 5w30 oil I used and it has 0.12% Zinc - which isn't too bad especially as it was pretty cheap
I don't know if it is available in the USA but for UK readers (are there any?) it is Comma XTech 5w30 and costs £25 for 5litres.
---
Last edited by Morat; 05-12-2014 at

10:22 AM

.

05-12-2014, 10:13 AM
Member
Join Date: Nov 2011
Location: Cornwall, England
Posts: 125
Year: 1998
Model: Cherokee
Engine: 4.0 I6

---
I'm a UK reader! That's a good price on that oil, does the Jeep seem to like 5w40? I use Valvoline 10w40 in mine...

Edit: Did you mean 5w30 or 5w40, as you used both in your post, haha!

05-28-2014, 04:07 PM
CF Veteran
Join Date: Jan 2010
Location: North Riding of Yorkshire, UK
Posts: 1,135
Year: 1997
Model: Cherokee
Engine: 4.0

---
Bryn, I meant 5W30. I settled on Comma because it was cheap and available locally - that was before I got geeky on the subject and did some extended Googling. It turns out that their products are far better then their marketing and they are worth checking out. The oil I used is this one
http://www.commaoil.com/passenger-ve...ducts/view/171
but they have a 10w40 with even higher zinc. I'll do some more research at next oil change time but this thread makes me think I'll stick with the 5w30
http://www.jeepstrokers.com/forum/vi...15&t=330#p3636
- well that and the recommendation in the owner's manual. Sadly, I don't think we need to worry about running in 100F temps in the UK.
In other news - I've put a new temp sensor in the LPG reducer. Transformation!! The LPG ECU is now getting a valid reading and will switch over to LPG from Petrol automatically. This stops me having to use the emergency switch over (stop engine, press and hold LPG button for 10s, start engine, pray it stays in LPG, curse, restart) and I'm burning less of the expensive stuff.
Weirdly, I no longer have to do the "poor man's prime" when starting up from cold. I can't work out why that would be so I'm putting it down as coincidence for now.
The reason for this burst of activity was the the LPG temp sensor dying completely which left me running on Petrol only. At this point I found out that the Jeep can't run uphill on Petrol for more than about 30 seconds. I hadn't realised because we live at the top of a hill and I only ran on Petrol until the Jeep warmed up running downhill. When driving home on Petrol only... I couldn't make it back up and got towed. By a Ford

So.. now I need to work out what the fault is with the (Petrol) fuel system. It isn't crucial, but I want the option of running on Petrol. The pump is grinding still, but seems to give plenty of pressure on the flat. However, I still need to measure the pressure at the fuel rail so all bets are off until my friend finds one of the three he has buried in his workshop

06-04-2014, 03:56 PM
CF Veteran
Join Date: Jan 2010
Location: North Riding of Yorkshire, UK
Posts: 1,135
Year: 1997
Model: Cherokee
Engine: 4.0

---
Well my mate didn't come through with the pressure gauge - he's lost the schrader attachment - with my brand new 30quid gauge I read 48 PSI with the engine running which is within spec, if a touch low. When I switched off, the gauge gradually fell. It reached 15 PSI after 24 minutes. After 24 minutes I decided that I was bored of standing in the rain, watching a gauge fall v e r y s l o w l y down towards zero.

So, I guess the culprits are

1. Leaky injector(s)
2. Bad Check Valve
3. Some other fuel leak?

I'm not sure where to go next. The fuel pump is grinding pretty loud nowadays so it's due replacement which should take care of the check valve. But if it's the injectors then they'll be leaking fuel into the cylinders when I'm running on LPG which will **** up the LPG fuelling map.


As for the LPG side of things, it's running - but I had to disable the automatic diagnosis functions because the new LPG temp sensor reads 110 degrees which is enough to trip the LPG ECU into a fault mode and drop me back to petrol. Since this only happens when the LPG ECU is running the engine and the reading matches the gauge on the dash otherwise.... it looks like the reference voltage in the ECU is wobbly. Apparently this is something that can happen with old ECUs of that type, or with bad earth, or both. I think in the long run I'll be looking for a newer version of the same ECU. I really really can't face rewiring that rat's nest!

Oh, and it failed the MoT (inspection) today. Worn front brake pads. FFS, so obvious I forgot to check. Apart from a couple of advisories for light corrosion on some brake lines which I can sort with some sandpaper and grease she was bob on. Which was something.

Now I need to work out which pads/rotors I need. There are a confusing number of overlapping options on the UK sites. One piece rotors or two piece composite? and there seems to be two sizes of brake pad too :/
I'll go ask on OEM tech...

06-05-2014, 05:49 PM
CF Veteran
Join Date: Jan 2010
Location: North Riding of Yorkshire, UK
Posts: 1,135
Year: 1997
Model: Cherokee
Engine: 4.0

---
Pads and discs done :-) it turns out we have an account with a motor factor at work and they deliver same day. Pretty good prices too! So I can drop it in for the free re-test in the morning and have my jeep back legal for the weekend.

Can't complain about the fail though,those pads were toast :-o

06-19-2014, 03:33 PM
CF Veteran
Join Date: Jan 2010
Location: North Riding of Yorkshire, UK
Posts: 1,135
Year: 1997
Model: Cherokee
Engine: 4.0

---
After some intermittent window shenanigens... both left hand windows packed up a few days back. I managed to get them back up with a spare battery and some speaker wire but it was clear that the time had come to get busy with a soldering iron.
Ebay provided some heat shrink tubing and some wire. I'm now wondering if getting wire rated for 6A was a good idea after all - it seemed a lot thinner than the stuff I was soldering it too. On the other hand it was 50*0.1mm which is a LOT more flexible than the crap that Chrysler decided to use. Honestly, I'm shocked. I had a BMW E30 that was 7 years older than my XJ and it never had a wire fail. I found 4 in one door harness on my XJ.
I haven't soldered anything for years. The guy who taught me used to maintain V bombers for the RAF during the cold war. Seeing as they were just about the biggest and most complex aircraft the RAF ever had and they dated from an age when everything was analogue and fixed by a guy with a soldering iron you can imagine he was just a little bit good. He was also a kind and patient teacher. If he was looking down I hope he didn't see the first few splices before I got the heat shrink on them! The last couple would have merely had him shaking his head. I hope.
Anyway, they're fixed now - and as a bonus the front speakers have started working again too. This is a mixed blessing since they both have tears in the fabric and sound horrible if you put any bass through them at all. This is fine for speech, but annoying for music. I'm going to have to replace them - although that will be a lot less fiddly than the soldering. I'm trying to work out what I can use as replacements, I've read a lot of opinions on the Infinity gear ranging from "rip it all out" to "just bung in some 2ohm speakers". I'm quite fond of the original gear since it fits so well, and the failing wires wasn't really a stereo issue.
Anyway, I think that'll be next month now. At least I can wind the windows up from every switch, door open or shut

06-20-2014, 03:34 PM
CF Veteran
Join Date: Jan 2010
Location: North Riding of Yorkshire, UK
Posts: 1,135
Year: 1997
Model: Cherokee
Engine: 4.0

---
And finally ebay came through with a genuine XJ dog guard. Just a small thing really, but they seem quite hard to find and I miss the one that was on the Green 96.
The problem is that Basset hounds are low.. and get covered in mud. They also think that the driver's seat is the only place to be. :/
This'll stop them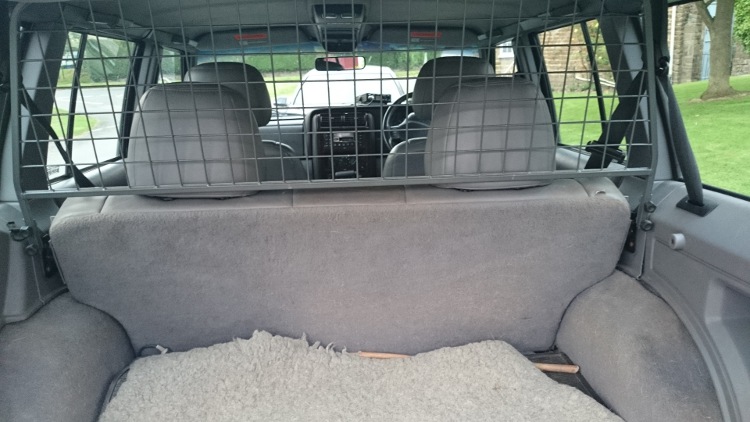 ---
Last edited by Morat; 06-21-2014 at

03:46 PM

.