Project Bruce

05-30-2010, 12:33 AM
Senior Member
Join Date: Jan 2009
Location: Tacoma
Posts: 640
Year: 2000
Model: Cherokee
Engine: 4.0

Project Bruce
---
I have a build thread over on jeepforum but not on here. Im gonna skip past all the crap when it was stock and still a baby. Ill just start from about a month ago til now.
Heres some quick specs of my xj though and mods/upgrades as of today....5/29/10.
"Bruce"
1992 Laredo 4dr
174xxx
4.0, aw4, 231
dana 30 front
8.25 rear
Mods:
6" lift using 4" Fabtech coils and 4" bastard pack rear with 2" Rough Country shackles/spacers
Rough Country lca's
Rough Country shocks
Iron Rock Offroad BPE's on front and rear
Iron Rock Offroad double shear track bar
ZJ v8 steering
Skyjacker steering stabilizer
15x8 Cragar V5's
32x11.5x15 BFGoodrich Mud Terrain Km's
Front tow hooks
Rear hitch with d ring receiver
Lights on bumper and homemade light bar with 4 lights
Rock ratz tire caarier
H4 headlights
Uniden CB with 4' Firestik
Flowmaster Super 44 offroad muffler w/ turndown
Magnaflow hi flow cat
On to the build
--------------------------------------
It had sat this way for awhile.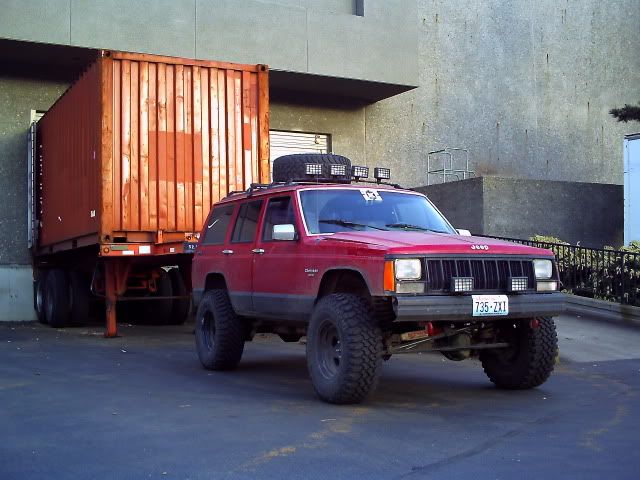 I got a little bored so i decided to throw on a 2" bb on top of the 4" i already had. But before i could do that i had to get an sye. I found a deal on a np231 out of a 98 with less miles and a rubicon express hack n tap on it. So i bought that. Made a huge difference. Then i went ahead and put the bb on.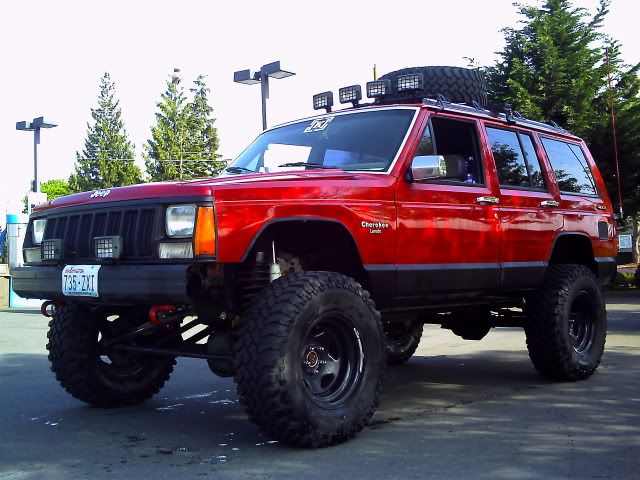 After that i addressed some bad tre's on the steering. I had the ****ty rugged ridge steering. Its a pile of crap nobody buy it. I upgraded to stock parts and got some zj v8 steering...tie rod, drag link. Feels great now and no more death wobble.
My alternator crapped on me this past Friday and i put a new one in on friday night.
Thats really about it as of right now. Next order of business is gettin some extended brake lines, ordering an IRO tie rod and im gettin some new Rough country 4.5" rear packs this week to make my jeep more level. I bought a low tread set of 35s a couple weeks ago that i might throw on after i paint the wheels.
More updates soon.

05-31-2010, 07:54 PM
Senior Member
Join Date: Jan 2009
Location: Tacoma
Posts: 640
Year: 2000
Model: Cherokee
Engine: 4.0

---
Its just spray on bedliner up around the edges.
I sold an old roof rack the other day so im gonna buy some new rear packs on wednesday to bring the back up. And i should be ordering a new hd tie rod too.

05-31-2010, 08:14 PM
Senior Member
Join Date: Jan 2009
Location: Tacoma
Posts: 640
Year: 2000
Model: Cherokee
Engine: 4.0

---
Thanks man.
I wanna get out wheelin again really bad the last time i wheeld was march. I need to get new brakelines first though.

05-31-2010, 08:45 PM

---
Yah it's been awhile since I seen your build pop up in my subscriptions list. I've forgotten about mine over there to, still visit I just don't post all that much. Anyways keep up the good work.

03-19-2013, 07:52 PM
Senior Member
Join Date: Jan 2009
Location: Tacoma
Posts: 640
Year: 2000
Model: Cherokee
Engine: 4.0

---
I cant believe i never finished this thread lol. Welp long story short this build got cut short when i got rear ended on the freeway in Oct 2011. It was deemed totaled out. I only got 1800 out of it and unfortunately had to sell all the aftermarket parts off of it just to afford a new rig. I ended up buying a 2000 in Nov 2011 that im slowly, slowly building to be as good and better than this rig was.
Since i last posted in here though, i got 4.5" leaf packs and ran that with the 4" springs up front. got a front Warrior bumper, rear Durango 4x4 bumper and miscallaneous other small things.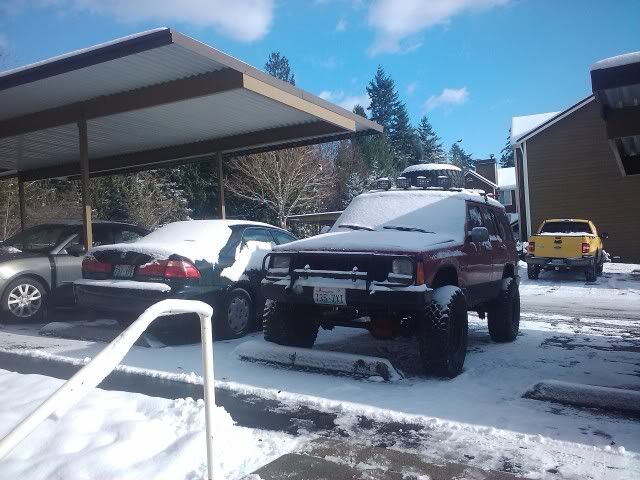 Thread
Thread Starter
Forum
Replies
Last Post
Stock XJ Cherokee Tech. All XJ Non-modified/stock questions go here
Stock XJ Cherokee Tech. All XJ Non-modified/stock questions go here
Currently Active Users Viewing This Thread: 1
(0 members and 1 guests)