Back in the Saddle Again (aka my build thread)

01-19-2013, 10:46 PM
Junior Member
Join Date: Oct 2012
Location: Lawrenceville, GA
Posts: 83
Likes: 0
Received 0 Likes on 0 Posts
Year: 2000
Model: Cherokee
Engine: 4.0L

Back in the Saddle Again (aka my build thread)
---
Short backstory: When I was 16 I bought my first jeep, an 85 CJ-7 out of New Jersey, a lousy bucket of rust but I loved it. Took it apart down to the frame rails and rebuilt it, built it up, wheeled it hard, beat it up some more and spent more time wrenching on it than I did driving it (wish I had some pics to share, it was a solid rig... lost most of my pics when my old PC crapped out though) But then came college and the frequent garage-time just didn't work anymore, so I sold it.

Ended up getting a '91 Comanche that I drove all through college. Had plans for it eventually, but never did anything, and eventually sold it as well when I bought a new(ish) Mustang. I was out of the Jeep business. And for the next few years, there was a big hole in my life.
Anyway, I recently sold the car because I got tired of making payments, getting tickets for using my turn signal in a menacing way and paying out the behind for insurance, and went with a more practical DD. A 2000 Cherokee Freedom Edition.
I told myself it was just a practical vehicle and I wasn't going to be doing anything crazy with it... maybe add a stereo, that's about it. Who was I kidding? To be honest, I had always wanted an XJ, even when I had my CJ I kind of wanted an XJ too. Now I had one and it wasn't long before I started saying, "well... maybe I'll improve the lights." "well..... I need tires ANYWAY... might as well be bigger, right?" Anyway... you get the picture.
SO, all that said, now I'm planning out my coming modifications. I'm going to be building this with an expedition-style use in mind. Still gotta be my DD. I want to be able to do some FS roads, moderate trails and camping use, etc. It's a 2wd at the moment, and eventually I'll convert it, but I'll probably start out just putting an auto-locker in the rear and go from there.
Looking forward to posting my progress and seeking everyone's advice. I must say, this place has already been an extremely helpful resource, as I read up on the headlight and harness upgrades and the write-ups which made doing that upgrade a breeze for me.
Next up is lift and tires. Stock tires are running close to bare now, so it's about time. Might as well size up. Think I've settled on a 3" AAL kit and 31's. Will post pics when I get that done.
---
Last edited by GaDawg09; 01-19-2013 at

10:51 PM

.

01-19-2013, 10:48 PM
Junior Member
Join Date: Oct 2012
Location: Lawrenceville, GA
Posts: 83
Likes: 0
Received 0 Likes on 0 Posts
Year: 2000
Model: Cherokee
Engine: 4.0L

---
Oh, and here's a pic after the headlight upgrade and grille swap (the chrome is too much bling for me).
[IMG]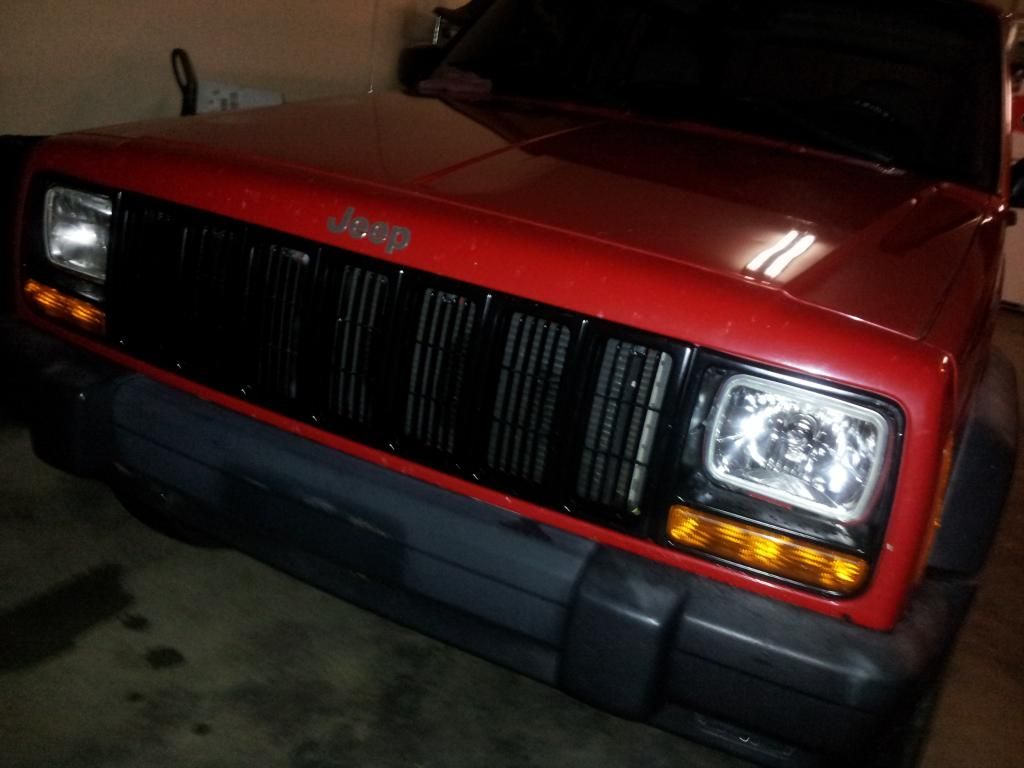 [/IMG]
Thread
Thread Starter
Forum
Replies
Last Post
Stock XJ Cherokee Tech. All XJ Non-modified/stock questions go here
Currently Active Users Viewing This Thread: 1
(0 members and 1 guests)