My off-road expedition in Carpathian mountains

08-29-2012, 12:48 PM
Newbie
Join Date: May 2011
Location: Kiev, Ukraine
Posts: 8
Year: 1995
Model: Grand Cherokee
Engine: 5.2

My off-road expedition in Carpathian mountains
---
It' s far from US but may be it would be interesting. Sorry for my poor English

Title
Off-road Expedition in Carpathian Mountains
Route:
Ukraine: Yasinya - Lopushne - Ust-Chorna - Russka Mokra - Komsomolsk - Black River Top Mountain - Osmoloda - Yayko Ilemske Mountain
Duration:
8 days
Vehicle:
Jeep Grand Cherokee'95, 5.2, Lift 5", 4 shock absorbers from 2500 truck rear, 2 Fox Racing shock absorbers front, BFGoodrich All-Terrain 32x11.5,
Come-Up 9000 winch
Participants:
I
my wife Lesya
Lesya's sister Olga
my son Alex
my daughter Anastasia
Off-road route length:
Approx. 150 ml
Day 1.
Started at 7.00 AM from Kiev. Navigator made a 300 ml route to Yasinya village. Made it to Yasinya on 5:00 PM, driving not more then 50-60 MPH to save fuel.
As far as entry point to mountains was discovered during previous expedition we immediately get in and drive up to Stig mountain (6000 ft), then we pass a mountain
lake (we decided not to go down to it as there was a camp of local shepherds) and get to Troyaska mountain. We look at pedestrian trails signs and follow the route
Ust-Chorna village. Going down a steep hill to Svidovets mountain back towards Tartaruka mountain. Itís getting late so we find a hollow, and make a camp there.
Weather is getting worth a grey cloud is coming to us, it is lower than we and is covering a valley under us. Eating, drinking for a good start and going asleep.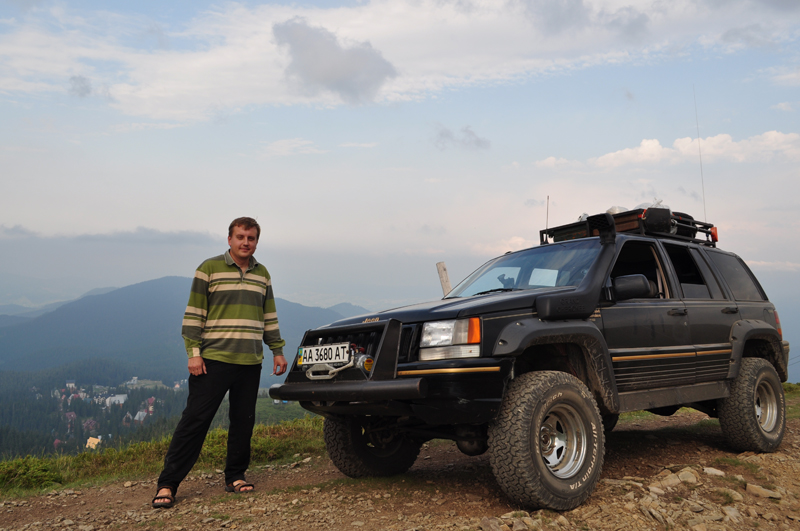 Day 2.
There was a rain at night but when I get up at 6:00 AM it stopped. I make a couple of pictures of valley, covered with clouds and wake others - while there is no rain
it's better to pack tents and things and go further. While we are having breakfast the mountain back is getting covered with cloud and rain starts. Visibility reduces
to 30 ft, too bad for rock crawling but we have no choice. Slowly we pass Tataruka mountain, Shasa mountain back, Svidova mountain. We meet another shepherds and they
say we are going wrong way and should return a little bit and make a right turn to get to Lopushne village. We do so and after a very long way down get to the village.
Found the way to Ust-Chorna village and go there 10-15 mph - going faster is impossible.
In Ust-Chorna we found gas station and fill the full tank - there will be no gas stations further.
Moving on to Komsomolsk village. It stretched for many miles along the road, we pass it and continue, this is the last village, the road is getting worth and our speed
is not more then 10 mph. Finally we reach the first point where I planned to try to break to Lymnytsia river. On old 1972 soviet military maps, loaded to my navigator
there was a road. We stop and walk with Lesya for reconnaissance. Took a portable CB radio to be in touch with otters in the car. It seems there is no way further road
turns into creek and then finishes with logs and stones form a windfall. One more route made by a skidder goes steep up, but swampy ascent with a 3-4 ft deep track and
hemps leaves or Jeep no chance to get up even with the winch. This way is impassable, we need to find another...
We decide to go further to the Black River Top mountain and look for luck there. Preparing for the expedition I found reports of various people trying to make it
through this mountain but all of them failed - well, at least we will try.
We pass a couple of miles and find a perfect place for a camp between Big and Small Ozeryanka mountains - here road ends and transforms into mountain river.
Heavy rain starts. We sit in the car and wait until it finishes to start installing tents and make dinner. It was raining 2 or 3 hours, during this time I examined
the mentioned old military topographic map (I made a color printout of it because it is much more convenient then look on it on a 7 inch navigator display).
When rain stopped we installed camp, eat drinked and went for a sleep.
Day 3.
I wake up at 6:00 AM drink coffee and walk for reconnaissance towards Black River Top mountain. First I try to walk up the river but in 2 miles I found out that it is
blocked with huge stones 5-7 ft high. I thought how to tow them to clear the path but the place is very narrow and there is no place to leave them. I return a little
and found a dry narrow steep channel from meltwater with a 5 feet stone stair. Channel has a hard to pass triangle profile and clay bottom. I go up and find a swampy
plateau with a small angle up overgrown with the forest, I suppose that my car will go there. I go further through the forest and find out the second part of way up to
the top - 1000 ft length and of 35 degrees angle, with wet grass and clay on the bottom. On the sides are small pines, not very good for winching, but we can try.
I climb up stopping to smoke 10 times - the route is very steep. An finally I met a bear. Yes, a real bear. Thanks God not face to face but he was in 30-40 ft in the
forest from me. I suppose my noise frightened him, he snarled and went away, breaking through bushes. I stopped and smoked a cigarette. Smoked another one. Bear seems
to be gone, I continue climbing up.
After the ascent there is another forest, but I will be able to drive between trees. There I find the old left route blocked with a lot of logs of a windfall. Long
time ago there was old border between Poland and Czech Republic, I found old stone posts with letters P and CS on them and a date 1927.
There will be a lot of work for my chainsaw to clear this road but this is better then nothing. I go a little further to the beginning of way down from the mountain to
the other side. OK, it's enough for today, let's get there first and then we will think how to get down.
I return another way to see if it is better but it is not - the best is the way I went up.
I return to camp on 10:00 AM and tell girls about the reconnaissance results and say that our chances to get to the mountain top are around 20% and I am not sure is it
worth trying. Drink beer. With every new bottle I am getting more and more optimistic.
At 12 PM loggers team arrived on Ural wood carrying truck and a skidder. They are cutting wood nearby. I tell them about our plans and they say that we have no chance
- even people on ATVs didn't make it. Even their skidder cannot take such ascent. Every word of loggers makes me more and more confident to try. I say: OK guys,
anyway I will try, if I will not return in couple of days you can write a new local legend about Jeep which took a Black River Top mountain.
Day 4.
Woke up late at 9 AM. Yesterday's enthusiasm got much lower, but we have to go. I am driving in the river alone to reduce weight of heavy loaded car, others follow me
walking in rubber boots. I am taking without a winch a couple of 3 feet steps - cool, I was sure that I will have to winch there. I am almost near a channel but
suddenly I got stuck. I cannot open door and my team is far back so I get out through the window and connected a winch rope to nearest big pine. I am almost out of the
swamp when 10000 lbs synthetic rope tears. Again, I get out through the window, tie the rope and try again. Bad luck - rope tears again. I repeat it 10 - 15 times
until my wife comes and says that I'm a stupid *** and we should winch to another tree. Mumbling that I know better I allow her to connect rope to a pine on another
side and - wow, we are out! Well, rope got 2 times shorter, but I donít worry much as I have a lot of synthetic extenders.
Now it's time to perform some road building works. I take a shovel and next couple of hours was making the channel profile more flat. When finished winching couple of
times I got to high vertical stair at the middle of the climb. Tried to take it myself but only managed to get front wheels on it. Winching, winching, winching, couple
of rope tears and we are on it. Again some road works and we are on plateau. That inspires. I say: everyone clear the way, now daddy will go fast and easy and in 150 ft
I get stuck in the swamp. Winching doesn't help - there is a log in the middle of the trail and it is stretched against my front axle. I dig it out and remove from my
way. That's much better! Winching we get to the dry place at the edge of the forest. Half of the way to the top is passed so we decide to install camp and have a rest.
Remembering about a bear and other wild animals we hide food inside Jeep not to attract them and leave a burning fire.
Day 5.
Wake up at 5 AM and while others are asleep take the chainsaw and go to make a route through forest to second ascent. Try a lot of variants to get to it with minimal
side rolls which are very dangerous in the mountains. And also finally scary wild animals with the noise of the chainsaw. All is done, but grey skies make me worry -
rain in mountains can make our rout impossible to take. I wake up my team and we pack fast. Let's go! They go at front of the car ready to take a winch rope and
connect it to tree. I try to take the steep ascent myself but fail - Goodrich AT is not Bogger or Silverstone - it takes off grass and slips in a clay. For a long time
we winch from tree to tree - I sit all the time in the car and hold it on breaks while girls are connecting winch rope - I'm not sure that a parking catch in automatic
transmission will hold my car on 35 degree hill. Girls perform fantastic - each time faster doing their job, I even don't have to tell them where to connect the rope
anymore! After a couple of hours we get to the top. Great! I move further myself and my team follows me walking and eating wild raspberries - now I understand why bear
selected this place.
When I reach the old Polish border I stop, take the chainsaw and begin clearing the road from windfall. It takes another couple of hours and a couple of gas tanks of
chainsaw. Then we tow the logs from the road and I move on. In one of puddles Iíve got a trouble - back of the car sleeps towards one of the logs, which I cut too
close to the road, I see it but hoping to be lucky to pass I say: I'll make it and go forward. You won't - answers the log - I dreamed all my life to be a gate - and
hits my rear door, breaks side glass of the trunk and gets inside, fixating me in the current point of space and time. No need to put car on Parking...
With a lot of unprintable words I get out and cut this log, everything inside trunk is in broken glass. Finally I go to the top, and we decide to install a camp there
- further is a descent and we needed to find the best way to get down. While girls are installing tents I seal the broken window with polyethylene piece and sealing tape
- the rain is coming.
With Olga and Alex we go for reconnaissance. We try to follow the old trail on the map, it takes us to old deep forest, lots of windfall and finally ends with
extremely steep descent with wet clay - at the end of it there is a swamp. Without a rear winch I am afraid that I will brake all world bobsleigh records, but I
will get a medal post mortem. We return to the camp.
For next reconnaissance I go with Lesya, by the way we need to refill our water supplies somewhere in the Black River down. We try another descent - it's much better
but still very hard to take - swamps and no trees to connect a winch rope. We went down and moved a couple of miles by the Black River, looking for another ways from
the top. Found another one but to reach it we need to go 10 miles on mountain back and pass a lot of windfalls and bottomless swamps. Too bad. Deadly tired we return
to cam in the evening and go sleep after dinner. Rain starts to fall.
There is one more option to go down but I leave it reconnaissance for tomorrow - now I am too tired.
Day 6.
Woke up early and went to discover third way down. It is extremely hard itís a channel of a creek - side rolls and swamps, steep descent, 5 feet deep trail, but its best
that we saw. I wake my team, and we start down without breakfast - while there is no rain.
I drive down and a little right on a steep wet grassy hill trying to avoid stamps - the grass is higher then a car sometimes. One time I was close to roll over - side
roll was 35 degrees which is almost critical, but thanks God and 6 shocks I stayed on the ground. I entered a creek and proceed forward. Couple of times I had to winch
down! Once I stretched against ground with my bull bar, but moving back and forward managed to get out of the trap.
Finally we are on Black River. Another road works and we move further down the river. Found a nice place for a camp and stayed there. We drink and celebrate our win in
this mountain challenge - we are almost through!
Day 7.
Wake up, have a breakfast, pack things and proceed down the Black River towards Osmoloda village. In 5 miles and couple of hours we got to a new ground road. Workers
making this road tell us that they are planning to make it between Osmoloda and Komsomolsk next year - it's a pity - our hard off-road track will be stop existing.
We go by the new road to Osmoloda, by there more beer and ice-cream for children and return a little bit back, cross the Moloda River and install camp on rocky shore -
no one can get there on stock 4wd vehicle - the stones in river are too big. We wallow in the river, drink, eat and celebrate Olga's birthday. Some guys on Land Rover
Discovery tries also to cross the river but fail. They make pictures of our Jeep on the other side and went somewhere else to find a place for their camp.
Day 8.
We return a little bit back and go towards Yayko Ilemske mountain to discover some entry points for next year expedition. Drived half a day, walked and then returned to Osmoloda. Decided to find some place for a sleep after village but failed - villages appear one after each other and we decide to proceed back to Kiev - anyway our trip is over now. Late at night we are home. Next morning I found out that my left front wheel is completely flat - a big piece of wood get stuck between tire and a rim. I removed it and pumped up the tire - now it seems to be OK.
Video:

08-30-2012, 01:29 AM
Senior Member
Join Date: Aug 2009
Location: Tulsa,Oklahoma
Posts: 835
Year: 97
Model: Cherokee
Engine: 4.0

---
wow, looks like you guys had a blast !!! sorry about the window..... beautiful country, I'd love to take the family on an expedition like that someday...!! thanks for posting, those were some beautiful photos !!

totally off topic but know someone who just picked up some old oak wood from there, its been carbon dated over 5400 yrs old... He sells them as knife handles...

take care,
rob

08-31-2012, 11:31 AM
Newbie
Join Date: May 2011
Location: Kiev, Ukraine
Posts: 8
Year: 1995
Model: Grand Cherokee
Engine: 5.2

---
Thakns guys

Yep, when I was in business trip to US I spent all my free time riding in mountains in Washington. I was really impressed by their size

But, yes, I noticed that if there can be a road - there is a road (I was driving a rental Aveo
) and I got almost everywhere I wanted.
Our mountains are not so large and high, but there are a lot of places which are very hard, but possible to get. I've already started preparing a new track for next summer expedition.
Broken window is already replaced, hope to find a used door of exact my color
not to waste time on straigtening and painting the damaged one.

09-15-2012, 07:42 PM
Newbie
Join Date: May 2012
Posts: 29
Model: Cherokee

---
read this a few times now
,very cool,we are spoilt in nz in the fact that we dont have to worry about things that bite,and or anything poisonous.who needs huge aggressive rubber when you have a jeep
.thanks for sharing.
vaughan

09-23-2012, 09:52 AM
Newbie
Join Date: May 2011
Location: Kiev, Ukraine
Posts: 8
Year: 1995
Model: Grand Cherokee
Engine: 5.2

---
Thanks again guys.
You are welcome to join us next year (if everything will be ok and we will go). But shipping a car by sea will be expensive, as far as I know its 1-2 thousands dollars one way.
Please also notice that obligatory things for such expedition are:
1. Tyres not less then BFGoodrich AT or MT, the best in our mountains is Silverstone MT 117.
2. Tire size not less then 32". 33-36" is optimal.
3. Front 9000 or higher winch is a must. Rear winch is optional but somtimes saves a lot of time.
4. Offroad experience, preferably in mountains.
5. Knowledge of your car and ability to repair it yourself. There is no service or assistance nearby.

10-02-2012, 03:20 PM
Junior Member
Join Date: Feb 2011
Location: Denver, Co
Posts: 56
Year: 2001
Model: Cherokee
Engine: 4.0

---
"With every new bottle I am getting more and more optimistic." Some things are the same no matter what country your in. Looks like a fantastic time, thank you for sharing. Great pictures.
Thread
Thread Starter
Forum
Replies
Last Post
Stock XJ Cherokee Tech. All XJ Non-modified/stock questions go here
Currently Active Users Viewing This Thread: 1
(0 members and 1 guests)