FS[International]: 2dr V8 powered

01-07-2017, 10:08 PM
Member
Join Date: Sep 2008
Location: Sandia Park New Mexico between Sante Fe/Albuquerque
Posts: 116
Likes: 0
Received 0 Likes on 0 Posts
Year: 1989 sport 2 door
Model: Cherokee
Engine: 4.8 chev V-8 2006 300hp 330 torque

2dr V8 powered
---
Thread Tools
Search this Thread
Rate Thread

Yesterday, 12:52 PM #
1
ocs1667
Member
Thread Starter
Join Date: Sep 2008
Location: Sandia Park New Mexico between Sante Fe/Albuquerque
Posts: 106
My Photos

selling 2dr V8 powered Cherokee
$12500.00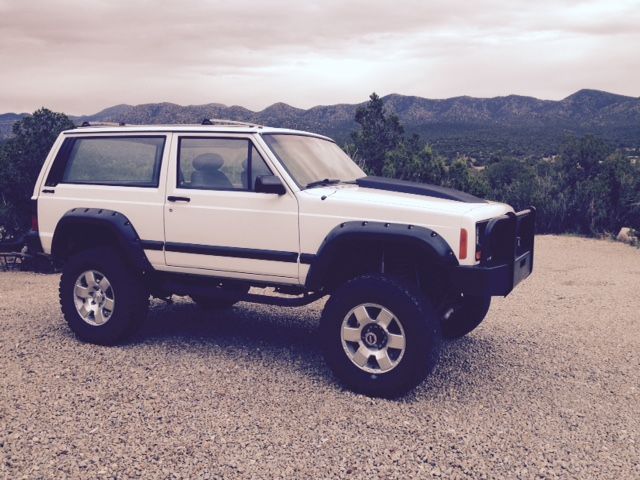 . The following is some of the build information. This is not a Junk yard build, but thought out and professionally done. Have most of the receipts and photos of build, for buyer.
1989 Cherokee 2 Door White – Grey Interior
6" left w/quick disconnect sway bar
4.8L V8 LR4 series, 270HP, 285 ft/lb20-23mpg All factory stock
BLM slick shifter
Stock Eng.
Novak motor mounts, thick 3/16" laser cut and CNCbent steel construction
Wire loom and PCM (Computer) refreshed By Novak to operate Chevy Engine and Jeep
New Novak Aluminum radiator with fan shroud - 3 Fans
GM 4L60 Trans. (rebuilt 2015) Novak Adapterfrom trans. to transfer case
Transfer Case Gear 231 Transfer Case(rebuilt 2015 Novak 231 shifting mechanism
1988Jeep Grand Wagoneer front differential 3.73 gears w/ disc brakes TNT Axel Trust Danna 44
Complete rebuilt of front suspension
Late model dodge steering box.
1998 8.8 ford rear end 3.73 gears w/ discbrakes (rebuilt 2015)
Frame stiffeners welded to sub frame
Tires 285-70-17 BFG All Terrain T/As 80% +left
S/S Brake lines

Currently Active Users Viewing This Thread: 1
(0 members and 1 guests)