Bought my first XJ

10-09-2018, 12:09 PM
Junior Member
Join Date: Dec 2017
Location: SoCal
Posts: 66
Year: 99
Model: Cherokee (SJ)
Engine: 4.0

---
havent updated this in a long while but last night i spent hours getting dirty and cursing Chrysler products
few months back the overflow nipple on the top of the radiator broke off but no big deal becuase previous owner bought a lifetime one from pep boys...cool right?
so i pull out the old radiator head to pep boys, grab a gallon of coolant and exchange the radiator. easy peasy.
drop the new one in and flush out the system.
fill and drive.
well a month later...
what do you know the waterpump fails. -___-
so pull the whole front of the engine apart to get to the waterpump.
drain out that nice new coolant i just put in.
head to Vato Zone to grab a new waterpump, lower rad hose, 180* thermostat and yet another gallon of coolant.
replace the waterpump.
replace the lower rad hose
drop in the new thermostat start to tighten up the thermostat housing when i hear a little noise and of course the f-ing thing dropped out slightly and now i just cracked the housing.
so back to the parts house i go.
thankfully they had one in stock.
get back home and dont take any chances and i put a little dab of permatex on the top so it will hold it in the groove as i put the housing on.
once again button everything up and fill up with new coolant/distilled water
that brings me to yesterday.
in the morning after the GF left for work i went to walk the dog and i notice a leak trail from our parking spot out to the street. great....
i text her to look over the truck and monitor the gauges on her short drive home from work and ill address everything when i get home that afternoon.
so i get home and notice that the line fitting from the pressurized hard line to the transmission is leaking substantially. ugh.
call around and have to go to a pretty far parts house to grab the new line fitting but thats fine so i hop on the harley and grab the part after work. SUCCESS!!!
get home and 10 min later the new fitting is on and the leak is gone. just topped up the ATF and im in business.
before i decide to enjoy the rewarding feeling of having accomplished this fix in record time i decide to check for other leaks...starting at the front of the engine.
well well well.
what do i see but a little green crusty spot on the lower rad hose...MOTHER FUUUUUUUUUU
further inspection yields that its literally sliced about an inch long but has not yet gone completely through the hose. wow close call.
wouldnt want to send the GF driving and have this thing catastrophically detonate like some kind of roadside IED
so yet again i call the local autozone (where i originally purchased the hose less than 2 months ago)
they tell me they have another in stock but hoses arent warrantied. so ok i get it ill buy the new hose and yet another gallon of coolant and be on my way
get home and pull the lower hose and yet again watch that liquid gold spill from the radiator and WP.
and here is where i messed up.
i actually thought..."man this kinda sucks but at least these are both easy fixes and ill be done in no time"
WRONG!
i go to put the clamps on the new hose and what do i see...ANOTHER 1" SLICE
so now im irritated.
i call up the same autozone and they said they dont have any more but direct me to another store with one.
get there and wait in line for 15 min(not exaggerating)
thankfully i get helped by the store manager who grabs the hose i need after i explain what is going on and wouldnt you know...
SLICED 1" LONG but again not all the way through. regardless im not putting that on the XJ so i ask him to grab another...nope thats it.
so he calls another store and finds one for me and asked them to verify its in good shape. boom this saga is finally over.
so i drive another ten min further and go inside and wait in line again.
get to the counter...seriously i **** you not. guess what. ANOTHER SLICE.
IM ABOUT TO LOSE MY MIND. LIKE SERIOUSLY WHO KEEPS OPENING THESE BOXES WITH RAZORS?!?!?!
OR MAYBE THEY JUST HIRE SOMEONE FULL-TIME TO GO TO EACH STORE AND MAKE SURE THEY SABOTAGE ALL THE JEEP RADIATOR HOSES
at this point im fed up. i call up oreily and they verify they have two at the closest store.
i get there and grab the Gates Brand one, while a bit more expensive, the higher quality and lack of razor blade slices makes it worth it.
so after almost an hour and 4 autozone locations in 1 day i was over this.
get home. slap the new hose on.
finally install that new coolant temp sensor that i picked up from rockauto but have been too lazy to install.
fill it back up with coolant/water. burp the system. get it up to temp and drive it around for 10 min.
park and make sure it isnt leaking anywhere.
douse the thing in kerosene and light a match.
the last line didnt actually happen but a guy can dream right?
anyway sorry for the novel for those who read it...

10-09-2018, 12:11 PM
Junior Member
Join Date: Dec 2017
Location: SoCal
Posts: 66
Year: 99
Model: Cherokee (SJ)
Engine: 4.0

---
not much of an update but i supervised the GF do an oil change last nite
mopar filter/rotella t5 15w40
then i helped her change the thermostat out for a non failsafe 180* temp
scored some BF Goodrich Destination A/T tires
yet this was the only pic i took cause it made me laugh
jeep is happy once again

10-09-2018, 12:12 PM
Junior Member
Join Date: Dec 2017
Location: SoCal
Posts: 66
Year: 99
Model: Cherokee (SJ)
Engine: 4.0

---
and that brings us up to this past weekends adventures!
CAMPING SEASON HAS OFFICIALLY BEGUN FOR US
had a chance to take off for a few days so planned a pretty simple loop up 395 through Yosemite and back down through Sequoia
took a half day at work wed and left Long Beach around 1pm and reached our BLM campsite in Bishop around 630pm
woke up the next morning and took in the view along with the silence
Thursday we kept heading north on 395 and pulled off to check out the June Lake Loop
then headed north to Mono Lake
and even further north to the Bodie Ghost Town
after Bodie we headed south to Lee Vining to grab dinner on our way back to find a campsite near some natural hot springs by Mammoth Lakes
saw plenty of abandoned properties on the way but this one had a great view
we ended up at the Hilltop Tub right around sunset and had a nice soak while watching the sun creep out of sight,
stayed overnight and woke up really early to watch the sun rise from the hot spring too.
pretty darn refreshing to be in 100* water when its 30* outside haha
woke up Friday and after some coffee headed north to Tioga Pass (9945ft) and into Yosemite NP
scored a campsite at Crane Flat and had some breakfast before heading into the valley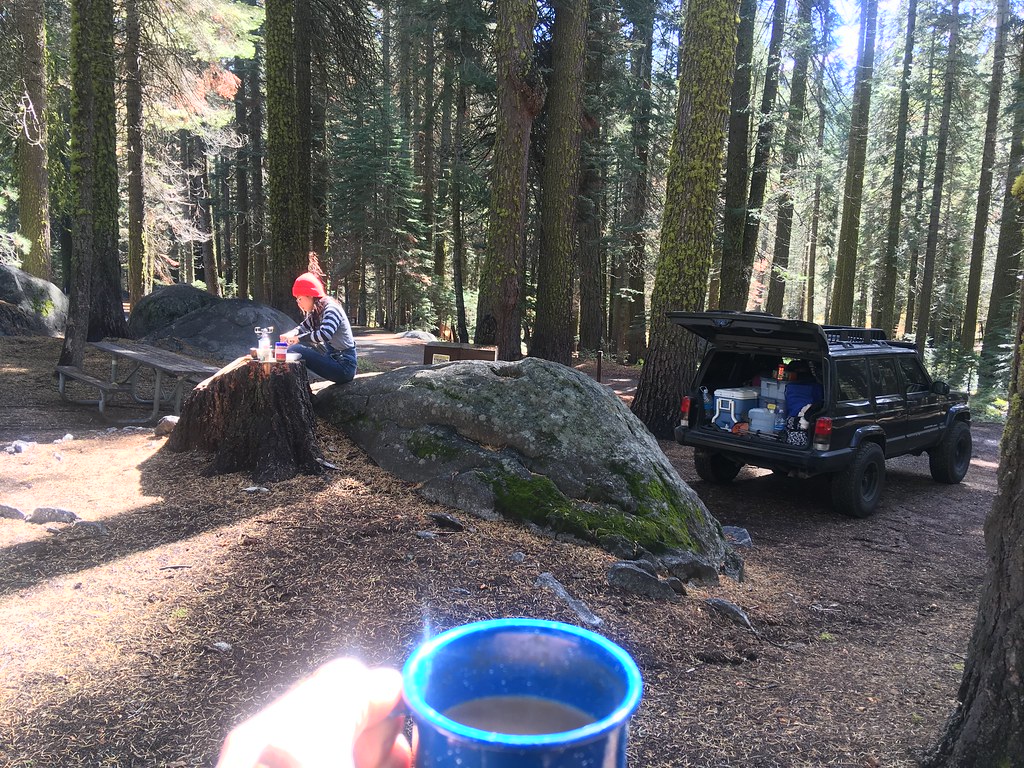 Saturday we slept in and took our time leaving and making our way down to Sequoia NP
weather looked fine leaving Yosemite and even heading toward Kings Canyon/Sequoia but as we started climbing it kept getting darker and darker
when we finally arrived at the General Sherman tree we parked on the side of the road and started walking up and all of a sudden the clouds unloaded a fury of hail which quickly turned into a sleet/hail thunderstorm
by the time we got back to the jeep it looked like this
we decided to just chill and let the storm pass and take a slow decent and find an area to stay for the night
we ended up stumbling upon Horse Creek Campgrounds which had awesome views to the still lingering thunderstorm up in the mountains and a peaceful river snaking through the canyon on the west
thats basically it.
we woke up sunday and took our time making breakfast and coffee before making our way back to the LA area
but since the XJ did so well i decided to treat it to some nice new parts
new upper and lower control arms
NEW HEAVY DUTY LEAF SPRINGS AND BUSHINGS!!!!!!!!!!!!!!!!!!!!!!!!!!!!!!!!! (FINALLY)

10-31-2018, 10:02 AM
Junior Member
Join Date: Dec 2017
Location: SoCal
Posts: 66
Year: 99
Model: Cherokee (SJ)
Engine: 4.0

---
so yet another long winded update...
last thursday we took the jeep up to the local observatory at night and on the way home i could tell it was idling different.
certainly had a strange misfire to it but with no CEL.
so checked for spark and had decent spark across all 6.
i then unplugged each injector individually while running and when i unplugged #5 it didnt have too much of an effect on the stumble.
boom so my stock oem injectors have finally given up at 160k... ordered a set of 4 hole upgrades. solved...i thought
meanwhile i still gotta put on those rear leaf springs and bushings so decided to do that while we wait for injectors.
here are a few pics of us doing the passenger side rear
boom so now that was taken care of i pulled the fuel rail in anticipation for the injectors (no pics of that but its pretty self explanatory.
new injectors finally arrive and im pumped because this has all gone rather smooth and ill be able to button this back up so she can take it to work...
old vs new
then to be sure i tested the pressure at the rail at idle and at heavy throttle and everything seemed to check out
yet the stumble is still there WTF
so i pull the plugs and still see a crap electrode on 4&5. so of course it is the plugs...
swapped them out with my spares...no change.
then of course its prob the **** VatoZone distributor cap/rotor/pickup coil.
well its lifetime so why not go get a replacement for free.
change everything over...no change.
ok so then i use my obd2 scanner and verify the TPS has good sweep voltage, the map sensor and o2 sensor are functioning correctly and i literally just cleaned the Idle Air Control Valve 2 weeks ago so there is no way its that...
but i take it out and verify its clean still...everything looks good.
so now reality starts to set in...
i better get the compression tester out
#1
#2
#3
#4:banghead:
#5:banghead:
#6
great.
just what i wanted to deal with.
so my fingers are crossed that its just the gasket that blew out and not a cracked head.
i specifically avoided the 0331 head model years and bought one with the 0630
so after work yesterday i had a few hrs to start tearing this thing apart
this is more of an involved job so my key was to just go slow and keep everything organized
step one: remove battery leads
step two: remove upper air box and intake boot
step three: remove lower air box
step four: remove throttle cables, electrical connectors and vacuum lines
step five: loosen serpentine belt and pull power steering pump
step six: pull the fuel line going to the rail, remove the 11 PITA bolts that attach the intake/exhaust manifolds
intake off.
exhaust off.
after that i started running out of daylight so i just drained the coolant and pulled the thermostat housing.
i ordered some things from amazon when i went inside
fel-pro gasket kit
fel-pro head bolts
anti-seize
tonight ill pull the valve cover, rockers, pushrods and the head...
fingers crossed
:facepalm::facepalm::facepalm::facepalm::facepalm: :facepalm:

11-01-2018, 09:20 AM
Junior Member
Join Date: Dec 2017
Location: SoCal
Posts: 66
Year: 99
Model: Cherokee (SJ)
Engine: 4.0

---
this tore down pretty quick yesterday plus i even had a helper
she was pretty bored in the beginning because all i had her do was organize the parts :laugh:
id consider this a good sign.
gasket is clearly torn between 4&5.
going to try and get the head to a machine shop today on lunch.
i couldnt find any cracks visually but im not an expert and my eyesight is pretty poor regardless
so at this point we'll wait and see

11-02-2018, 09:12 AM
Junior Member
Join Date: Dec 2017
Location: SoCal
Posts: 66
Year: 99
Model: Cherokee (SJ)
Engine: 4.0

---
the inevitable...
so now i should prob thoroughly inspect the block before ordering a new head from clearwater
:banghead::banghead::banghead::banghead::banghead: :banghead::banghead::banghead::banghead:

11-13-2018, 10:35 AM
Junior Member
Join Date: Dec 2017
Location: SoCal
Posts: 66
Year: 99
Model: Cherokee (SJ)
Engine: 4.0

---
ha thanks man!!
so to update...
i was watching the UPS tracking number like a hawk friday since i was off work and in usual fashion it showed up at 6pm :banghead::banghead::banghead::banghead:
by that time it was already dark and that was a wasted day...so woke up early sat and started prepping
brand spaking new head
new vs old
this was the most frustrating part of the whole endeavor
fired up just fine sat night so i was pumped...but had a little leak from the t-stat housing i needed to address but i was done for the day
sunday i woke up and pulled the thermostat housing off and made sure it wasnt cracked then seated it and refilled.
i also decided this would be an optimal time to do an oil change so new WIX filter and Rotella T5.
we took a break and decided to hit the local LKQ yard looking for a rear washer nozzle thats no longer in production :banghead:
found a 94 XJ and decided to take a chance grabbing one but once i got it home realized it didnt fit
finished off the afternoon with a wash/wax and LED interior bulb swap
daytime pics
oh and remember that leaf spring swap we did...well we didnt drive it (for obvious reasons) until the past few days and now im getting a louder than usual humming (or at least i think its louder that usual)
so im going to grab some new spicer u-joints this week and see if that solves it

11-14-2018, 08:39 PM

---
Great thread. With regards to the louder humming, it could be the leaf spring bushings. When I changed the rear springs in my 99, I went with the 2-piece urethane bushings. I got a lot of road noise. So I bit the bullet and pulled out the rear springs and swapped those bushings with a set of rubber ones. Only down side is that the rubber bushings need to be pressed in....

11-18-2018, 11:25 AM
Junior Member
Join Date: Dec 2017
Location: SoCal
Posts: 66
Year: 99
Model: Cherokee (SJ)
Engine: 4.0

---
well took our first trip since doing the top end and it performed great...though every now and then while coasting i am now getting a slight howl from the rear diff so im puckering for a pinion bearing replacement...:banghead:
anyway we drove out to the Eastern Sierras and climbed 6500ft to look at a piece of land i ended up buying
here are a few pics
curb appeal


11-20-2018, 09:23 AM
Junior Member
Join Date: Dec 2017
Location: SoCal
Posts: 66
Year: 99
Model: Cherokee (SJ)
Engine: 4.0

---
so i decided to try a transmission crossmember drop because this howl only happened as a direct result of changing the leaf packs out back
that lead me to believe it may be a pinion angle issue ...
yesterday after work i ran to ACE hardware and grabbed some 1" steel collars, hardened washers and longer m10x1.5 bolts.
the studs pulled out really easy via the double nut method but im ashamed to admit i spent far too long trying to get the crossmember lined back up
here is everything all buttoned up.
*hindsight* i should have taken a few pics of the DS before because the slip yoke was another 1/8-1/4" out of the transmission tail
took it for a drive up and down the 710 freeway since it usually only made that noise while coasting around 50-65mph
NO NOISE!!!!
hopefully this was the issue....which would be nice because it was way easier than a pinion bearing replacement
although i did also notice that the infrequent clicking from the back end is a brake shoe that is loose on the mounting plate so i ordered up some new shoes last night for $14 :laugh:
the one redeeming thing about owning american stuff is that parts are dirt cheap

11-20-2018, 01:47 PM

---
awesome thread, just read through the whole thing although a little disappointing i'm caught up lol. I might be taking a trip to some of those places now they look awesome.
I keep coming back to cherokee's because they are so cheap to fix and modify, also i have done the trans brace drop a couple times but my last jeep i sprung for the $200 for the rough country sye and 4x4 front driveline and i wont do another trans drop it works much better and is easy to install

01-05-2019, 08:18 PM
Junior Member
Join Date: Dec 2017
Location: SoCal
Posts: 66
Year: 99
Model: Cherokee (SJ)
Engine: 4.0

---
for new years we took a trip up 395 to my buddys place in Susanville, CA...stopped at the cabin on the way up and on the way down
jeep drove flawless on the 1300 mile round trip
dropped off the remainder of the furniture at the cabin on the way up
somewhat better shot of the new headliner
also passed this milestone
also scored as much free 1890's barnwood as i could fit in the jeep...soooooooo