Polishing out foggy headlights

07-25-2008, 11:24 PM
Shadetree Grease Monkey
Join Date: Jul 2008
Location: Oklahoma, USA
Posts: 88
Year: 1999
Model: Grand Cherokee
Engine: 4.0 L

Polishing out foggy headlights
---
The headlights on my WJ were a little foggy the day I bought it, but it's gotten worse over the last five years. It's one of those things that really bugs me so I looked into various methods of fixing it.
Me being the *ahem*
frugal
type, replacing the headlamps (at around $100/pair on eBay) was not the desired option. I did some research and there are a number of products out there that claim to remedy this. I'm not saying the way I chose is the best, only that it worked for me and at minimal cost and labor. BTW, I found this method on a Meguiars product forum and adapted it to my available equipment (mainly elbow grease instead of a powered polisher). Also, these instructions are for the WJ model, but I imagine that other models are similar.
First things first. I obtained the following items.
1. Polishing cloths.
2. 5-packs of 1500 grit and 2000 grit wet/dry sandpaper
3. Meguiar's
PlastX
polish for clear plastics.
You will also need a small bucket or plastic bowl of water (or a mister-type spray bottle with water if you like) and your frosty beverage of choice.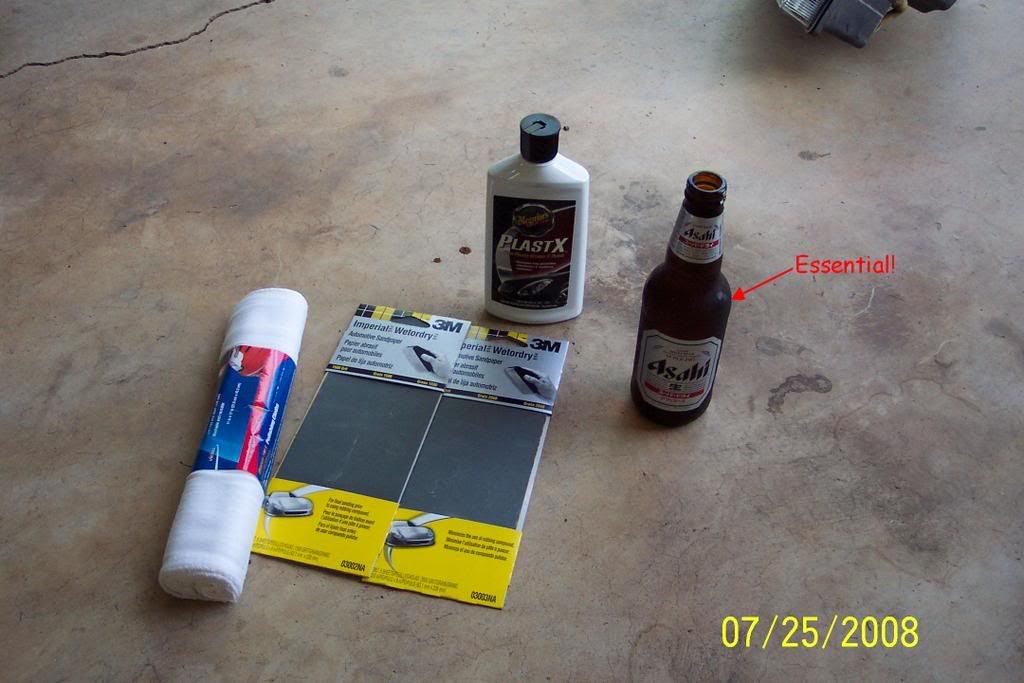 Here's what one of the headlights looked like before I started. The other light is similarly fogged.
You can do this process without removing the headlight, but I didn't want to take a chance on accidentally sanding the paint around the headlight trim (plus, I just wanted to take the headlight out so I'd know how to do it.

)
You must first remove the bolt that secures the headlight (arrow). It's a 7mm.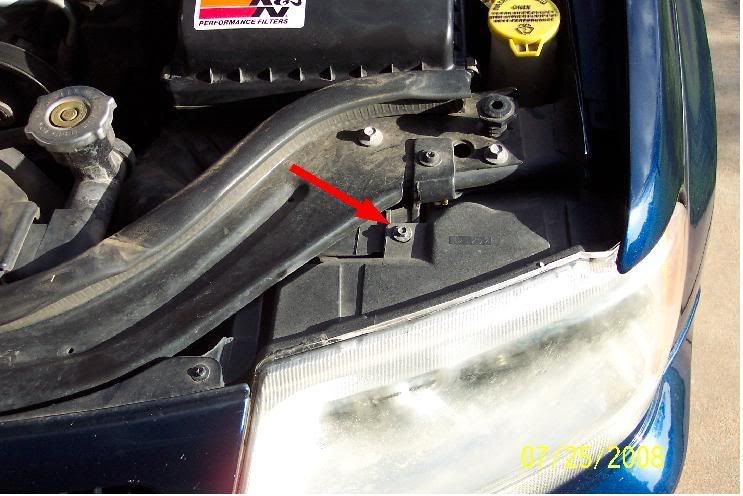 Once the bolt is removed, you simply pull out toward the front of the vehicle (starting with the bottom). The little plastic retainers (arrows) are stubborn and in my case a couple pulled out without disconnecting from the headlamp. Once the lamp is out, you can just pull them off & snap them back in.
Here is the removed light assembly before any work was done.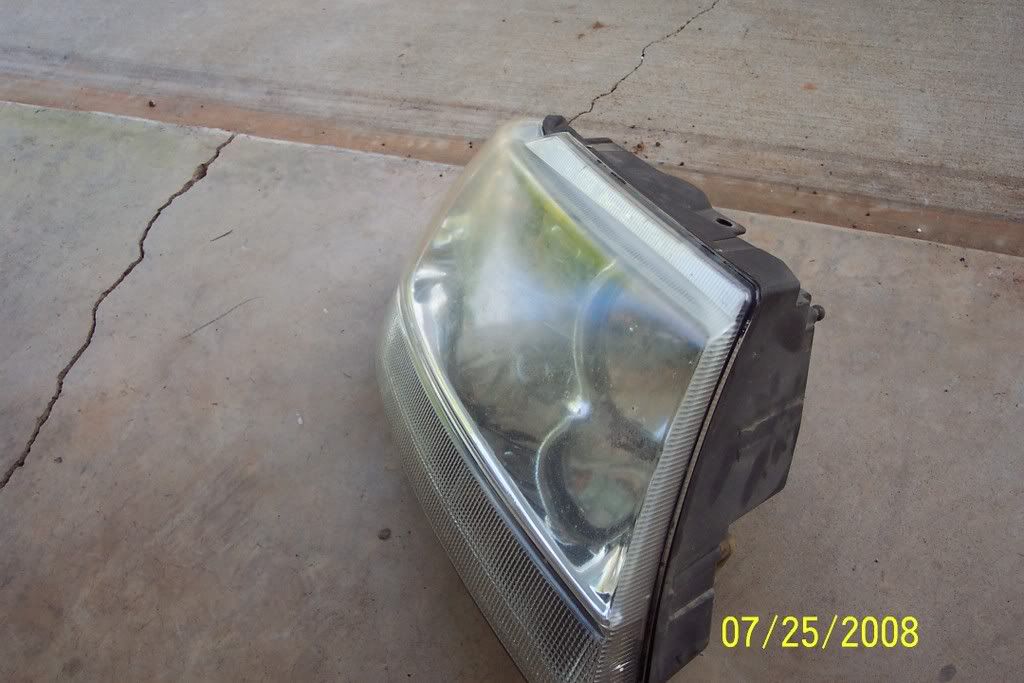 Beginning with the 1500 grit sandpaper, I wet-sanded the entire clear plastic area, including the blinker. I spent a good twenty minutes on this first step. I sanded for a bit and wiped off the water and I was able to see some places I had missed. I did this several times until I was satisfied I had removed all traces of buildup on the plastic.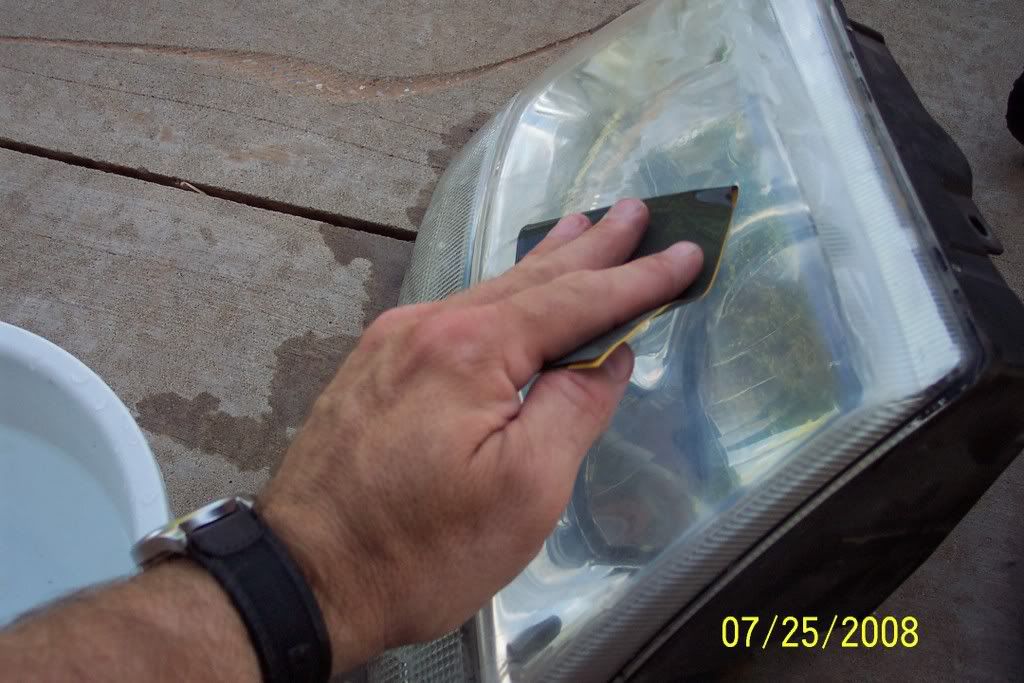 Here's the lens after the first sanding is complete. Having never done this before, my reaction was something like "Oh hell, I hope this polish stuff works".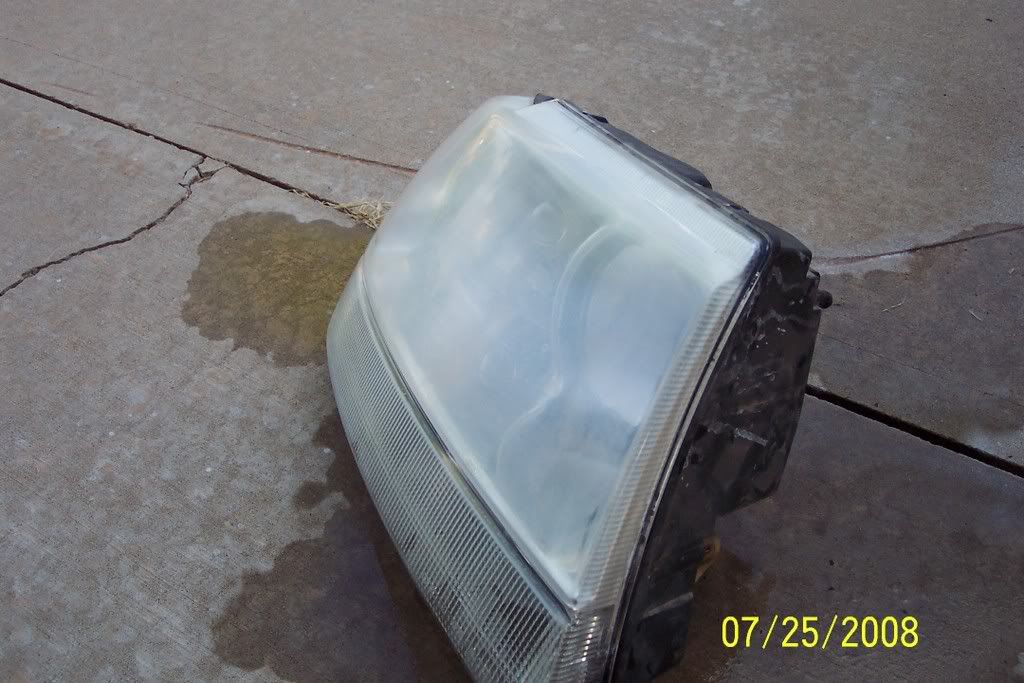 Next, I continued wet-sanding using the 2000-grit. This went a little faster. The goal is to just make the scratch marks as small and smooth as possible. Again here the results after the second sanding (only a slight difference).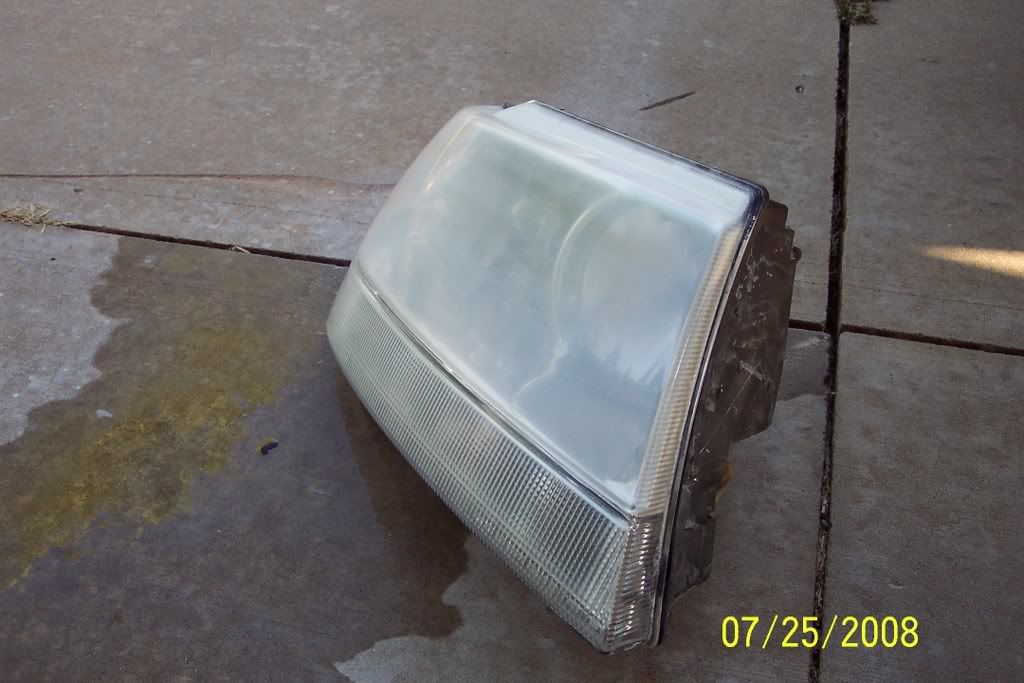 I dried off the lens and placed some PlastX polish on a spare wax applicator sponge, going over small sections at a time and buffing with the polishing cloths. I did the entire lens twice. Here's the results (not too bad huh?):
In this side-by-side comparison you can really see the difference: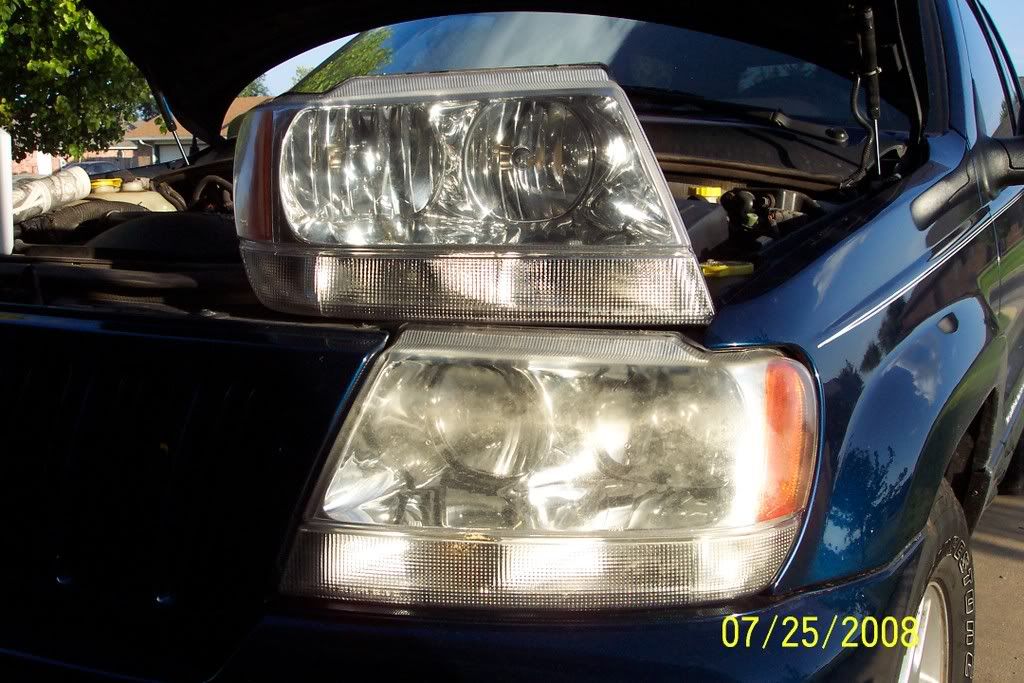 At this point I reattached the headlight and did a final bit of polishing. After a frosty beverage break I tackled the other side. I found that the polishing part is easier with the headlight attached. Because of the assembly's odd shape, with it mounted you can apply more pressure (at least doing it by hand anyway).
Here's a couple final shots with both headlights completed. I can still see some oxidation on the driver's side light, but I'm pretty happy overall considering the small amount of money and time I invested.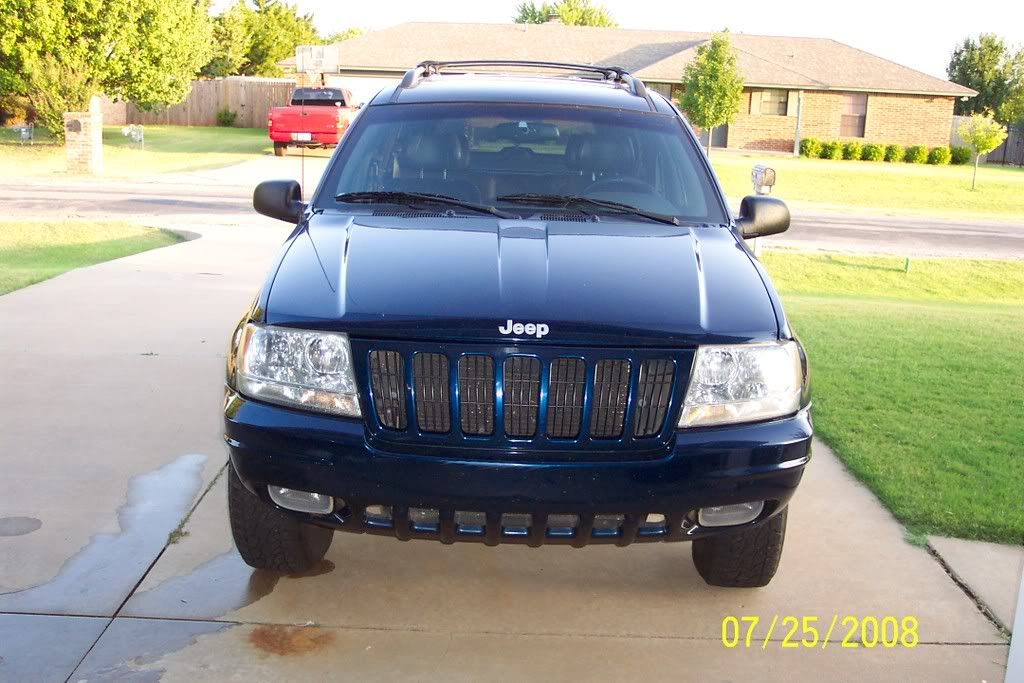 Grand total - $16 & change and about an hour and a half's time.
---
Last edited by MadMonk; 07-26-2008 at

06:13 PM

.

Thread
Thread Starter
Forum
Replies
Last Post
Stock Grand Cherokee Tech. All ZJ/WJ/WK Non-modified/stock questions go here!
Stock XJ Cherokee Tech. All XJ Non-modified/stock questions go here
Stock XJ Cherokee Tech. All XJ Non-modified/stock questions go here
Modified XJ Cherokee Tech
Stock XJ Cherokee Tech. All XJ Non-modified/stock questions go here
Currently Active Users Viewing This Thread: 1
(0 members and 1 guests)