Rough Country 4.5" LA write-up

12-23-2009, 12:48 PM
CF Veteran
Join Date: Oct 2007
Location: W-PA
Posts: 3,883
Year: 2001
Model: Cherokee
Engine: 4.0

Rough Country 4.5" LA write-up
---
This is a writeup and product evaluation on Rough Country's new long arm kit. It's pretty fresh on the market so there's not a whole lot of info on it yet. Hopefully this thread sheds some light on it and answers any questions ya'all might have regarding this kit.
The Story:
The jeep was once mine but I handed it over to the lady and I have future plans for a TJ. My goal was to get it riding as nice as possible (caddy-like......YES IT CAN BE DONE ON A JEEP!

) and still be capable if she feels like getting it brown. I knew long arms were the way to go in order to achieve that nice ride quality. We had four options in mind: Frankz's LA's, Trek's, RC's upgrade, or RK 3-link and ended up settling with RC's upgrade. A little later I received some money from stock at my old job and we figured since we have a little more cash that we'd just get the full kit. Yeah...why not?
Next thing I know I got an order for the 4.5" LA kit through 4wheelingplus.com. (Awesome company to deal with by the way and no this ain't no paid advertisement

) It was backordered for a couple days but I got it within a reasonable amount of time.

Bye bye short-arms forever.......:hi:
The Goodies.....
I went to do some last minute shopping today and came home to see 9 boxes stacked up like a pyramid in front of my door. They all had "Rough Country" labeled on them so I figured it must be for me.

After dragging em upstairs....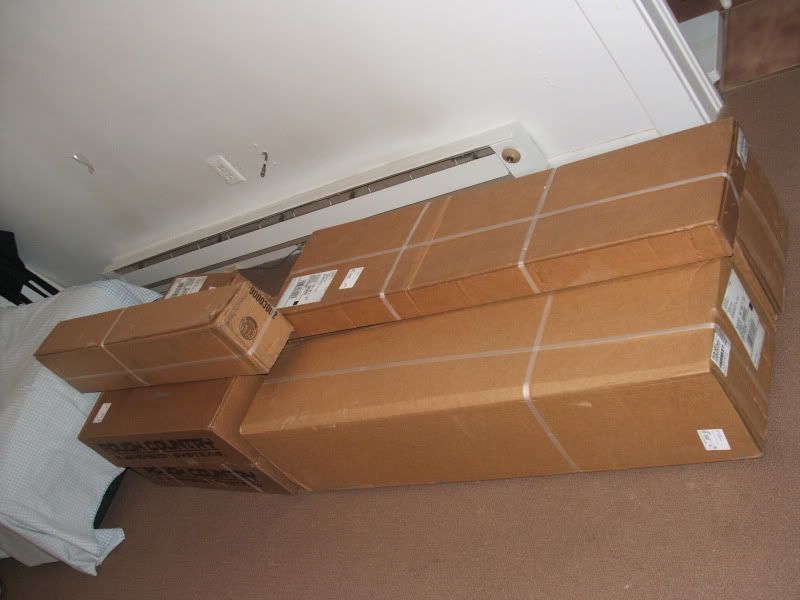 Now a smart thing to do with all kits is to inspect all the hardware to make sure everything is there before you start tearing apart your rig. Out came the jeep knife specifically purchased to open boxes containing jeep parts.
Box 1: Brake lines, U-bolts for either 35 or 8.25, sway bar discos, and what appears to be brake line brackets.
Box #2: Coil springs
Box #3: AAL, center pints, and leaf spring clamps. I have no idea how much the AAL nets but I'm guessing 2.5" or so since my kit came with a 2" shackle. I will most likely sell the AAL and hardware cuz I already have 3" OME leaf springs and can use em with the shackles.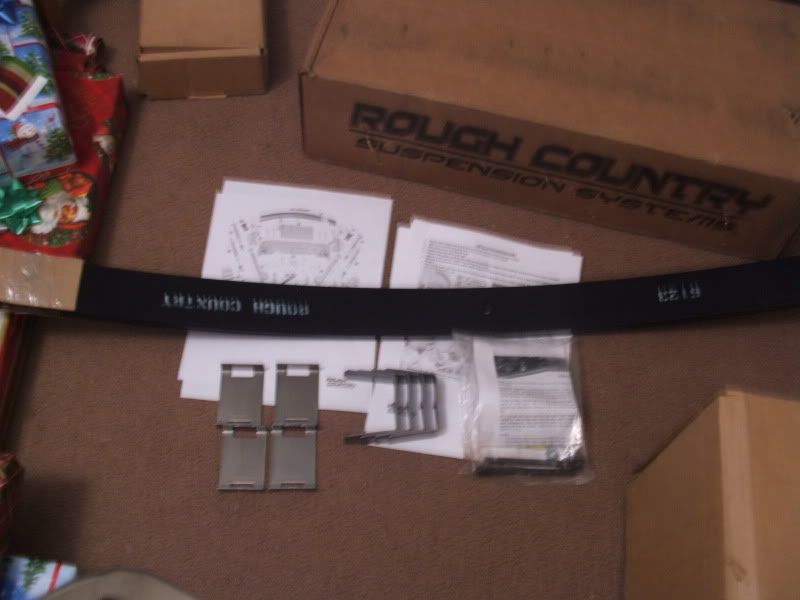 Box #4: Transfer case skid plate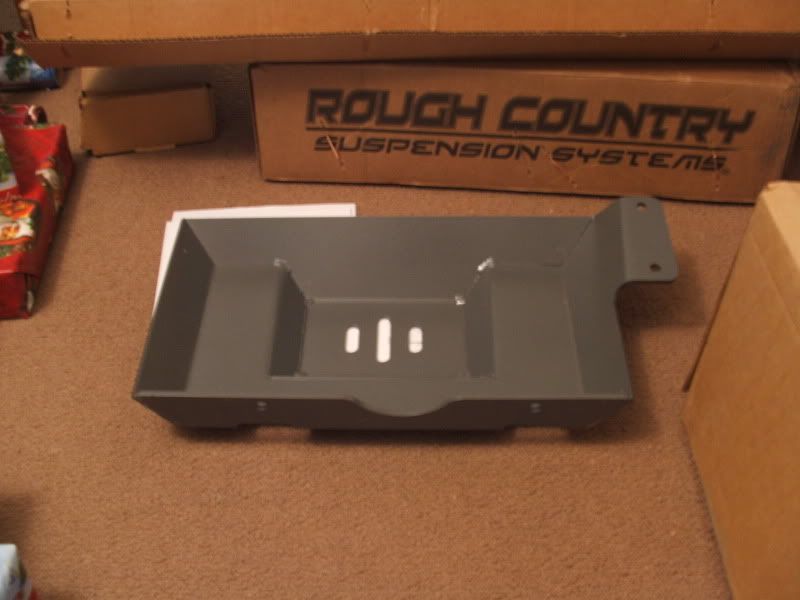 Box#5: Adjustable shackles and all hardware. Hmmm these seem very familiar......
Box#6: Double sheer trackbar and drop bracket plus hardware. Something caught my eye when I took it out of the box. I noticed the bushing end was crooked a little. Maybe it was welded on that to compensate for angles...or not. I dunno yet but we'll find out. I will admit that the trackbar could've been made a little more beefier. It's rather small compared to my current JKS setup but if will be just fine for what my gf's driving style.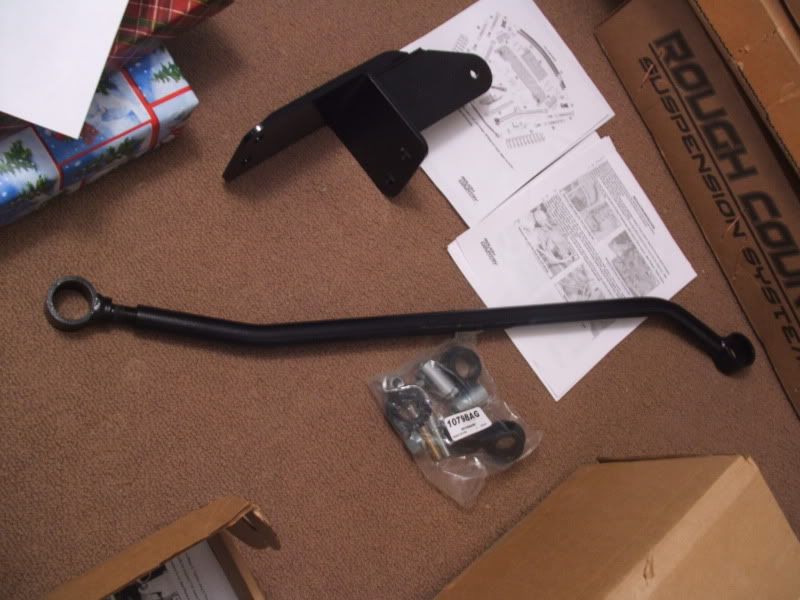 Box#7: Shocks and mounting hardware plus 4 cool stickers. When I took these out of their individual boxes, the first thing that comes to mind is jenny craig. These babies are FAT! The are much larger than ordinary shock absorbers and look cool as hell. I dig the rubber bumpstop on the shaft...that's neat. NOTE: these are mounted can up.
Box#8: Lower and Upper arms, flex joints, t-case crossmember side brackets, pitman arm, and nutsert. My god these arms are BEEFY.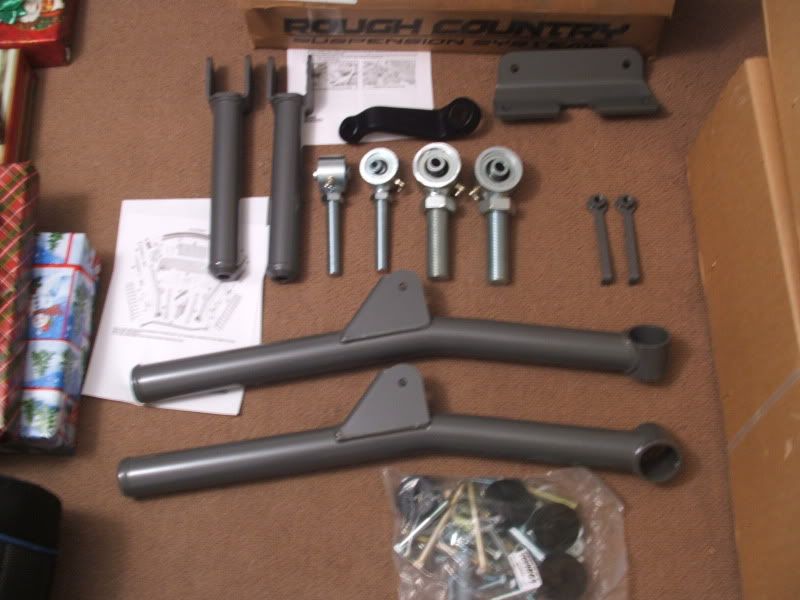 Box#9: The Crossmember
Included were detailed instructions and part list. Everything was included, no parts were damaged, and all boxes were intact. Nice job gettin the product to me!

Parts seem to be very well made and welds are good. The only questionable component in the whole kit were the sway bar discos. I think it relies on a little horizontal ball and socket to handle the vertical forces of the sway bar/axle. I never used this type of setup so I can't really say for sure if it would cause problems so I just gotta wait and see. It'll probably be fine anyways.


12-23-2009, 12:50 PM
CF Veteran
Join Date: Oct 2007
Location: W-PA
Posts: 3,883
Year: 2001
Model: Cherokee
Engine: 4.0

---
I'm still waiting for my new rear springs to show up but here's what goes down when you install it:
My buddy lent me his garage for a couple days. He injured his knee and couldn't assist much so I was on my own.
Pulling in..
My plan was to gut the entire front end, pulling out the axle and giving me more room to work on the t-bar and other parts.
First I had to remove the shocks. The upper bolts are in the engine bay:
Then the lower bolts on the axle are removed and shocks are off:
The kit comes with new SS brake lines for the front and rear but I'm holding that off until spring when I do all the brakes together. So i'm just disconnecting the calipers and hanging em up out of the way: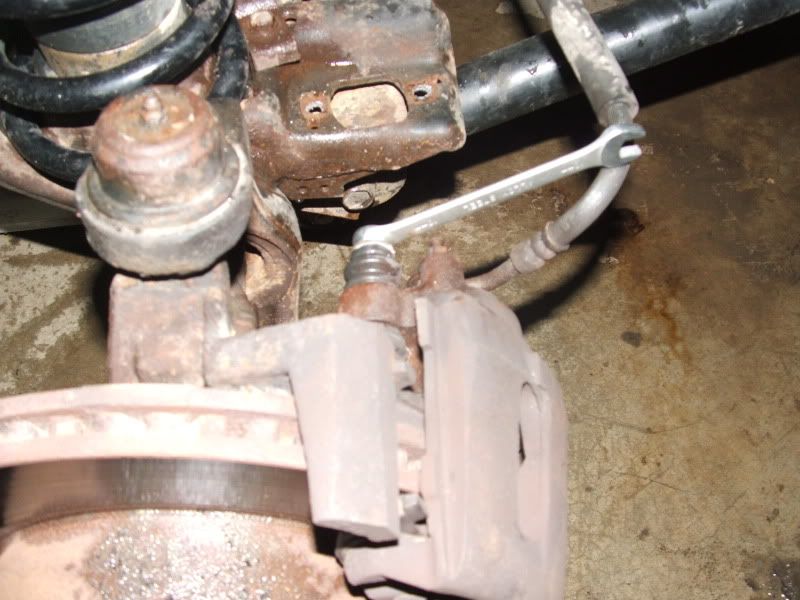 Next comes the sway bar. The kit includes sway bar disconnects but I'm not sure if I want to use them or not. I'm sticking with the solid links for now. Remove the lower nuts with 18mm socket and upper 4 bolts with 15mm socket: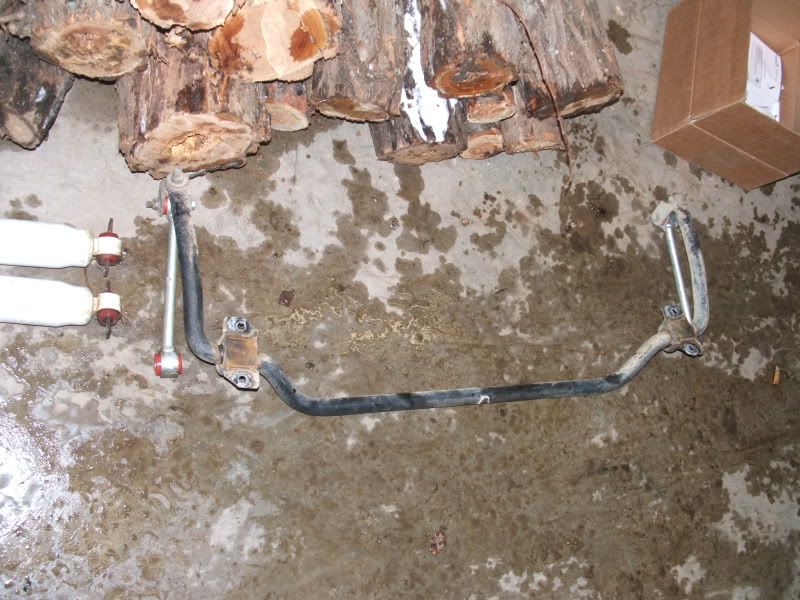 Driveshaft gotta come off too...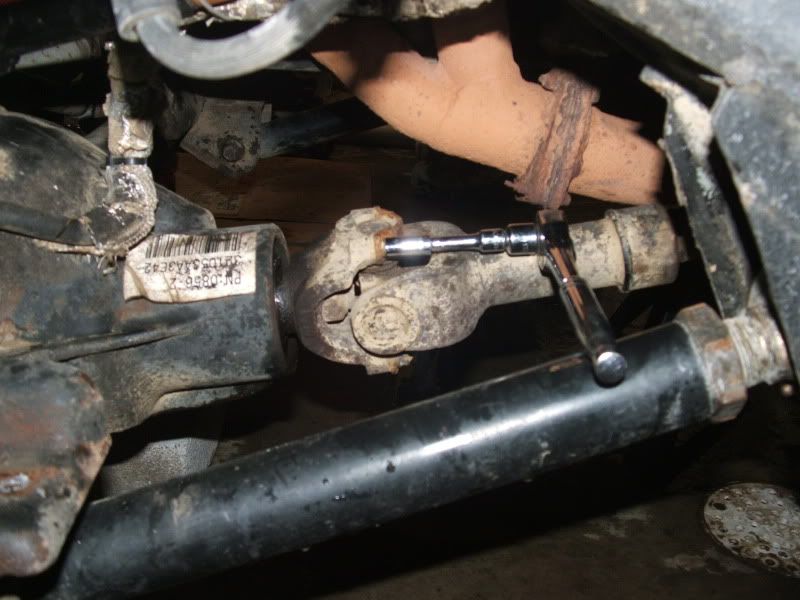 I then disconnected the upper arms using 15mm socket and lower arms using 21mm socket: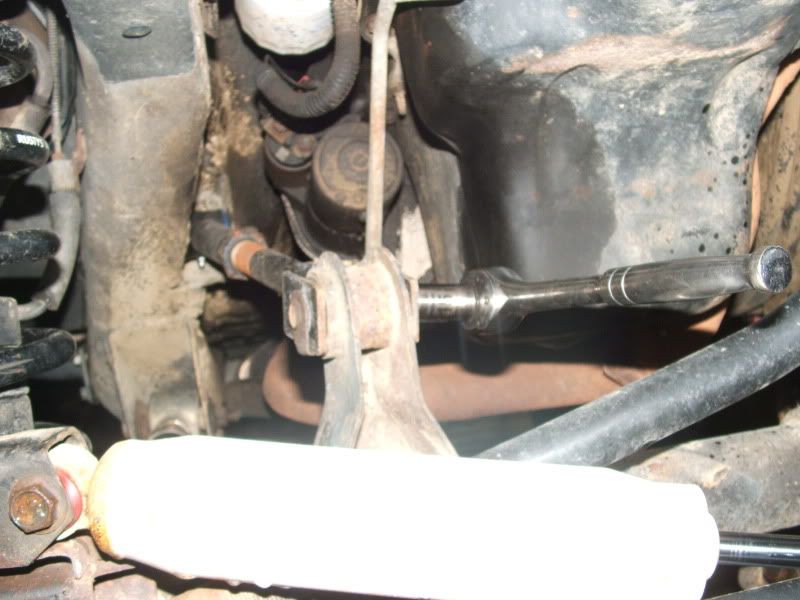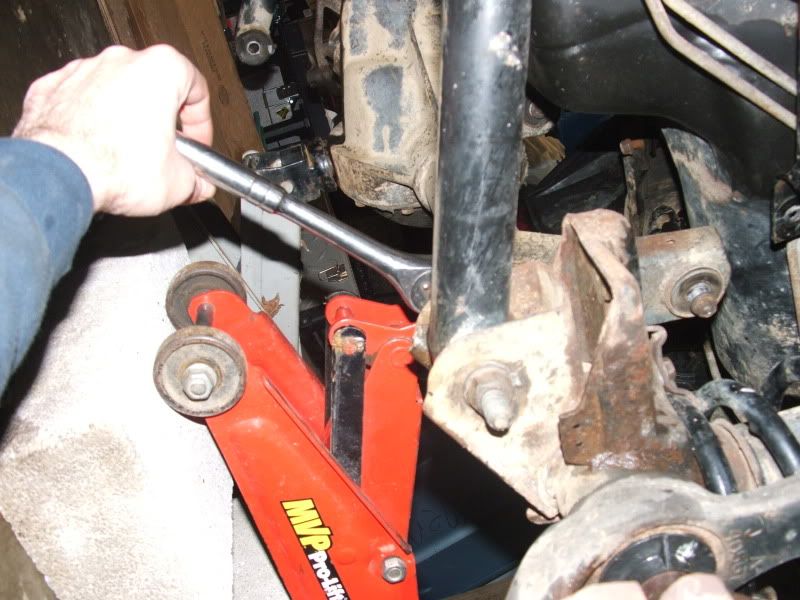 Two other things to disconnect that I didn't get pictures of are the trackbar axle bolt and pitman arm. Once those are off then the axle slides out: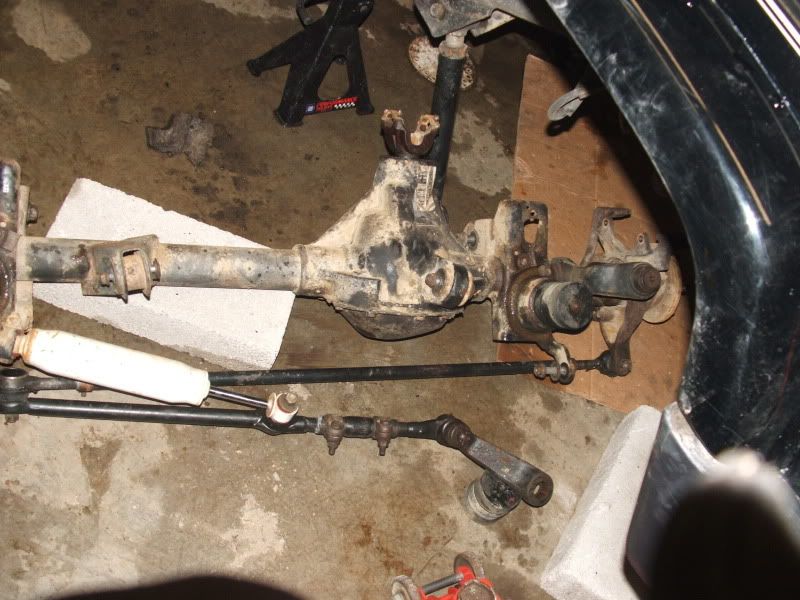 Next came the trackbar bracket. The two lower bolts are 18mm and uppers are........i forget but I think 18mm too.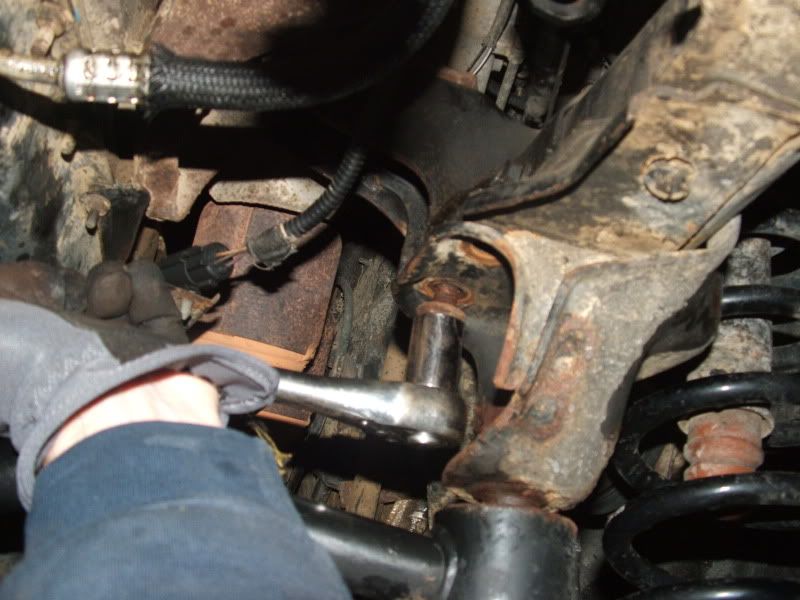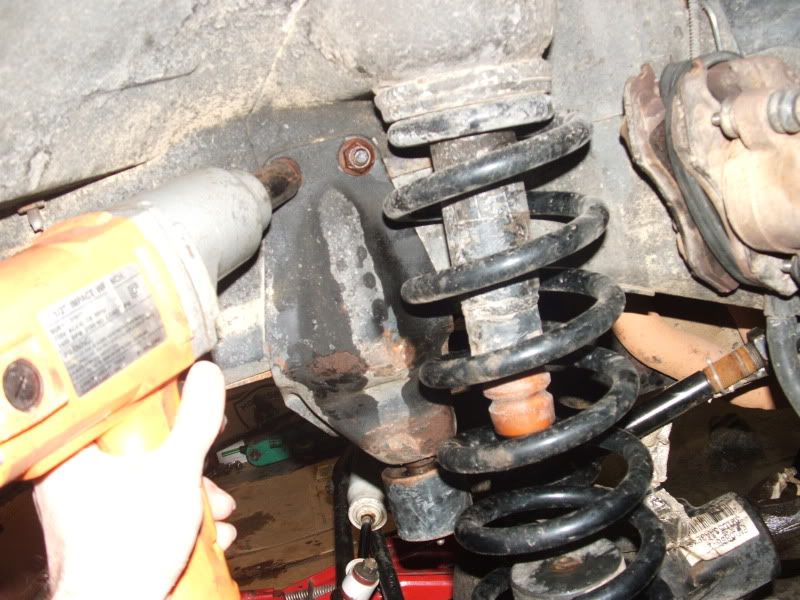 bye bye trusty JKS...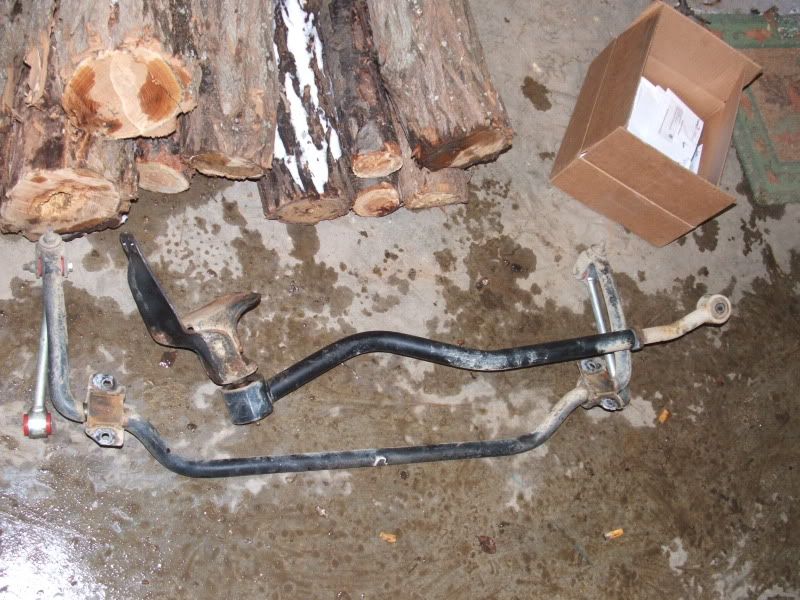 12-23-2009, 12:51 PM
CF Veteran
Join Date: Oct 2007
Location: W-PA
Posts: 3,883
Year: 2001
Model: Cherokee
Engine: 4.0

---
Now we got this: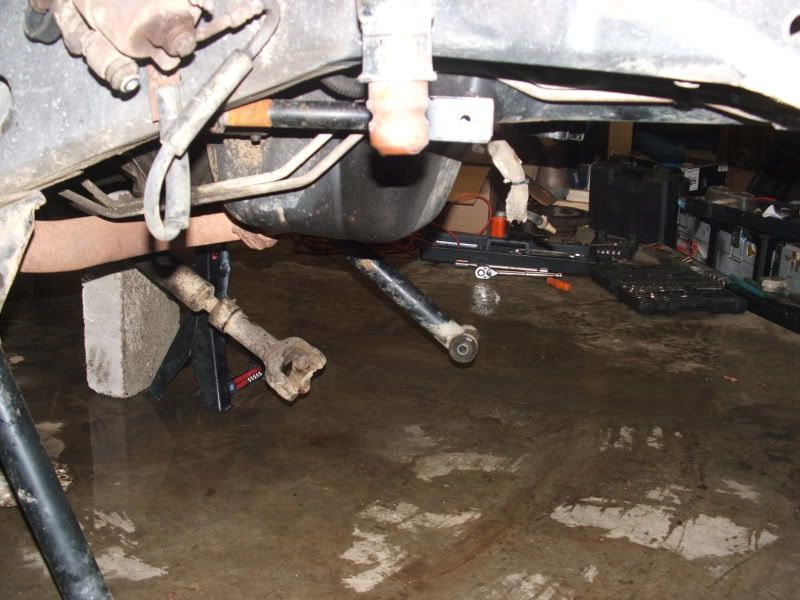 The arms came off next using 21mm for the lower and 15mm for the uppers: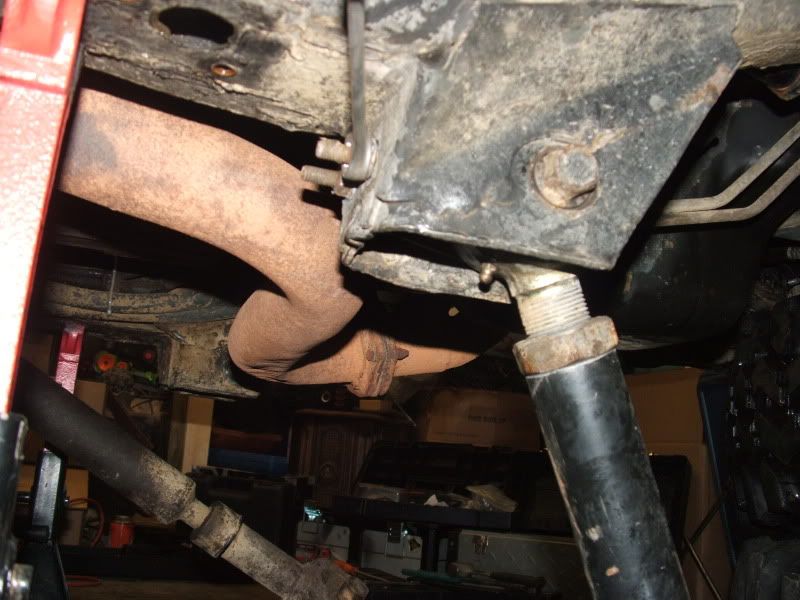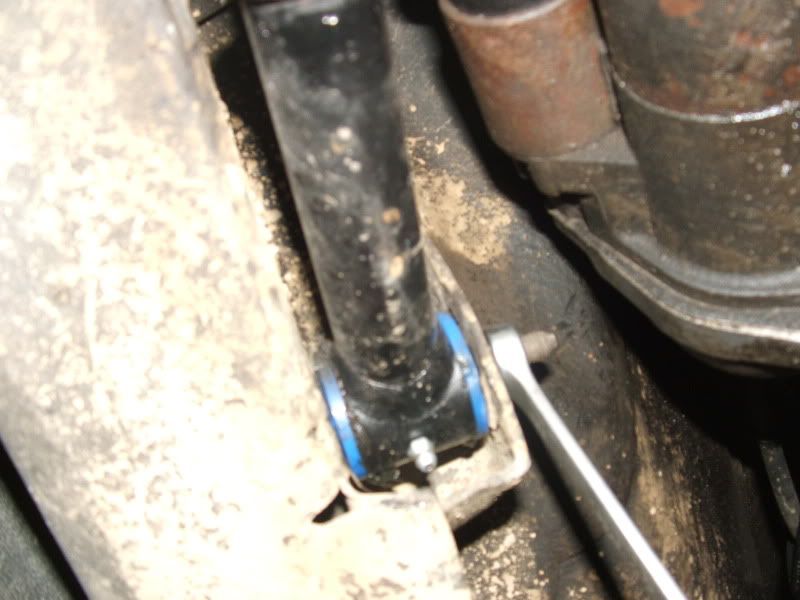 Bye bye short arms FOREVER:
Now the fun part is removing the crossmember for the new one to be installed. Place a jack and piece of wood under the tranny pan: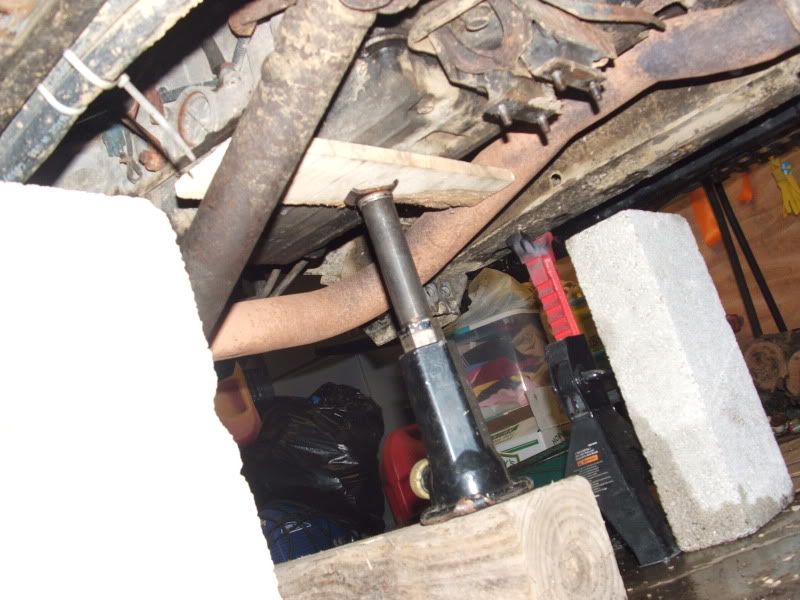 (those blocks are emergency blocks. I had a situation a while ago where the jeep just narrowly missed falling on top of me so i'm quite freaked about that still)
Remove the four tranny mount bolts and 4 framerail bolts:
Bye bye stock crossmember...FOREVER
This is where you get excited and start installing the new parts. I started with the crossmember: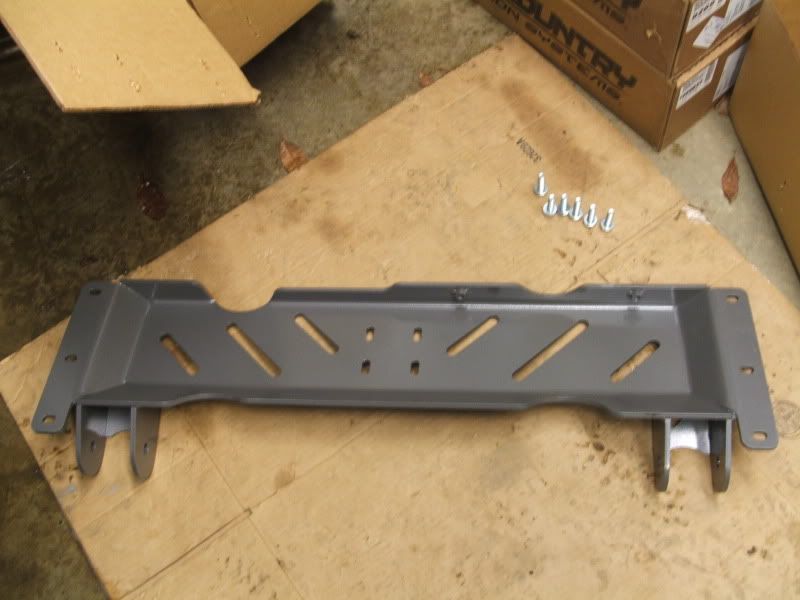 Get that under there and secure it temporarily with the four tranny bolts:
Place the side brackets on and bolt em down but do not tighten yet. Mark the holes on the side of the framerail.
Drill both holes using a 17/32 drill bit and then enlarge the REAR HOLE ONLY using 25/32 drill bit. It appeared that I only had to drill the outer frame rail with 25/32 bit and leave the inner frame rail at 17/32 cuz the crush sleeve fits flush with the framerail: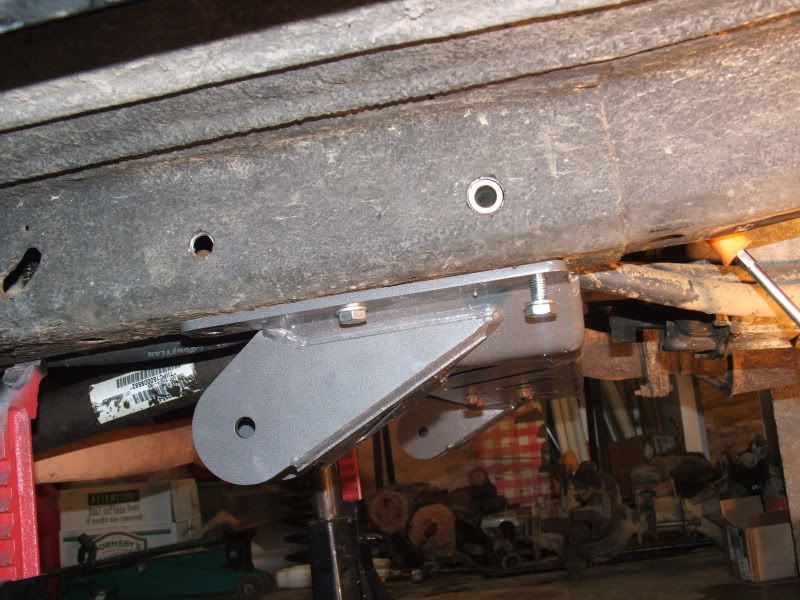 Reinstall the side plate and find those flag nuts included with the kit. The flag nut and bolt are used on the front holes: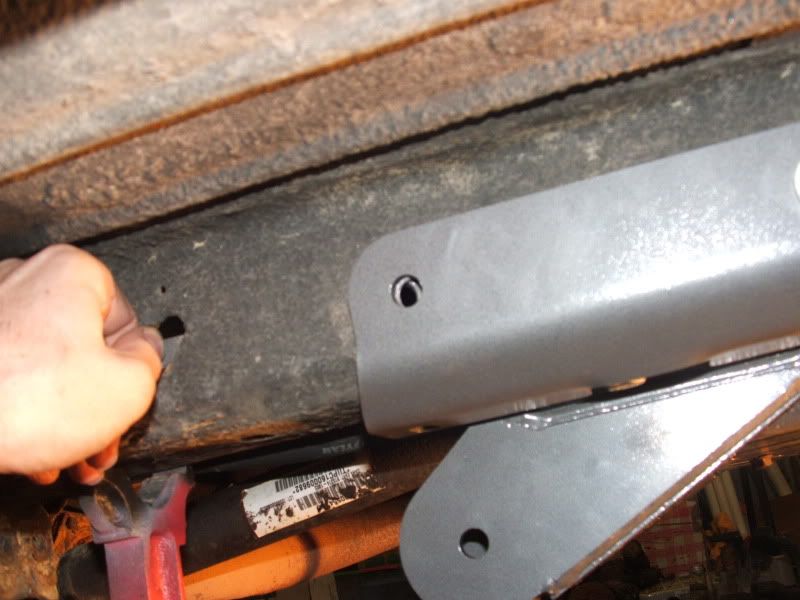 Go ahead and bolt it all down but don't tighten fully yet. The crossmember uses the two stock crossmember bolt holes PLUS one hole in front of them that already has a nut welded to the frame. My nuts were rusted up and I couldn't install that bolt until I re-threaded them. I ended up doing that two days later with a 10mm x 1.5 pitch tap and the bolts went right in, no problem.
Now this is where my camera battery light decided to start blinking. I had to choose which pictures to take in order to get some pix of the entire install before the battery died completely.
After you get the crossmember on, you gotta cut off the lower control arm mounts. You can use a plasma torch, cut off wheel, or sawzall. I used a cut off wheel, 4" and 7".
Bye bye CA mounts....FOREVER: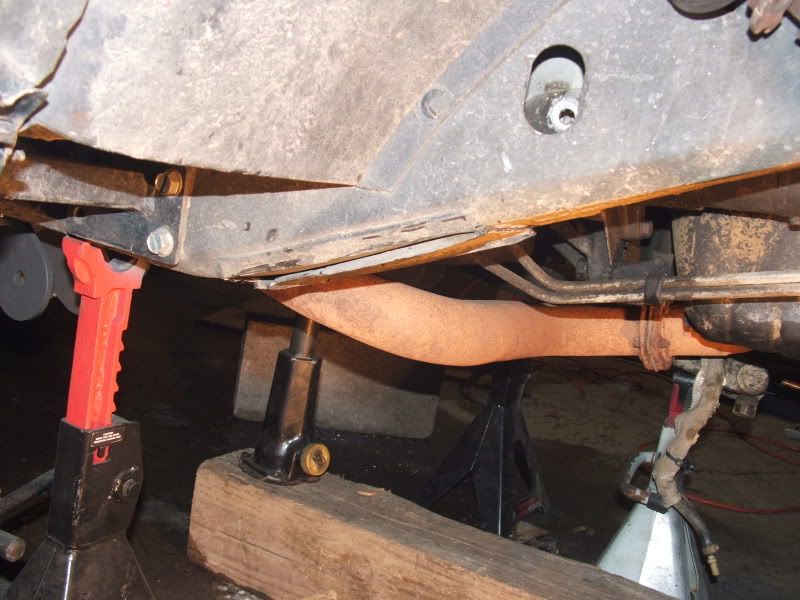 12-23-2009, 12:52 PM
CF Veteran
Join Date: Oct 2007
Location: W-PA
Posts: 3,883
Year: 2001
Model: Cherokee
Engine: 4.0

---
Next comes installing the new arms. Press in the bushings and metal sleeves, bolt on the upper arms to the lower arms and then install it on the crossmember and axle. Lower arm length: 29 3/4 Upper arm Length: 15 1/4"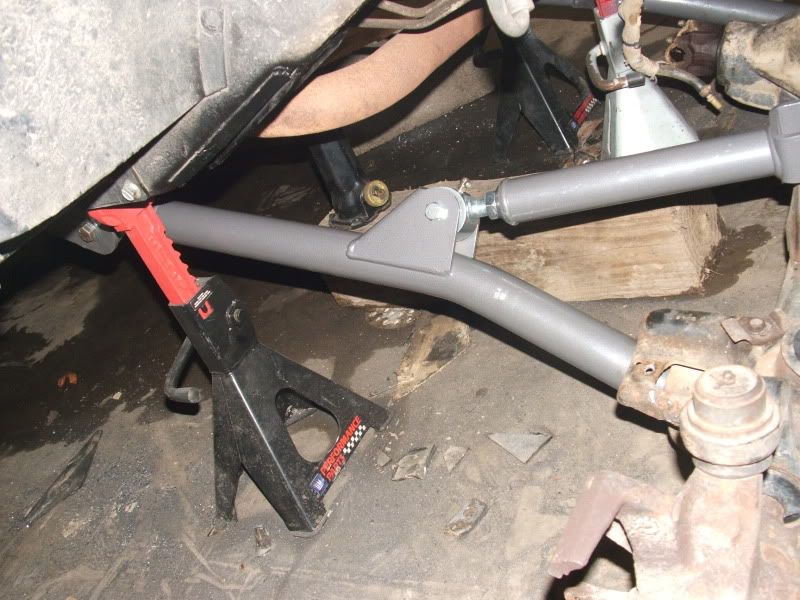 Now the arms are on and I need to start connecting stuff back onto the axle. I went ahead and installed the trackbar bracket:
and then the drop pitman arm: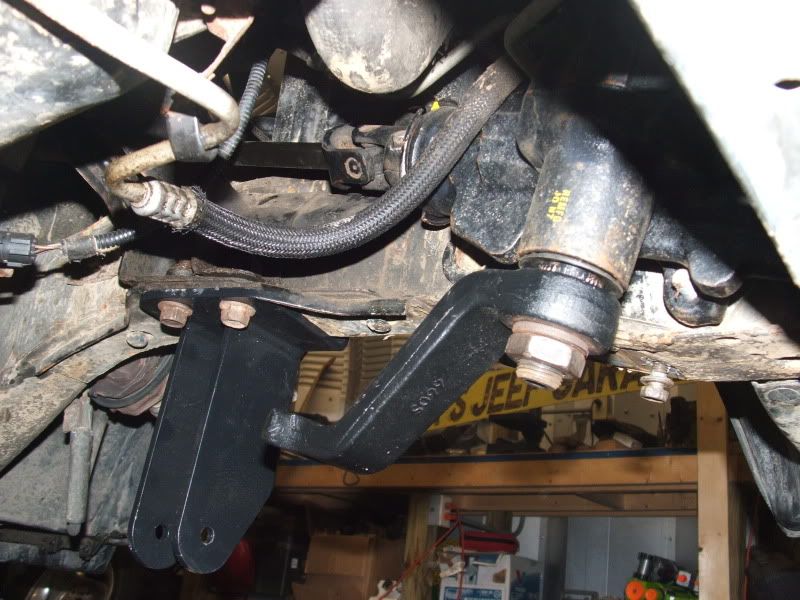 Once all the new parts are on I went ahead and installed the coil springs: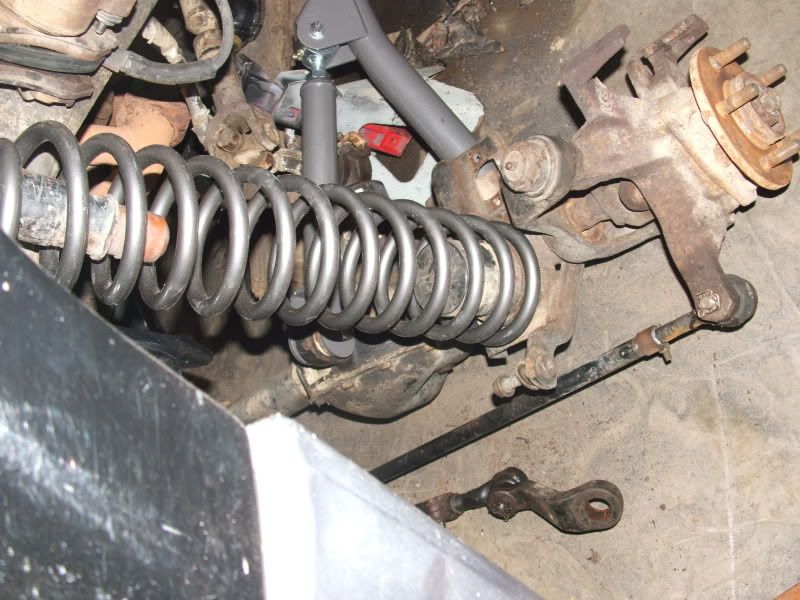 This is me trying to reinstall my bumpstops but I'll modify and adjust em later on. They are my 3" bumpstops from my previous lift. Better than nothing.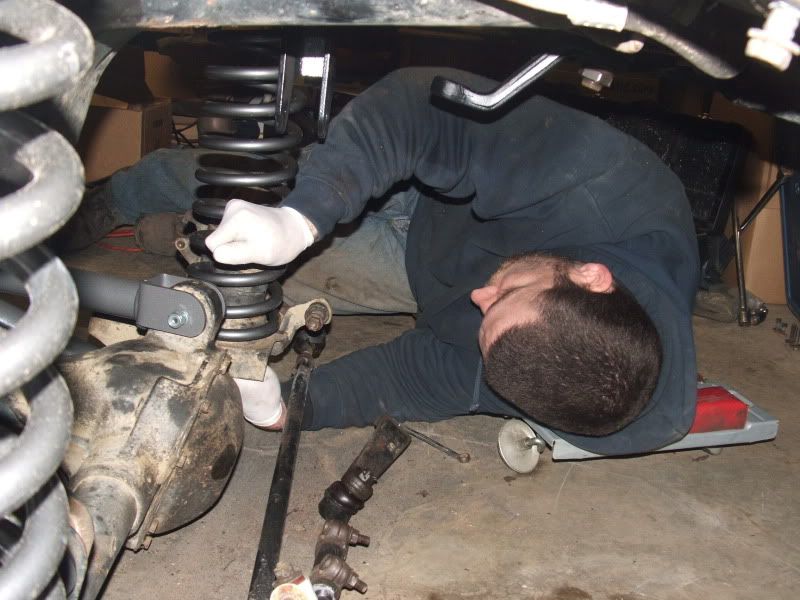 Next I installed the draglink into the new pitman arm: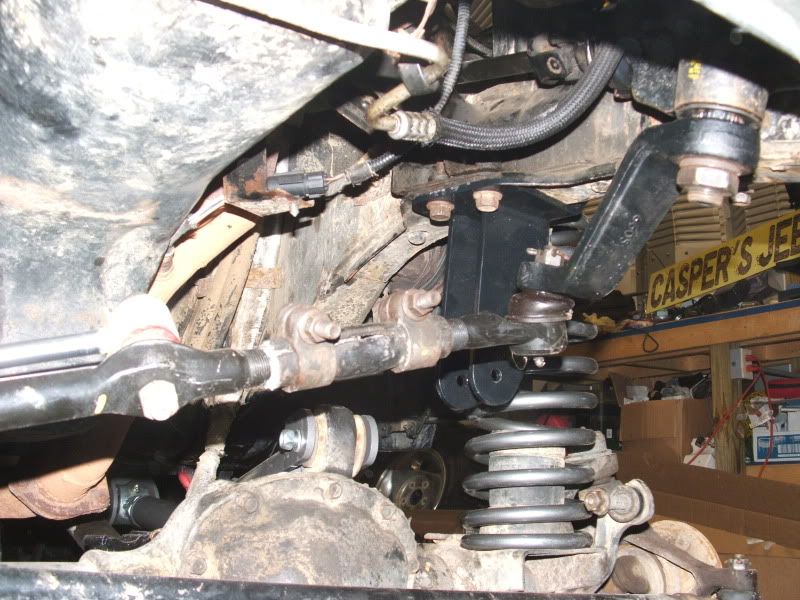 Then it was time for the shocks. They went on easily and then a sticker was stuck on em.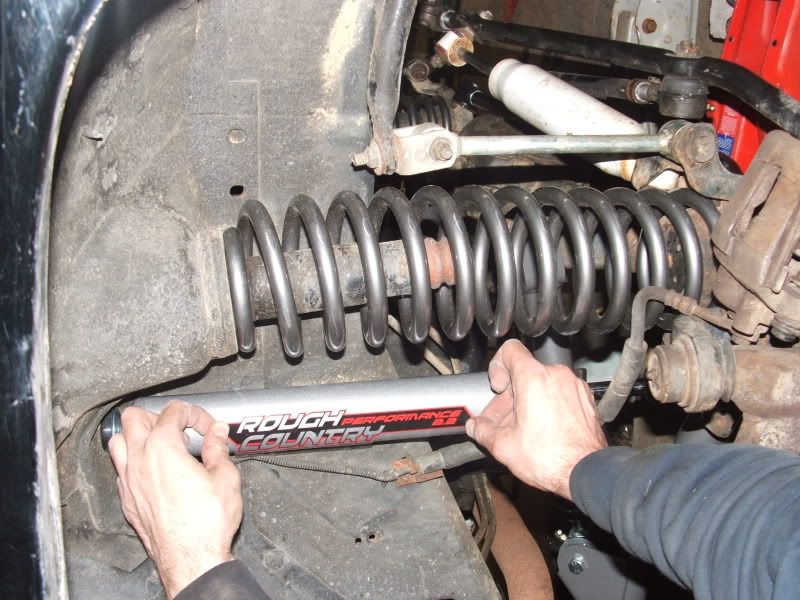 Once all that stuff was done I mounted the tires and put it on the ground so I could center the axle with the new trackbar: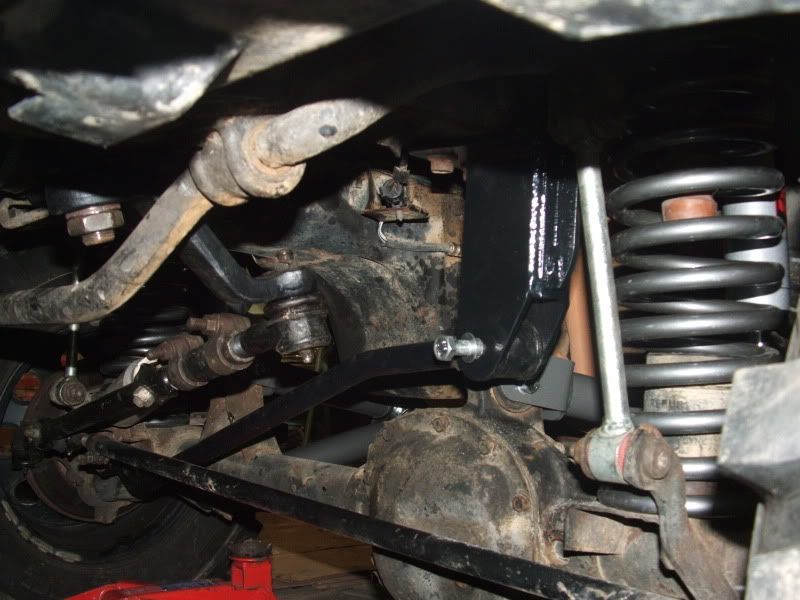 Front end done and aligned: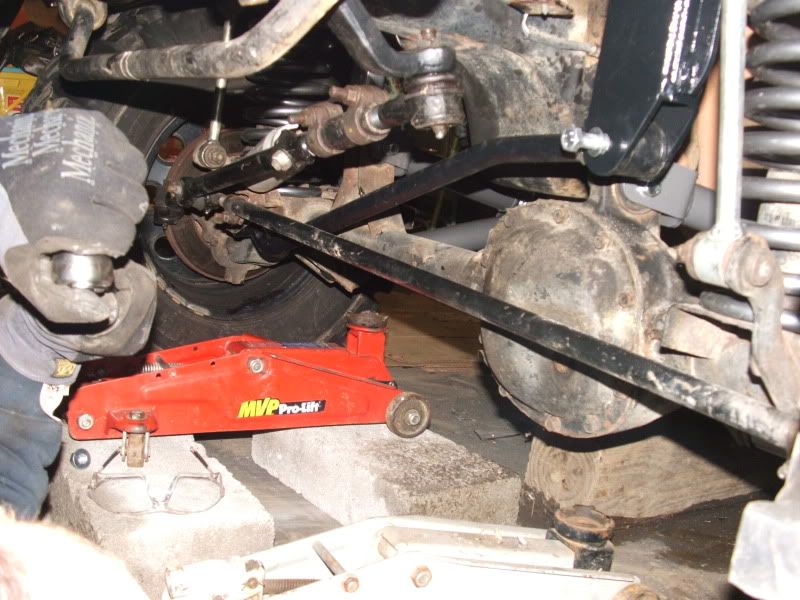 You are probably wondering where's the rear setup. Well you either get an AAL with shackles or full leaf packs with shackles. I planned on re-using my OME springs with two OME AAL but they aren't giving me the height I need back there so I installed the RC AAL and it rode like crap. It's all bouncy back there. I ordered up some RC 4" leaf springs from 4wheelingplus.com and i'll include the install here when I get them next week. But for now no rear write-up but I do have some pictures of the rear OME/AAL setup and shocks and some pix showing how the rear isn't high enough: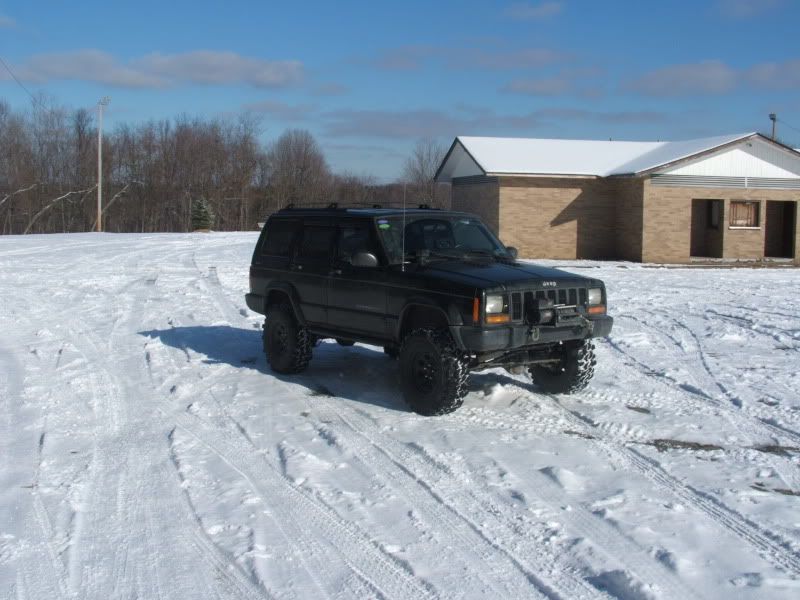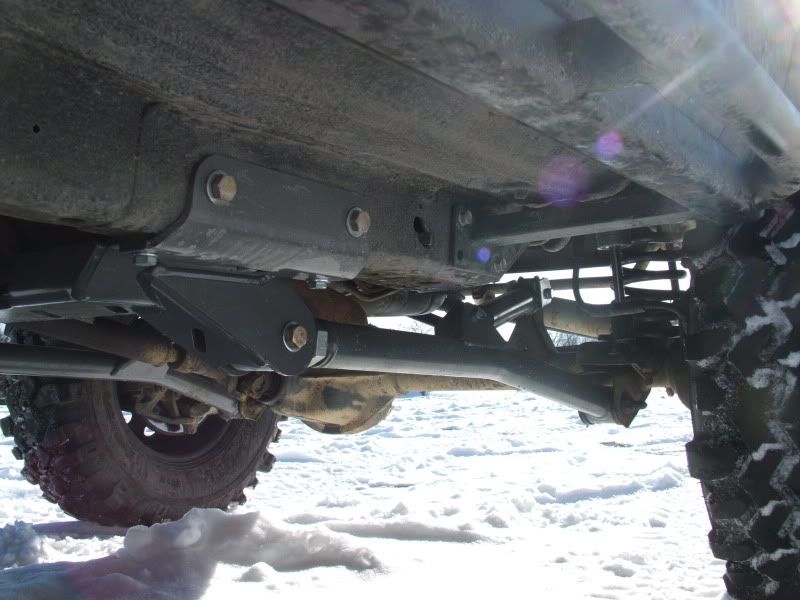 Rear spring install to be continued.....
So far the front end is completely different. NO bumpsteer, NO wobble, NO shakes or shimmies, and it drives perfectly straight and true. The shocks and coil springs are perfectly matched. You don't feel those cracks and little bumps in the road anymore. The road noises that used to be transferred through the short arms to your feet are no longer there. It's nice and smooth and controlled.....except for the rear which likes to hop around thanks to the AAL.


12-30-2009, 09:47 PM
CF Veteran
Join Date: Oct 2007
Location: W-PA
Posts: 3,883
Year: 2001
Model: Cherokee
Engine: 4.0

---
I had some free time to install the rest of the lift and new springs. I needed to adjust the pinions, install the disconnects, and swap springs.
My pinion angles were really terrible. I followed RC's measurements on their instructions but it made my front pinion angle 6 degrees and driveshaft angle 14 degrees. No wonder I had major vibes. I set it using the adjustable uppers (which was a breeze by the way

) and now it's within 2 degree difference. No vibes.
The rear pinion was set to 3 degrees down after the new springs were put in. No vibes.
First thing was the springs. I had old man emu 2" springs with RC's 2.5" AAL in it but it rode quite funky. It was bouncy and all that so I ordered up RC's 4" springs to use instead. They came within a week from 4wheelingplus. At first I was worried cuz of the arch they had. I thought they were gonna be stiff as hell......
Da springs that showed up in the snow on my porch..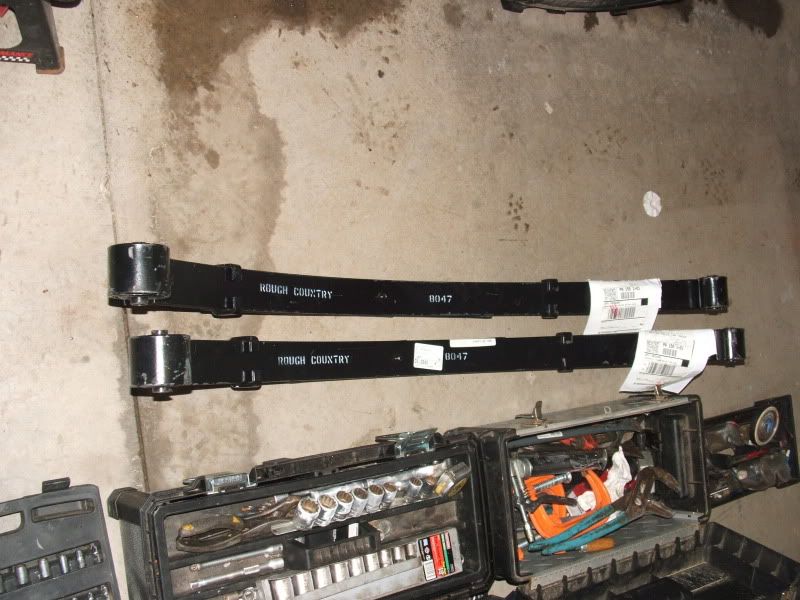 They come with rubber bushings. NICE! We all love using rubber don't we guys?

Gotta disconnect the shocks so the axle can droop enough.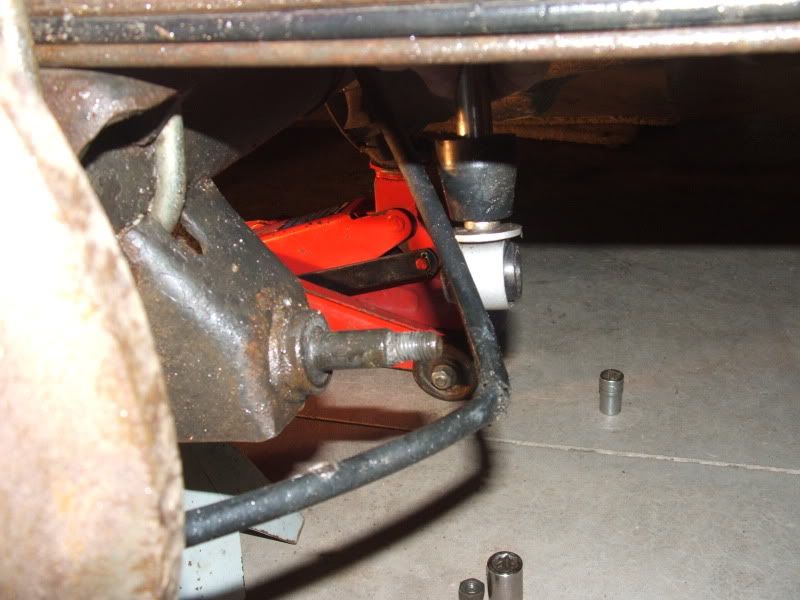 Then support the vehicle with jack stands and use a jack under the pumkin to raise and lower the axle. Now take off the u-bolt nuts with a 3/4" deep socket. Impact gun (mine didn't work!
) helps a ton here.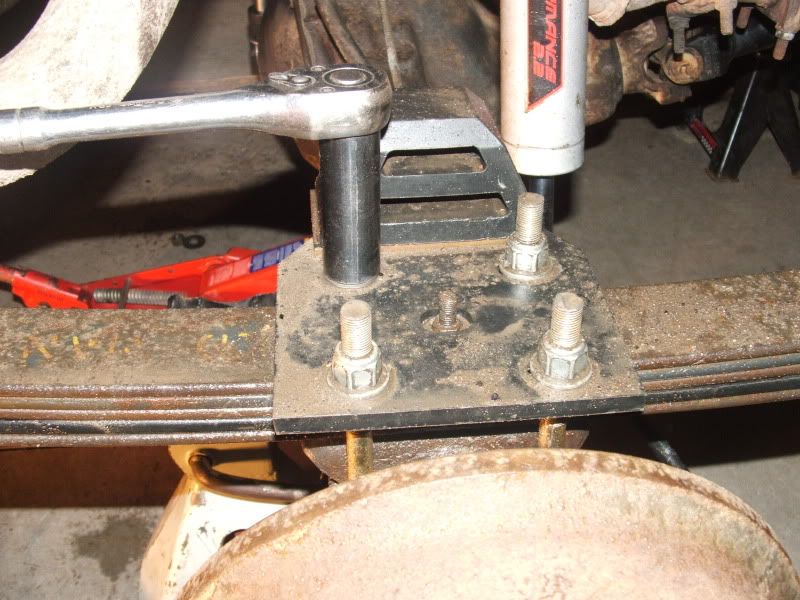 After you get the u-bolt plate off one side, lower the axle until it separates from the spring. Now you can take off the leaf spring bolts using a 21 mm socket. Pictures are with the new springs cuz i forgot to take picture of the removal.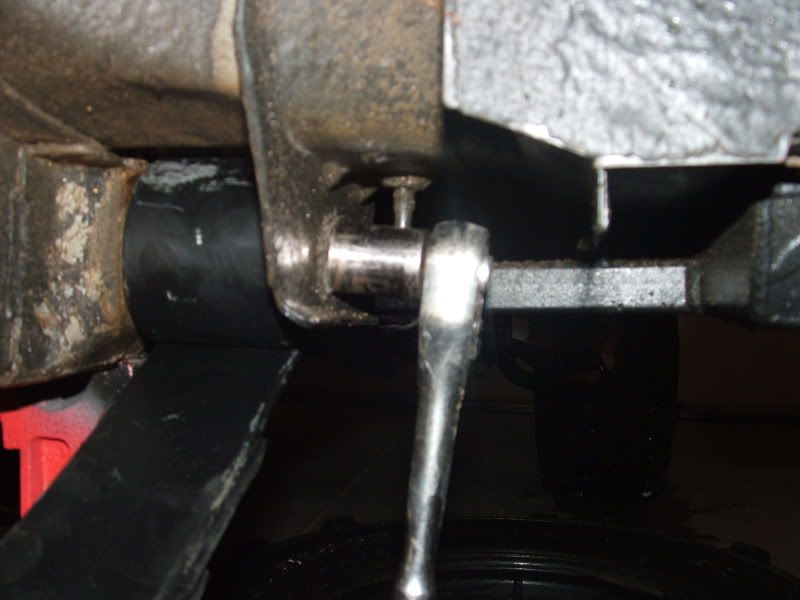 Pop out the old spring and pop in the new spring. Lightly tighten the u-bolts and leaf spring bolts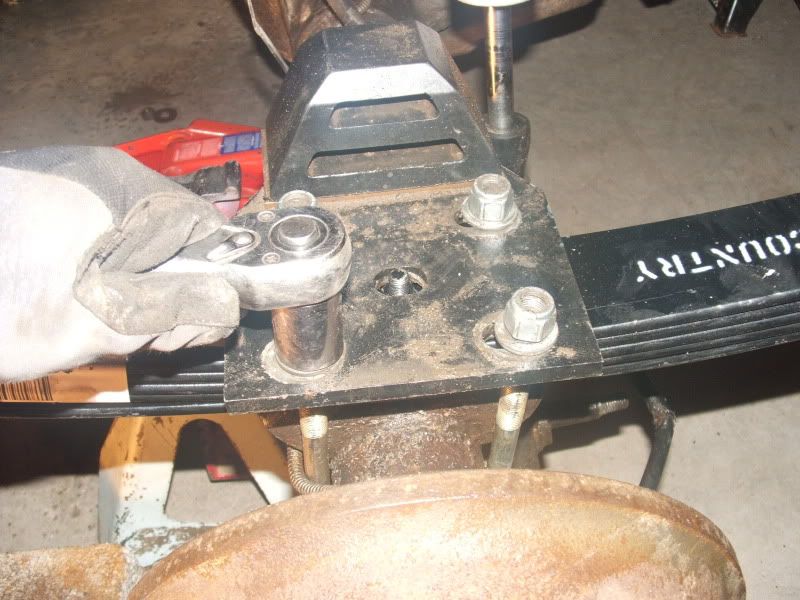 12-30-2009, 09:47 PM
CF Veteran
Join Date: Oct 2007
Location: W-PA
Posts: 3,883
Year: 2001
Model: Cherokee
Engine: 4.0

---
Repeat on the other side. Once you get both springs in and semi-tightened, remove the jack stands under the body and use them under the axle and put the jeep down on it's springs. Check pinion angle. With my setup, I had to use a 4 degree shim to get my pinion within 3 degrees down from the driveshaft. Once you know which shim to use, put the jacks back under the body, unbolt u-bolts, lower axle, clamp springs with clamp, remove center pin, add shim, and reinstall everything. Put the jeep on it's springs again and then tighten everything down to specs.
All done:
My plan was to use the RC 4" springs and stock shackles BUT this didn't work out. The RC springs would pull the shackle all the way forward where the bolt that's going through the shackle hits the frame/body. This was not gonna work. I think the springs had too big of a arch and too short for stock shackles so I had to use the adjustable shackles that RC included in the LA kit. I ended up with exactly 5.5" lift out back. It gives it an aggressive stance and I kinda like it.
Last thing I did was install the disconnects.
You need to press out the stock lower stud. I used a ball joint press and had em off in 5 minutes then installed the RC studs that bolt on instead.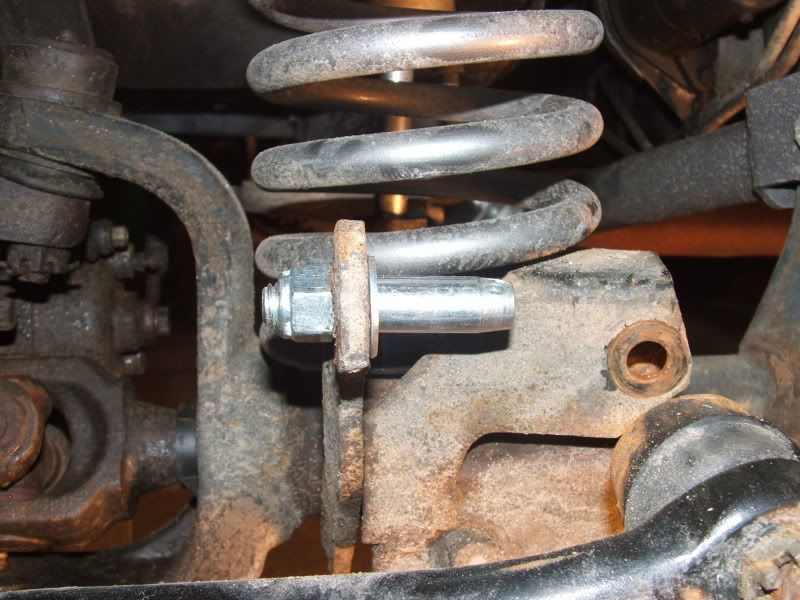 The top part confused me. I installed the adapter on the top and then realized it was supposed to go on the bottom.
Wrong:
Right:
Next I screwed in the rod and hooked it up. Nice!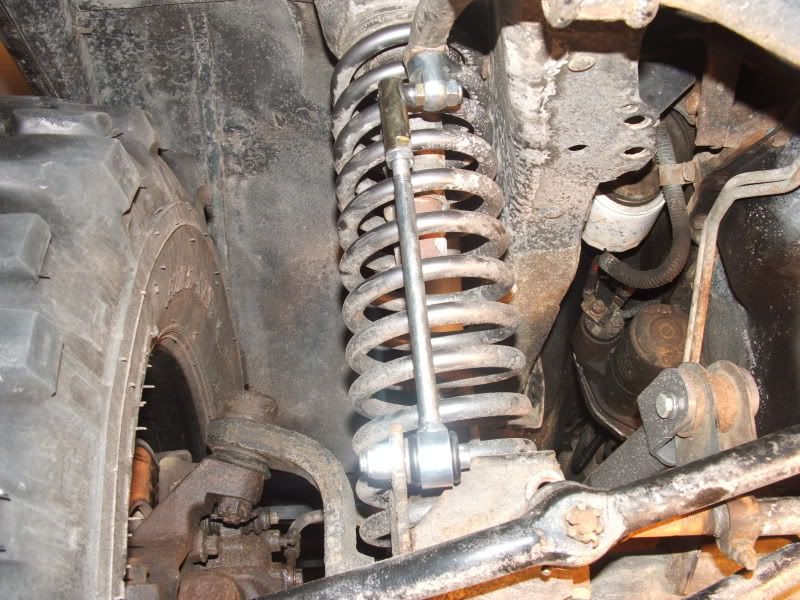 Think it's done? nope! what I thought was brake line brackets actually were sway bar disco mounting brackets. DUH ME!
You gotta drill two holes with 1/4" drill bit and mount em using self taping screws.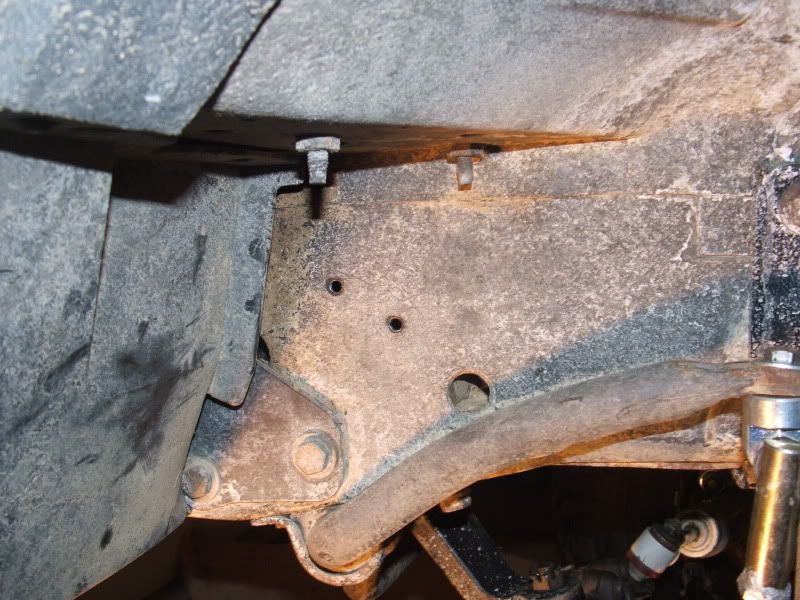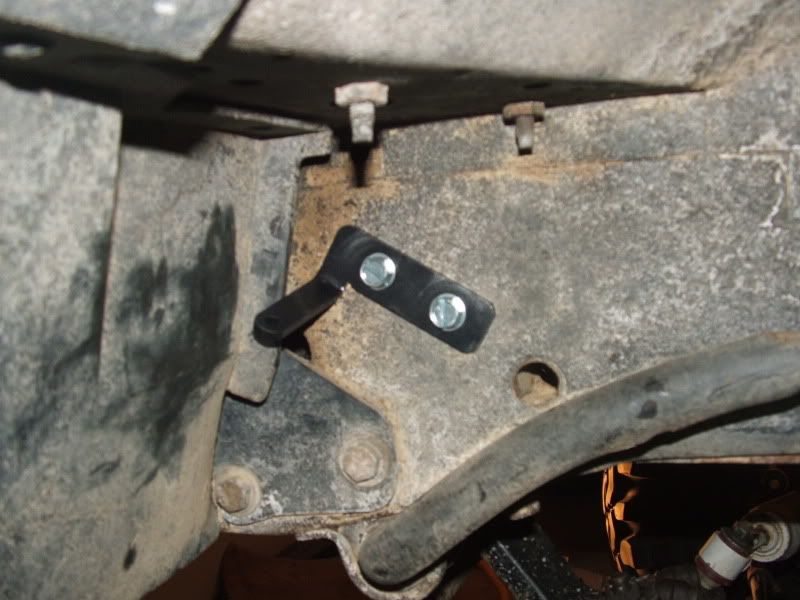 What are they for?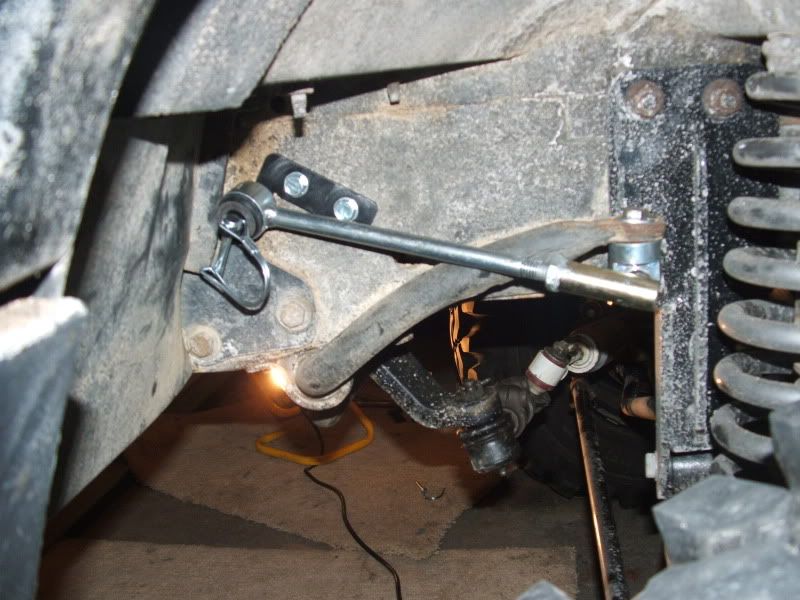 Tomorrow I'm taking it out for some poser/flex pictures and I'll post em up here.


01-01-2010, 11:18 AM
CF Veteran
Join Date: Oct 2007
Location: W-PA
Posts: 3,883
Year: 2001
Model: Cherokee
Engine: 4.0

---
Ok I was bored today and took it out for flex shots with a different WORKING camera.
The good: It flexes like mad. Disconnecting sway bar for flex is a breeze. No bumpsteer at all. Plenty more uptravel and downtravel but i'm limited due to fenders and brake lines.
The bad: I rub like mad LOL. My stock lowered brake lines limit my travel. I got plenty of more droop but my brake lines won't allow it. Tie rod end is crazy close to the sway bar bracket. I know it will hit if I turn when flexing. How the heck do I fix this? I know currie's steering will push the drag link out further but I'm not spending $400 just for that little fix.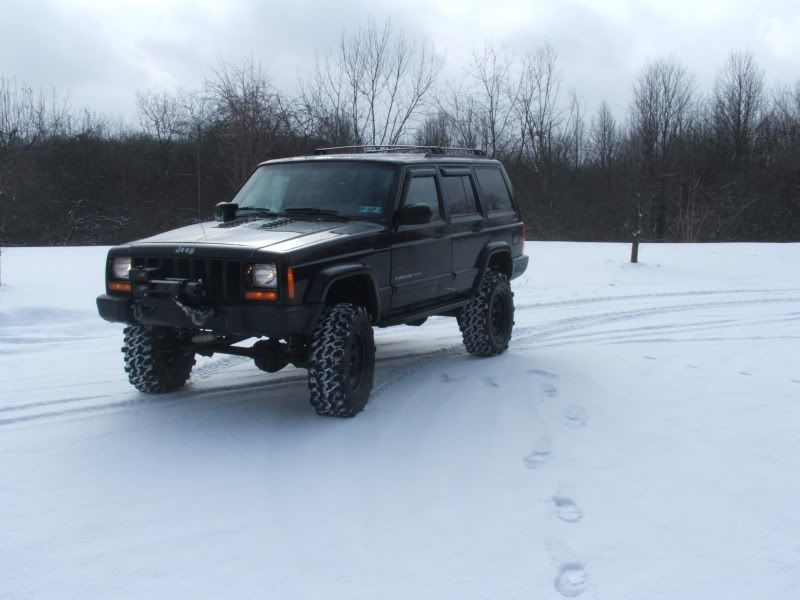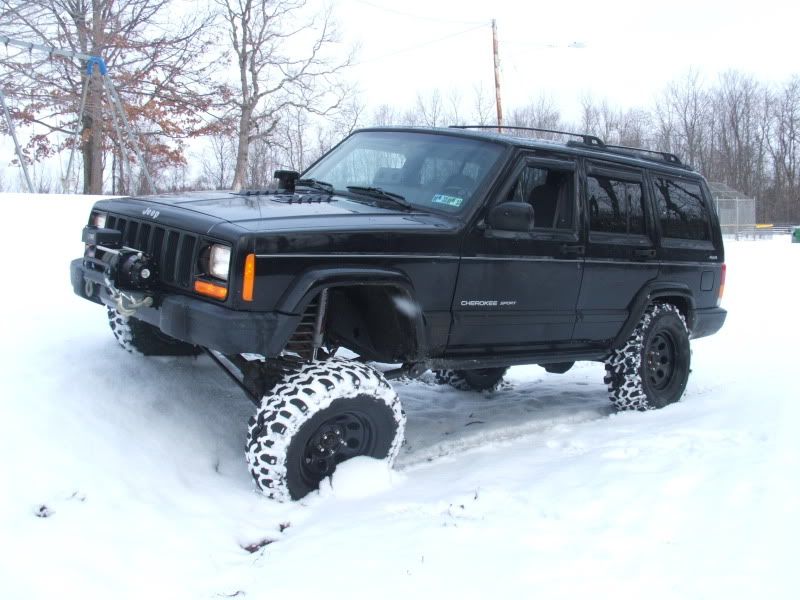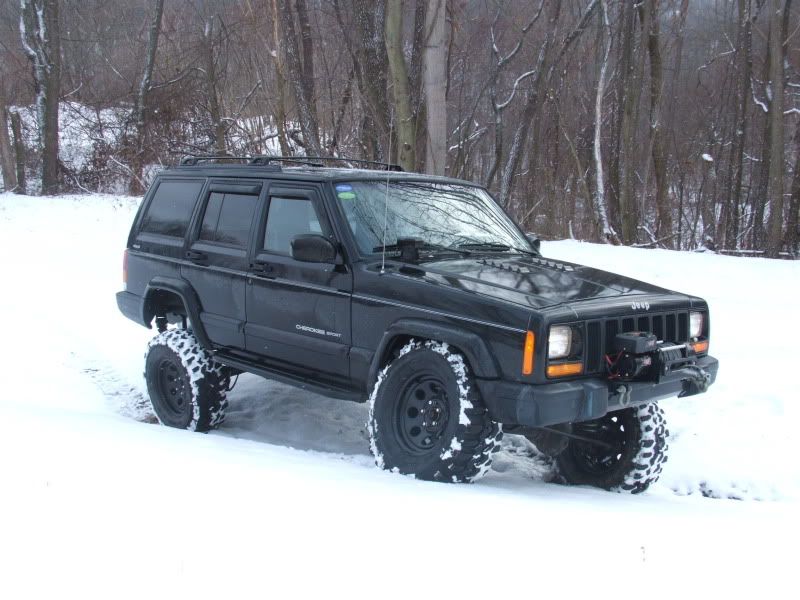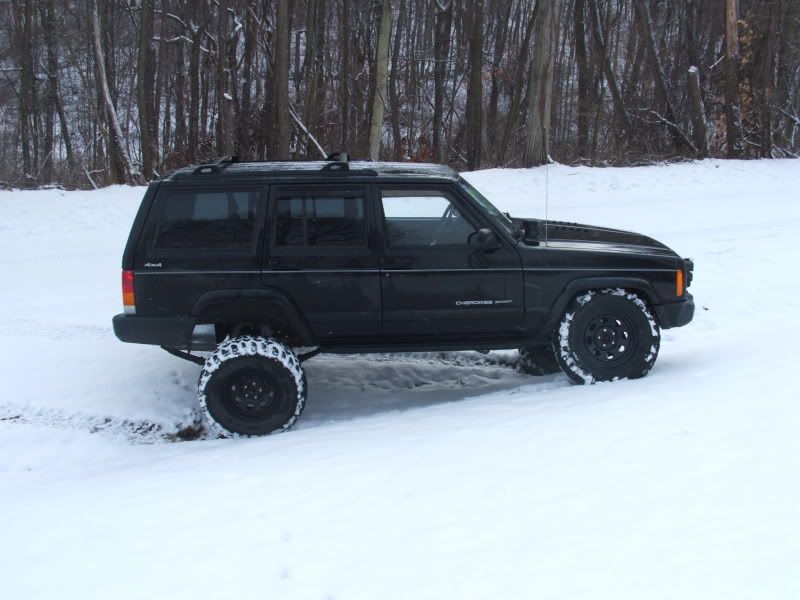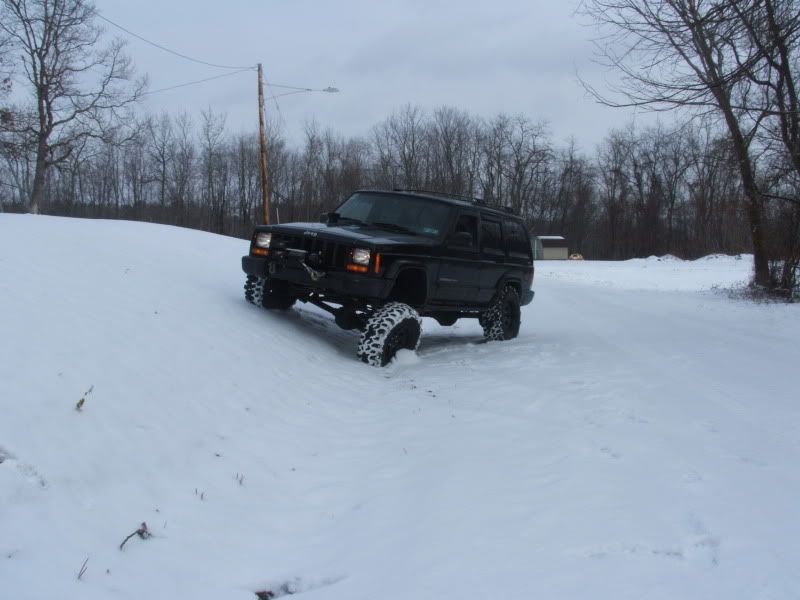 01-08-2010, 12:30 PM
CF Veteran
Join Date: Oct 2007
Location: W-PA
Posts: 3,883
Year: 2001
Model: Cherokee
Engine: 4.0

---
I got asked for my opinion on the kit so I figured I'd post it here.
The good:
It rides very nicely. Bumps and potholes are no longer a concern. Everything came together easily and parts are quality built (except t-bar).
The bad and wtf's:
It drops the drivetrain about 1.5" from stock. Transmission mount bolts are exposed under the skid. Trackbar is crazy-thin. Issue with rear shock and axle. Can't torque upper arm bolts. AAL was a bad idea.
Summary:
I had a 4" lift with drop brackets and then went back to 3" and short arms before upgrading to this 4.5" long arm. This kit rides better than both of the previous setups I had. It also flexes alot better but the drop brackets aren't that far behind. I went with the AAL kit because I had plans to re-use my Old Man Emu springs with RC's AAL but that turned out to be a bouncy ride so I swapped in some RC 4" springs with the shackles set at 1.5". I netted very close to 5" up front and 5.5" out back. I could not use the rc 4" springs with stock shackles which was my initial plan but it just wouldn't work. Seems like the springs were too short and pulled the shackle all the way forward against the frame. I would rate the installation of this kit a 6 of 10. There's only a little cutting (lower brackets) and some drilling and re-tapping nuts. Everything else is removing old parts and installing the new in it's place. It took me nearly 15 hrs to do the front end and rear shocks mainly because I was working on the floor in a cramped garage.
You will need three odd size drill bits to drill holes for the crossmember and skid plate. I could not find two of the bits anywhere in town so I had to order from Amazon. Every other place online wanted $20-$40 per bit but this dude on Amazon had em cheap and they worked great.
Here are the two I bought on Amazon:
Amazon.com: 25/32" Quality Import High Speed Steel 1/2" Shank Drill Bit (S + D type drill): Home Improvement
Amazon.com: 17/32" Quality Import High Speed Steel 1/2" Shank Drill Bit (S + D type drill): Home Improvement
The 23/64 bit was found at my hardware store for $7.
Rough Country has specific instructions on setting the lengths of the lower and upper arms. I followed these instructions but had very bad vibrations up front. It turned out my pinion angle was 8 degrees down from the driveshaft. I think RC wanted to keep the caster good and forget the pinion angle. You might have to adjust this if you get vibes. I have the low pinion 30 so that might be why. Since the crossmember drops the drivetrain, it screwed up my rear pinion angles so I had reset them again with new shims from RE. They say that this kit will not fit the 242 t-case and I think it's because of the drop in the drivetrain. If they mount it at stock height then you would have plenty of room for the 242 above the skid plate.
The shocks are mounted can up so they are designed a little different. Because I had to rotate my pinion up to align the driveshaft, the shock mounts become angled. There is a flat washer welded on above the shock bushing hoop that hits the shock mount cuz of the angle and this creates a loud bang when you go over bumps. I initially thought that it was the upper mount making the noise so I put JKS BPE's on it and it still did it. Then I noticed impact marks under this washer and saw that it was hitting the nut and washer on one side and the bracket on the other side. I am having a local off road shop cut and reweld my shock mounts on so they are horizontal again. If you get a loud banging over bumps in the rear, take off your shocks and if it's gone then you know this is the issue.
I've been eyeballing RC's new trackbar and bracket kit that they sell for $129. I planned on installing it on my short arm before cuz the kit was so cheap but now after seeing it in person I understand why it's as cheap as it is. It's VERY thin compared to my JKS bar. The threaded part reminds me of Rusty's trackbar. This had me worried cuz my gf drives this jeep so I gave Andy from IronMan a call and he's fabbing me up a stronger double sheer bar. Thanks Andy!
I apparently didn't recieve the right bolts for the trackbar because I had to drill out both axle and frame mount holes to fit the new bolts. I don't think this was supposed to be done but i had no choice.
Overall the kit is a good kit for the money. It has it's flaws and quirks but it works and does the job it's intended to do. A little upgrade and modification here and there and it would be a very stout kit.

Thread
Thread Starter
Forum
Replies
Last Post
Modified XJ Cherokee Tech
Modified XJ Cherokee Tech
Modified XJ Cherokee Tech
Currently Active Users Viewing This Thread: 1
(0 members and 1 guests)