Howto: Remove rear swaybar

12-18-2008, 08:20 PM
CF Veteran
Join Date: Nov 2008
Location: Metro Denver, CO
Posts: 1,735
Year: 1987
Model: Cherokee
Engine: 4.0L

Howto: Remove rear swaybar
---
WHAT'S A SWAY BAR??

A sway bar (also stabilizer bar, anti-sway bar, roll bar, or anti-roll bar, ARB) is an automobile suspension device. It connects opposite (left/right) wheels together through short lever arms linked by a torsion spring. A sway bar increases the suspension's roll stiffness—its resistance to roll in turns, independent of its spring rate in the vertical direction.
Translation: it keeps one side of your suspension from contracting more than the other, which in turn keeps the vehicle stable on turns at the price of reduced articulation.
Safety note: Removing your rear sway bar will not make your vehicle unsafe, but it will pitch quite a bit more when driving it. Keep this in mind, ease back into driving it and get a good feel for it.
What you will need:
A buddy (no really, they'll cut the time to do this in half)
Breaker bar
WD-40 (optional, but really helps)
PB Blaster (optional, but really helps)
Jack
Two jackstands
Lug wrench/lug fittings
Wrenches, either ratchet or box. (I totally forgot the size.)
Difficulty rating:
2 Wrenches out of 5. Requires ability to identify a sway bar, but no special skills needed other than that.
Dirty rating:
1 Dirty rag of 5. Most of the dirt in this area is kicked up from the road. You can help this quite a bit by washing your rear undercarriage really good before you do this repair at a do-it-yourself wash.
Time:
About 30 minutes.
To begin: jack up the rear axle, placing each end on jackstands and remove the rear tires. You can either begin on the left or right side, but you will repeat the process on the other side as well.
To begin, remove the outer U-joint attached to the axle. Your axle will not fall, but this releases where the sway bar is connected to the axle itself. If you have trouble getting any bolts/nuts loose, put some PB blaster on and wait a little while. WD-40 helps too.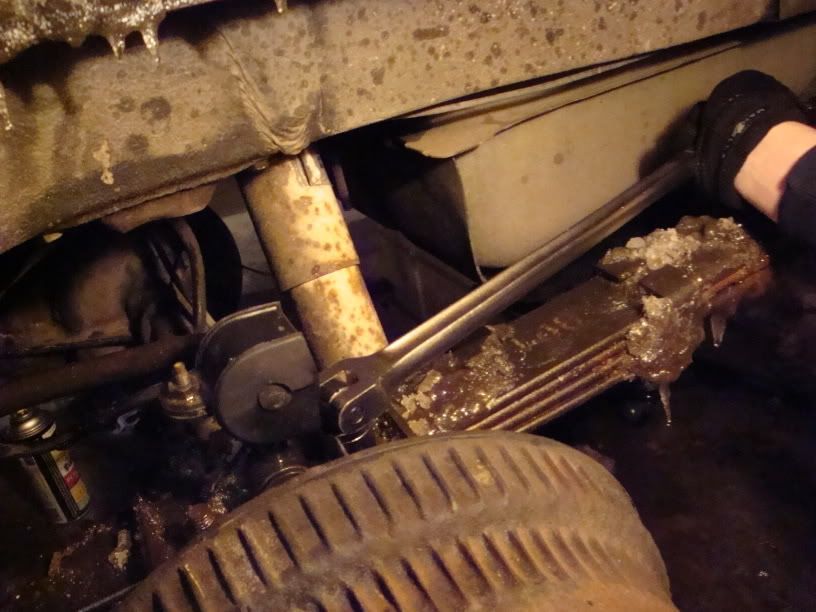 Move the sway bar up as much as possible, have your buddy hold the sway bar up and rebolt your u-joint. and torque it tight. Repeat this process on the other side of the vehicle. Once you have removed the sway bar from the axle, now disconnect it from the unibody. In this picture here, you can see the two spots the sway bar mounts to the unibody in the top left, along the black bar. There is a ratchet fitting seen center,
this is sitting on the sway bar as an identifier only, and this fitting takes no role in the removal of the rear sway bar.
Follow the bar left from the ratchet fitting to the unibody of the vehicle. The mounting bracket here is what you will remove.
After you have removed these bolts, the sway bar will be free from the vehicle. Pull it out and set it aside. If you so desire, this piece can be cannabalized for parts. Reattach the wheels and lower your jeep back down.
Congratulations! You have just increased your articulation!
Here's some before/after pictures.
Before: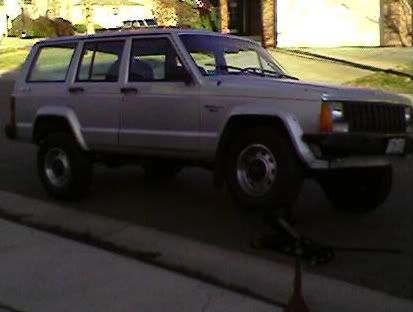 After: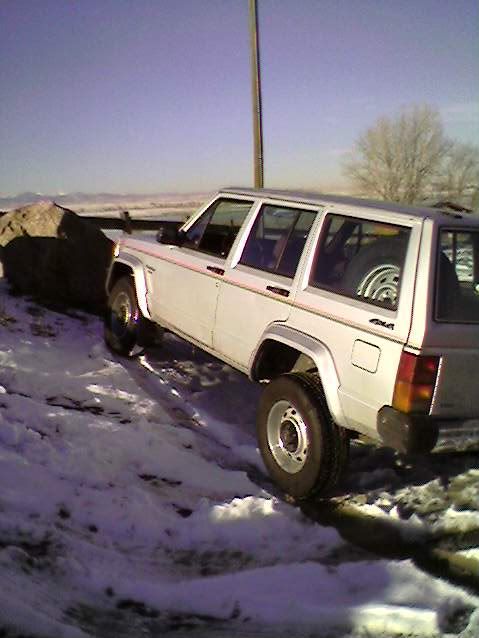 As you can see, I have much more articulation. My RTI score (Ramp travel index: distance the front wheel on either side can be above the wheel behind it when one of the front wheels is up off the ground.) went up from about 382 to 443, which is good. It handles a little differently, taking a little bit more effort (not much, just barely noticeable) to hold the wheel around a turn, it also pitches a little bit more on the turn. I have a much easier time keeping the back end from skidding, the result of something called 'understeer.' In winter time, this is huge. I have much better traction overall after this project.
As with all writeups, questions/comments/critiques greatly appreciated.

Thread
Thread Starter
Forum
Replies
Last Post
Stock Grand Cherokee Tech. All ZJ/WJ/WK Non-modified/stock questions go here!
Stock XJ Cherokee Tech. All XJ Non-modified/stock questions go here
Modified XJ Cherokee Tech
Currently Active Users Viewing This Thread: 1
(0 members and 1 guests)