Proud Papa

05-25-2011, 09:13 PM
Newbie
Join Date: Jun 2010
Posts: 4
Likes: 0
Received 0 Likes on 0 Posts
Model: Cherokee

Proud Papa
---
Hi.

It's been about a year since i last posted, and it was only an introduction to boot. Not that i haven't enjoyed the forum, i've seen some really cool and helpful threads, but if you'd seen my facebook account, you'd know i'm not much of a social animal. In all honesty, i'm still not much of a social animal, but i did want to say how proud i am of myself for all i've been able to do to my jeep, teaching myself. I am by far not an expert. Actually, alot of the threads here are pretty technical, so i do get pretty intimidated. Right now, its a daily driver for me (120 mile round trip commute), so i haven't done alot of off-road. Still, every time i look at my 1990 XJ, i think about how much i still love that damn thing.

So, here's a short bio of what i've done. In my opinion, all minor work, but full-of-pride nonetheless:

I bought it in April last year after a buddy convinced me to grab one (he got his a few months before me). Course, the wife wasn't happy, but she's still getting over it. I drove off and later on that evening, i had a problem right away: revs stayed at 3000 RPM for a while after starting; shift it in gear, acceleration to 20mph without hittin' the gas! I laughed it off and moved on. Turned out to be a bad TPS, which i replaced no problem. Next, i'm driving down the freeway, and notice a burning rubber smell and smoke coming from under the hood. A check revealed the idler pulley had failed, seizing up. Quick replacement that evening taught me how the belt tensioner works.

Next up, my XJ started overheating for the first time. THAT had been a long drawn out battle that lasted 'til this past weekend. In the past several months, i've changed the thermostat out 3 times, did 2 complete radiator flushes, and finally, i changed out my waterpump. Haven't had a problem since.

My EGR valve failed; changed that out without too much trouble. Found a big oil leak; someone didn't tighten down the valve cover enough all around. Fixed that.

Then, of course, everyone has a story like this. Heading into work one morning, passing through a residential area, my rear drive shaft u-joint failed MISERABLY, dragging on the ground for a few dozen feet! Got out, checked it out, had no idea what to do. My buddy, again another proud owner of a 1990 XJ, also a 50-year old, retired Navy veteran, foul-mouthed Oklahoma native, and resident shade-tree mechanic, suggested i shift to 4-High and turn my XJ into a front wheel drive truck! Surprised, i did it, and it worked perfectly; drove around for 4 days like that, 'til i got to a "pick-n-pull" junk yard, and for 20 bucks, pulled a new drive shaft and installed right there in the parking lot. Proud day that day.

Got rear-ended by a minivan one day, rear to rear. His tail-end: rear hatch crushed in like someone hit it with a battering ram, sunk in and everything. My tail-end: rear bumper pushed in about 1/4 inch. Amazing.

Finally (so far), i've been having some problems with the engine cutting out after an initial start. I'll start it in the morning, go to the end of the block, then it cuts out, unless i take it real slow. I thought it was a fuel pump issue, so i replaced mine with a Airtex assembly; again, proud at being able to do that myself. Didn't quite fix the issue, but still undeterred. Still trying to find answers.

So that's my story, and i'm sticking to it. My wife told me, after spending 8 hours on my jeep this weekend, "Tim, no more cars like that, where you have to keep fixing it all the time...". I told her, "Its like working on a '57 Chevy, or my old Harley. It's the first time a vehicle like that makes sense to me, where everything is, how its laid out. Honestly, I love working on it...". "Ok, i guess," she says, "if you like it that much..."
And i still do, so far, knock on wood. I'll keep it as long as i can, and if it dies, i'd still grab another, and love it just the same.

Pics of "my Wildebeest" to come soon. Until then, i still remain a proud papa of my baby.
---
Last edited by A.tim; 05-25-2011 at

10:00 PM

.

05-26-2011, 01:36 AM
Seasoned Member
Join Date: Apr 2011
Location: Salt Lake City, UT
Posts: 432
Likes: 0
Received 0 Likes on 0 Posts
Year: 1994
Model: Grand Cherokee
Engine: 5.2L V8

---
I like reading these. I'm in the same boat, and it's motivating! Let's see the pics!
---
Last edited by stomper27; 05-26-2011 at

04:53 PM

.

05-29-2011, 12:21 AM
Newbie
Join Date: Jun 2010
Posts: 4
Likes: 0
Received 0 Likes on 0 Posts
Model: Cherokee

---
Hi Guys,
Here's the pics. My rig is still mostly stock, but construction is SLOWLY in progress:
This is the Wildebeest. As you can see, i got no garage, so all my work, definitely "Shade Tree Mechanic":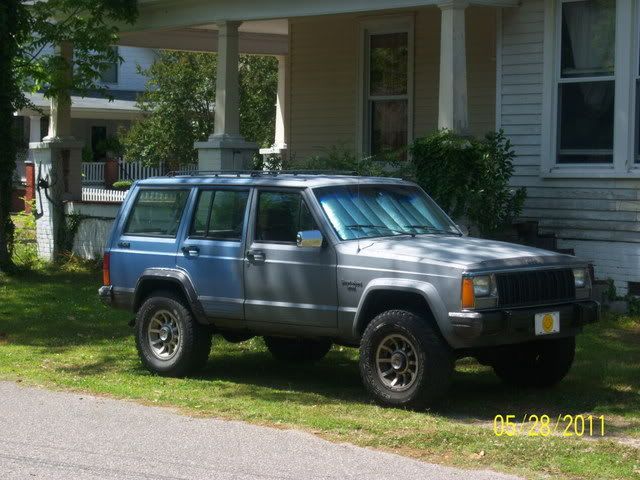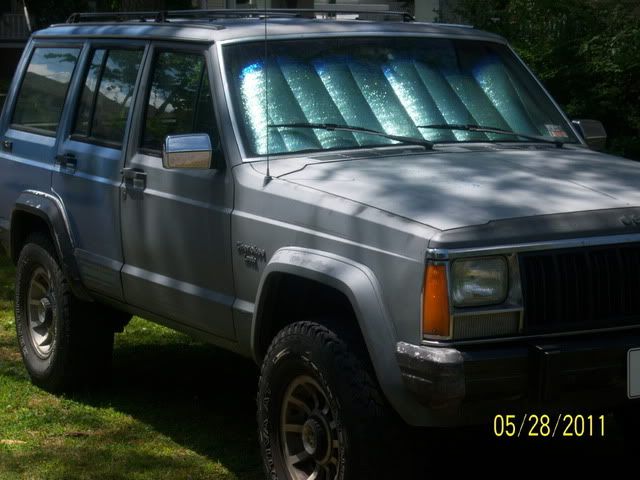 My cockpit:
Previous owner mounted this. Originally for a boat, rotates and pivots 360 degrees. Comes in very handy!
Need a new steering wheel, among other things: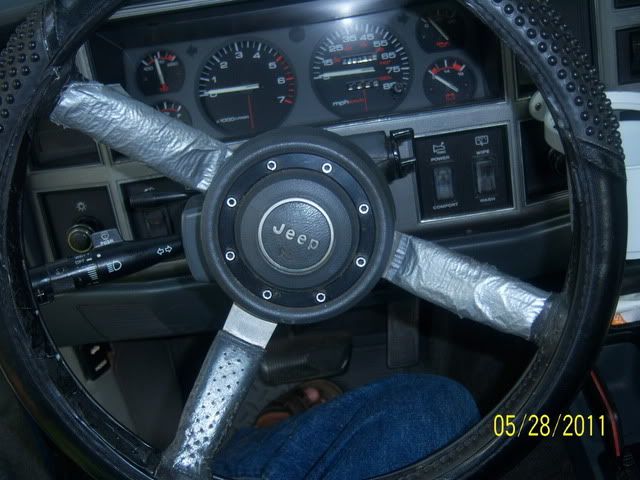 All original miles, as far as I know:
More pics to come. This is probably my favorite, though. In just about every picture i'm in, a never smile. When it comes to my XJ, though:
I'm all smiles!
Engine pics coming next. See ya soon!
---
Last edited by A.tim; 05-29-2011 at

12:27 AM

. Reason: addition
Thread
Thread Starter
Forum
Replies
Last Post
Stock XJ Cherokee Tech. All XJ Non-modified/stock questions go here
Currently Active Users Viewing This Thread: 1
(0 members and 1 guests)