Project Cheap! (yeah right).

04-14-2015, 02:12 AM
Someone stole my badge!

---
Not bad at all! I remember feeling the same way when I got my XJ. Couldn't believe what it was capable of with it being only 2wd. Even more so now with the 31" MTs that are on it.

04-19-2015, 03:49 PM
CF Veteran
Join Date: Jan 2010
Location: North Riding of Yorkshire, UK
Posts: 1,135
Year: 1997
Model: Cherokee
Engine: 4.0

---
So the LPG service went well!
I told them about the aircon issue and there was some head scratching. It turns out they'd just used the original power cables from the previous install. The power issue was caused not by the feed for the LPG ECU which was the obvious one hooked up the the side of the Power Distribution where the alt feeds in, but the ignition feed which had been taken from the same relay as the aircon.
The power there dropped to 11.3V when the compressor kicked in and that was OK for the original LPG system but not the new one. A swap to a different relay and all is well
I have ice cold aircon and the Jeep is running great. I just need some hot weather

Two things still on the list:
1. Oil Change - time for more oil. It's been 10k miles which is a bit much even on full synth.
2. Sounds. I've got two blown front woofers and the power antenna is broken, which annoys me more than it probably should. I'll write it all up once I've fixed it.

05-10-2015, 02:59 PM
CF Veteran
Join Date: Jan 2010
Location: North Riding of Yorkshire, UK
Posts: 1,135
Year: 1997
Model: Cherokee
Engine: 4.0

---
Oil done
Got a K and N filter this time for no really good reason apart from not being able to find a Mobil which is identical apart from the nut at the end. Shame, because the nut seems to double the price and I was able to take the Mann filter off by hand because I didn't gorilla it on in the first place. The jeep is purring with its new oil, pressure is still good (21 PSI hot idle) on the same 5w30 full synthetic so I'm pleased.
Mileage is now 149,950.
And... drumroll.... Speakers!!
I bought these
Amazon.com : Infinity Reference 6032si 6.5-Inch, Shallow Mount High Performance 150-Watt Two-Way Loudspeaker (Pair) : Vehicle Speakers : Car Electronics
as recommended by Bluelight on this very forum and they fit perfectly. They sound great, and I'm chuffed to bits. Thank you Bluelight!!
Actually, I'd be even happier if the right hand speaker was working. I think I need to fix the cable again. It did work for a while after I soldered it last time but it stopped and I put it down to the OE speaker finally giving up. Guess not. Still, it's a vast improvement already and when both new speakers are going it'll be great.
So, I've now got 2 tweeters and a woofer working in the left door and nothing on the right. The two soundbar speakers are still going but judging by the age and condition of the speakers I just pulled out - I think it's time to replace them too. I've got two options, some JBL 6.5" components which I bought for the front doors and didn't fit or some 5.25" Infinity Reference components which I've had for years and never fitted to my BMW E30 before it was scrapped. The JBL are 2 ohm and bigger so I think they're favorite but I'll have to do some head scratching before I charge up the Dremel and get creative.
I also want to hear the front speakers working properly before I decide. I've still got the original tweeters wired in and it might be that 6 tweeters in total is overkill!
So, I've still got the electric ariel to sort out and the RH speaker wire to investigate. Then, maybe, it'll all be working. Or maybe it'll spring another surprise by the time I get round to it

06-04-2015, 03:21 PM
CF Veteran
Join Date: Jan 2010
Location: North Riding of Yorkshire, UK
Posts: 1,135
Year: 1997
Model: Cherokee
Engine: 4.0

---
And the best laid plans....
MOT tomorrow and the rear hanger had broken off the exhaust. And then the next hanger so it was swaying around. The cat was rattling when I bought it so I bit the bullet and put on a new cat and backbox. Technically I don't have to run a cat in the UK because using LPG I meet emmissions without it, but it was cheaper and less hassle to get a new cat than mess around finding a pipe to fit.
Three cheers for the internet, Cat and Backbox for £130 delivered inc tax. Fitted in a lunch hour with Bob the spanner God. Bargain
Had to do a little inventive "fabrication" when I realised what had happened to the rear hanger but it's not moving anywhere now and the Heap is now a Stealth Heap compared to the clatter and rattle it used to make with the old cat
---
Last edited by Morat; 06-04-2015 at

03:23 PM

.

09-07-2015, 03:40 PM
CF Veteran
Join Date: Jan 2010
Location: North Riding of Yorkshire, UK
Posts: 1,135
Year: 1997
Model: Cherokee
Engine: 4.0

---
More happy Jeeping this summer and all is well except she's starting drinking a bit of coolant. I'm having to refill the bottle every few hundred miles. Oil looks good so far, but I'm worried it might be a headgasket. It looks like it had a headgasket not too long before I bought it, so perhaps it was a cheap gasket or the gasket didn't fix an issue which has got worse. Hmm.
Compression test/leakdown time?
Then again, she's dropping fluid from the front somewhere, which looks too light to be engine oil. Maybe time to pressure test the coolant system. Choices choices.
Current snag list.
1. Coolant gradually going AWOL.
2. FR door speaker silent
3. Electric antenna still not fixed (slowly driving me nuts because on a RHD jeep it's bobbing around in front of me)
4. Brakes doing the judder-at-halt thing that means the drums need an overhaul (again). Rear disks back to being tempting.
5. Need to fit the Oil Filter Adaptor O rings I bought ages ago.
But she's still a joy to drive
Wishlist:
1. Rear Tru-trac
2. Recovery points
3. Sump Guard, Transmission cross member, Rocker protection, T-case guard.
4. Rear Tru-trac
5. Twin fifties
6. Grenade Launchers
---
Last edited by Morat; 09-07-2015 at

03:46 PM

.

09-27-2015, 03:10 AM
CF Veteran
Join Date: Jan 2010
Location: North Riding of Yorkshire, UK
Posts: 1,135
Year: 1997
Model: Cherokee
Engine: 4.0

---
On the way to the Jeep guys yesterday I learnt the price of "putting it off".
There was some heavy traffic and the temperature starting climbing, although it never got much more than a needle width above 100C/210F, when I sped up to try and get some airflow things started to go wrong

It started losing power but there was nowhere to pull over until I reached this junction after about 1/2 a miles. Jeep cut as I stopped and i didn't try to crank it because I couldn't even see where I was going due to all the steam pouring out.
I popped the hood and could see filthy steam pouring out from the rad through the fans an into the bay. There was coolant all over the place and I reckon the stupid cone filter had been sucking it straight down.
That's the second time it has died on the way to see the doctor!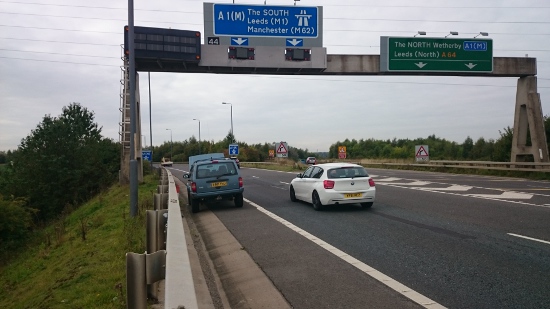 I ended up getting Green Flag to haul it on to where I was going in the first place, it only took them THREE HOURS to turn up :/
---
Last edited by Morat; 09-27-2015 at

03:12 AM

.

10-08-2015, 03:44 PM
CF Veteran
Join Date: Jan 2010
Location: North Riding of Yorkshire, UK
Posts: 1,135
Year: 1997
Model: Cherokee
Engine: 4.0

---
So.. .that was a bit of a bad one.
The hightlights:
Head skim, new valve guides and the seats were reground. New water pump, head gasket and I got new top and bottom hoses while I was at it because it was the bottom hose that was the original problem. Apparently the muppets who did the headgasket just before I bought the Heap and failed to put the hose on the stub properly and then tightened the clamp up which eventually made a small split in the hose.
Small leak, big leak, boom.

On the upside... there are new bolts in the manifolds which have cured the exhaust leak (the bottom bolts were finger tight!) new bolts in the alternator bracket to replace the ones which were completely missing. The thermostat has been replaced with one that isn't completely gummed up with silicon and there was a massive vacuum leak which has now been fixed.

The Cheap has never run better, and I treated it to all new fluids so the transmission is smooth again too. Turns out the D35 has a factory LSD and the fluid wasn't too bad so maybe it'll come back to life with the new fluid and correct additive. Probably not, but it's worth a shot.

So, what's next?
only time will tell.... El Nino is set to bring us a snowy winter (maybe) because that's how it works in the UK so maybe I'll be hauling Audis out of snow drifts again!

03-11-2016, 01:14 PM
CF Veteran
Join Date: Jan 2010
Location: North Riding of Yorkshire, UK
Posts: 1,135
Year: 1997
Model: Cherokee
Engine: 4.0

---
So the winter was the wettest on record but hardly any snow!

I've had the Jeep up over the headlights in water, on public roads - and I wimped out of one flood next to an old water mill which looked far too sketchy. Plus the owner was standing by her front door with water lapping up to the top step. A bow wave there would have been unpopular.

The floods over here in the UK were the worst in living memory, but I always got where I was going in the good old XJ - even shooting on Boxing Day which was just ridiculous rain. It's the first time I've looked at the guys with snorkels on their stock Landrovers and thought "Huh, I should have got one of those".

Cheap has been trundling along just fine, but I did have a bit of an issue last week with the front left caliper (RHD, so that's the one that's always on the pothole/puddle side of the road). Replaced for a new unit, cheapest turned out to be from Mintex which I though were a decent brand for the price. Now I've got a spare because it was brand new, not a refurb. I'm toying with the idea of seeing if I can get a reman drivers side caliper using the passenger side one as the return.
Anyway, I got to it pretty soon this time so the pads and rotors were OK to continue. I've probably worn a bit off but she still stops just fine. I'll wait for pads and rotors until it's summer (inspection isn't due till June).

I'll probably need to do something about the exhaust by then too. The El Cheapo I got off the bay for inspection last year hasn't really enjoyed getting up to temp, then wading through freezing water, rinse repeat. It's now sounding a bit fruity even though it hasn't rusted yet. Maybe the joints are blowing, but there's a really nasty resonance at 2200 rpm.

Otherwise... I still need to fix the wiring to my front left speaker again.
I got sick of the doors creaking so I tried grease, then WD40, and settled on bicycle chain lube which sprays on and sticks where you want it. Waterproof too, pretty much. Handy stuff. The drivers door is still doing the double click from the pin in the retaining strap but they all sound like new apart from that.

over 150,000 miles now. Can't believe the tyres still look as good as they do.

03-11-2016, 06:10 PM
Newbie
Join Date: Mar 2016
Posts: 3
Year: 1991
Model: Cherokee
Engine: 4.0 HO

---
its really interesting that your XJ is LPG in the USA a lot of Hysters (forklift trucks? not sure what you call them over there) are LPG, and its little known that the inline 6 is basically an old Hyster engine (to the best of my limited knowlege) Chrysler having produced it ... there is probably some small differences, I'm not exactly sure.

To the point, i have a question: both Hysters i have maintained over the years have produced ALOT of water in the oil. (more so the old Hyster with the inline 6) my theory is that the trucks don't get hot enough during there 5-6 minuet run intervals to chase off all the water, it cools and condenses and eventually the oil turns a milky white. you mentioned your coolant is disappearing and that it was not making it into the oil. when you pop the top of the oil fill after a good long run does it steam?

06-01-2016, 03:40 PM
CF Veteran
Join Date: Jan 2010
Location: North Riding of Yorkshire, UK
Posts: 1,135
Year: 1997
Model: Cherokee
Engine: 4.0

---
Ben, I think you're right and the problem with the Hysters (yep, Forklifts
) was due to the short running times. Certainly when I run my Jeep for any decent length of time it behaves just like a petrol powered one. I've heard of condensation in oil from engines that don't get up to temp, even non-LPG powered ones. However, I do get some steam/smoke sometimes when opening the oil filler - I'll check and see if it's still doing it with the new Head Gasket. I doubt it's LPG related, unless I've got really poor rings!
Latest update:
For MOT (inspection) this year I needed a new windscreen and Autoglass let me down with two appointments so I the only option was to go to a local garage who are really strict. No bad thing really, they're good mechanics and it was pay day... so... I just handed the keys over and winced.
So the list: Roll bar bushes at the rear, rear shocks, new exhaust backbox (I don't think wading through all the floods at new year did my cheapo backbox any good!), two new rear wheel bearings and new distributor cap/leads to try and cure a misfire that has been creeping in. They hated taking the rear apart, but I guess they're not that used to Jeeps so she managed to bite back with some broken bolts
Annoyingly, although the cap and leads did improve the idle I still do have a misfire at low revs which is annoying and has only started recently for no apparent reason. I tried the plugs but it only made things worse - because I couldn't find my feeler gauges and gapped the plugs by eye. The old plugs were healthy looking but WAAAY wide.
Strangely, the brakes passed - but I'm not happy with them so I'll probably do the front pads myself and get the good Jeep garage to do the drums. I'll ask them to look at the idle misfire as well. One day I'll pony up for the ZJ Disk conversion!
158k up
---
Last edited by Morat; 06-01-2016 at

03:47 PM

.

08-21-2016, 05:18 AM
CF Veteran
Join Date: Jan 2010
Location: North Riding of Yorkshire, UK
Posts: 1,135
Year: 1997
Model: Cherokee
Engine: 4.0

---
I'm living with the brakes....
Fuel pump failed so I fitted a new unit after messing around trying to get the old one out for a little while. Eventually I just took the regulator unit off the top, sprayed WD40 around as much of the edge of the module as I could reach and pulled up on the plastic tabs which the metal retaining strap clips onto.
I nearly gave myself an aneurism but it popped up eventually and immediately smacked into the boot floor which made the plastic tab I was gripping snap off. I'm glad I bought the full fuel module! (Bosch from RockAuto).
She now pumps fuel again and it's a nice feeling to have the battery back in. It's a bit superstitious but I get the feeling that a car is really dead when it has no power at all. I'll be happier still when the engine runs.
The reason it doesn't run right now is I've noticed the front flexible fuel line is cracked like crazy and I doubt it would hold much longer. Also the fuel line at the rear is a real bodge. Because the Jeep as custom fuel tanks, the installer cut the plastic line from the pump short and clamped rubber flexi line over the stump. This eventually deformed and there was a pretty bad fuel leak - probably not helped by the fact that the fuel pump is maintaining 49psi against closed injectors once the LPG system shuts off the regular fuel supply.
I've ordered some 5/16 (10mm) flexi hose which I plan to clamp directly onto the fuel pump stub and then use a steel 10mm to 6mm reducer to join the two sizes of flexi pipe together. I'd like to use the original OEM type connector for the fuel pump/line but I can't seem to find any.
I'll use the rest of the line to replace the rotten hose up by the engine and hopefully we'll be back on the road again
Well, that's the plan....
---
Last edited by Morat; 08-21-2016 at

05:28 AM

.

06-06-2017, 11:08 AM
CF Veteran
Join Date: Jan 2010
Location: North Riding of Yorkshire, UK
Posts: 1,135
Year: 1997
Model: Cherokee
Engine: 4.0

---
I finally had the brakes done by the local garage, just plain ran out of time!
Luckily they're a good bunch and checked my MOT (annual inspection) status when they got the Jeep and it was due the next week. All done.
New front disks/pads. Rear shoes, flexis and cylinders. Oops. They were getting pretty grabby at the back.
It's nice to have a decent brake pedal again.
Then I took it to a different LPG place for a proper tune up. She'd been running lean in the midrange and the idle was off. All sorted now although it could do with smaller jets/higher regulator pressure because the LPG injectors are jetted a hair too big and going below minimum duty cycle on over-run which can cause it to cut out if the engine isn't fully hot. I'll see how much of a pain it is before I throw more money at that. The good news is that the mixture is safe and she pulls properly through the range. Sounds great!
Next up: Front UJs need attention/replacement. I'm staying in 2WD for now. I'll book her in to the Jeep specialist who does this short of thing day in day out and see what it'll cost to get the rear wiper and power antenna fixed. Yes, I know, but I LIKED the power antenna damnit!
I'm having dirty thoughts again about a tru-trac in the rear to replace the worn out factory LSD which is now an open diff. Can't have two open diffs, it's not right

Sadly the dollar

ound isn't looking good from this side of the pond.
Tyres are now at 40k which is pretty epic IMO. I'm used to killing tyres in 15k. The Grabber AT2s are still doing very well but I've been looking around. Luckily the AT3 version is due this summer in 235/75/15 so that should fit the bill nicely.
MnS, Mountain snowflake symbol, quieter, ATs with greater grip, make you coffee every morning.... gotta love Marketing

02-21-2018, 04:59 AM
CF Veteran
Join Date: Jan 2010
Location: North Riding of Yorkshire, UK
Posts: 1,135
Year: 1997
Model: Cherokee
Engine: 4.0

---
So a few little jobs done:
Front UJs - no more growl!
Driver's door strap bolted up
Speaker and window wires redone in the driver's door loom - I can hear in both ears!
I did the oil at the weekend and she repaid me by throwing a CEL. After digging out the Bluetooth Gizmo from the man drawer I found two codes: P0108 and P1297. Bearing in mind I'm only using the Torque app, the definitions are a bit approximate but cross referencing with Google it seems that the MAP sensor is Kaputt.
So, yeah. I guess I need one of those. Now I'm just working out what brand is available here in the UK and is going to work.
Now I'm starting to wonder if the LPG mapping was fine after all because LPG is more sensitive to mixture than good old unleaded.