Project Canadian Pepper

08-19-2014, 10:36 PM

Project Canadian Pepper, A 2 Door XJ Resurrection
---
Since before I could drive Ive always wanted an XJ, and now 10 years later, I finally got one. I've had plenty of jeeps, 1 WK, 2 TJs, a YJ, a PARTS XJ, a PARTS ZJ, 6 Grand Wagoneers, 2 FSJ Cherokees, 1 J10, and 3 MJs. I know, a parts XJ counts, but not really b/c I never drove it, being that it was rolled and in pieces. And an MJ is similar, but still not an XJ. So now for the actual XJ part. I found this on Craigslist, went and checked it out, and although it was in pretty bad shape, I got it at price I couldn't pass up. It is a 99, 2 door XJ, 6cyl, Auto, NP231, Dana 30 HP, 8.25, Chili Pepper Red. I bought it with a clean title, running and driving, and mostly everything working with 235k KM, yes KM, which is roughly 146k miles. Its from Canada, hence "Canadian Pepper". It has just about every option I could think would come with a 2 door from that time. It has the infinity sound system, power windows and locks, keyless entry, tow hooks, cruise control, fog lights, ABS, etc. The funny/weird thing is, I had never been to Canada until about a month before I bought it, and now I own an XJ from Canada that I bought in TX.
Plans for it for now is to resurrect it back to its former glory, fix anything and everything wrong with it, including new front clip, new rear hatch, stock bumpers, either spacers and better tires, or smaller tires, interior cleaning and fixing, eventually paint(same color). Ill eventually do a mild 4.5in with 32s, possibly on rubi wheels. Keep the body and interior mostly stock. Add any options that it didn't come with. Use it as DD, with some mild wheelin. And now for pics.
Previous Owner's Pics
And when I brought it home.
After spending a few hours getting most of the mud out.
---
Last edited by jeepskater433; 02-03-2015 at

11:23 PM

.

08-19-2014, 10:45 PM

---
Didn't take me long to start tearing into it. It had been wrecked before, and the PO did a very poor job "fixing" it, including putting the wrong year header panel and using mainly self tapping screws to hold on the body panels, and eliminating electric fan so it wouldn't hit the power steering pump. Slowly but surely gathering up parts to put the body back straight, but it isn't easy color matched panels. Luckily somebody locally had parted out a chili pepper XJ and had a hood, and I found the hatch and driver fender at pick-a-part. Also replaced the red duct tape fixed tail light.

08-19-2014, 11:02 PM

---
Had a buddy of mine, who is also a fellow XJ owner, who works in a welding shop, come by and weld some "drain" holes made by the PO, shut. Figured I would find more rust, being that its from Canada, but I guess it wasn't there long, being as rust free as it is. Probably one of the most rust-free XJs from Canada today.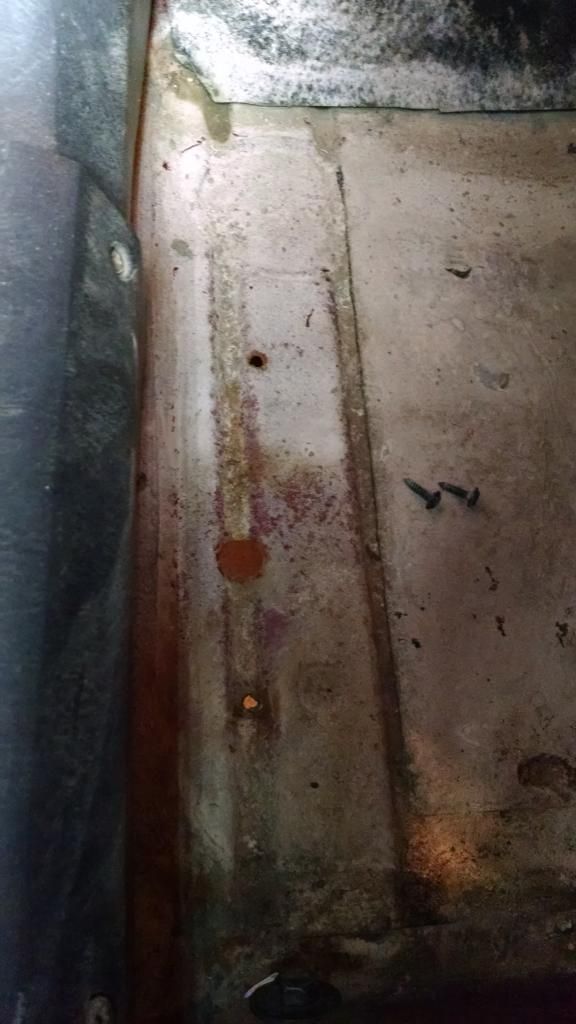 Also finished putting the rear hatch in, as well as a rear bumper I picked up.

09-10-2014, 07:07 PM

---
Picked up a overhead console and clean headliner at the junkyard, both cost me about the same as redoing the old headliner on my own.
Also cleaned up some of the dash panels, and replaced a couple that were in worst shape, and put a factory radio in
And removed the the bald, worn out, 15 year old, over-sized tires, and put some temporary rollers for now,

09-10-2014, 10:09 PM

---
Thanks, haven't tried maple syrup yet, and beer has been going to me, maybe I should try to share with the XJ, although it would cost more than regular gas, and I'm not sure if it'll increase performance


02-03-2015, 11:13 PM

02-03-2015, 11:14 PM

---
Then I pressure washed the seats and scrubbed them using Dawn dish washer soap, and let them sit out to dry in the sun for a few days. Also order new carpet which I trimmed and installed.
Seats installed
Started putting the body back together and aligning all the panels,
Put the front bumper, tow hooks, fog lights, and inner plastic fender wells.

02-03-2015, 11:16 PM

---
I had already been keeping an eye out on a set of barely used 31 BFG A/Ts a customer had returned to my job, well I went ahead and bought them for this project,
Went ahead and refinished the wheels,
Then after looking for the last couple months for a color matched header panel, I finally found one, after I already bought a patriot blue one and installed it, ended up buying it anyway and selling the blue one,

02-03-2015, 11:18 PM

---
Now for the fun part, I had picked up a Skyjacker 3in lift off of an XJ from a LKQ/pick-a-part a few months ago, (was actually the same XJ I pulled the back hatch, driver fender, and overhead console and headliner) now it was time to install it.
Front done....
Done with the back....
Butttt, looking at my rear brakes I decided I would replace them since I was already there,
And cleaned up a couple spots on the rear inner fender wells where the PO's tires rubbed from no lift and big tires

02-03-2015, 11:21 PM

---
I had a really bad short, in the wiring harness where my gauges didnt work, my interior lights didnt work, and would kill my battery in no time. But between me and my dad we were bale to track down a few wires that had opened up from moving the wiring harness out of the way to weld in the inner fender in. Fixed and now good to go. Things left to do now is...
-probably add an adj front track bar,
-get an alignment,
-replace the front brake pads(already have them)
-replace door panels, and power window switch
-replace front speakers
-add a muffler and tail pipe
-Paint it
-add rocker guards
-thats pretty much it for now
Thread
Thread Starter
Forum
Replies
Last Post
Stock XJ Cherokee Tech. All XJ Non-modified/stock questions go here
Currently Active Users Viewing This Thread: 1
(0 members and 1 guests)