my 95 cherokee

07-14-2010, 09:55 PM
Newbie
Join Date: Jul 2010
Posts: 18
Model: Cherokee

my 95 cherokee
---
so after owning two wranglers i have bought my self a 95 cherokee. Although its not going to be my daily drive such at the wranglers were.
My first jeep was a 90 jeep YJ, purchased stock, sold with 4" lift and a few other goodies. Next was a 97 TJ bought stock, sold with 4" of lift. Then i bought a truck, and my 95 cherokee. cherokee like all my other jeeps was in need of some serious tlc. But for 500$ who could go wrong. Ive now had the cherokee for about 8 months and alot has gone on so please excuse the large amount of posts.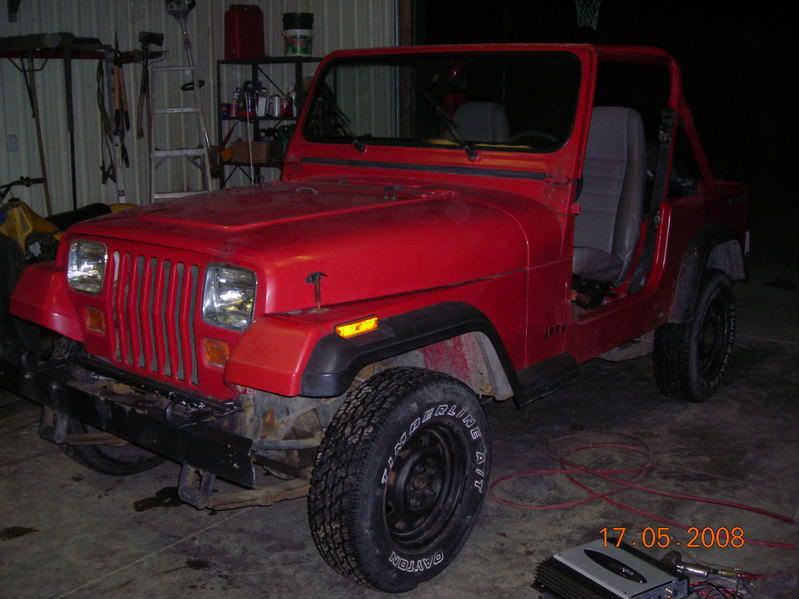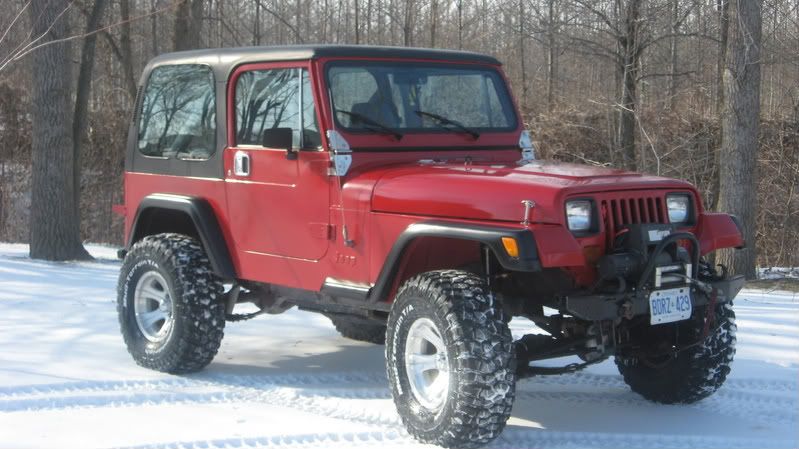 this is my YJ when i got it and not to long before i sold it...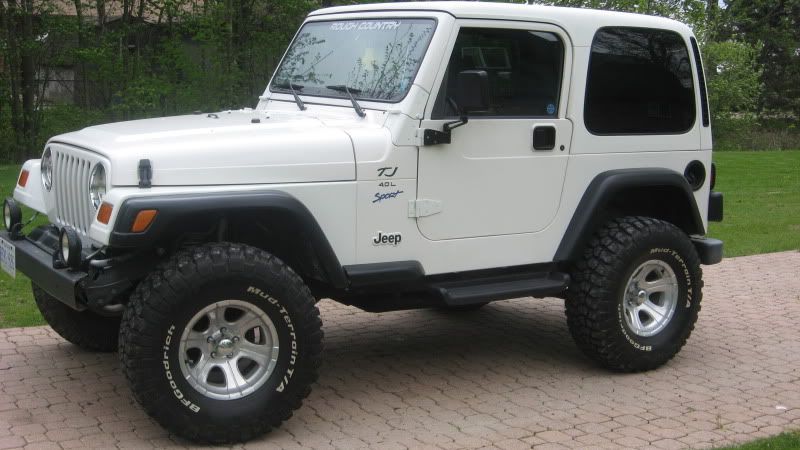 this is my TJ when i got it and not to long before i sold it....
and this is the cherokee in all her glory, kind of before and after. I will fill in the blanks over the next couple of days, as well as up and coming projects. Enjoy.

07-15-2010, 05:50 PM
Newbie
Join Date: Jul 2010
Posts: 18
Model: Cherokee

---
so the first steps in building the jeep was to get a lift, tires, and build some protection...lift came in the form of a 6.5" short arm from rough country. I went with the short arm because i'm going to be bolting in a ford 9" and dana 44 this winter so during that switch i will be building long arms for the front. And the protection came in the form of front and rear home brew bumpers and rockers.
Here are a few quick shots of the bumpers and rockers...If you would like more detailed pictures i can always post up more.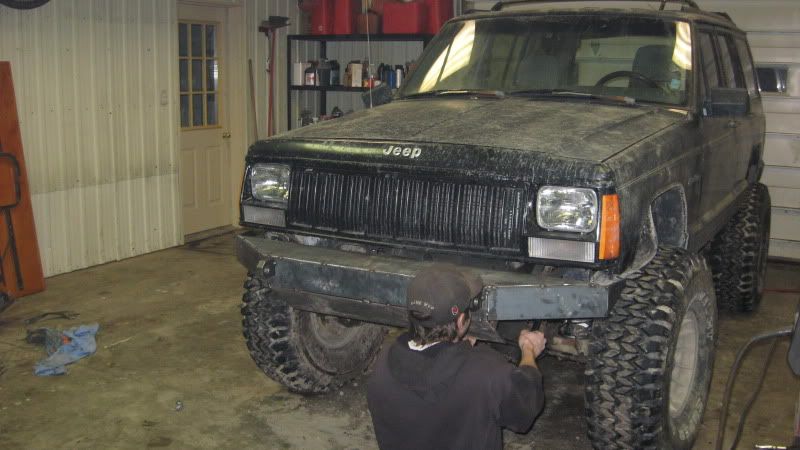 And here are a few pictures of the end results, and the jeep flexin...I managed 24" of wheel travel both front and rear without rubbing. But the fenders have been trimmed about 1". Would love some feedback, thanks.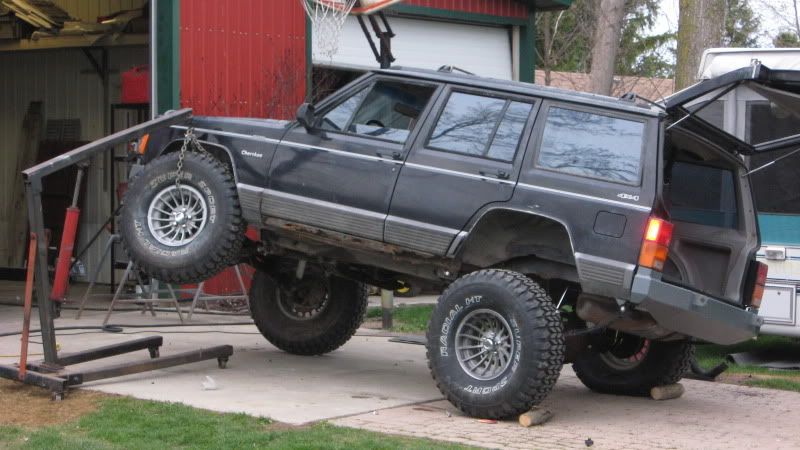 ---
Last edited by treky67; 07-15-2010 at

05:56 PM

.

07-15-2010, 08:51 PM
Newbie
Join Date: Jul 2010
Posts: 18
Model: Cherokee

---
Yeah the garage is great, and i enjoy having it, because if there's some thing i can build or want to temp, ive got alot of resources at my disposal. As well as alot of talent. I love the feed back and will continue to update often. I have a few more updates to the thread before i am even at the current stage of the jeep. And just a back ground on my self, i'm a 19year old millwright, i live in windsor ON canada, and i love Jeep
P.S the jeep is on 35" tires until the new axles are under it this winter.

07-16-2010, 08:35 PM
Newbie
Join Date: Jul 2010
Posts: 18
Model: Cherokee

---
Another round of up dates, some of these more recent than others. Since owning the jeep ive had a hand full of oportunities to wheel it. And fried my alternator twice, in deep water crossings, and or mud wholes. So i decided to switch to a grand cherokee alternator set up. this set up moves the alternator up 10". Yet if you want you can still use your stock ac compressor. As well this set up eliminates the mechanical fan, because grand cherokee's only have 1 fan. So from what i could tell it moves the alternator up, and gives you the oportunity to ditch the mechanical fan for dual electrics.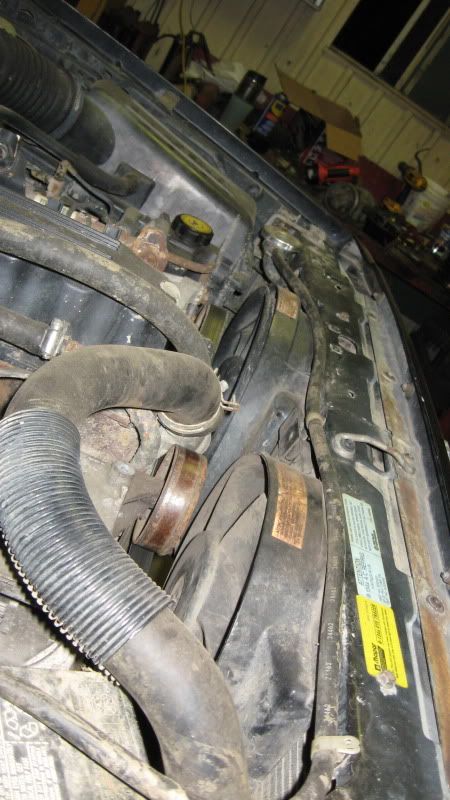 As you can see the alternator went from beeing almost at the botom of the rad, up to the location of the stock mechanical fan.

07-16-2010, 08:46 PM
Newbie
Join Date: Jul 2010
Posts: 18
Model: Cherokee

---
Also in more recent news i purchased a set of suspention seats for the jeep at an online aution. I got both for 210$ brand new. Not to mention they where only a couple hour drive from home. So i went to instal the new seats and finaly realised how bad the floor really was in the cherokee. And by bad i mean it wasn't there, i believe the carpet and floor mats where all that was holding me in. Not to mention the carpet would float when i deep water
So after intense floor re-construction and some spray on truck bed liner my interior is ready to go back in...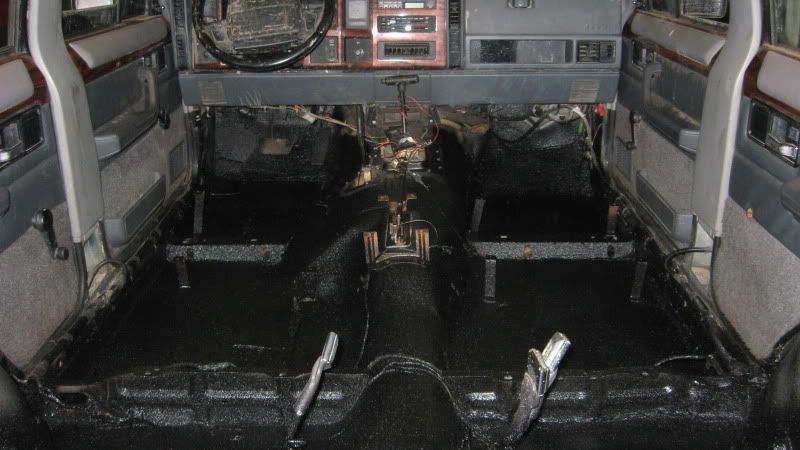 I forgot to take pictures before or during the floor rebuild...but used your imagination and just think of looking into my jeep and seeing nothing but my garage floor...Enjoy

07-17-2010, 11:01 AM
Newbie
Join Date: Jul 2010
Posts: 18
Model: Cherokee

---
Last night i finaly spray foamed the jeep, although i have never read about it before a couple people localy have done this and said it was great..They basicaly fill their unit body rails with sray foam, that way there no water,mud etc can get into the rails. That makes for alot easier clean up. As well it helps to stiffen and quiet the ride. (as if that matters)
Just wondering, has any one els on here ever done it?