The Illusion of Progress (92 YJ)

08-11-2011, 08:56 PM
CF Veteran
Join Date: Mar 2008
Location: Florence SC
Posts: 2,266
Year: 1996
Engine: 4.0

The Illusion of Progress (92 YJ)
---
I've been neglecting CF after I sold my XJ in April. I said in my old build thread that I would start a thread for the YJ that replaced it so here it is.
A little background: I had been wheeling Project Black sheep for the past few years and it was starting to get tired from the abuse of wheeling. While the XJ made a great trail rig it needed a lot for the trails I was starting to run. I decided to part ways with it and picked up a well built 92 YJ from a fellow club member.

Now the fun stuff. the staring point
Specs:
1992 YJ 2.5L 5 speed
170att power master alternator
Dana 30
superior axles, lock right locker, BDS rock guard and 4:10s
Ford 8.8
with Trac Lock welded, Solid diff cover and 4:10
NP231 with an AA SYE kit
JCR 1 ton UTK steering
5in BDS springs with 1 1/4 warrior shackles
Wheel base stretched to 96inchs or so
Longer travel shocks with custom rear shock mounts
Warn rock rails, front and rear bumpers
15x10 Pacer wheels with 33 13.5 Pitbull rockers
Zenon extended TJ style fenders
and some offroad lights
Getting her home
Rear shock tower and hi lift mount
Step 1 was changing out a broken window frame. now up to 3 different colors on her.
Next up was losing the extended shackles as it made the rig too high for my taste. (I like them low with lots of flex) So i threw on a set of stock height boomerang style shackles and lowered her about an inch.
I decided I wanted something a little nicer to hold when I was shifting. So out went the stock ***** and in went a pair of pool cues
i had an issue with the steering box cracking the frame
Got that fixed last week a new chunk of 1/4 plate welded in took care of the problem. I've also pulled the warn front bumper off and will be replacing it with a home brew stubby.
As she sit as of 8-11-11 driver side fender is off from the frame repair and is being replaced with a set of metal cloak fenders this weekend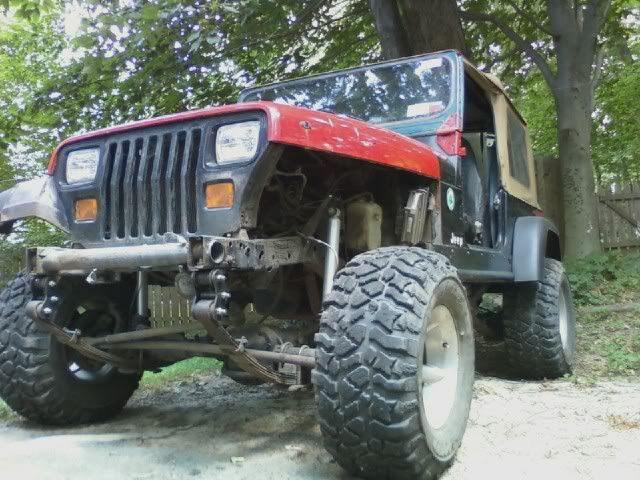 Next weekend she's going to AtoZ fab to get a full cage installed.
stay tuned for more updates as I continue turning her into a buggy

08-13-2011, 07:29 PM
CF Veteran
Join Date: Mar 2008
Location: Florence SC
Posts: 2,266
Year: 1996
Engine: 4.0

---

08-11-2012, 07:48 AM
CF Veteran
Join Date: Mar 2008
Location: Florence SC
Posts: 2,266
Year: 1996
Engine: 4.0

---
figured I'd throw an update as I've done quite a bit of work to the rig in the last year
AtoZ fab cage and front bumper
ditched the fugly TJ style fairs and diamond plate corners
Added metal cloak rear corners
then finally ditched the 90s fabulous 15x10 pacers for a set of dime a dozen soft 8s with AtoZ fab DIY beadlocks painted red to be cool

10-04-2012, 04:42 PM
CF Veteran
Join Date: Mar 2008
Location: Florence SC
Posts: 2,266
Year: 1996
Engine: 4.0

---
With the new place I've been able to spend a little more time with the rig. I found that one of the front shocks had a bent shaft limiting up travel to 2 inches. Also the springs just don't work the way I would like because of the large arch. I decided it was time for a suspension overhaul. Then said screw it if I'm going to replace springs why keep the small axles. Going with a Dodge King pin 60 up front and a ford van 60 out back. I'm also going to run a dana 300 with a twin stick conversion on it.
Got the 8.8 pulled out today. gonna start on the 30 and the t-case tomorrow.
Thread
Thread Starter
Forum
Replies
Last Post
Stock XJ Cherokee Tech. All XJ Non-modified/stock questions go here
Currently Active Users Viewing This Thread: 1
(0 members and 1 guests)