The famous busted exhaust manifold

05-08-2010, 02:26 PM
Junior Member
Join Date: Nov 2009
Location: TN. Knoxville
Posts: 32
Likes: 0
Received 0 Likes on 0 Posts
Year: 1991
Model: Cherokee

The famous busted exhaust manifold
---
Well I had enough of driving the jeep with the busted manifold, not only is it loud but I didn't like it sounding like a junk jeep. I found one on ebay for $67 bucks and free shipping so I'm giving it a try.
The job went really smooth, not bad at all. While I had it down I put all new o rings on the injectors.
Man, what a difference, nice and quiet, except for the rumble of the glass pack, which is quieter than I thought lol.
I had noticed when I bought the jeep a year ago the battery cable going to the starter was rolled up and tucked out of the way, but I never dug into it to see how much, since the battery was disconnected I took it loose at the starter and it went 32 inches past the starter lol. Don't know how long it had been on ther before I got it. I cut it off and reconnected, the starter sounded so much better and the engine spins over a lot faster.
Shortly after I did that the starter went out, I guess it went to long with a voltage drop, now full voltage and it burn out, $100 bucks later and I'm back on the road.
The new manifold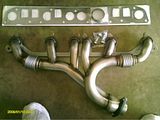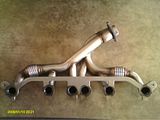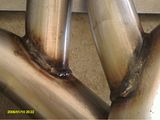 Thread
Thread Starter
Forum
Replies
Last Post
Stock XJ Cherokee Tech. All XJ Non-modified/stock questions go here
Stock XJ Cherokee Tech. All XJ Non-modified/stock questions go here
Stock XJ Cherokee Tech. All XJ Non-modified/stock questions go here
Stock XJ Cherokee Tech. All XJ Non-modified/stock questions go here
Stock XJ Cherokee Tech. All XJ Non-modified/stock questions go here
Currently Active Users Viewing This Thread: 1
(0 members and 1 guests)