"Big Red" My 1999 XJ Build

05-22-2011, 04:50 PM
Senior Member
Join Date: Jul 2009
Location: Utah
Posts: 735
Year: 1999
Model: Cherokee
Engine: I6 4.0L

"Big Red" My 1999 XJ Build
---
After going back and forth between turbo cars and XJs i finally decided that the Jeep/off roading lifestyle is the one for me. So after purchasing my fourth Cherokee a couple of weeks ago, I decided I should finally make a build thread. Picked her up via a local online classified site for $5k. Very, very clean and just a baby at 93,000 miles. 4.0L (of course), NP 231, Chrysler 8.25. Completely stock except for a Clarion head unit and aftermarket security system. It also came equipped with some decent 235/75/15 BFG all terrains.
The only thing I've found on the Jeep that bugs me so far is the security system, I absolutely HATE aftermarket security systems. It was professionally installed and the wiring is clean, but there are probably 40+ wires that were tapped into such as marker lights, dome lights, power locks etc. I just don't like the idea of half of my electircal system being hacked into. And the alarm was so sensetive that it just got annoying so it is currently disconnected. The thing that sucks is i can't use the keyless entry without it hooked up. Other than that I haven't found any shady work, problems, damage, etc. It seems like whenever I buy a car I always end up finding little things I didn't notice when I initially purchased it. The Jeep does have the typical '97+ electrical problems such as the front door speakers and power windows shorting out, but both are easy fixes.
The day after I bought it I changed all the fluids including front/rear diffs, and transfer case. We also pumped out as much power steering and brake fluid as possible then replaced them with new fluids. As far as power steering/brake fluid, this is something i plan on doing every second or third oil change or so. This way I'll always have fresh fluids. Just for peace of mind I like to change all fluids when I buy a car. For $90 at Checker auto (O'reilly) I picked up 80-90w GL-5 for the diffs, Valvoline Dextron III for the T-case, and a K&N drop in air filter. The PO kept up on the maintenance very well, besides the fluids everything else is up to date which is a good feeling
.
Here are a few pics from when i first bought her.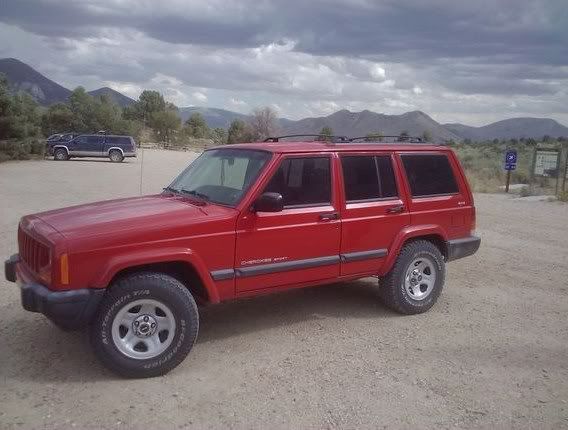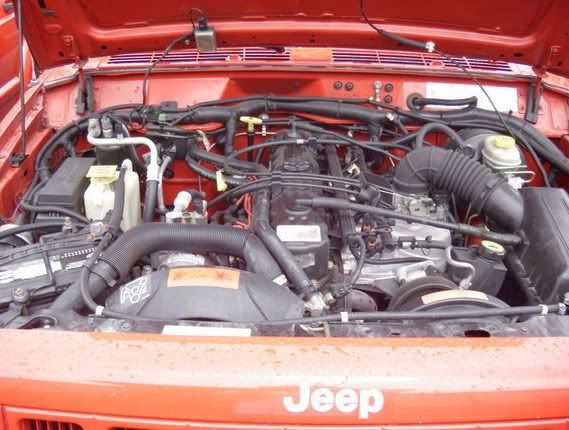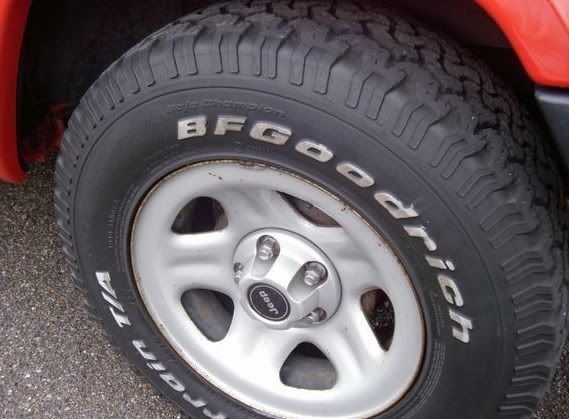 Stay tuned!
Lift/wheels/tires coming soon!
Current build plan for the near future:
3" RC lift w/ full leaf packs
"31's on black steel wheels
Throw together some type of cat back exhaust

05-23-2011, 01:52 PM
Senior Member
Join Date: Jul 2009
Location: Utah
Posts: 735
Year: 1999
Model: Cherokee
Engine: I6 4.0L

---
Bummer! 3'' leaf packs are back ordered for a couple of weeks. Looks like I'll be going with an add a leaf in the rear. Once it sags i will upgrade to the full leaf packs.

05-29-2011, 05:03 PM
Senior Member
Join Date: Jul 2009
Location: Utah
Posts: 735
Year: 1999
Model: Cherokee
Engine: I6 4.0L

Finally lifted!
---
Got the 3" lift on the Jeep! Sorry no pics of the process. Again, the lift is a Rough Country 3" kit with coil springs, shocks, t-case drop, and add a leafs. Still bummed out about having to use AAL's in the rear. Filling up the gas tank literally caused them to sag a bit! Oh well, it will do for now. Here's a few pics; tires and wheels will be up soon. I 'm also going to post a few pics of the tire/wheel set up I'm going with. Enjoy.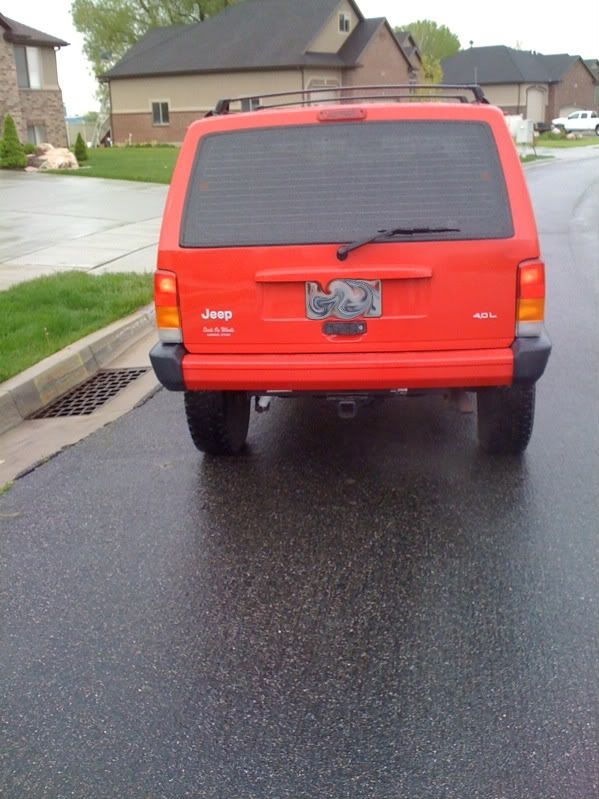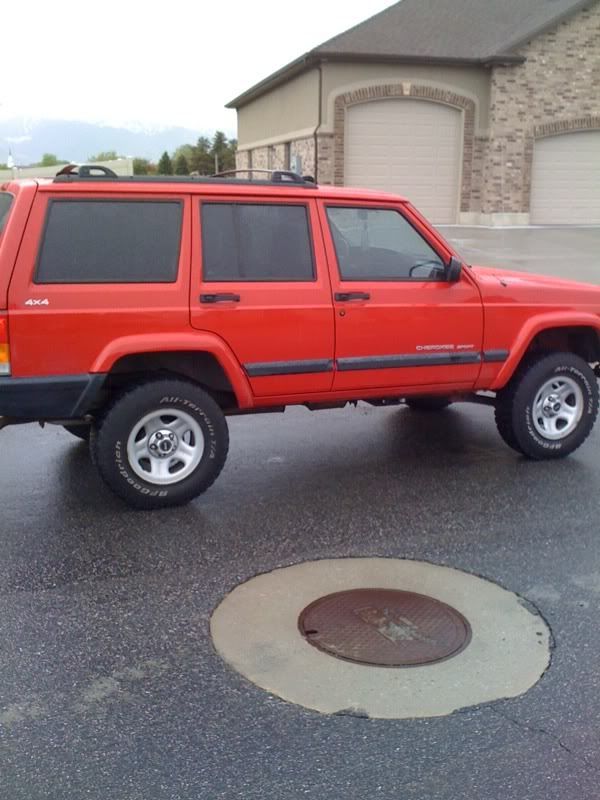 Scored these BFG KM2 Mud terrains locally for $550. Supposedly only 1,400 miles. Then I will be going with this black steel wheel from Discount Tire. I got a quote on all 4 plus mounting/balancing for $330. Just under $900 for my wheel/tire combo.


05-31-2011, 06:34 PM
Senior Member
Join Date: Jul 2009
Location: Utah
Posts: 735
Year: 1999
Model: Cherokee
Engine: I6 4.0L

---
Pics of the wheels and tires mounted should be up later tonight! I also paid a visit to my favorite store, harbor freight, over the holiday and got some awesome deals on a tool box, reciprocating saw, and some off road lights for the XJ! You can't beat $12.99 a pair. I should have all my lighting done within the next week or so. Can I run two pairs of lights totaling about 18 amps on one 40 amp relay? I don't see why it would be a problem, but I've always heard the general rule is one relay per pair... Any input, criticism, or advice on the build so far is more than welcome.