The 94 Black Bi**h

11-27-2011, 09:23 AM
Junior Member
Join Date: Oct 2011
Location: Bayveiw, TX
Posts: 38
Year: 1994
Model: Cherokee
Engine: 4.0

The 94 Black Bi**h
---
Well I picked up this 94xj in a trade. I have always had YJ and TJs. After having this Cherokee for about 2 weeks, i got to say that i kinda like it. Well its time to start throwing some money at her and let see what happens.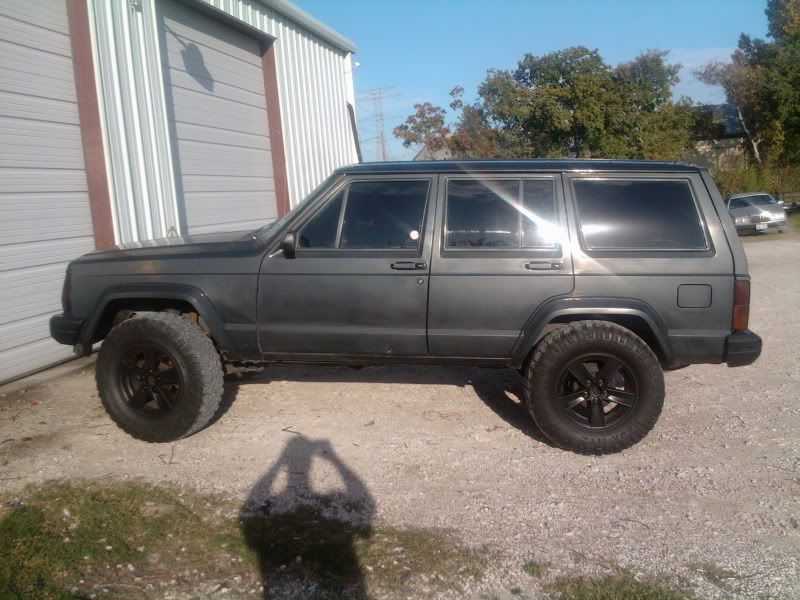 12-04-2011, 07:27 PM
Junior Member
Join Date: Oct 2011
Location: Bayveiw, TX
Posts: 38
Year: 1994
Model: Cherokee
Engine: 4.0

---
Well I want to cut my fenders. thing is i can not make up my mind on where to cut. i started out with cutting on the bolt line with a flare at the rear of the fender.But i keep looking at the paint line. what do y'all think?
---
Last edited by mrfixall; 12-31-2011 at

07:08 PM

. Reason: new pic

12-04-2011, 08:26 PM
Senior Member
Join Date: Aug 2010
Location: Tempe, AZ
Posts: 692
Year: 1990
Model: Cherokee
Engine: l6 242

---
is that 6" on short arms? longer control arms will push the axle forward and reduce some of the rubbing. then you wouldnt have to trim so much.

continues to look good though.