88 Limited

11-14-2010, 09:37 PM
Newbie
Join Date: Sep 2010
Location: Western MN
Posts: 16
Likes: 0
Received 0 Likes on 0 Posts
Year: 88
Model: Cherokee
Engine: 4.0

88 Limited
---
Wanted a nice winter beater to prevent rust on my 85 Olds Cutlass, and found this on CL. Nice 200K 88 Limited, $500, but with a bent up rear quarter. $160 for a quarter, $75 for paint, sandpaper, and supplies, $75 for a tailight and hatch. So for around $800 I have a decent DD Jeep. Especially for being in MN. Originally an Oregon car.
Only thing I gotta worry about is the trans. Bought it and the trans wouldnt stay in OD going up hills, swapped out fluid and it was sorta burned smelling but the pan and filter was clean. 500 miles later and it smells burned again.
Need to do something about the rear sag. PO put air shocks in that dont stay pressurized. Looks wierd going up in the front. Gotta swap engine mounts too. Like to put a roof rack on, not that Id ever use it, but they look so cool!
As purchased: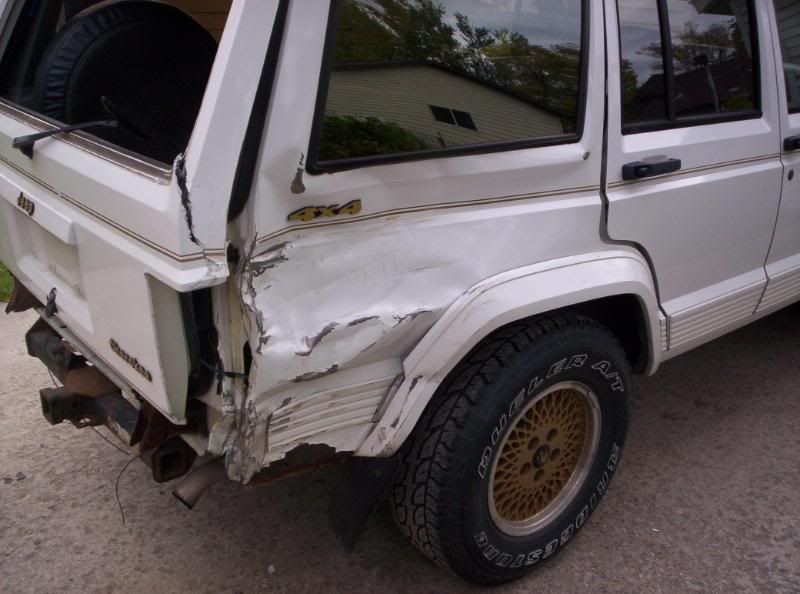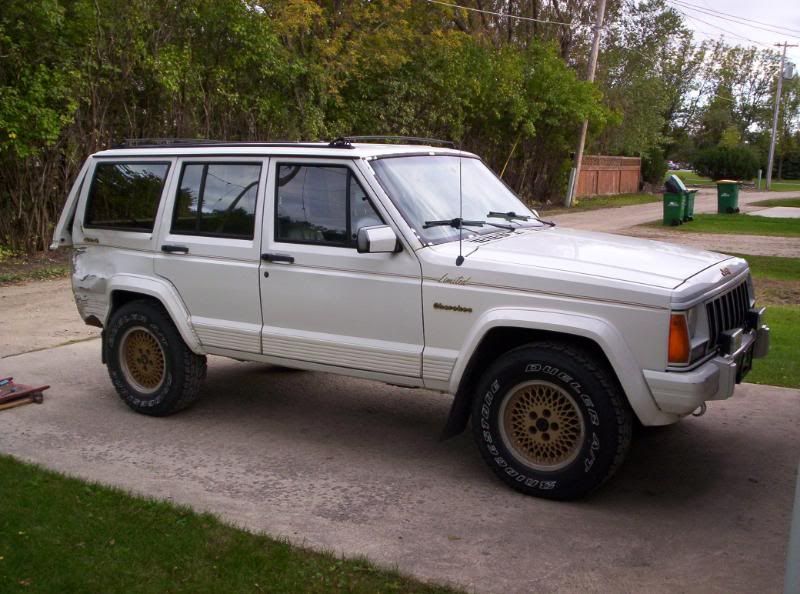 Little work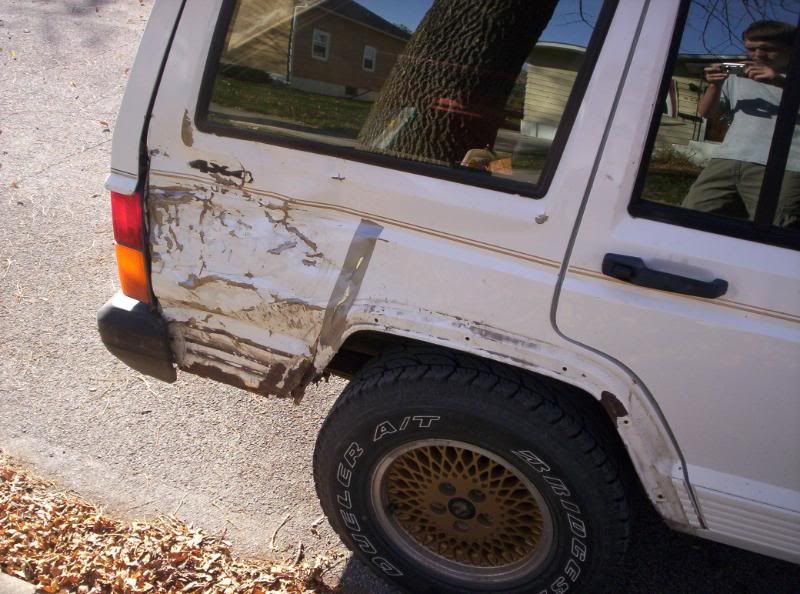 Quarter test fit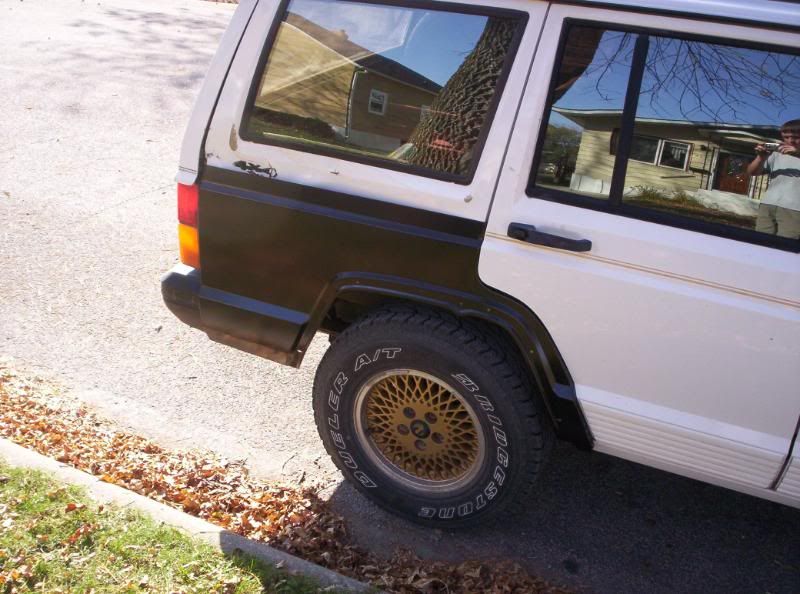 Welded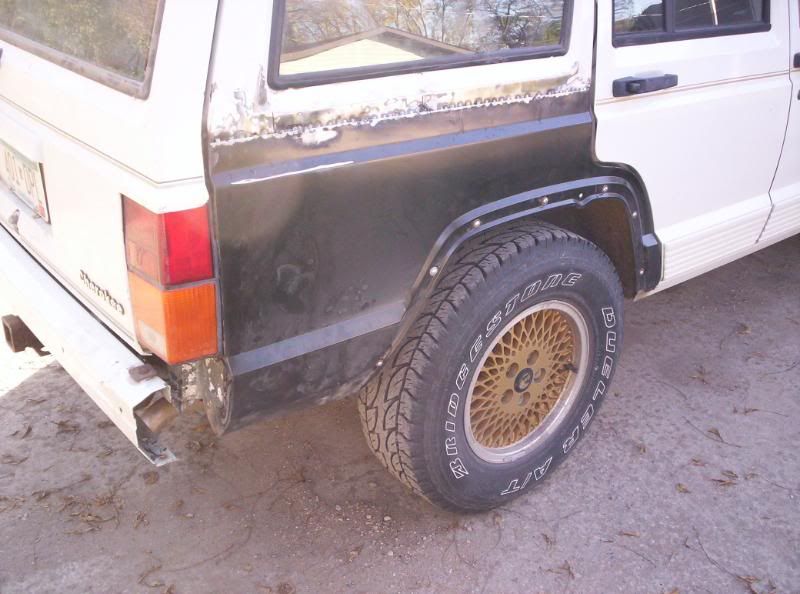 Bondo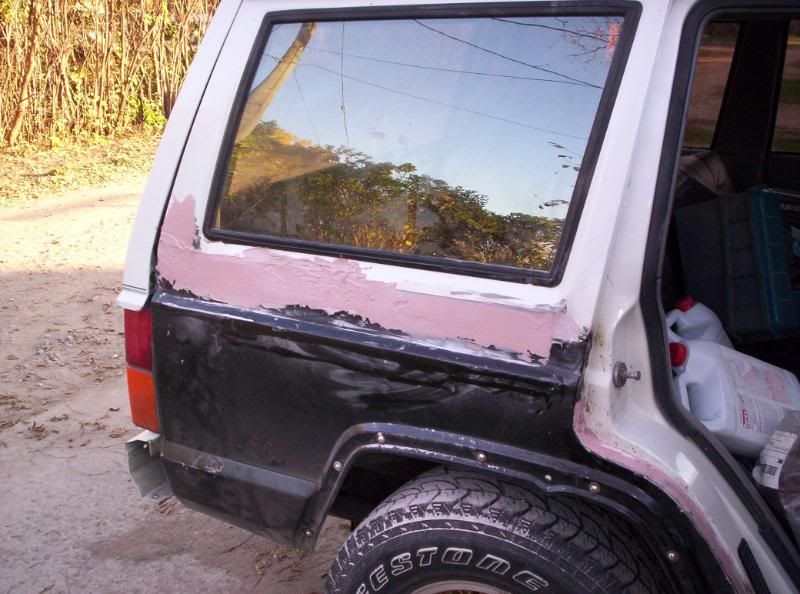 Done, minus a gold stripe.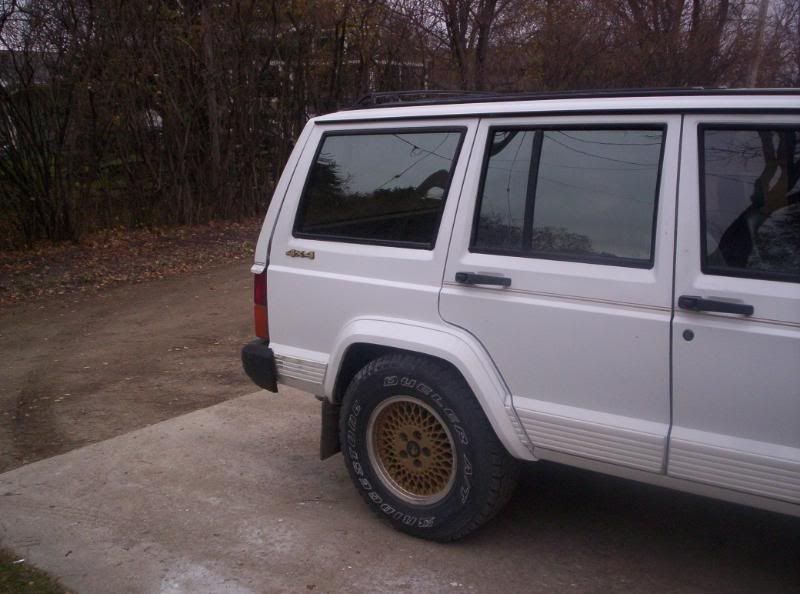 Sits low with 235/75/15's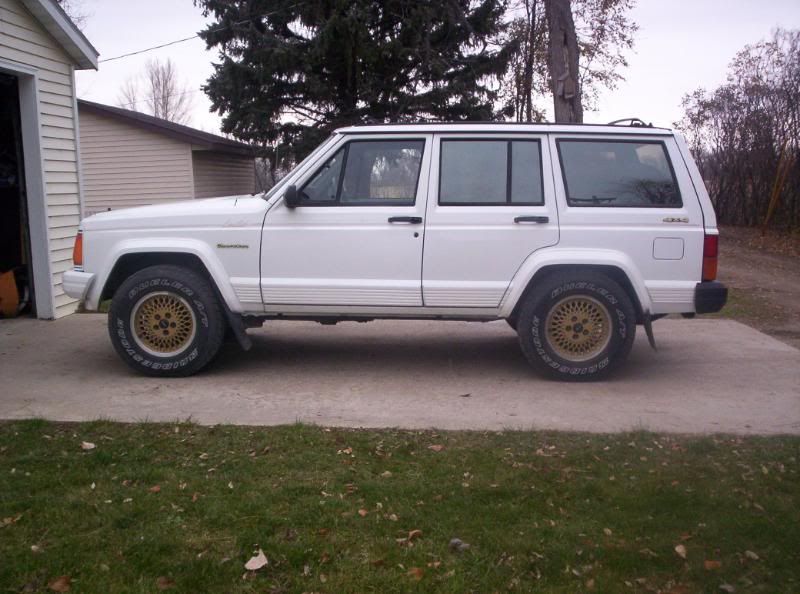 12-20-2010, 09:43 PM
Seasoned Member
Join Date: Jan 2010
Location: Former Tampa Fl. now Southern Indiana
Posts: 412
Likes: 0
Received 0 Likes on 0 Posts
Year: 1990
Model: Cherokee
Engine: 4.0 HO

---
Great work on repairing the rear quarter panel. I dig the pic of your white jeep in all the white stuff.

12-23-2010, 08:26 AM
Newbie
Join Date: Sep 2010
Location: Western MN
Posts: 16
Likes: 0
Received 0 Likes on 0 Posts
Year: 88
Model: Cherokee
Engine: 4.0

---
Well last night I epoxied back my battery tray together. Now the battery wont move forward and pull the battery cables out of the ends and cause the engine to die. I also pulled the blower fan motor out and oiled it at it was screeching bad and I wasnt getting any wind. Put it back together and it works 100%. Didnt do anything else and the motor wasnt siezed when I pulled it out. Wierd how that works! Do practicly nothing and it solves the problem.

My overall view of this so far, it is an awesome winter vehicle. I laugh when I see all the other cars at stop signs spin one tire and I spin 3. Around town Im usually in full time 4wd. (Yay NP 242)! And the previous owner put in a posi. He had a 68 Dodge dart with a 440 that was real nice so he kept this in great shape for having 208K. Plus it came out of Oregon for the first 15 years of its life so its got solid floors and perfect rockers.

Yeah the rear sag is bad. With 235/75/15's it is real noticable.

My plans are to get through winter with it and maybe put a 3" lift or so on the back just to get it so its not a lowrider in the back. It looks pretty wierd with it going uphill. And probably a 2" lift in the front.

Pretty sure I got some rubbing on the front on tight turns, on full lock it rubs and feels just wierd. Theres somthing binding in the front.

When the 235/75/15's wear out im going to get a set of 31's or even 30's. Not going to go too crazy. My thought when I bought it was that im only going to run it till the 60% tires wear out, then get rid of it then but as I drive it a bit more I realize that everything works, and is rust free. The only rust on it was on the quarter I fixed, a bit bubling up from the front drivers side fender that I fixed, and a spot under the drivers rear door handle wich I didnt do anything with.

Maybe a roof rack because I love the look of them.

But short term, get the rear up 2 inches. Its got a set of air shocks on it that the previous owner tried to fix it with and they are flat of course, so it doesnt help at all.

My other dream is to get a black 2dr 2WD and turbo it. Make a "GNX" Buick clone out of it. A cherokee looks like a GNX, it has fender flares, is boxy, and I can get the GTA wheels for it. Keith black has forged pistons, ive got tube for a header, probably run a Ta42, innovate EFI. Ive got it sorta planned out. Ive gotta FIND a black 2dr 2wd first, and finish resotring my olds too though, so its a while off.

12-23-2010, 08:34 AM
CF Veteran
Join Date: Feb 2009
Location: rogersville, tn
Posts: 1,268
Likes: 0
Received 0 Likes on 0 Posts
Year: 1988
Model: Cherokee
Engine: 4.0

---
your rubbing might be the control arms, and hopefully you keep this one and build that badass turbo setup, id like to see it ive built a couple stroker talons with 35r's but i think a sleeper cherokee would be nuts
Thread
Thread Starter
Forum
Replies
Last Post
Stock XJ Cherokee Tech. All XJ Non-modified/stock questions go here
Modified XJ Cherokee Tech
Currently Active Users Viewing This Thread: 1
(0 members and 1 guests)