2001 Jeep Cherokee Limited

07-21-2011, 07:03 PM
Newbie
Join Date: Jul 2011
Location: Colorado Springs, CO
Posts: 25
Year: 2001 Limited
Model: Cherokee
Engine: 4.0L

2001 Jeep Cherokee Limited
---
So I used to own a 2001 Mitsubishi Eclipse GT and I traded it in to get a 2001 Jeep Cherokee Limited. Bought this Jeep from Phil Long Audi in Colorado Springs, CO for around 5,800 after trade in. I plan on putting 31 BF Goodrich All Terrain T/A KO tires on it after a 3.5 inch RE lift. Probably the first thing to go on it will be a Rugged Ridge intake because its only around 200$ and I'm dying to put something on my Jeep so its not bone stock. Anybody have an experience with a Rugged Ridge intake?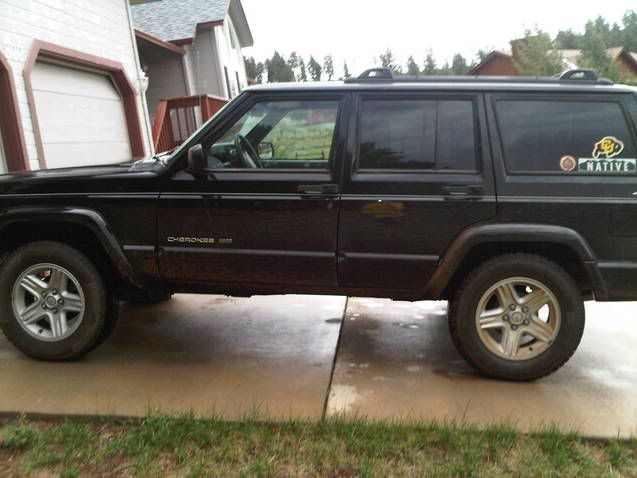 ---
Last edited by mkstock28; 07-24-2011 at

06:29 PM

.

07-22-2011, 03:46 PM

---
Originally Posted by chadh92
$5,800 seems high for any cherokee in my mind. What's the miles on it?
Especially with the fact he traded his eclipse in too and it was still that much, thing Ottaa be spotless
Sent from the captains chair on the planet express

07-22-2011, 06:25 PM
Newbie
Join Date: Jul 2011
Location: Colorado Springs, CO
Posts: 25
Year: 2001 Limited
Model: Cherokee
Engine: 4.0L

---
My Eclipse was a piece of **** Phil Long Audi ended up wholesaling it because it didn't pass any of there tests. It had 106,000 miles on it but not bad considering my Eclipse wasn't worth anything.

07-22-2011, 06:39 PM

---
seems fair after you said that haha. and considering its an 01 limited in good shape, they go for 9k in my area.
but anyways, i want some more pics of this bad boy! inside and out please