2 door 95 XJ: no idea what I'm doing with it

01-11-2016, 10:07 PM
Junior Member
Join Date: Jan 2016
Location: Coloradical
Posts: 68
Year: 95
Model: Cherokee

2 door 95 XJ: no idea what I'm doing with it
---
Kind of a new guy, I was on here years ago with my last XJ but I can't remember any of my log in stuff.
Here's my last cherokee, it was decent but I sold it to fund my present BMW project car. My tattoo artist bought it and last I heard the he fell through the floor it had rusted so bad, lol.
Fast forward 5 years and I moved to Colorado and want an actual 4wd so I picked up a 95 two door last week. Found it on CL and drove to pick it up.
both CRV's are mine too.
Solid floors which was unfamiliar to me being from the midwest, ha. The guy I got it from was building it for an SPL sound truck or something and done the whole thing with sound deadening and, rather annoyingly, filled the quarters with expandable foam which I didn't notice till I got it home.
Fenders were also cut and rolled to fit the 31x10.5's on it. Not a big fan of them, they're **** in snow.
Some fresh suspension bits (tie rods and some other stuff included in boxes)
Engine has "cold air intake" which is ehh, but I've got the factory box I may put back on.
Big bonus was a freshly beefed up cooling system. 3 row alum radiator and dual 12" electric fans set at a lower temp than stock. New coolant hoses and fresh 180 degree thermostat keep it nice and cool in traffic.
Solid floors!
Had to put the carpet back in and started refitting all the interior trim
Remember when I said the quarters were filled with foam? I either have to cut out the rock hard foam or cut the rear panel insets to fit, cool.
Seats are pretty grimy but they'll get replaced or covered.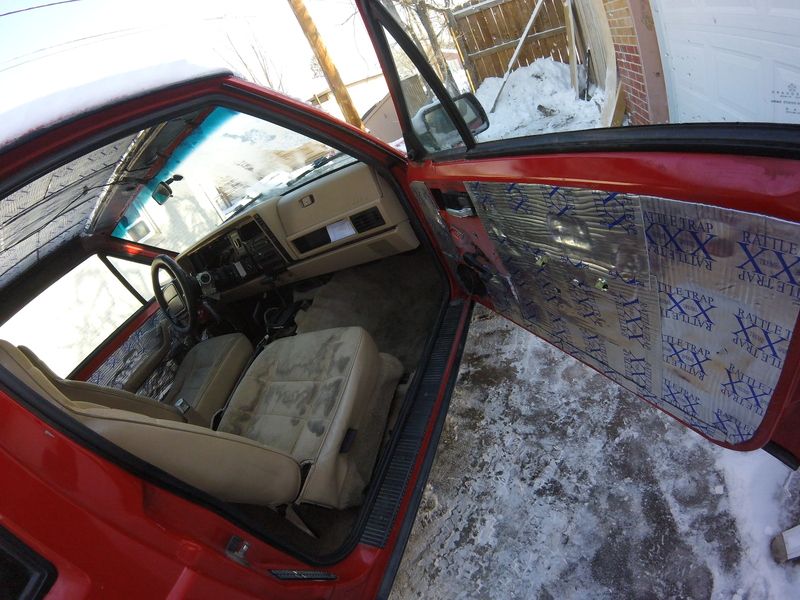 Pull the gauges out to clean them up, painted the bezel and replaced all the bulbs.
never ending project bmw lurking
Cleaned and replaced all the bulbs in the dash while I was in there.
Pulled the front grills and lights to repaint and clean up. Going to find a better solution for the zip tied on trans cooler
Interior panels all got scrubbed down and reinstalled.
Leaving me here. It's been cold and my BMW gets the garage for the winter so progress has slowed. Pretty sure the front needs the U joints rebuild as the right front clunks in 4wd. Doing that, wheel bearings and need to fix a leaky PS line.
As for the title, I have no idea where I'm going with this thing. I didn't need it and bought it on a whim so I'm just getting it back together to see how I like it. May keep it as my DD and sell my CRV, or keep it as a weekend off road/camp rig. I really cant afford 2 projects so we'll see where it goes!
-Nick
---
Last edited by Nick_S; 05-04-2016 at

10:54 PM

.

01-13-2016, 07:59 AM
Junior Member
Join Date: Jan 2016
Location: Coloradical
Posts: 68
Year: 95
Model: Cherokee

---
Thanks guys. Spent alittle time last night trying to work on it. Painted the grills with some trim black paint and tried to put more of the panels back in. This expandable foam crap is giving me issues. None of the rear panels even want to fit remotely back into place. Going to have to chip alot of it away this weekend.

01-15-2016, 04:00 PM
Junior Member
Join Date: Jan 2016
Location: Coloradical
Posts: 68
Year: 95
Model: Cherokee

---
Had to cut some of the rear panels to get them back in last night. Hitting a junk yard this weekend on the hunt for seatbelt assemblies primarily and some odds and ends. Ordering wheel bearings and u joint rebuild kits this weekend also. Hope to have this thing more than road worthy by next weekend.

Thinking about leaving the rear seats out and building an elevated floor with storage/sub box under and using the rear for sleeping/camping area. Looking at doing a mild 1-2 inch lift as well.

01-16-2016, 06:00 PM
Junior Member
Join Date: Jan 2016
Location: Coloradical
Posts: 68
Year: 95
Model: Cherokee

---
Finished up the front end refresh. Painted the grills and headlight hold downs, sanded and cleared the turn signal lens and installed new bulbs in everything. Cleaned up the headlights too which are a low end H4 conversion light. They're OK but have clouded over quick. They'll do for now.
Never seen bulbs do this
New bulbs
Refreshed
Have Almost every panel back in excluding the rear speaker roof panel.
Had to cut away all the panel insets because of the expandable foam. Pretty annoying and is making the reinstall really difficult because nothing fits where it should...
This crap will be the death of me
Went to a pick and pull for a few odds and ends and grabbed a factory stereo harness since the one in this jeep had been stolen and cut. Re-attached and ordered an install kit today.
Debating on either of these two head units. I'm a big fan of early 2000's Alpine stuff. The 9855 has a HUGE amount of sound adjustment and sounds incredible, however the interface is annoying to use. The silver 9807 has always been a favorite of mine. Have one in my BMW and had one for years in my old SVT Focus. Simple to use, sounds great. I ordered an expansion plug that goes into the CD changer port which allows use of an Iphone/Ipad.
Thinking about making a special plate for the front door for these monsters. My trusty Polk/MOMO MM6 6.75in components. These thing sound absurdly good.
Probably do an MDF panel to house the woofer and tweeter mounted on the doors. We'll see. I also picked up two rear sound bars at the junk yard today. May get fiberglass crazy soon.
Tightened up my a powersteering line which stopped my leak. U joints up next soon as they show up.
Till next time!
-Nick

01-17-2016, 10:43 PM
Junior Member
Join Date: Jan 2016
Location: Coloradical
Posts: 68
Year: 95
Model: Cherokee

---
Got alittle done on the stereo install today.
Drew up some panels to mount the components in the factory'ish location.
Few minutes of jig sawing later...
coated them in polyurethane to give some structure.
Quick test fit.
Cut up an old t-shirt and covered the panels so they look decent.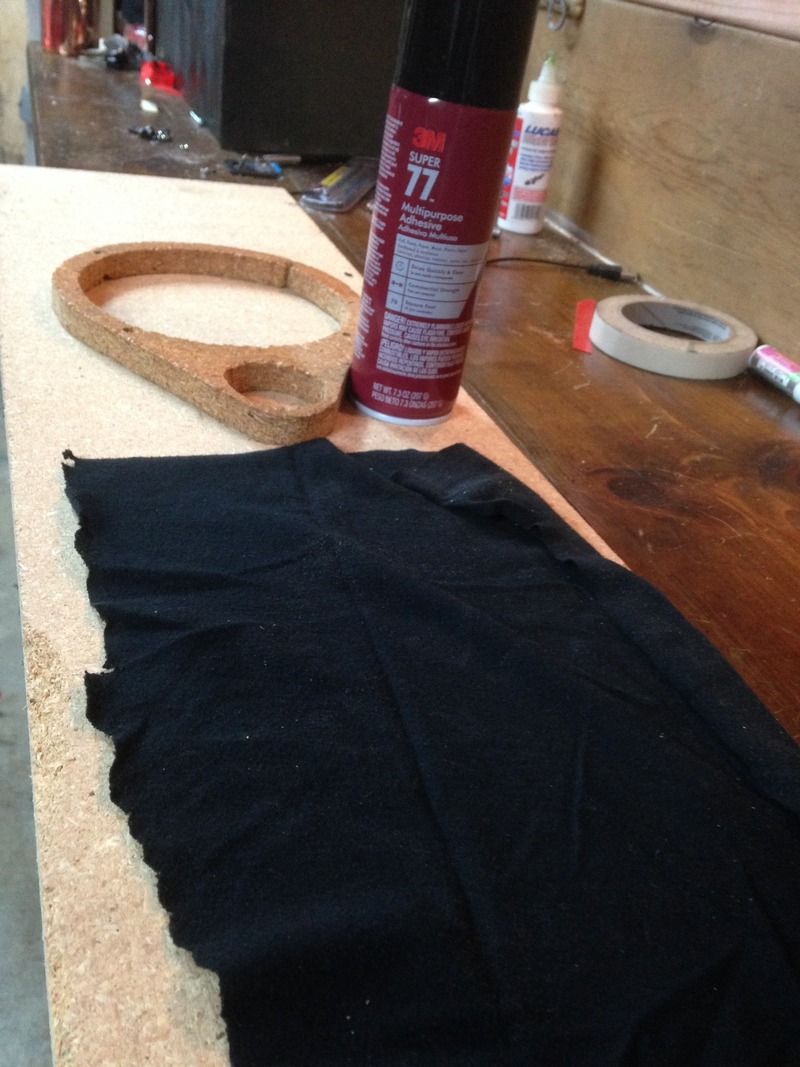 Done...
These will go in the door panels tomorrow with some speaker grills.

01-18-2016, 08:57 PM
Junior Member
Join Date: Jan 2016
Location: Coloradical
Posts: 68
Year: 95
Model: Cherokee

---
Thanks man. Few bits coming in tomorrow and these will go in. Found a roof sound bar at a junk yard that will go in with some good factory speakers for now. Eventually the fronts will be amped as they sound better the more power you put to them and I'll add a sub somewhere.

Just ordered both front wheel bearings and new u-joints. Have tie rods and a new pitman arm going on at the same time then an alignment. Should freshen up the ride a bit.

01-19-2016, 05:51 AM
Senior Member
Join Date: Jan 2013
Location: Colorado
Posts: 934
Year: 1991 2-Door
Model: Cherokee
Engine: 4.0 liter

Sound
---
My son is crazy into the sound system thing he would like what you are doing. I just want something to listen to. I like my XJ to be what I bought it for (back country transportation). He has learned a lot since he installed his first system. I think he is on he third or forth up-grade Ha! Ha! I just tell him to make sure he and his buddies turn the volume down when they pull near to our house not to disturb our neighbors.

The one thing he has done to his XJ that is on my to do list is he up-graded all his wiring all over his charging system. (since I do some winching it would be good for me also). He was having all kinds of issues with his car once he started putting amps in it. (even melted down his fuse box in the engine bay) now that he up-graded his cables (capacitor helps too)and re-wired a new box it's been golden.

01-19-2016, 11:04 AM
Junior Member
Join Date: Jan 2016
Location: Coloradical
Posts: 68
Year: 95
Model: Cherokee

---
Haha dang I'm not doing anything crazy like that. I just like to have crisp, good sounding music with alittle extra bass. I spend alot of time in my cars so I value a good stereo but have never gone overboard with it.

01-19-2016, 02:30 PM

---
I hear you on that man, that's the only thing I miss about my GTI was the stereo and sadly it had to go with the car. Had Polk DB 6.5" components front and rear, car had an 8 speaker system stock. Had a Kicker Solo-Baric L5 10" in a slim box with a rockford 250wattx2 rms amp in mono mode driving it. Sitting in that car at a drive-in theater was more immersive than an actual movie theater.
You can remove that foam really easy with a blow torch :P

01-19-2016, 08:48 PM
Junior Member
Join Date: Jan 2016
Location: Coloradical
Posts: 68
Year: 95
Model: Cherokee

---
Finished up the speaker install today. Immediately the wood I use cracked and broke
Should have thought the cheap particle board wouldn't hold. However, they held up enough to finish the install and I'll revisit these later when I feel like redoing my work.
Started by running new speaker wire into the door. Thankfully being as base as this truck is, the only wires running into it were the speaker wires. Pulled the grommet and drilled for larger gauge wire and ran these in.
Also bought these things, been using them in my last few install. Boom Mats. They're just foam baffles but they keep the speaker isolated, cheap and effective.
Slipped these and finished cutting out the door panel and ran the wires through
Then when I went to run a few self taping screws in, the fiber board broke and I got real pissed off so I didn't really take many pictures. Eventually got everything securing mounted for the time being.
They look good from 5 feet. I'll eventually redo them.
Ran the crossovers under the dash and ran to the factory wiring till I get around to installing my amp.
Got my harness adapter and went to install my stereo and every single time I plug it in it blows the fuse?? Annoyed. Obviously a short somewhere but didn't feel like chasing it tonight.
Till next time!