The North Atlantic "Introduce yourself" thread

09-14-2009, 10:42 PM

---
Rich
Newtonville NJ (south jersey, 10 minutes south of Wharton state forest.)

I have no rig. I am helping a buddy fix his 91 XJ up so I can then get it from him on trade with my pitbike after he buys another XJ. Then I am going to help him fix that one as well. Plus fab up some front bumpers for both and what ever.

Current mods to his XJ right now are just some used 31x10.5 wranglers on 15x7 93 ZJ rims (better then the 205/75/15s on 15x6 steels), removed fender flares, slight roll on front fender lips to clear tires, spring rubbers in both front springs to level it out and I locked up the vacuum disco motor so the split axle on the pass side is locked and now 4wd works.

Next mods planned are Bilstien shocks, trim fender lips, bumpers and any seems in the inside of the fenders/wheel wells that can cut a tire. Maybe paint.

Plans if or once I get it are a set of 15x8 4" back spaceing Soft 8s with some 235/75/15 MT or maybe BFG ATs, race seats (might have to steal my aluminum seat from my drift car to do this) and then eventually either lockers or a rear locker and a front 1 way lsd. Maybe nothing in the front.

09-15-2009, 05:40 AM
Seasoned Member
Join Date: Nov 2008
Location: Blairsville, PA
Posts: 429
Year: 2000
Model: Cherokee
Engine: 4.0L home brew Snorkle

---
Originally Posted by
whatevah
Thought I had an account here, but I guess not... just registered a few hours ago.
Jerry "whatevah" from Delaware. I've got an '01 XJ with approx. 6.5" lift, currently on 35" Trxus MTs. Used to work at a well-known Jeep parts company so I pieced my lift together from what I considered to the best components for what I needed... RE coils/springs, TNT Y-link, Bilstein 5150 shocks, JKS trackbar, Tom Woods shaft, SYE, Powerslot/Hawk brakes, custom bumper/rockrail, Superwinch EPI 9, various lights, etc.
on 32" Bighorns in this pic, great tires!
Welcome to CF. I know your Jeep. I saw you driving on 237 near rt 1 yesterday around 5. Your rig looks really nice. I was on my way to work but my dad had the jeep. I was in his caddy. We should get together. I saw that your in Deja. How do you Like that club?

09-15-2009, 07:34 AM
Member
Join Date: Mar 2009
Location: Clinton, CT
Posts: 115
Year: 1996
Model: Cherokee
Engine: 4.0 ho

new from CT
---
I'm Tom from Clinton, CT. i have a 96 4dr xj fully loaded,husky liners, pinoneer CD, all memphis speakers, hpDana30 with abs axles & powerslot rotors, XJ Dana 44 (lsd), 3.5 inches of lift (rubicon/skyjacker/rustys), rustys prerunner bumper with KC's, a custom rear bumper, rear hitch,2000 n up intake mani swap, APN header, bored TB, K&N intake, Firepower ignition kit, summit hi flow cat, borla cat back exhaust, steel cowl induction hood, more to come.........

09-19-2009, 12:18 AM
Member
Join Date: Aug 2009
Posts: 154
Year: 1997
Model: Cherokee
Engine: 4.0L

Introduction
---
Whats up my name is Chris
I live in easton pa
97Xj
4 in lift 31's (on the hunt for some used 33's anyone)
Custom air intake
accel high pro wires
yakima roof rack w/ jack and tire mount
Custom front bumper
Headlight harness and 80w H4 housings
and a whole bunch of other stuff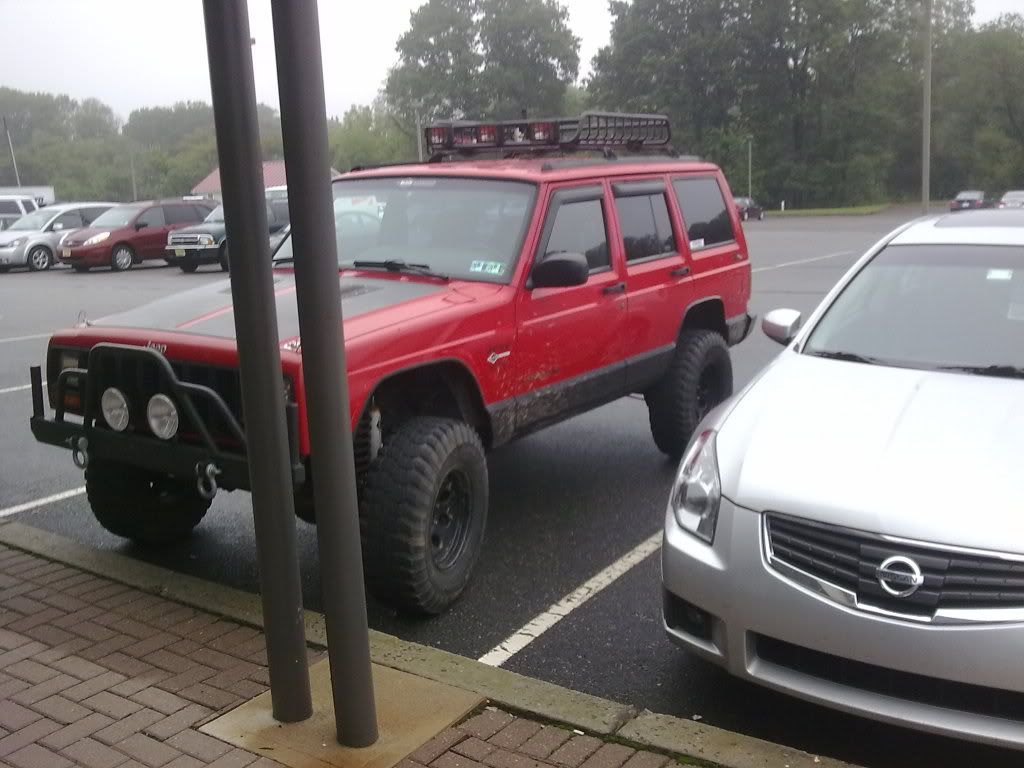 ---
Last edited by cj11; 09-23-2009 at

03:21 PM

.

09-21-2009, 11:14 PM
Junior Member
Join Date: Jul 2008
Location: East Hanover, NJ
Posts: 63
Year: 2000
Model: Cherokee
Engine: 4.0L

---
Hey I'm Dave..

I'm from East Hanover, NJ (North Jersey). I'm the Secretary of the North Jersey Jeep Club (NJJC).

I've got an '00 XJ that's my trail rig and an '01 XJ that's my DD Creampuff.

10-07-2009, 09:33 AM
Senior Member
Join Date: May 2009
Location: North Jersey
Posts: 747
Year: 1996 XJ Sport 2007 KJ Rubicon
Engine: 242 4.0 Ho, 226 3.7 V6

10-09-2009, 03:54 PM

10-09-2009, 03:58 PM
Junior Member
Join Date: Oct 2009
Location: western new york
Posts: 33
Year: 1993
Model: Grand Cherokee
Engine: 4.0 straight

---
hey my name is chris from western new york I bought my first cherokee today. 1993 xj solid with no rust for 800 dollars not bad. all stock and very clean. 4.0 with an auto transmission. hoping to get to rausch creek in a couple weeks with a friend then lift her up a bit and get some new boots for playing in the mud. will have pics soon

10-12-2009, 10:39 PM
Seasoned Member
Join Date: Oct 2009
Location: Douglassville/Altoona, Pa
Posts: 381
Year: 1996
Model: Cherokee
Engine: 4.0 HO

---
Yo guys, I am Ty
I have had my XJ since May. I bought it with 221k on it in mint condishh with no rust whatsoever, and have been building it since on a HighSchool budget. I also joined a local club called the Jeep Fiend Club.
I am on NAXJA and JeepForum, so you might recognize me.
Here are some wheeling pictures, and my rig when I bought it
How she sits now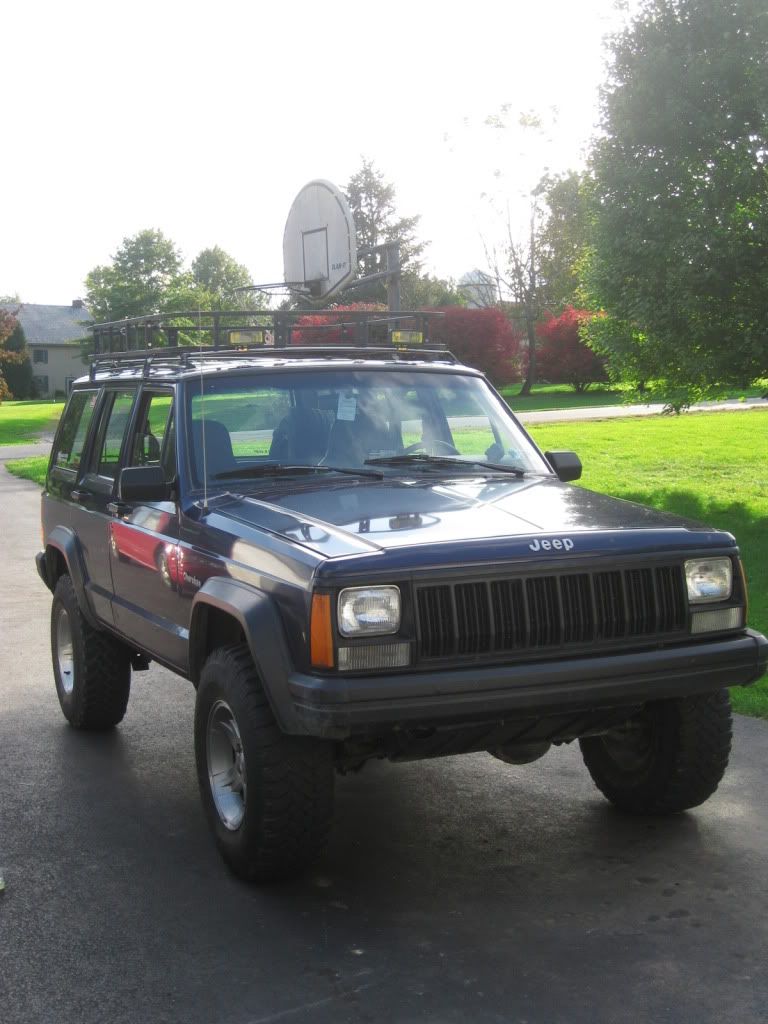 Before the rack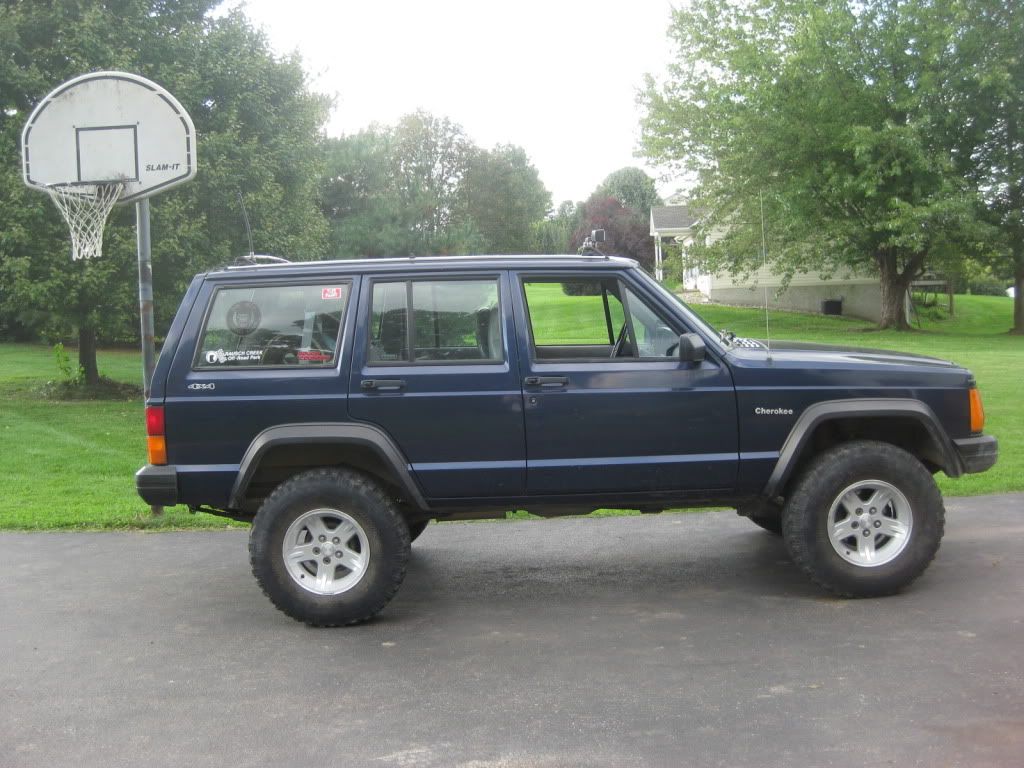 Before the used tires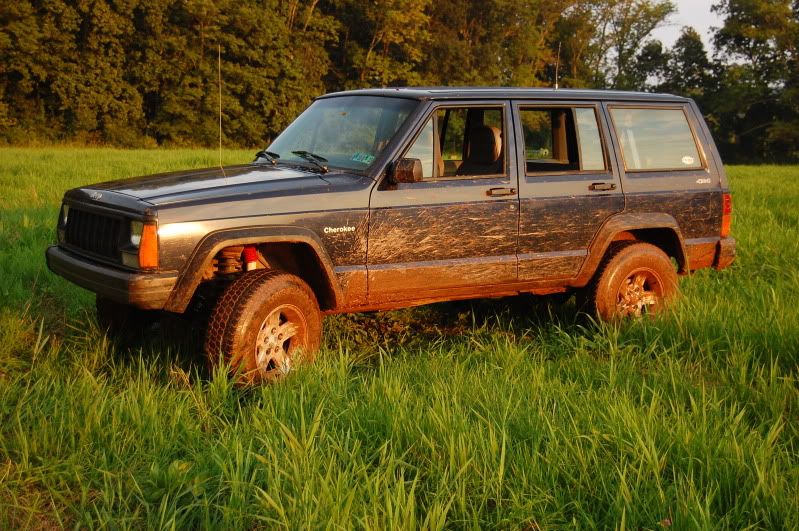 Lifting her with some buddies

And wheeling at rausch!
Sorry for all the pictures. I just really like pictures haha