CB How to / Setup / Question and answer thread

10-14-2012, 08:05 PM
CF Veteran
Join Date: Jan 2011
Location: Missouri
Posts: 2,251
Year: 1996
Model: Cherokee
Engine: 4.0HO

CB How to / Setup / Question and answer thread
---
CB How to / Setup / Question and answer thread
The purpose of this thread is to shed a little light on CB setup and use. I also plan to answer any questions you might have.

Q: What makes you qualified to answer these questions?

A: I am an FCC licensed HAM radio operator with a general class license (one step down from the highest license available) But more importantly I have experience setting up, modifying and repairing CB radios, in fact some of you guys have even sent you radios to me.


What can a CB do?

A CB is a radio that has 40 channels, most are AM only, but some have side band, the neat thing about side band is that you can legally run 12 watts output, when using AM you are only legally allowed to use 4 watts.

A properly setup CB can talk around the world on 4 watts (or 12), given the proper circumstances, however under normal circumstances you will be limited to around 15-30 miles. With a poor antenna setup this could be even less, say 4 or 5 miles. The good news is that in the Jeep world this is normally just fine. In my case I have talked over 4600 miles, half way across the world. (on my HAM radio I regularly talk to a guy in STL on 80m, 3.916Mhz, and no I am not running an amplifier)


Goals: What are your goals? For most of you reading it's just going to be talking around the trail and calling for help in an emergency.


10-14-2012, 08:06 PM
CF Veteran
Join Date: Jan 2011
Location: Missouri
Posts: 2,251
Year: 1996
Model: Cherokee
Engine: 4.0HO

---
Antenna: The antenna is the single most important part of your CB radio setup. I see many people with junk antennas running illegal CB amplifiers. When the truth is they could have just upgraded the antenna and got even better performance
In the mobile CB world the 102" Stainless steel whip is king, but it's ummm, well 102" tall, lol (Which is right around 1/4 wave) This antenna will be usable in a broad range of channels and will 'get out' better than anything out there. The height is the problem. Costless than $30 normally
Most people run some type of fiberglass antenna, like the Firestick brand. These can be had as tall as 8 foot and as short as 2 ft (if I recall correctly) The taller the fiberglass antenna the better it will work. I found that 4ft was a nice compromise between antenna height and performance. Basically the shorter and antenna gets the less performance it will have. These tend to cost less than $30, some models are even less than $20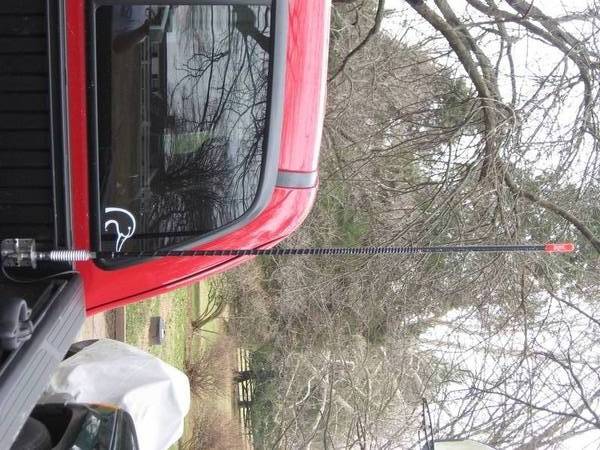 The we have Mag mount antennas, these are simple, you just throw them on the roof and adjust the antenna for a good match. There are several different heights of mag mount antennas available, some as short as 2 or 3 feet tall.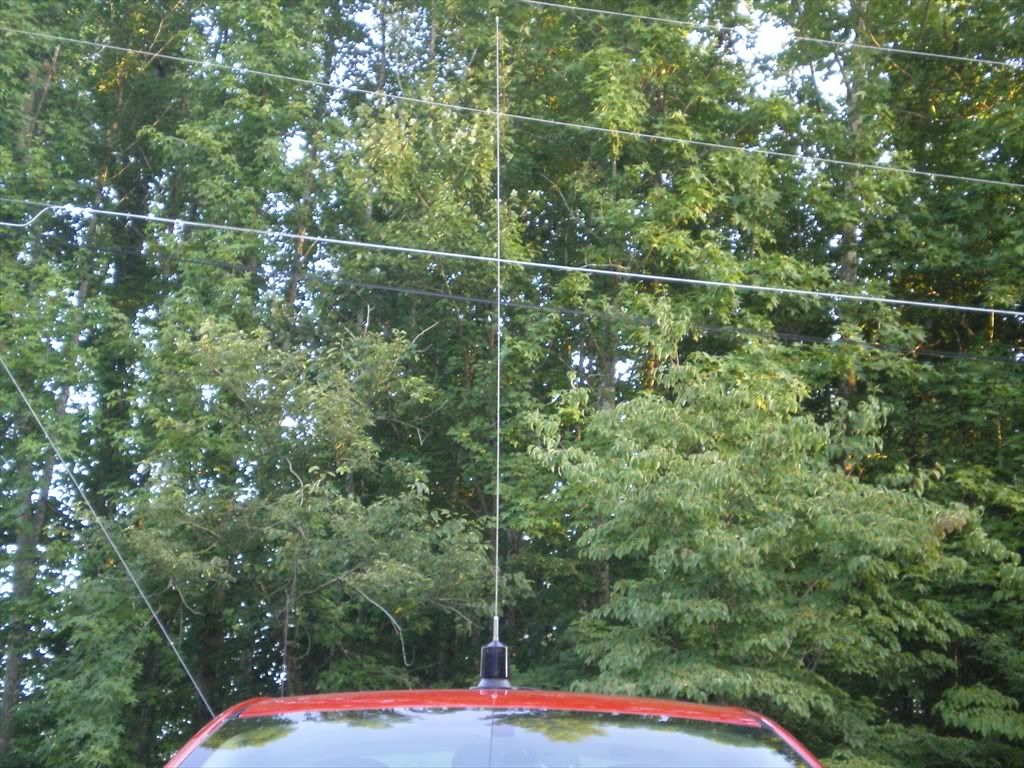 Then we have coil antennas, these have a coil on the bottom and a whip on the top, some times the coil is on the middle. They can have oil around the coil sometimes, but in my experience this is just a marketing ploy. Some of these will perform almost as good as 102 whip, while being less than 6ft tall... almost as good. The big issues is these are expensive.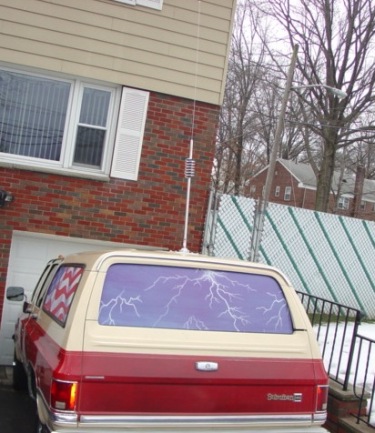 There are several different kinds of mounts for your antennas. You can get mounts that are specific for you Jeep or just make something from the truck stop work
The most important thing when mounting and antenna is to make sure the mount is properly
grounded to the body and/or chassis of your Jeep. Failure to do so could limit your CB's performance, or worse yet destroy your CB...
Where should I put my antenna???
Well the best place is usually on the roof... BUT that might not be too practical on a trail drive Jeep. On my XJ I located it on the driver's side front fender and made a bracket that mounted between the hood and fender, not a bad place and I have talked all over the world on that setup. Another popular location is on the rear bumper or the tire carrier. The main thing to remember here is that the antenna should not have much if ANY metal blocking it in any direction. There are 3 reasons for this: The metal can reflect power back to the CB causes damage. It can also make it hard to tune the antenna, and finally it can make the antenna very directional.
How do I tune my antenna for best performance???
The basic unit used for tuning in the CB world is called SWR. MOST radios you get will be able to check SWR with a built in meter (check your manual for instuctions for your specific radio). Or you can always get the $10 truck stop special SWR meter. I find that for the money that Radio Shack has a great little meter ($40)
The goal here is to get your SWR below 2.0:1 on the entire band and to get it as close to 1:1 as possible on the channel or channels you use the most. (However SWR of up to 3:1 is generally acceptable, but it will waste more power)
Most of your fiberglass antennas are longer than they need to be, so when you set them up you need to do the following:
1) hook up the SWR meter how ever the manufacture says to, take note of how the meter is used to check SWR
2) if your CB has mic gain adjustment turn it all the way down
3) turn your CB to channel 1 (AM) (or the lowest frequency you intend to use) key your mic and hold it, then adjust the **** on your SWR meter until it says 'SET', then flip the SWR switch (your meter might be a little different... note the SWR reading
4) Do the same on channel 40 (or the highest channel you intend to use)
5) If the SWR is lower than 3:1 on both 1 and 40 then I would just leave it alone. However if you have a reading that is really high on one and really low on the other then some tuning is going to need to be done
If you have a high reading on channel 40 and a low reading on channel 1 then your antenna is too LONG and you will need to shorten it
If you have a low reading on channel 40 and a high reading on channel 1 then your antenna is too SHORT you will need to lengthen it.
So ummmm... yeah how do I lengthen my antenna?
Well that kinda depends on the antenna, most mag mounts have a set screw and you can pull the whip part of the antenna out further. The same can be said for most coil antennas. The new firestik II and Firefly antennas have a screw under the cap on the top that you can screw in or out. However for CHEAP fiberglass antenna and the 102 whips require a coil of antenna spacer to lengthen it. I made on out of stainless steel all-thread and a couple matching SS barrel connectors (with jam nuts)
Ok OK... how to shorten my antenna... Well with the Cheapo fiberglass and the 102 whips you just cut them 1/8" at a time. With the others you can usually just use the set screw and make it shorter.
Each time you change the length of the antenna you need to recheck the SWR
What if the antenna doesn't tune under 3:1 ?
Well some antennas are very NARROW banded, meaning you might not be able to get a low SWR across the entire CB band, you might have to choose a couple channels that are close by and just live with it.
It's also possible that the antenna needs to be grounded, run a ground strap from the the body to the antenna mount.
Worse case you have the antenna in a VERY bad place and you need to relocate it.
Question that was asked: What do the antenna wattage ratings mean?
A: Not much, I mean if an antenna can handle 1000 watts (peak, as in for a VERY short period of time) it will handle the legal 4 watts AM, 12 watts sideband for as long as you care to key up your radio. In short if you do not plan to run a HUGE amp I would not worry about it.

Thread
Thread Starter
Forum
Replies
Last Post
Stock XJ Cherokee Tech. All XJ Non-modified/stock questions go here
Modified XJ Cherokee Tech
Stock XJ Cherokee Tech. All XJ Non-modified/stock questions go here
Currently Active Users Viewing This Thread: 1
(0 members and 1 guests)