Wheeling in the New Year

01-02-2012, 10:20 PM
CF Veteran
Join Date: Aug 2008
Location: Chico, CA
Posts: 4,442
Year: 1986
Model: Cherokee
Engine: 4.3L with headers and full 3" exhaust system

Wheeling in the New Year
---
My son decided to spend Hew Years Eve with me, well sort of. He missed his date by an hour. So the next best thing for someone who doesn't want to drink on New Years is spending it at Dad's. Besides I promised to take him wheeling. So off we went up Cohasset Road again in search of the elusive Murphy Trail. I thought I had found it this time. But first, since he had some disease on Christmas day, we had to finish Christmas. Out came what was left of the fudge I made him. Almost had to make another batch. But he saved me from myself and ate what was left of it. So here is the gift. A headlight upgrade. He grabbed them and put them in before I could get a pic of plain jane looking sealed beams. But here they are installed.
As yo can see, they are fairly bright even in daylight. They are Sylvania Halogens. Interestingly enough, this is the fourth rig these have been on, just like the tires on this rig. But the only one that is the same is the Mighty Mite. So much for he history lesson. P.S. They are almost as old as he is and they aren't legal ..... ssshhhhhhh
I had been by the entrance to this trail at least a half dozen times, but the trail is kind of hidden. All you can see from the main road, which is called Ponderosa Road at this point is this wide spot in the road.
But back in the back there is a road that takes off through the brush that rapidly deteriorates to a trail. We got to the last place we could turn around, somewhat challenging in itself and did something I thought I would never do. I ran over a ricer He He He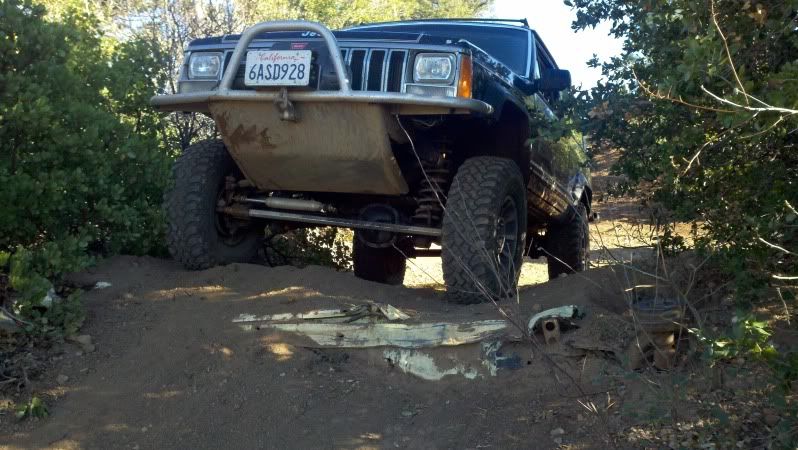 Here at the last place to turn around is a two door ricer used to make a water bar and flat spot. After this, the trail drops off at a steady 30° angle and no place to turn around. It has several lava cap drop offs. Since the Mite brakes had already been hot and he doesn't have the deep gears I do, we decided we needed to get to the bottom and come up. So off we went and back down Ponderosa Road towards Deer Creek. We think we can access the bottom of it there. But we paused for a Kodak moment. A few pics of the scenery from the Murphy Trail. By the way, the trail goes straight down to the bottom of this canyon.
There are lava columns here too, just like Devils Kitchen two ridges over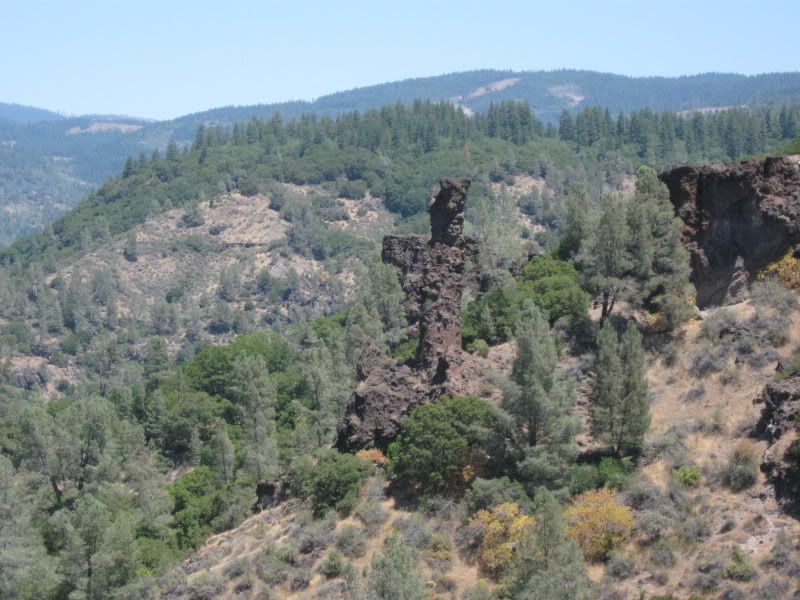 It was getting late and we were having trouble with the high tech Volvo water pump that has to be greased daily or it leaks. So we turned around here and headed back up. It is quite a grade and the Mite was performing admirably. Our cooling system, minus the stone age water pump was performing admirably also. Never got hot and Paul was headed down the road hard. In fact he slowed down for me. I couldn't keep up with the antique 65 hp mill in the Mite. You see, it has a suspension that was designed to take the bumps and just soak them up heading to and from the battlefield. The XJ, eve though it has a kick butt suspension was designed to flex more slowly so it was rocking around like a round bottom boat in a storm. The might just stayed straight and stable. He tried to kick it loose in the muddy corners but was unable to. It just kept it up. So we stopped toward the top for a Kodak moment again and take some vids of the suspensions in action.
We stopped at a two foot water bar. He can take it faster than I can, so he got air born. No problem though, no bounce even.
http://www.youtube.com/watch?v=aKITE...ature=youtu.be
Now here is my XJ on the same water bar.
XJ Suspension test. - YouTube
As you can see, even though it takes it well it has more of a ship rolling on the ocean motion. It would have been worse if I had gotten air born and been traveling as fast as the Mite.
We came to another area with rocks and dips in the road. Here is the Mite
Mighty Mite showing off - YouTube
And here is the rolling XJ, a little slower on the same spot.
2012 01 01 15 41 05 467 - YouTube
Needless to say, he was pleased. The Mite did everything I told him it would. He only had two words to say about it. "It Mobs"
Thread
Thread Starter
Forum
Replies
Last Post
Modified XJ Cherokee Tech
Stock XJ Cherokee Tech. All XJ Non-modified/stock questions go here
Currently Active Users Viewing This Thread: 1
(0 members and 1 guests)