Who likes to pedal?

10-29-2017, 11:02 AM
Seasoned Member
Who likes to pedal?
---
Post up your bikes or stories or whatever
I used to ride ALOT when i was a kid. I had worked my *** off saving up $150 to buy my first nice(to me at 12 years old) bike. an aluminum frame dual suspension 21 speed Mongoose from walmart lol. I was in boy scouts and we did alot of bike hikes I loved it. I rode alot of trails and hills and even in the creekbeds and snow. I quit the scouts and I lost interest around 14 when I got into other things then got into cars at 16 in 2006.
I didnt ride again untill last year I got into building friction drive bikes. the first one was a $70 walmart "bmx" with a Homelite Bandit engine on the front. Then I built a similar bike for a buddy of mine only with the engine on the back. We rode then all over for a few months and I built 2 more for the fun of it then we both realized me actually liked pedaling better. may sound stupid getting back into pedal bikes because of riding motorized pedal bikes lol but thats how it happened. we started pedaling again in the spring of this year. At first I rode my old Mongoose and he had a similar walmart bike. I was riding quite a bit around 30 miles a week on backroads around my house. then a buddy of ours moved into a townhouse and there was an old hoopty Kink BMX in the basement. it was beat up but we messed around on it and realized it was a fun bike. then I rode my womans cousins really nice BMX bike and fell in love.
My buddy found an Eastern Vulture on craigslist in mint condition for $125. I found an old Haro that needed some work for $100. and we fixed up the Kink for my other buddy. My gfs cousin rides with us and a buddy of his rides too. They both know alot about BMX bikes he helped us a ton fixing up the Kink.
The only bad part is winter is pretty much here lol

10-29-2017, 11:14 AM
Seasoned Member

---
My Haro. I have no idea what model or year it is. I bought it in sad shape with no stickers and find anything online using the serial number
this is after alot of work. new bottom bracket, new brakes, new tires and tubes and ALOT of cleaning. i wish i would have taken pics when i first got it
I wanted some more color and had leftover paint from my Jeeps rockers.
Gunmetal Pearl
As it sits now:
Haro frame, bars, forks, crank arms, and hubs
Odissey brakes
ODI grips
Alientation rims
Fiction Savage bottom bracket
Odissey twisted pedals
Maxxis Mtread tires

10-29-2017, 11:14 AM
CF Veteran

---
My mom bought me my first BMX at a bike shop in wrightsville when I was probably around 14. I rode that thing all over. There used to be a hidden BMX course next to Harley Davidson and 84 Lumber. I heard it has been flattened, haven't been back there in years. We would spend all day back there. I had to drag my one buddy out when he broke his leg bunny hopping a tree. Lol
I think my Haro was a 2004 Backtrail X2, IIRC.
About two years ago I picked up mountain biking, I haven't biked in over a year and half since my son was born and we moved to our new house. I mostly thrash up at Rocky Ridge County Park. Good trails up there.
Here is one of my favorites. The trail is called "Rusty Chair". Video also has a badass Sonata Artica song. Lol

10-29-2017, 09:09 PM
Someone stole my badge!

---
Sweet!!!! Diggin' the ODI grips too, BTW. I have set of ODI Ruffian grips on my Fisher, but the RH grip got all gummed up because the bike used to sit outside at my first apartment and THAT one was always sitting in the sunlight.
Anyway.... didn't get a chance to take a pic of my bikes because I had to take my wife to Quick Care first thing when I got home.
BUT, I do have a pic of my GT when I first got it
Click for full res
Yup... it was in pieces... and a mess.... I still have to get an issue fixed with the seat tube/shock mount. Evidently, it's bent

And here's a few shots of a bike I did for my son. Was a Fisher Price bike I pulled out of a dumptser.
Click for full res
Click for full res
Click for full res
Click for full res
Click for full res
Click for full res
Click for full res
Don't mind all the uneven lettering and imperfection lol... it was a rush job for Christmas and it was my first time with project like that.

10-29-2017, 09:30 PM
Someone stole my badge!

---
Yeah tell me about it. I watched in HORROR as someone through a server tower into the compactor at the dump. And they strictly enforce the rule that once an item touches dump property, you can NOT touch it.... so I couldn't even pull it back out to recycle it.

10-29-2017, 11:20 PM
CF Veteran
Join Date: Nov 2008
Location: Northern Ontario, Canada
Posts: 7,493
Year: 1990, 1999, 2000
Model: Cherokee
Engine: 4.0

---
i was once a die hard rider.
i have had many good quality bikes over the years.

my first good (bmx) bike was back in 82/83. was a P.K. Ripper. then it got stolen, so insurance bought my another, then got first one back in pieces, insurance said just keep it.
also had haro, redline and finally a hoffman butcher

then i got into mtb and had GT LTS Team, BB7, Intense M1, Norco VPS (still have it), Norco 125 dirt jumper (still have it), KHS DH150 dominatrix (still have it)

i've had other brand bikes too, but these are the ones worth mentioning.

i haven't rode much the last few years, but want to get another high end cross country bike, since i'm not close to any good DH hills now. maybe a good titanium or scandium frame with some killer components. budget around 5 to 6 should get me something.

10-30-2017, 12:21 AM
Someone stole my badge!

---
My dad bought a Giant XTC NRS1 from me when I worked at the bike shop. Got it at MY cost which was 1200 bucks. They were retailing for 2500 at the time.
EXCELLENT cross country bike though. Very lightweight aluminum frame, top of the line components, and rides like a dream.
My dream bike though was, and will always be, the Specialized Enduro FSR...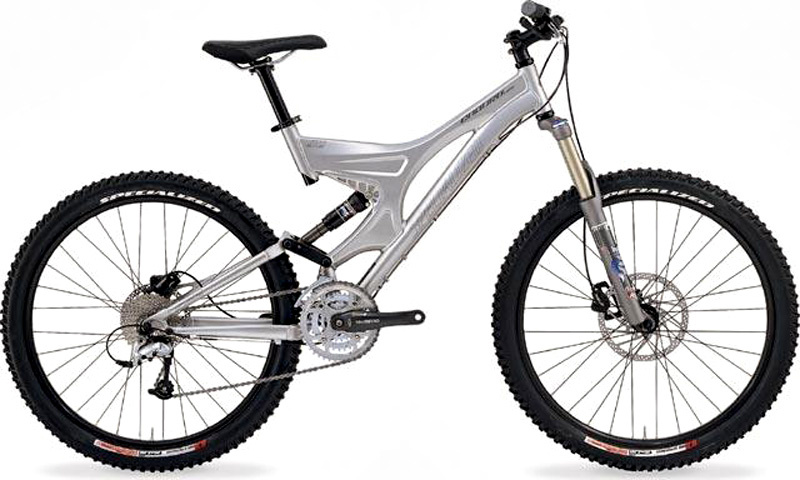 First time I built one, dialed it in, and test rode it - I was in love. Always said I'd own one some day. ALMOST had my hands on one for 500 a few years back, but the transmission went out on one of my vehicles.
ETA: Found this kickass article on the evolution of the Enduro models
https://www.pinkbike.com/news/the-ev...duro-2016.html
---
Last edited by Basslicks; 10-30-2017 at

01:10 AM

.

10-30-2017, 01:10 AM
Great White Jeep

---
Good thread topic! Back in the day, from probably 5th grade to when I was 18, I was big time in to bmx. Went to all the local Vans skate parks, all the local normal skate parks, home made bike tracks and even tried racing. Good times back then. I still have my bike which I belive is a Redline Expert EX. Got it in 98 or so for like $400. I saved for a solid year to get it. Its been sitting in the shed for quite some time now. Still in great condition though! Ill snap a picture next time I venture out there

10-30-2017, 07:07 AM

---
I like this thread too! My friends and I got into BMX when it first started back in the day. We used to take ten speed frames and cut them down and build our own diamond frames for 20" wheels. That was before you could buy diamond frame 20" bikes. The closest I get to pedaling anymore is working on the grand kid's bikes. lol

10-30-2017, 11:05 PM
Seasoned Member
---
Nice bikes guys

I had been shopping around for a really nice MTB but then bmx caught my attention and a MTB got put on the back burner. I'd love to ride the rail trails and get into trail riding again. maybe next year
heres my newest friction drive bike before I got into BMX. it was super tricky to get it working with the rear suspension and all. its very comfortable and will do about 20mph with a safe tune. could probably push it for a little more top end. starting it is super easy compared to a single speed bike lol
some offbrand chinese trimmer engine with all the plastics removed
comfy springer seat
amazon mountain bike brake lever with a cut to length brake cable for throttle
gas tank from another trimmer because the one for this engine was very small. the throttle cable was a huge pain to get working right because of the angle. some brackets springs and zipties did the trick
used a socket as the drive roller. added an exhaust pipe to keep it from shooting up the back of my shirt lol

11-01-2017, 11:50 PM
TIME TO GET SCHWIFTY
Join Date: Feb 2011
Location: Apple Valley, CA
Posts: 13,043
Year: 97
Model: Cherokee
Engine: 4.6 stroker

---
I was digging up some stock photos to participate (don't have any original pics anymore, lost to the ages, lol) and came across this one, pretty cool...fat tire Motobecane electric.

11-02-2017, 12:09 AM
TIME TO GET SCHWIFTY
Join Date: Feb 2011
Location: Apple Valley, CA
Posts: 13,043
Year: 97
Model: Cherokee
Engine: 4.6 stroker

---
Anyways...many, many moons ago, I was into skateboards and bikes, kinda a given growing up in SoCal in the 80's. I've had TONS of bikes, PK rippers, FMF's, Mongoose, Schwinns, but the following were the standouts throughout my life.
I started with BMX, which was where I had the FMF, all aluminum, light as ****, but not very sturdy, went through a couple of them. Had a couple of Mongoose, the PK, but got into flatland freestyle, then ramps and pools...first flatland was a GT Pro Performer, I ended up painting it bright florescent yellow, then got rid of it...this is almost exactly what it looked like...well, when I first got it, haha
Ditched it, and got a Redline RL series. Again, almost exactly what it looked like...
...then I got crazy, and got a SE Quadangle. LOVED this bike. Everyone wanted it. Sold it when I bought my first car, LOL, and still kicking myself.
Well, FFWD a few years, didn't pedal for a while, but moved to Colorado, went through a couple of mountain bikes, and then got a Specialized Rock Hopper. Meh, but a decent bike. Again, close representation...
Got rid of it, then had some used bikes, a Cannondale, a Gary fisher, both okay, then got this, a GT LTS 3 full suspension. Biggest piece of **** I've ever owned. Thing always broke, wasn't comfortable, suspension was way too soft...and no replacements for the poly bushings at the time. Sold at a garage sale, and good riddance, LOL...
Soured me a bit to bikes for a bit. But then I got one of these, and loved it
Sold it before I moved from Colorado many years ago. Liked it so much I've dabbled with getting another.
Anyways, that's my story...maybe someday I'll get my fat *** on another one, haha