New From Norcal

07-19-2018, 07:18 PM
Newbie
Join Date: Jul 2018
Posts: 4
Model: Cherokee (XJ)

New From Norcal
---
Hi I am Mike. I just bought my new to me 1987 Jeep XJ a couple of days ago. after doing a lot of reading here and elsewhere. Though I am new to XJ's I am not a newbie to Jeeps In that over the last 40 some odd years (Do I give away my age?) I have owned a 57 *****'s Overland pickup, a 63 Jeep pickup, a 64 Wagoneer, a 64 CJ5 and 78 Wagoneer. But that last Wagoneer was in the mid 1980's so its been awhile. My 87 XJ is a pretty much Plain Jane LE model that spent its life in service of a public water district in Northern California. Even though it is sparsely equipped it does have automatic trans, factory trans cooler (but no hitch) and Air conditioning. It has 138,000 miles Here is a picture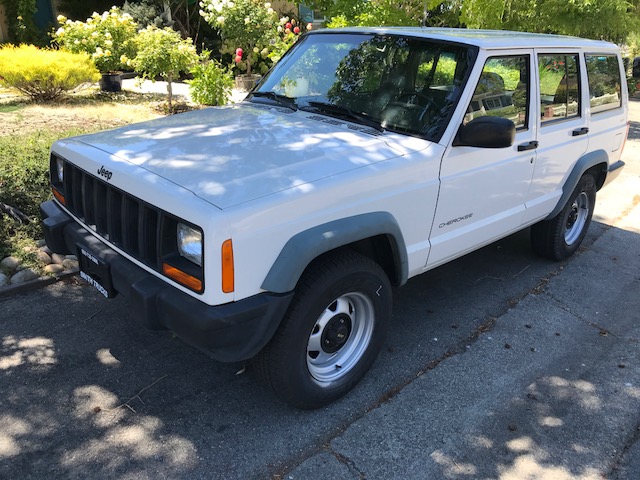 I will be asking a lot of questions while I learn the ins and outs of these new(er) fangled beasts

07-25-2018, 10:32 PM
CF Veteran
Join Date: Nov 2017
Location: Arizona
Posts: 1,306
Year: 1999
Model: Cherokee(XJ)
Engine: I6 4.0L

---
Welcome to the forum... I picked up my 99 XJ last fall from a city in Tenn. with only 95k on the clock, very clean body and no major leaks to fix. (in fact no leaks at all)... so low miles just like yours.
Yes they do get their use at times from city/gov't use. but when they're bought from new... they all have their own internal maint. departments and get very regular service so in some ways can be better than "normal" ownership over the years.

Definitely poke around and ask questions, lots of good info and people here.

07-25-2018, 11:13 PM
Newbie
Join Date: Jul 2018
Posts: 4
Model: Cherokee (XJ)

---
Thanks for your reply Rocket Mouse. I noticed on my original post that I misstated the year of my Jeep. It is actually a 97 rather than an 87. I keep messing up that number for some reason. This isn't the first time. I'll chalk it up to age I guess.
Thread
Thread Starter
Forum
Replies
Last Post
Currently Active Users Viewing This Thread: 1
(0 members and 1 guests)