Any Canadians ???

07-06-2010, 10:30 PM
Newbie
Join Date: Jul 2010
Location: Vancouver
Posts: 1
Year: 1993
Model: Cherokee
Engine: 4.0L HO inline 6 cyl

West Coast newbie
---
I bought a '93 2 door last fall and finally got around to a lift a couple of weeks ago. The next thing will be rock rails. Looking forward to some extensive exploration later this summer.

07-26-2010, 06:49 AM
Member
Join Date: Feb 2009
Location: Soo, ont, canada-third igloo on the right
Posts: 121
Year: 1994
Model: Cherokee
Engine: 4.0lt H.O.

---
why did I not see this thread before, sorry been out of the loop -working
Rob here. from Sault Ontario, most the the guys here know me by XJcoupe, been working extra to afford new part for the rig, my back yard starting to look like Taz's-

, my oldest kid is hooked now, brings home a 95 4 door XJ, 150000kms, nice original white paint, just needs some TLC.

, Im sure he will respect it more than his last ride, after all the hard work, he is putting into it, with alittle help from dad, garage time with son is the best place to be

latest pics of the XJ yard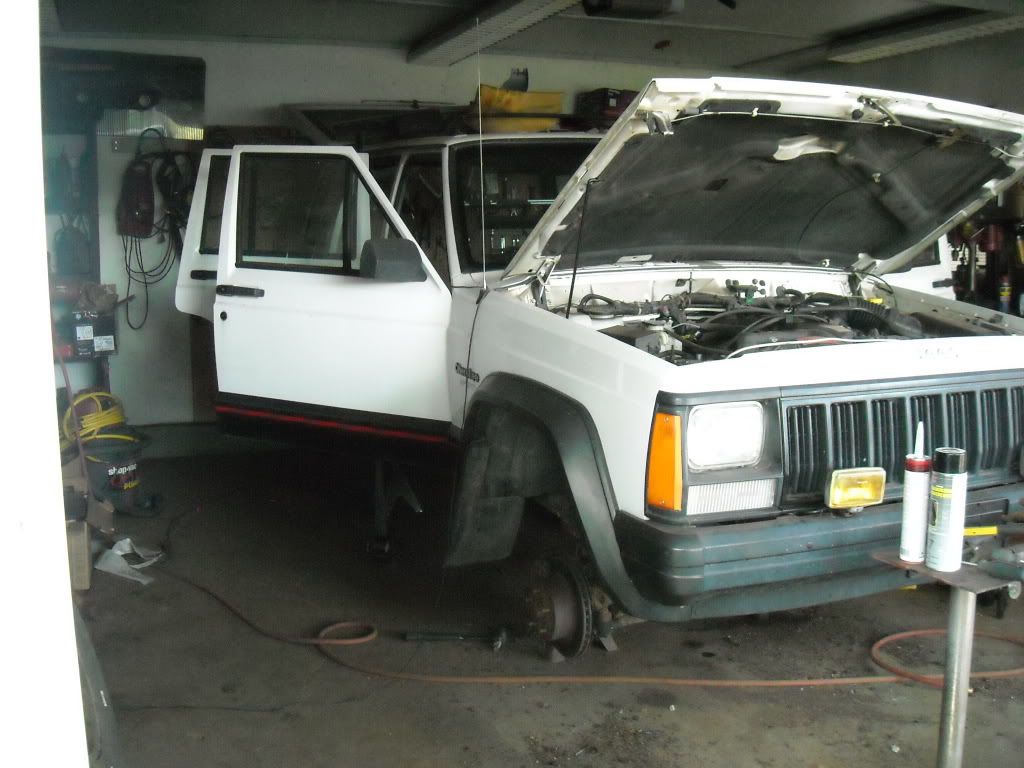 07-29-2010, 08:54 AM
Newbie
Join Date: Dec 2009
Location: Langley B.C.
Posts: 24
Year: 1994
Model: Cherokee
Engine: 4.0 H.O.
---
Hi, I`m here in Langley and get out in my 1994 Xj whenever I can. It`s mostly stock except for 235 Big-o Bigfoot XTs. I am going to put a 6" or so long-arm in this fall so I can run 35`s. I am just putting the finishing touches on my 1955 Canadian Military Communications truck (have a big-block and 727 in it) and then I`ll start lifting the Cherokee.

08-22-2010, 02:07 AM
Newbie
Join Date: Aug 2010
Posts: 1
Model: Cherokee

---
hey im from china whom about to go to canada for studying in a year later.
I's good to see so many people likes cherokee because i'm planning to buy one. after i got there. If some one can suggese me where to buy and how is the price now.
I want a cheap one and also a less mile one, which produced around 1999.

BTW those Cherokee fans that in china will get crazy ,if they see the picture that show in #9,because in China the local produced cherokee is too bad compared to the U.s one.Those abandond cherokee will be seen as some treasure.