"Stow and go" storage system & cargo platform that folds out of the way for rear seat

03-27-2018, 02:38 PM
Seasoned Member
Join Date: Dec 2016
Location: Lawrence ****ing Kansas
Posts: 384
Year: 1997
Model: Cherokee
Engine: 4.0

"Stow and go" storage system & cargo platform that folds out of the way for rear seat
---
I just love these one-day-builds were I can go from concept in my head to finished product in only a few hours or a few evenings.
The idea is to provide some organization for the cargo area in the back of my '97 Jeep Cherokee adventuremobile. Ideally, it would:
provide storage for the spare tire, recovery gear, tools, maps, camping gear, cooler, air compressors, spare battery, etc.
be large enough to potentially sleep on while providing space bellow for all the camping gear and everything else
work just as well for hauling things around when not in 4wheeling/camping mode, like a tiny pickup truck
can fold out of the way of the rear seat down when hauling more than one passenger
First, I started with some 12x1s that I ripped to 10" wide on my table saw. 10x1s would have also worked but would have been 9.25" tall. The three shorter boards are 30" long and longer board is... I can't remember exactly but around 45" long I think.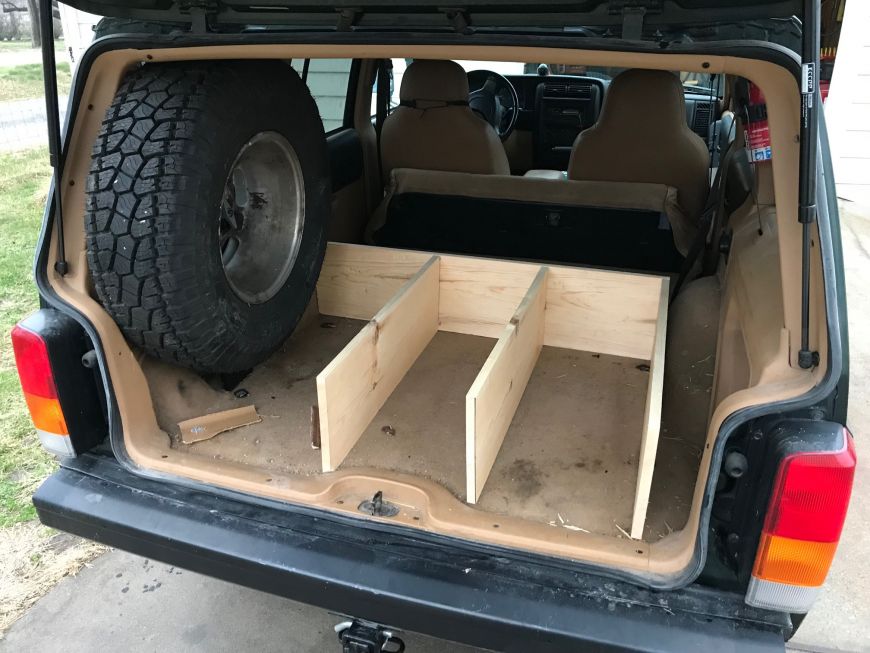 Next I took some 1/2" plywood and cut it to 51" x 30.75". 3/4" plywood would have been better but I wanted to keep it light weight. Then I marked the cutouts for the spare tire and the storage cubby on the passenger side, and cut those out with a jig saw. Before I put it in place, I rounded the edges with a 1/4" roundover router bit.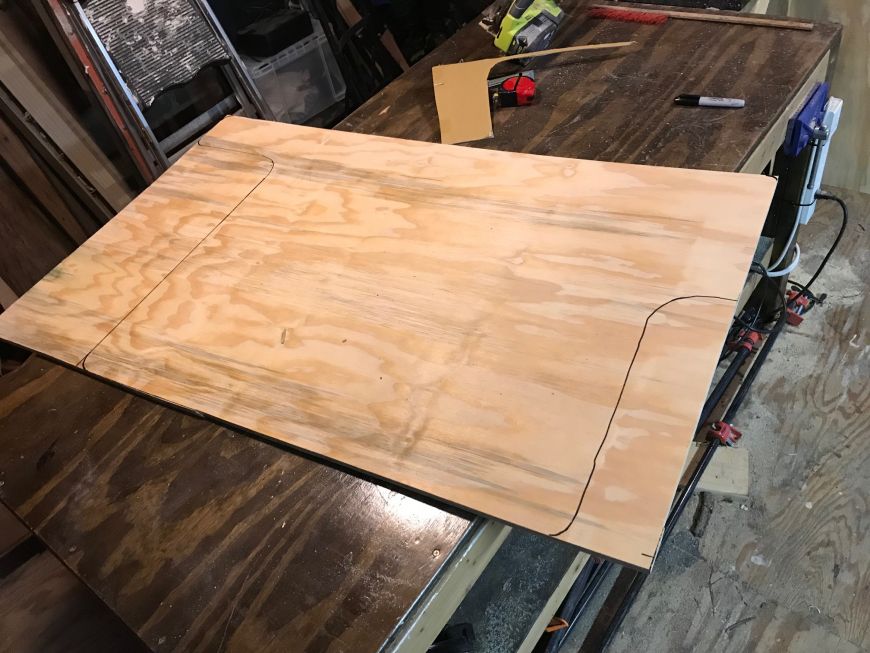 Screwed it into place with 1.5" Kreg self-drilling screws.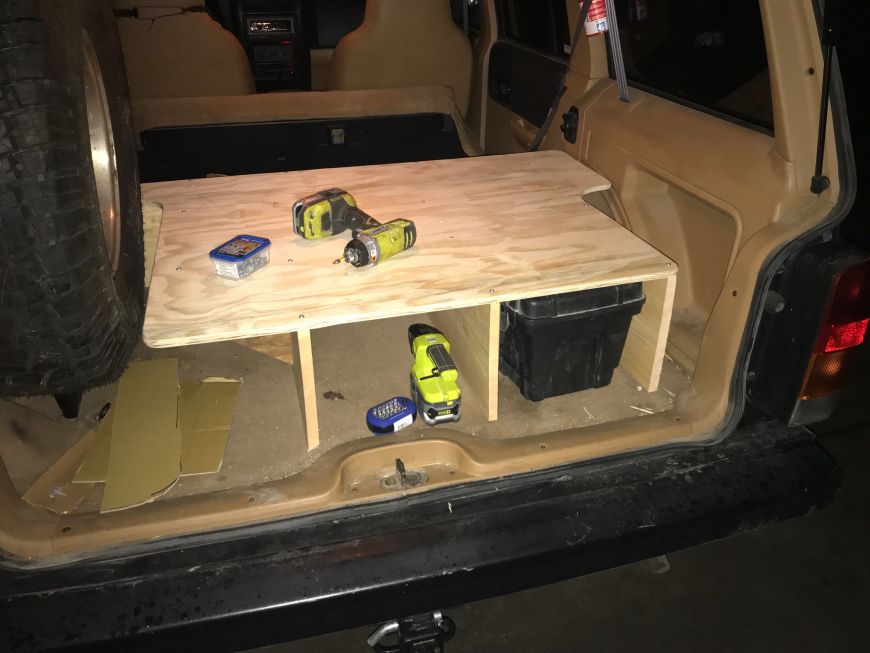 I might add drawers, I might not. Still deciding. The toolbox in the photo above is just barely too tall! I won't be able to squeeze it in there once it's secured to the floorboards.
Up next was the area where the rear seat would normally sit.
I originally thought I would remove the rear seat from the vehicle. But it's in great shape still, doesn't really weigh that much or take up too much space once folded down, and I do occasionally haul more then one passenger. So I decided to keep it.
I cut out another 1/2" plywood - it's 48" long but at the moment I can't recall how wide it is - screwed a 10" wide board to the bottom on on side as shown below, and secured the other side to the first piece of plywood with a piano hinge.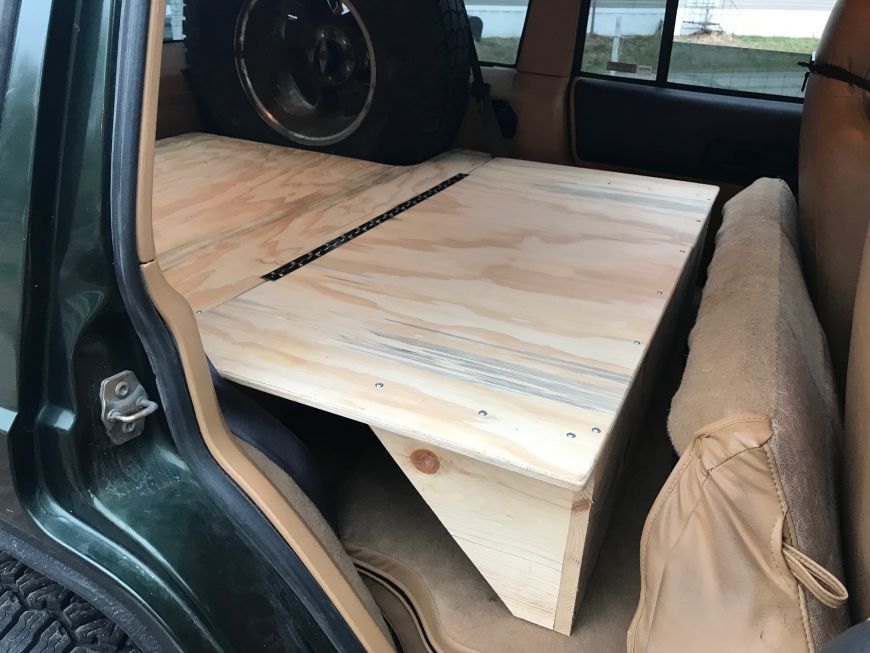 It pivots on the piano hinge...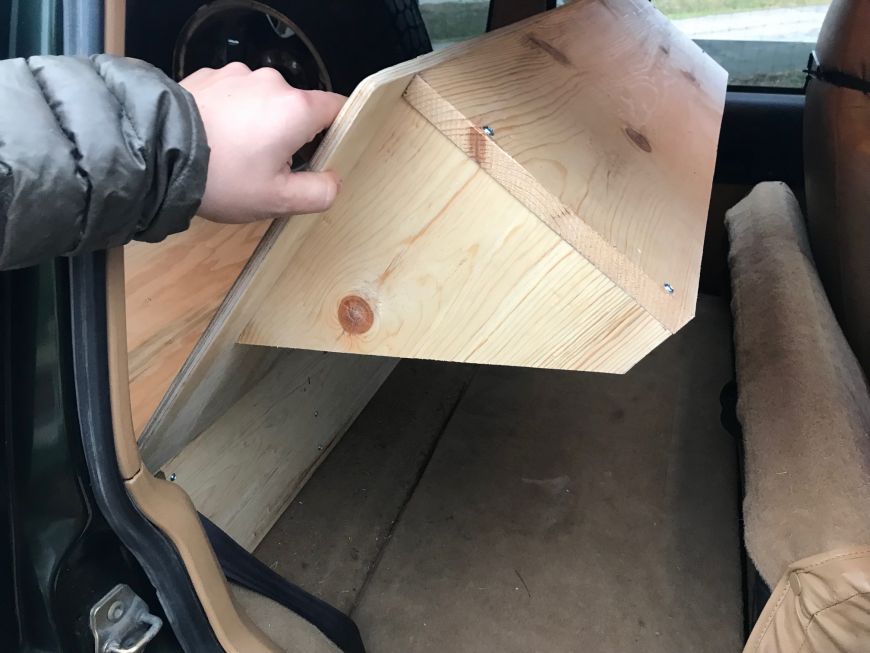 ...and folds all the way back...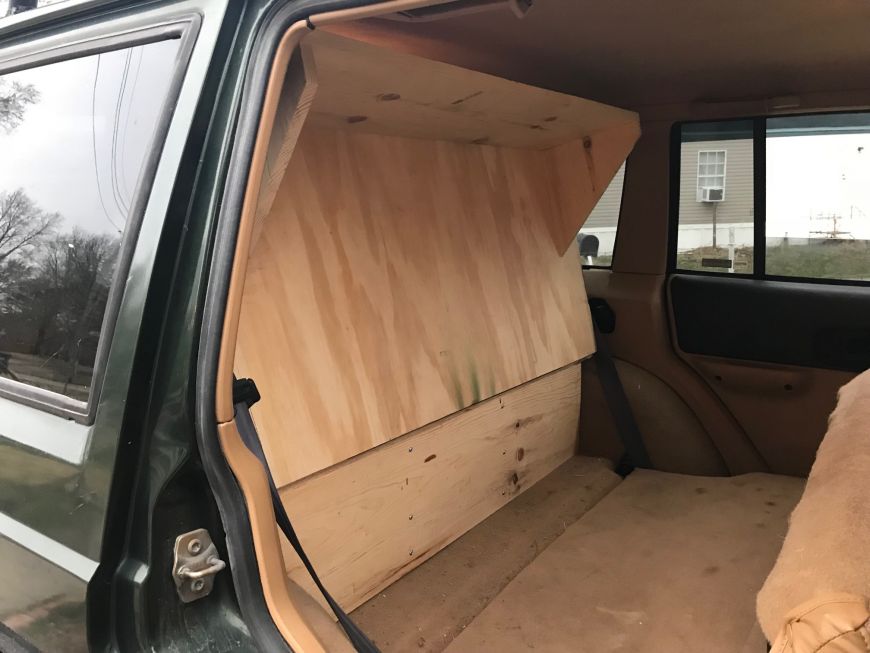 ...so the rear seat can fold back down!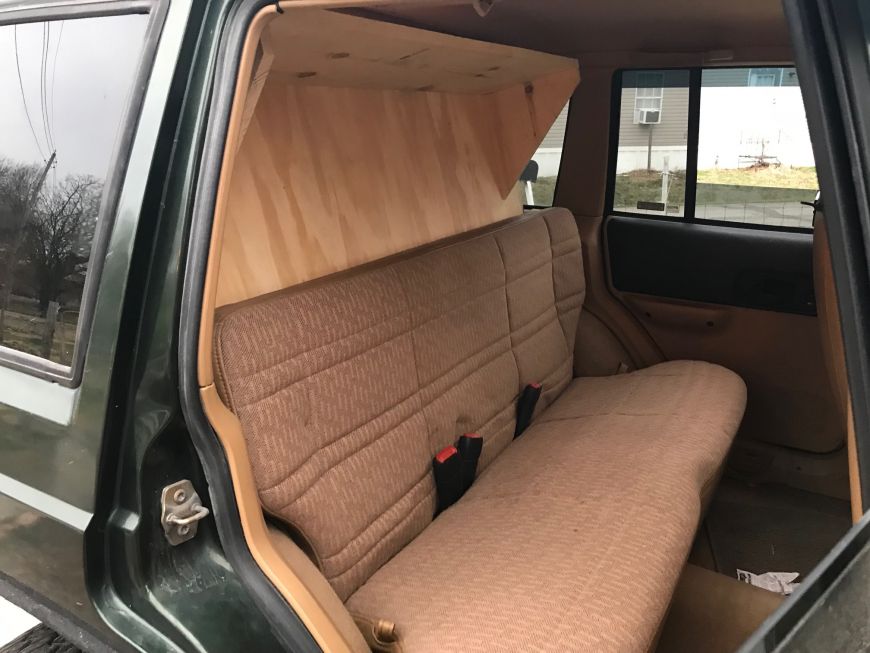 It's "stow and go" storage for the Cherokee XJ!
Now obviously I wouldn't be able to see out of the rear view mirror but that's what side view mirrors are for, right? And any rear passengers will have to be really short or will need to not lean their heads too far back... If the rear seat becomes more permanent, I can easily remove this section by unscrewing the piano hinge while the rear section can stay in place.
As Jeremy Clarkson would say, my genius knows no bounds.
Not quite done yet. I still need to paint it or lay carpet or something, tie up a few loose ends, add tie-down points, maybe add drawers, etc.
---
Last edited by mannydantyla; 03-27-2018 at

03:29 PM

.

04-04-2018, 03:33 PM
CF Veteran

Join Date: Feb 2016
Location: Northern New Mexico
Posts: 3,682
Year: 1999
Model: Cherokee
Engine: 4.0
Thread
Thread Starter
Forum
Replies
Last Post
Fabrication & builders section.
Modified XJ Cherokee Tech
Fabrication & builders section.
Currently Active Users Viewing This Thread: 1
(0 members and 1 guests)