The "M-Azing" 2000 Chrysler 300m

09-19-2016, 01:20 AM
Someone stole my badge!

The "M-Azing" 2000 Chrysler 300m
---
Hey all, kinda bored tonight at work (pretty slow) so I thought I'd post up a "build" thread on my wife's (soon to be mine) car.
2000 Chrysler 300m bought in November of 2015 for $900
255hp longitudinally mounted v6 engine. Front wheel drive configuration. 4 speed automatic transmission w/ overdrive and "autostick" feature.
142k miles on the clock. Everything on the car is original (save for tires of course).
Interior: 8/10
-Front leather seats show normal wear. Cracks in the surface, but not torn through. Minor recondition required
-Rear leather seats are almost perfect except for about a 1.5" tear in the seat bottom on the driver's side.
-Carpet just needed a good shampooing.
-Driver's side window off track. Turns out, there are "clips" that are glued to the window held on with an epoxy. The clips are a 2-piece design from the factory and are prone to breaking. Window was removed (by me), new clips were installed, window placed back on track and works like a charm)
-Front door speakers and center speaker are blown.
-Center console trim needed to be re-secured and shifter boot needed to be reattached.
Exterior: 7/10
-Paint is glossy and original, but has scuffs and scratches especially on the rear bumper.
-Body is straight with no dents or dings. Car has never been in any accidents and is rust-free.
-Wheels are in good shape with glossy chrome finish. Normal pitting on the surface just from 15 years of being on the street.
-Front scuff plate under front bumper has been ripped off (?) and NUMEROUS scuffs and scratches exist... luckily, they're not visible except for if you're underneath the car.
Mechanical (including tires): 8/10
-Motor runs like a TOP! I was very impressed with how quick it was for a 3,600lb car with a v6. Has plenty of oil. Leaks none. Uses none.
-Transmission shifts smooth in automatic mode. Shifts quickly and with gusto in "auto-stick" mode. Fluid is red and smells normal.
-Exhaust... well, the exhaust is ridiculous. It has a leak, but the amount of components in this exhaust is insane. I guess they wanted to make sure no one ever HEARD this car from behind. The car has 2 cats, a front resonator, a muffler, and a rear resonator. The front resonator is blown out.
-Tires.... almost bald.
-Brakes... rears are fine, fronts were almost on the steel.
-One of the headlights bulbs were out and the brake lights didn't work at all.
---
Last edited by Basslicks; 09-19-2016 at

01:51 AM

.

09-19-2016, 01:40 AM
Someone stole my badge!

---
The FIRST thing I did was get new tires. Well, okay. Used tires. But in MUCH better shape with much more tread than the tires that were on it. After that I got a brake light switch, brake pads for the front, and scavenged the junk yard for some goodies.
Got a cargo net for the trunk, a jack and lug wrench, door rubbers for the front because the ones that were on it had shrunk something FIERCE, a hood cable, a couple of miscellaneous interior parts, and lucked out and found a shift **** with chrome trim on it.
Got home and installed all the "new" parts on the car, including a set of Sylvania Silverstar headlight bulbs I found in a junker. They literally looked brand new.
Well, we were driving along on the "new" tires one day and we took off from a stop light and felt a "bumping". At first I thought maybe we ran over something. I figured we'd just throw it off after a few miles... but no dice. We got to where we were going and I got out and looked at the tires. Everything appeared to be fine until I ran my hands along the tires... and found this:
It was definitely about to blow. I called the tire place where we got them from to see if there was anyway we could get a replacement since we literally only had these on the car for a day, and they were cool enough that they said "sure, just bring the car down and we'll pick out another tire with you and throw it on for no charge". Customer for life!

09-19-2016, 01:52 AM
Someone stole my badge!

---
Everything was going great with the car. We drove it up to Gainesville one night to watch the 352 Racing Grudge Match. On the way home, Jess said the AC wasn't working, her power steering was hard to turn, and the lights were pulsating. She popped the hood and both belts (that's right, there are two) had come off.
We limped the car home, and the next morning, I surveyed the damage. The AC compressor had seized up, breaking the v-belt. When the v-belt broke, it fell into the track for the serpentine belt which powers the power steering and alternator and caused it to jump off. So I reattached the serpentine and ordered a compressor and v-belt.
This began about a 2 month long battle of constantly popping v-belts off. I didn't realize it right away, but when the compressor seized and broke the belt, it bent the tensioner pulley. I replaced the pulley, but when I did, I put it the spacer on in front of the pulley instead of behind it which caused it to chew through belts like no one's business.
I finally got all that squared away, but in the process of constantly pulling belts off and putting them back on, I put too much tension on the serpentine belt and caused the front seal of the power steering pump to leak...
Yeah. It was PISSING fluid lol.
Inspected the hoses too... ended up replacing the pressure line just to be safe. Definitely didn't look good.

09-19-2016, 02:32 AM
Someone stole my badge!

---
Well, in the whole process of the car throwing belts all the time, I got pissed off at it one day and slammed the hood. When I did, the cable came loose from the hood latch, and there was NO getting to it. I ended up having to cut out the OEM grille to make access to the latching mechanism.
It could've looked worse, sure.. but I hated the fact that my wife had to drive around in a ghetto-looking car. I told her once I got all the mechanical bugs worked out in it, I'd fix it.
Well, once I got the whole pulley situation figured out and went through 3 months without the belt popping off, I figured it was time to make her car pretty again. During that time, someone wasn't paying attention coming around a curve and clipped her front bumper. Didn't cause any real damage, but put a black scuff mark right over top of the passenger side corner lense... rendering it almost completely useless. YAAAAY, now her car looks even WORSE!

I searched on ebay for a mesh-style grille because that's what she liked. Almost all the ones I found were either chrome, or had the stupid "B" for "Bentley" as the logo. NONE of them had a Chrysler logo, but then I ran across one that was a satin black mesh with the "300" logo in the logo field. PERFECT! I thought. That should look great. So I added it to my cart, and found a set of smoked corner lenses to match it. Spent the afternoon/evening the other day putting them in... well, I'll let you be the judge, but I think it looks awesome.

10-02-2016, 12:31 PM
Senior Member
Join Date: Nov 2012
Location: Harrisburg, Pennsylvania
Posts: 918
Year: 1995
Model: Cherokee
Engine: 4.0L HO

---



At least the 300m only comes with the 3.5L (reasonably reliable, but has a timing belt that is a giant pain to replace) and not the 2.7L grenade found in base Intrepids and Concordes. All have the 42LE transmission which is known for being a bit fragile (but replacements are fairly cheap/plentiful due to all the cars in junk yards due to failed 2.7L engines).

10-03-2016, 02:59 AM
CF Veteran
Join Date: Jun 2011
Location: Louisville,KY
Posts: 8,015
Model: Cherokee

---
My step dad had the same 300m even same color,Was a great car for years tell it had a tiny knock or tick at start up then he sold it real fast.Besides a steering rack his was good for a long time tell that tick started and he sold it over that.You are right whoever designed these cars was a sick twisted person they put everything in some strange places.

10-03-2016, 10:06 AM
CF Veteran
Join Date: Oct 2013
Location: Tarpon Springs, FL / Denver, CO
Posts: 2,085
Year: '98
Engine: 4.0 I6

---
Man, my dad also had a 300M when I was young
First nice car he ever bought - kept that thing in pristine condition till he sold it. Great memories, I always liked the taillight design on that car but it's probably nostalgia more than anything

EDIT:
You should take some sandpaper (start with 600 grit, work up to 2500 grit) and re-clear those headlights. Polishing compound them when you are done, and clear coat over the top to make em last a while. Or just get a set of new ones off Ebay for $80 or so, maybe do the same with the fog lights.
---
Last edited by investinwaffles; 10-03-2016 at

10:13 AM

.

10-03-2016, 11:03 AM
Someone stole my badge!

---
The power steering pump was also pretty fun.
AC compressor was easy as pie.... you can see where their priorities are
My mom always wanted one of these. I ALWAYS thought they were cool, but I never realized how performance-oriented they were. I just figured they were kinda quick-ish like a Buick LeSabre.... nope, this will blow the doors off a LeSabre. Most W-Bodies too. I KNOW it would kill the Century and the Grand Prix GT I had... pretty sure it would be a pretty close match against a supercharged L67 as well.... this motor puts out 15 more ponies, but it's a bit heavier so... that'd be a good match I think.
Yeah, I'm gonna clean up the fogs and probably put some yellow bulbs in 'em. I'm not gonna worry about the headlights though because I'm going to get a set of projector lenses I found on ebay.

10-03-2016, 04:35 PM
Senior Member
Join Date: Nov 2012
Location: Harrisburg, Pennsylvania
Posts: 918
Year: 1995
Model: Cherokee
Engine: 4.0L HO

---

10-04-2016, 04:35 AM
CF Veteran
Join Date: Jun 2011
Location: Louisville,KY
Posts: 8,015
Model: Cherokee

---
The timing belt shouldn't be that hard since the engine points foward but probably still a big job.I will say these cars do ride really good and has some ***** if you floor it.Only really bad thing to me is the back window you can't see out of.

10-04-2016, 05:28 PM
Senior Member
Join Date: Nov 2012
Location: Harrisburg, Pennsylvania
Posts: 918
Year: 1995
Model: Cherokee
Engine: 4.0L HO

---
There is almost no clearance between the engine and rad/rad support so you pretty much have to take the whole front of the car apart, and of course have to pull the serpentine belts and accessories off of the front of the engine to remove the timing cover.
Here's how tight the engine compartment is: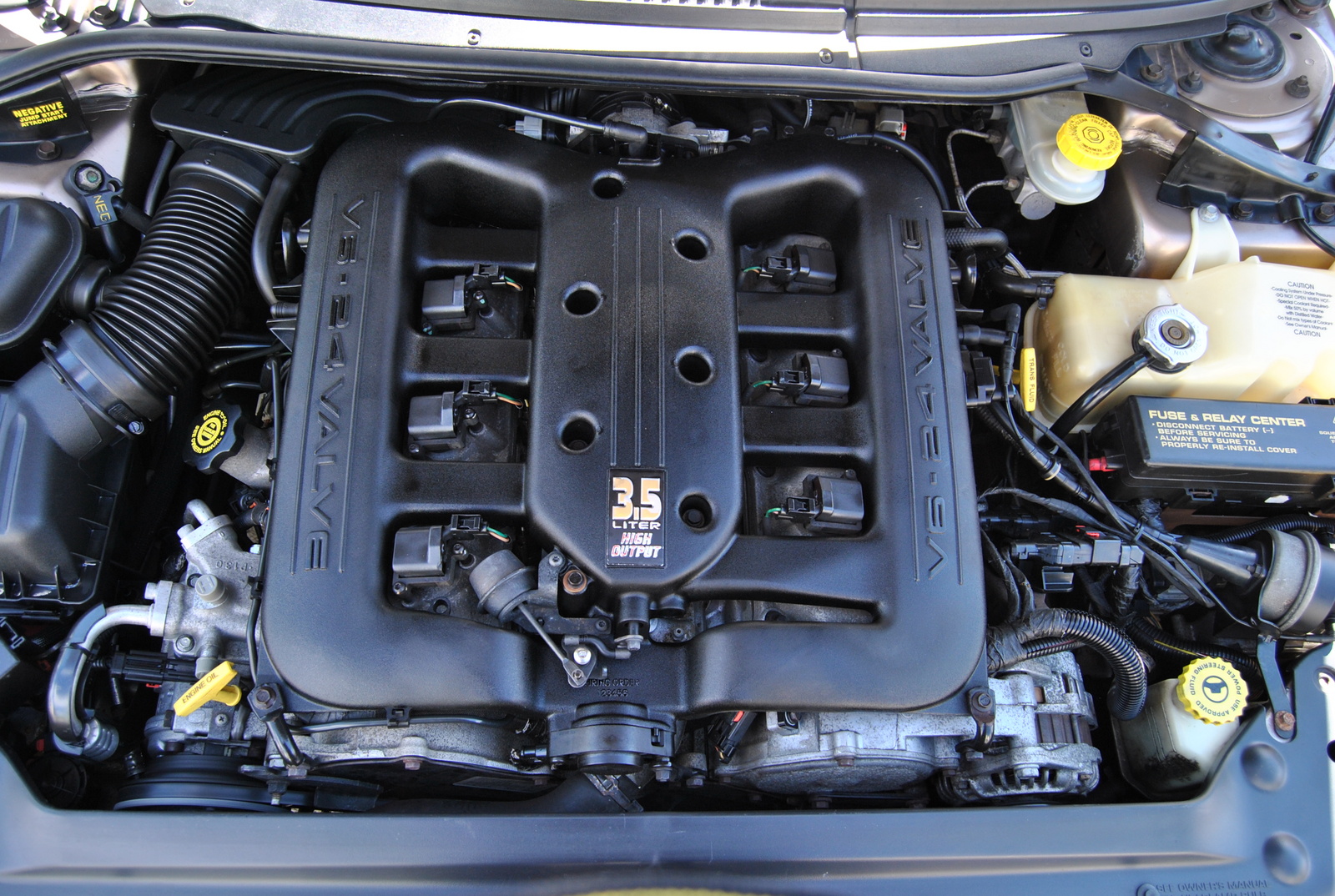 Overall they're nice cars, tons of space, very practical, handle well for a full-sized car, and are pretty quick with the 3.5L (about on-par with supercharged 3.8L Buicks), but they are hell to work on.
---
Last edited by dmill89; 10-04-2016 at

07:31 PM

.