Painting Fender Flares (without removing them!)

12-09-2012, 11:43 PM
Seasoned Member
Join Date: May 2011
Location: Placentia, CA
Posts: 311
Year: 1999
Model: Cherokee
Engine: 4.0 L

Painting Fender Flares (without removing them!)
---
My flares were faded so gray I decided I wanted to paint them black to freshen them up and make the Jeep look new. After doing some research I found that almost EVERYONE was breaking bolts while taking off the flares. So I documented how I painted them while leaving them on. I have a '99, I'm not sure if it will be different for earlier models.
Materials:
painters tape
"bonds to plastic" spraypaint (whichever color you may choose)
an old magazine
lots of newspaper/packing paper
First:
Remove all 4 bumper endcaps. You will need a 10mm and 8mm wrench.
Then remove the bolt fastening the bottom of each flare
Second: slide magazine pages in all the openings you can between the flare and the body of the Jeep. (they are thin but stronger than newspaper)
Third: anything space you can't fit the paper in, carefully tape off the seam using small pieces of tape. If you take your time and do it right it will turn out great. then begin to mask off the surrounding areas.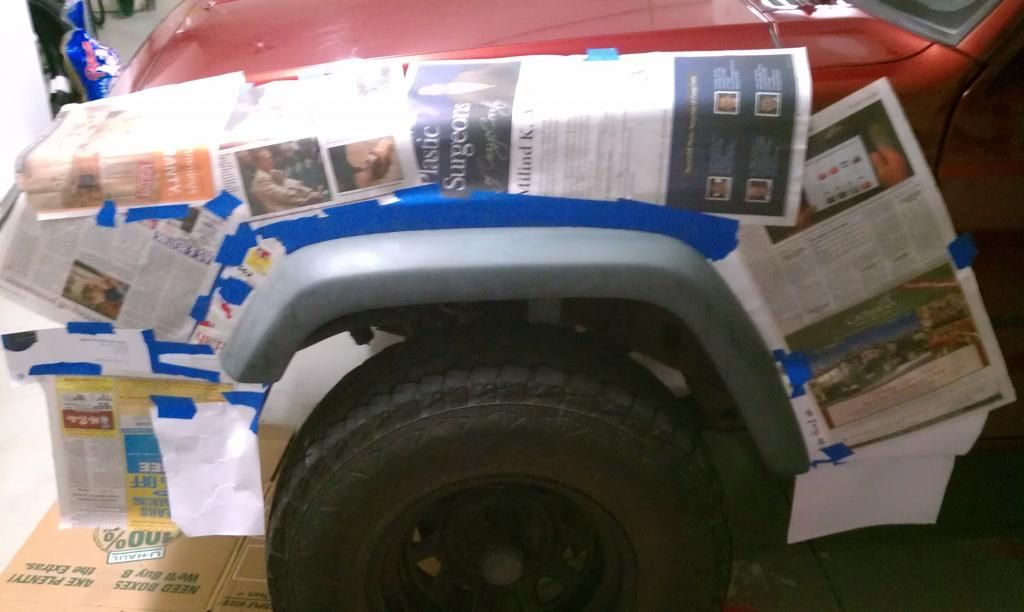 Fourth: I got a little paranoid about getting spraypaint dust on my car and rims....
Fifth: I went over them with some steel wool to get all the dirt/dust off, then cleaned them well with a rag and some brake cleaner.
I painted a prime coat and two full coats. You can paint how you wish.
Sixth: remove your masking and enjoy the finished product!!
Optional:
I'm also going to paint my bumper endcaps while they're off. I thought about not even putting them back on, but I like the look of em.
ENJOY

Thread
Thread Starter
Forum
Replies
Last Post
Modified XJ Cherokee Tech
Currently Active Users Viewing This Thread: 1
(0 members and 1 guests)