"Purple People Eater" DD 2000 xj

03-08-2010, 05:21 PM
Newbie
Join Date: Jan 2010
Location: Michigan
Posts: 16
Year: 2000
Model: Cherokee
Engine: 4.0 I6

"Purple People Eater" DD 2000 xj
---
well this is my xj i bought it over a year ago. i want to keep it pretty stock until i'm done with school and get the loan paid off. i would like to ad exhaust, a budget boost, cold air intake, and well a few other things i'm sure i'll think of. (oh and its called the purple people eater because the purple makes it nice and girly

) well this is the day i brought it home and cleaned it.
ps: thats the malibu in the back that i got rid of for it! yay!
well first thing to change were those little bald tires. here are the new Yokohama all-terains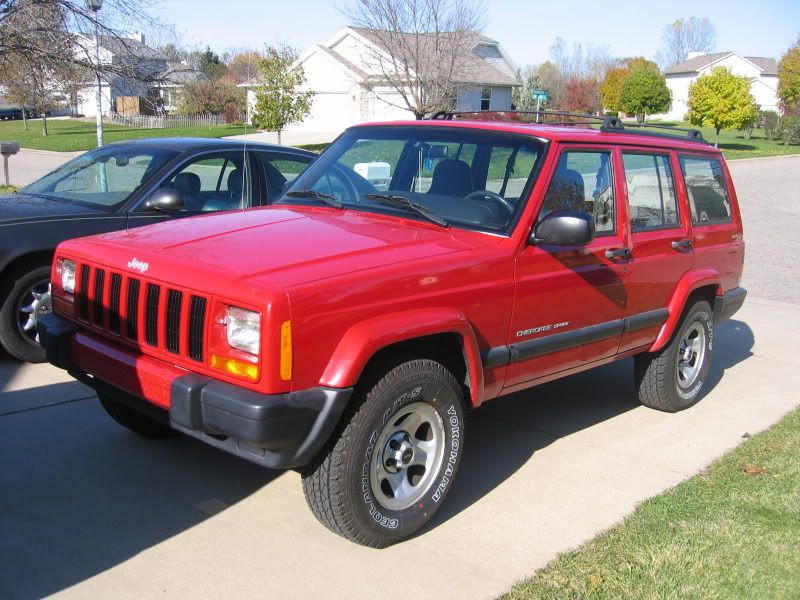 ahh... much better
next step was to paint the rims to get rid of rust and get new center caps.. since i was missing one
i put center caps from a liberty on it.. they look really nice and much more clean.
since then i've done a few mechanical things like serpentine belt, fan clutch, blinker relay, blower motor resistor, and then i hit a duck and had to replace the grill. i wish i had some pictures...
just last week for spring break i went home a made an ipod dock in the ash tray. i got the idea from one of the builds on this forum but i can't remember whos it was. but anyways here it is.
it sits right inside the ashtray...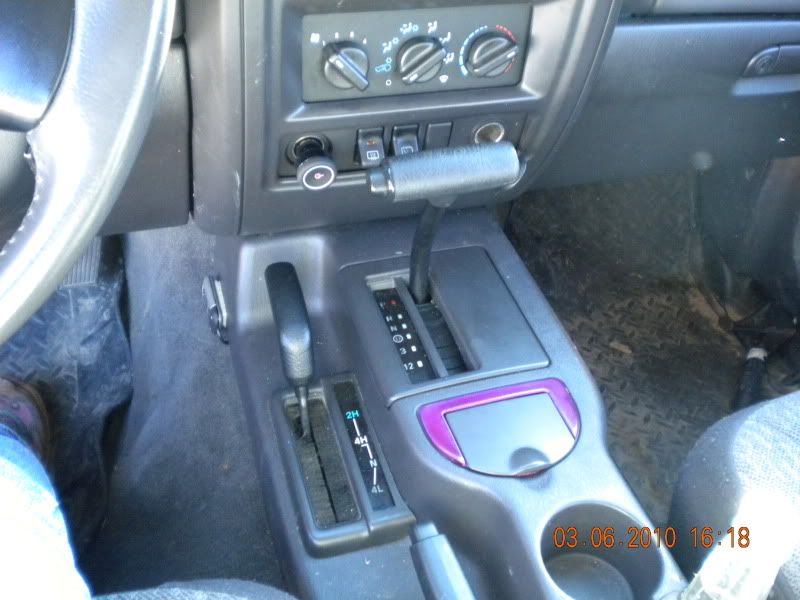 well this is all i have done for now once i'm home for summer break i'll put the budget boost on it and get some more pictures..

03-08-2010, 09:52 PM
Member
Join Date: Jan 2010
Location: Enterprise, AL
Posts: 214
Year: 2000
Model: Cherokee
Engine: 4.0I6

---
how did you do the ipod dock? did you remove the ashtray and drill the bottom out and glue the little dock in the bottom of it? ive been just sticking mine in the ashtray anyways

03-09-2010, 10:59 AM
Newbie
Join Date: Jan 2010
Location: Michigan
Posts: 16
Year: 2000
Model: Cherokee
Engine: 4.0 I6

---
i pulled out the ash tray and made an aluminum piece to hold the ipod end of the plug... heres a pic of the inside
ps: excuse my paint job.. i get pretty impatient so its all bubbly

05-03-2010, 09:56 AM
Newbie
Join Date: Jan 2010
Location: Michigan
Posts: 16
Year: 2000
Model: Cherokee
Engine: 4.0 I6

---
i've got a question for you guys: i was thinking about painting the plastic trim on my jeep. i like it when it looks nice and black but i'm sick of always putting the shiny stuff on it. so what would you guys recomend using? or would you even recomend painting it

05-05-2010, 10:28 PM
Junior Member
Join Date: Apr 2010
Location: grand island nebraska
Posts: 55
Year: 2000 sport
Model: Cherokee
Engine: 4.0 I6

---
When I repainted parts on my hopefully soon to be gone explorer I used a satin black spray paint from Oreilly's. I think it was made by duplicolor. With proper prep it works great. I did the grill, B-posts, mirrors, D-posts, wipers, and roof rack. It took ten years off the beast. Just take your time and do it right. Good luck
Thread
Thread Starter
Forum
Replies
Last Post
Stock XJ Cherokee Tech. All XJ Non-modified/stock questions go here
Stock XJ Cherokee Tech. All XJ Non-modified/stock questions go here
Stock XJ Cherokee Tech. All XJ Non-modified/stock questions go here
Currently Active Users Viewing This Thread: 1
(0 members and 1 guests)