My Shattered Dreams

05-28-2011, 07:13 AM
Member
Join Date: Apr 2011
Location: Duluth GA
Posts: 166
Year: 1994
Model: Cherokee
Engine: 4.0

My Shattered Dreams
---
OK so 2 months ago I went out and bought an XJ because I have wanted one since I was knee high to a grass hopper. Here is were everything went south. I went and met the guy and checked out the jeep. Everything looked good, couldn't see anyproblems with it. DUN DUN DUN so I took her home, and here is were it began.
The list of issues off the bat to get fixed. And it didn't pass emmissions.
Muffler
Cat
Rear main seal
Tranny Coolant lines
head gasket
main seal
Tranny pan gasket
Vaccum lines
Oil Pressure senser
Temp sensor
big chunk of wiring harness fused together
So I fixed all of these issues within the first week.
Now comes the fun stuff.
Before
First thing I did was strip the flares off. Oh and switched out the short arms, track bar, and steering tie bar. I put the RC long arm upgrade on it.
Then the differential. It had a ton of back lash and the spider gears wear bad. So I stripped it down to rebuild it. Lots of issues here since I have no idea what the heck I am doing. It is most defiantly a learning experience. And I am still not finished with it. Waiting on a baffle that I destroyed knocking the races out. SHould have that today and can get her built back up this afternoon.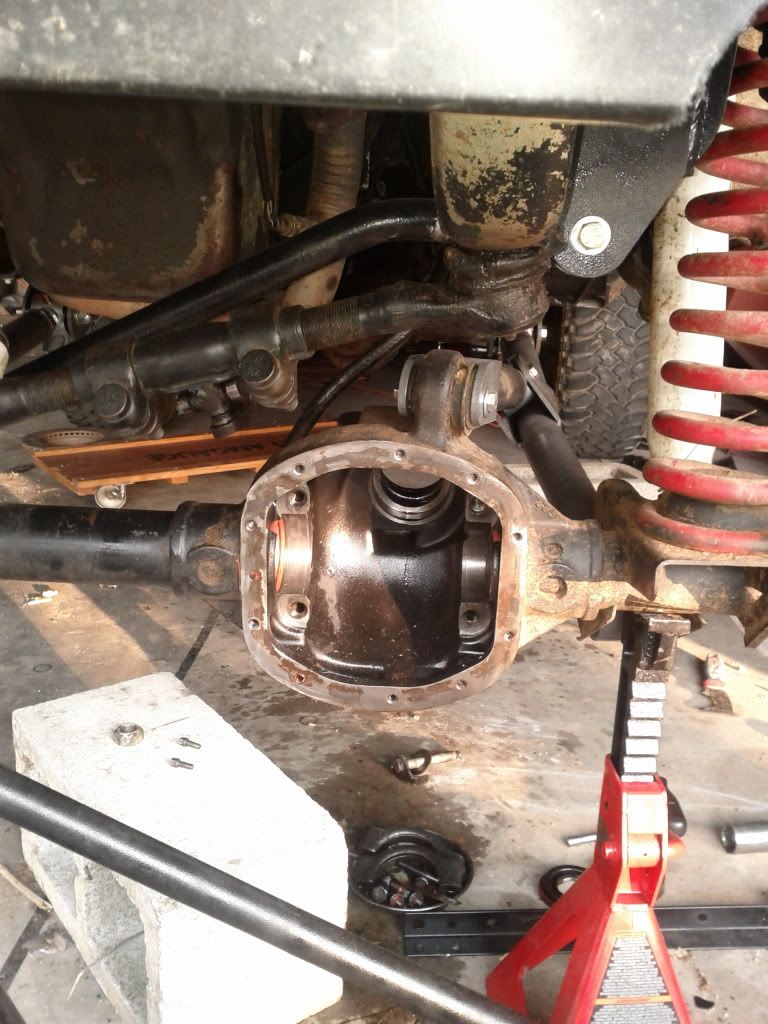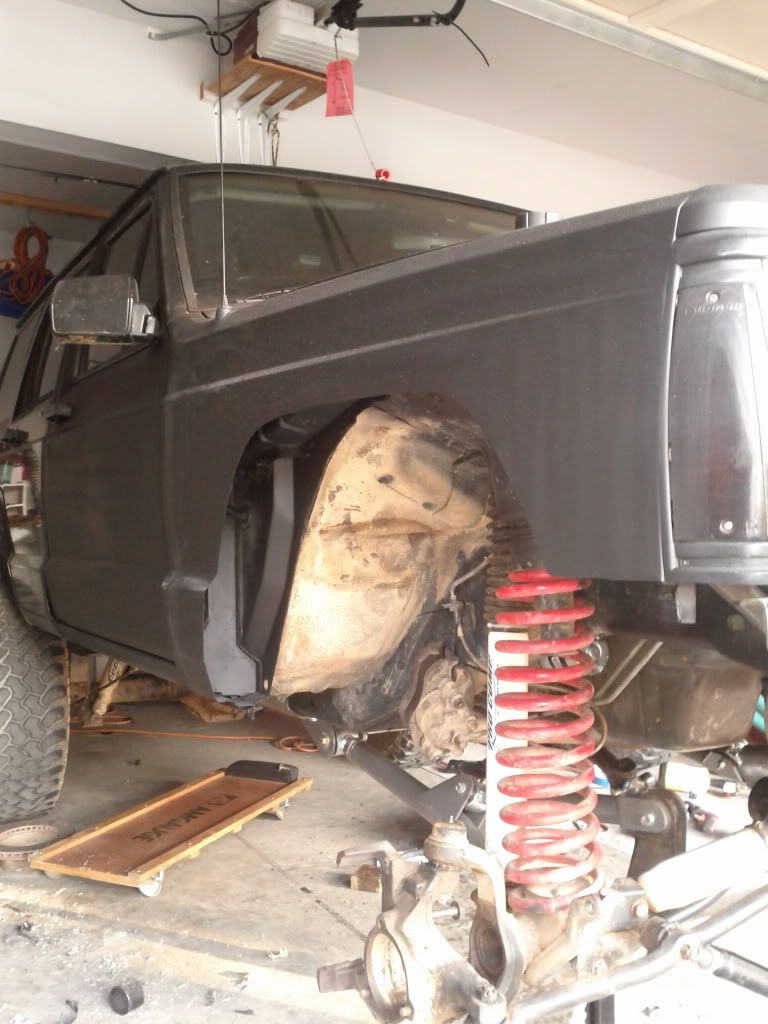 Well It was in the Garage I cut the front fenders and rolled the rear. I am also stripping the logos, pin stipping, and trim. This really is not fun. A hair drying, brake cleaner, a five in one, and lots of beer!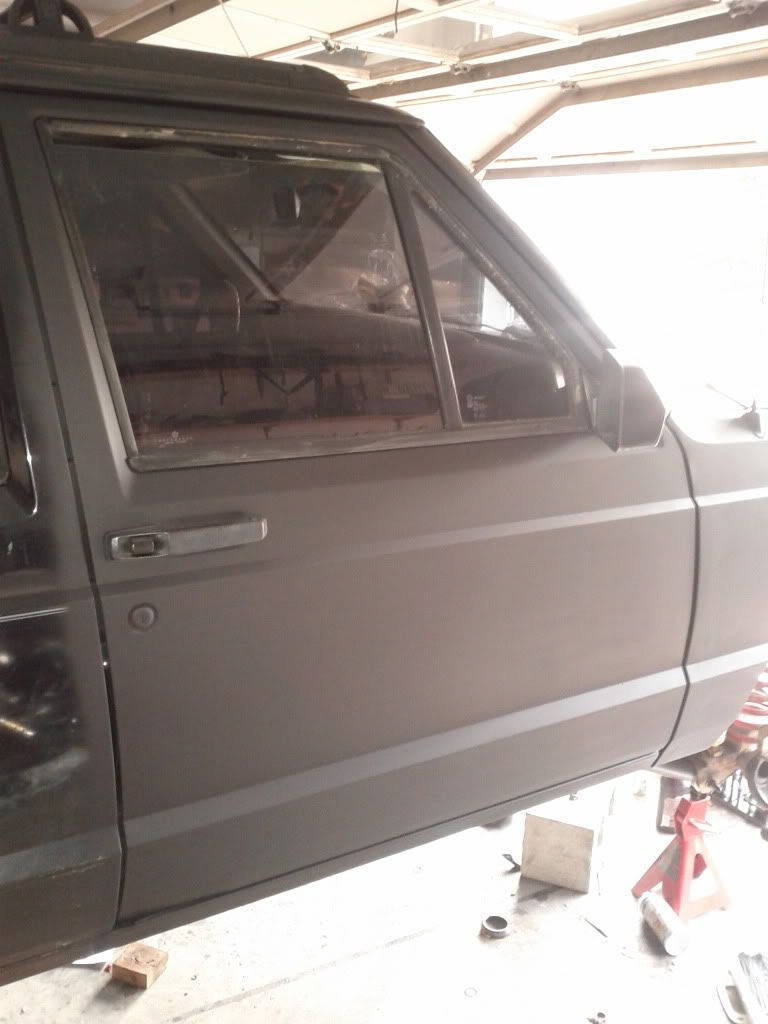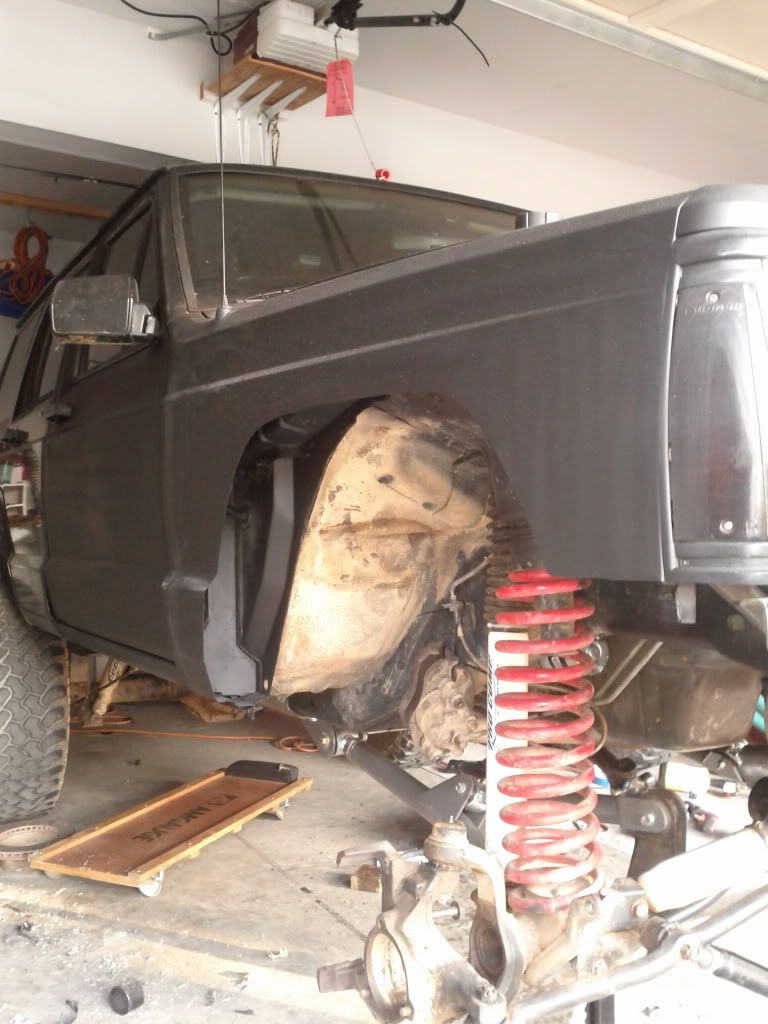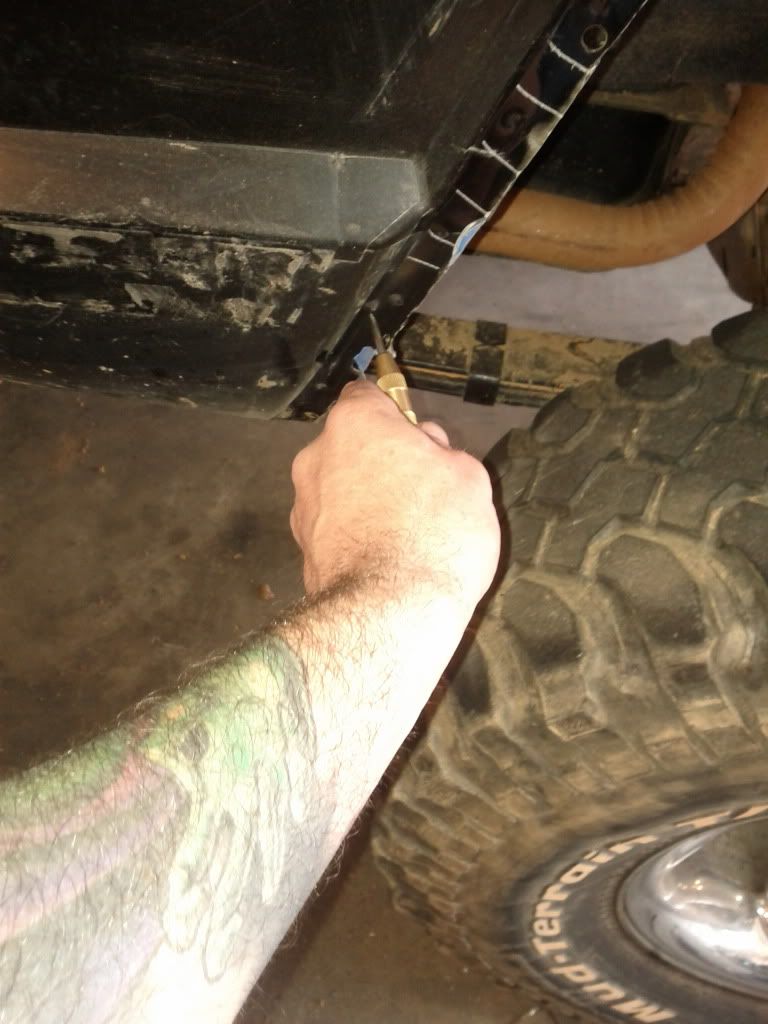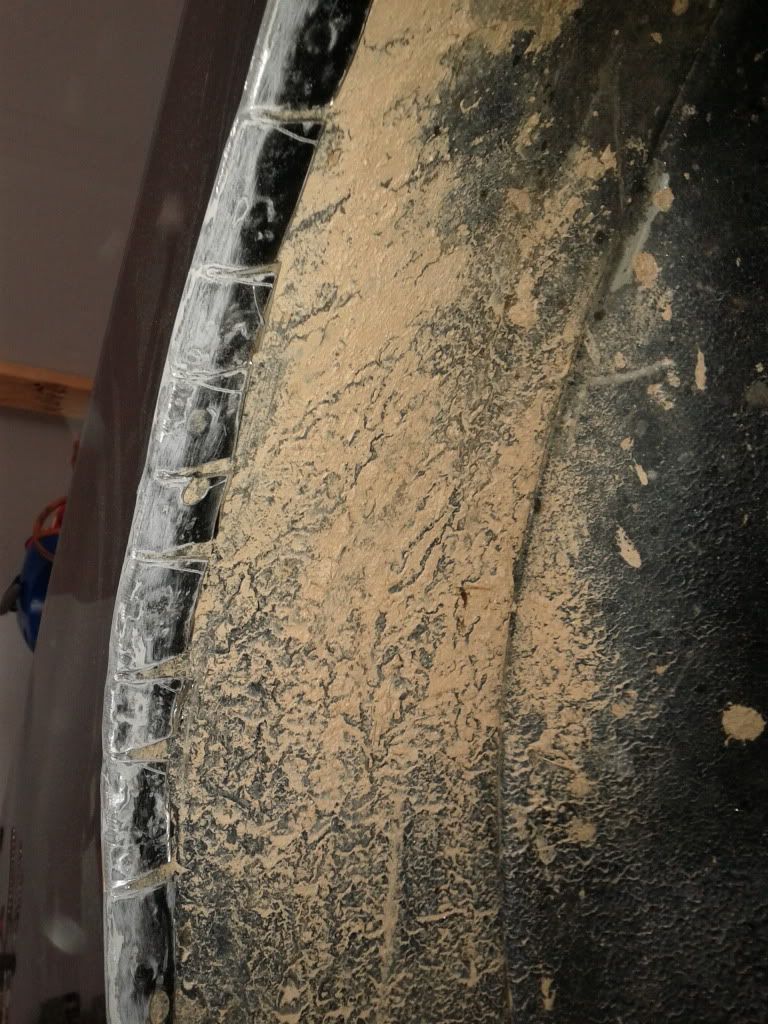 This is all I have for now. I will get more pictures of the progress throughout the weekend. I should have the rest of the vehicle finished and primed, Diff rebuilt. My bumper will be here next week, and my new winch and crager wheels are sitting in a pile in the Garage. So I have my work cut out for me in hte next few weeks to get ready for a ride. I should have known when I bought this Rig that it would need a ton of work. Who was I fooling?

05-29-2011, 09:47 AM
Member
Join Date: Apr 2011
Location: Duluth GA
Posts: 166
Year: 1994
Model: Cherokee
Engine: 4.0

---
Here is how I got the axle seals in. big ol socket and a couple two foot extentions.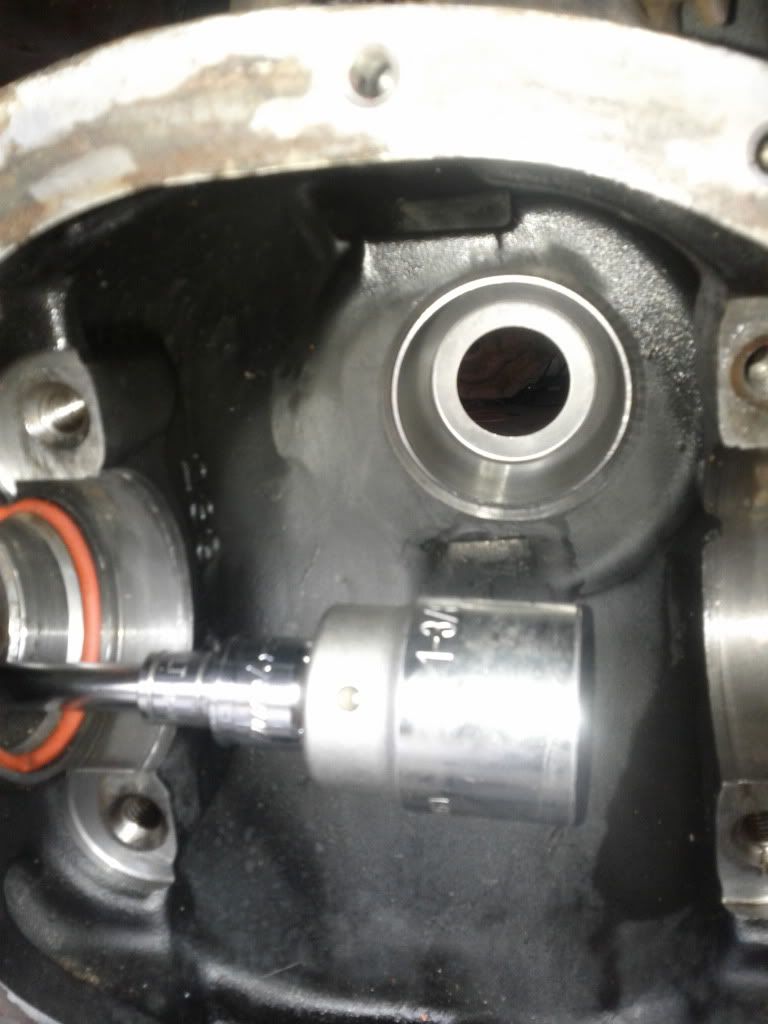 Races In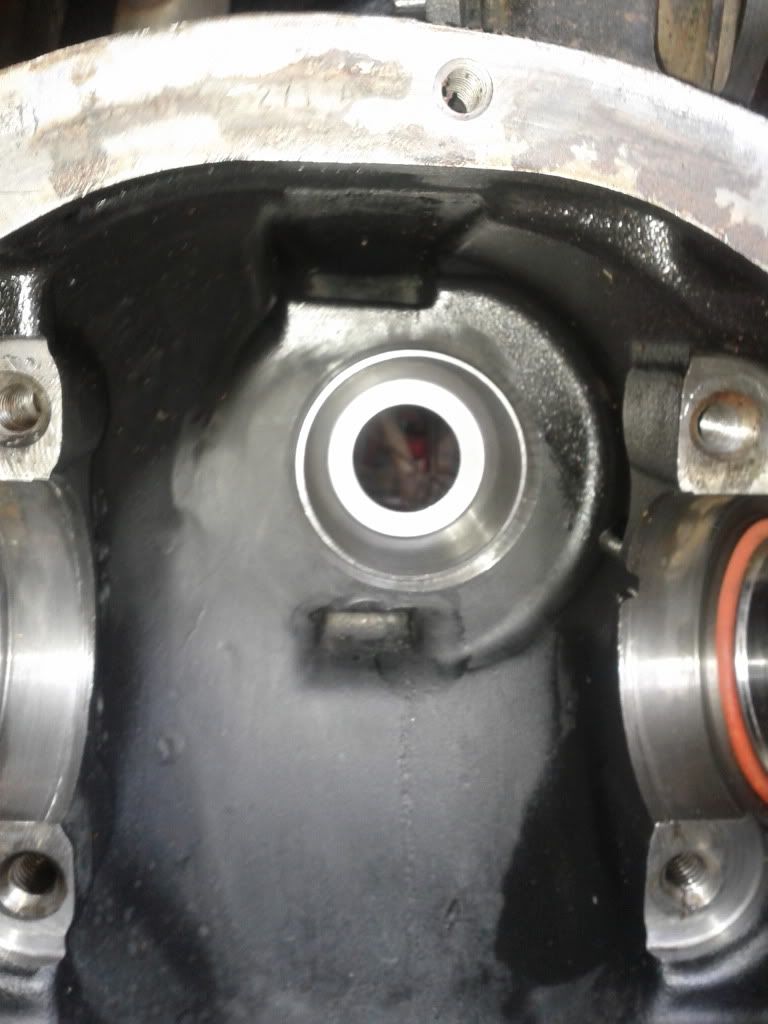 Carrier in
And new wheels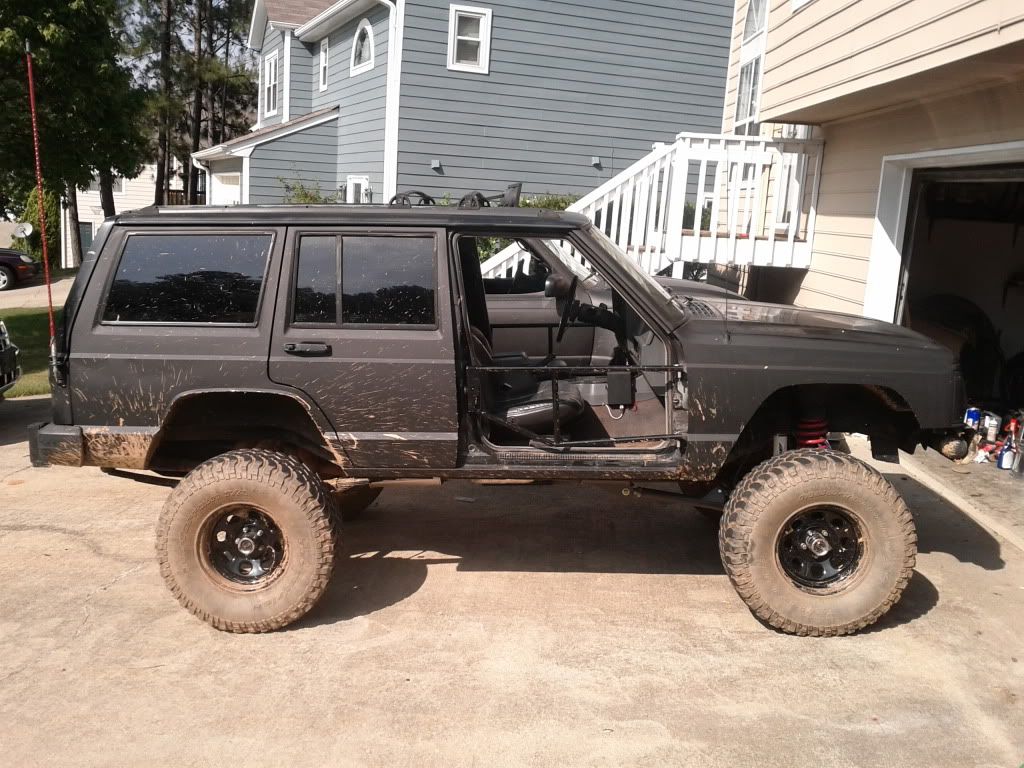 Ok so we are coming along. I move fast
Next is teh bumper and winch. But I am still waiting on the bumper parts and things.
And last night I painted the exterior with bedliner. My Rig looks nice and tough!

05-29-2011, 09:35 PM
Newbie
Join Date: May 2011
Posts: 28
Year: 91
Model: Cherokee
Engine: 4.0

---
The sad part is, people aren't honest about stuff like that...I just sold a 97 pickup and listed every issue that I could think of....the guy knew exactly what he bought and even called me a couple days later to say thanks...

05-29-2011, 10:10 PM
Member
Join Date: Apr 2011
Location: Duluth GA
Posts: 166
Year: 1994
Model: Cherokee
Engine: 4.0

---
The last picture is a close up of the paint job. And I honestly believe they did not know there were issues. They simply did not maintain the machine and I have paid the price. No worries. I got what I wanted and I get to build it the way I want it. And well if they knew and did it then to heck with them. They have some Truck charma coming, that or a lawsuit, lol

05-30-2011, 11:19 AM
Member
Join Date: Apr 2011
Location: Duluth GA
Posts: 166
Year: 1994
Model: Cherokee
Engine: 4.0

---
You are welcome. Looks like fro the signiture you got yours all put together too. If you ever wanna go out and get dirty let me know. I am always down. Or if you ever need a hand, I am always willing to help.
So I thought I would take a picture of the wiring harness for the intake valve sensors, coolant sensor, and NO2 sensor that was fried to the head.
I mentioned this above. I was trouble shooting the temperature gauge not working and when tracing the wires I cam across all the wires fused together and melted to the head. So in the spirit of just getter done I fashioned me some good ol ingenuity. There are three pictures. THe first is the rod bracket I made to hold the harness away from the heads.
The second is the stock harness protector that failed and allowed the wires to melt. I cut it up and turned it to the side. Than zip tied it to my wire holder.
The third is just a lil bit bigger of the area shot.
I sat for hours with a razor blade, crimps, strippers, ships, tape, and patience as I one by one separated the 20 some odd wires and figured out which ones where blown out. I patched the bad ones, taped them and wrapped them.
I had to move the throttle cables, vacuum line, oil breather, and raditator hose, well not so much move but disconnect and move from below to above of the wiring. For now we are square. As soon as it cools down some I will make it pretty again. But it is functional.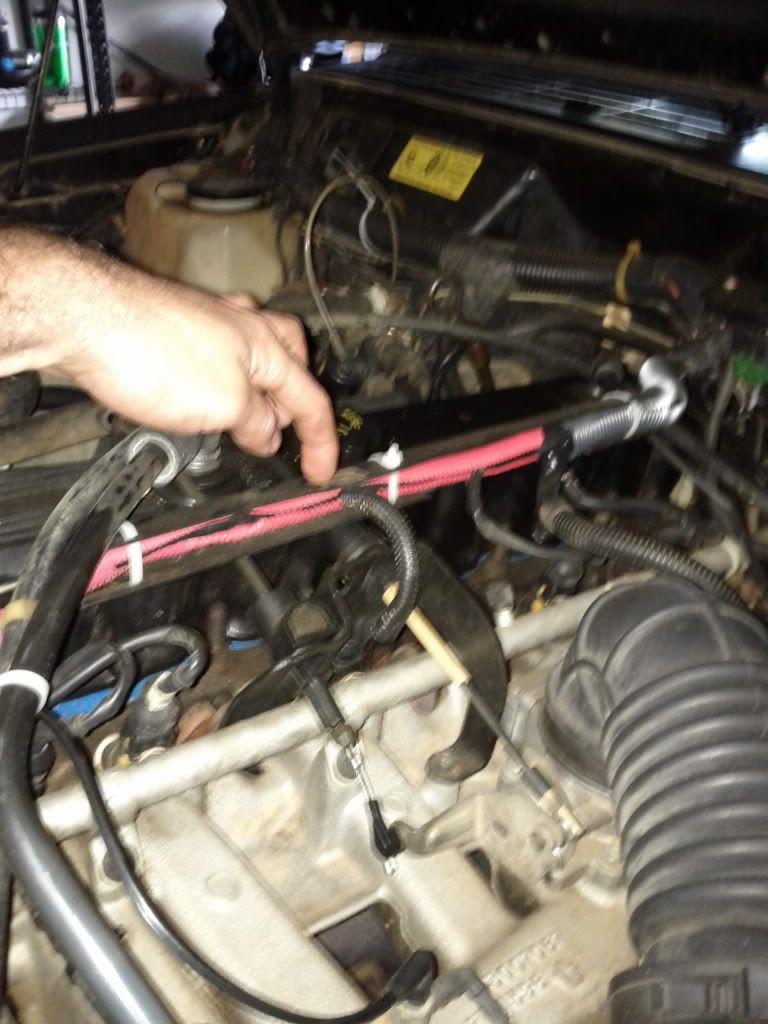 06-01-2011, 06:24 PM
Member
Join Date: Apr 2011
Location: Duluth GA
Posts: 166
Year: 1994
Model: Cherokee
Engine: 4.0

---
Alright so today I realized I am not going to be as good as some with build threads cause I getter dun and do not stop to take pictures. That said today I installe my bumper and winch. THe only picture I have of the progress is the finished one, lol.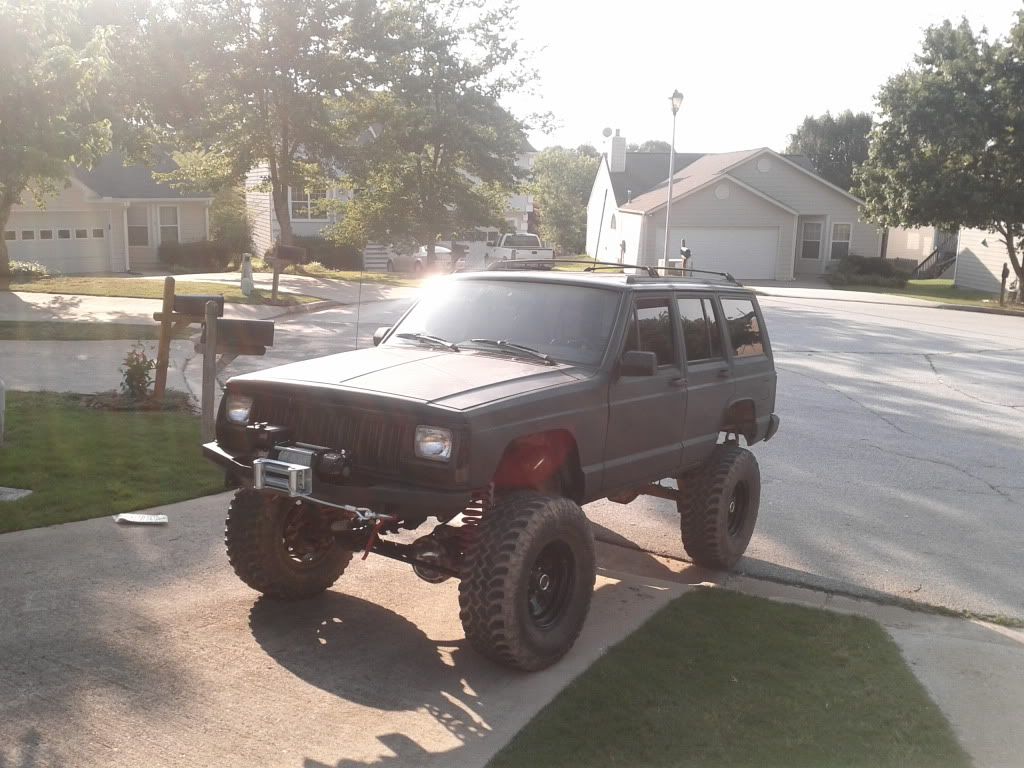 ---
Last edited by gaboy1911; 06-01-2011 at

08:00 PM

.