Black 2001 XJ - Makin' Whats Wrong Right

11-13-2012, 07:38 PM
CF Veteran
Join Date: Feb 2012
Location: Hamburg, NY
Posts: 1,258
Likes: 0
Received 0 Likes on 0 Posts
Year: 2001
Model: Cherokee

Black 2001 XJ - Makin' Whats Wrong Right
---
Ok, I'm already 2 years into this build. I have done quite a bit of the bolt on stuff and now it's time to take it to the next step. I'll post more pictures once I find my old camera that has some orignial pics of the XJ on it.
History:
This is my 5th Jeep (1-TJ, 1-ZJ, 1-WJ, & 2-XJ's including this one). My favorite (your gonna hate me was the WJ), but the price of the XJ's made me pick this one up.
Goal:
Buy the newest lowest mileage & least amount of rust XJ I could find. I live in Western New York (Buffalo) and the rust part Aint' so easy.
Purchase:
2001 Black XJ 4 Door from Erie PA, they use much less salt on the roads and when I crawled under it, the undercarriage "
Looks Real Nice Clark
". Low Miles 84,000, Price $5,900 at a Nissan Dealership. Purchase Price $5,000.00 Smokin Deal!? Well till I did some more research on my newly purchased XJ. What my XJ has is ABS (Crap), Dana 35 Rear Axle (Double Crap) & as I started tearing the truck down, yep a nice Rust Hole (Tripple Crap)!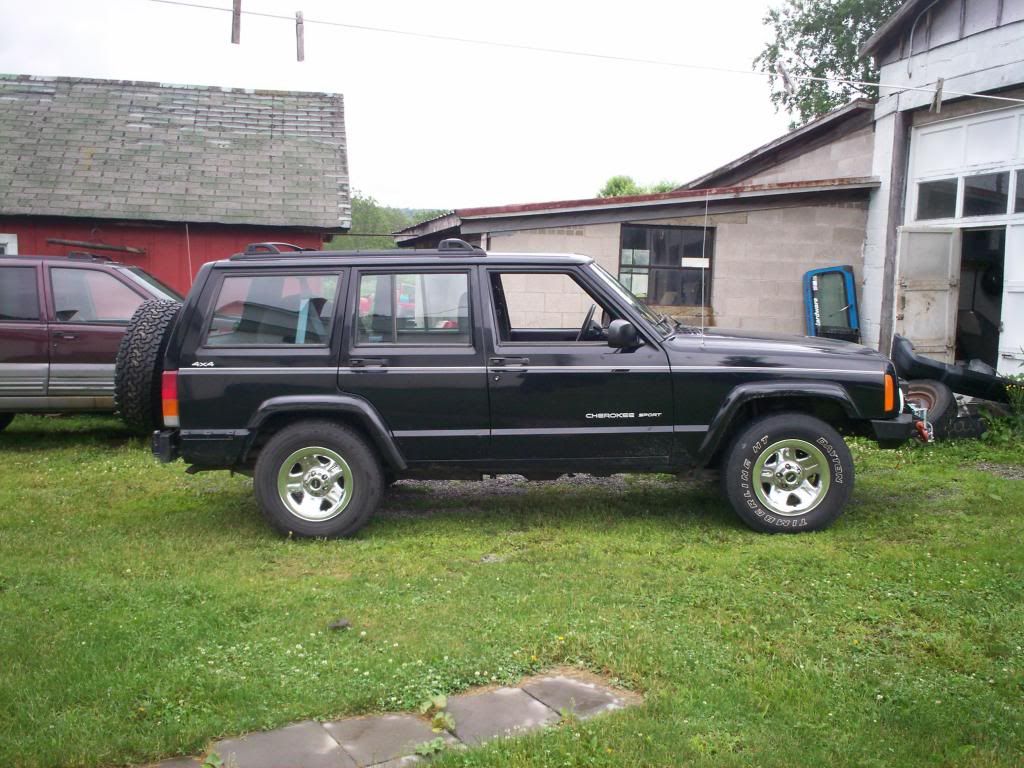 Done So Far:
Tomkin 4" Lift, Tera-Flex BB 1.75" lift, Worrier Products front winch bumper, Tomken rear bumper w/tire carrier, Superwinch 8,000lb winch, 33" 10.5/15 BFG A/T Tires (5), 15"x8" (3.70 Backspace) Alum rims (5), K&N air filter, Hella round driving lights, High Lift Jack, Rampage Headlights, SYE installed, Tillons D.S., Magnaflow Cat back exhaust & CB.
Next Step:
I've had a box with Bushwackers flat fender flairs in the garage for a year now. Purchased a High Pininon D30 a couple months ago (gotta rebuild), Just bought a Cry. 8.25 29 spline form a friend of mine (gotta rebuild). Fix Rust spot. That is where this starts. Gonna be a slow build for a couple months here but i'll have more photo's than words.
Here's how she sits now..
Rear:
Front:
Went wheelin' with my buddy a while ago, she does pretty good. Should have gone with the TSL's I orignially wanted, would have gotten better traction in the mud.
(Below) that's a swamp @ my property that I sank up to the doors
Goal for axles:
Clean & Rebuild, Regear to 4.56, new u-joints, calipers, disks/pads, truss, & lockers. Lockers, lockers, lockers, not sure what lockers to go with.... Spartin, Aussi, ARB, Eaton..... Any ideas? Cheap is always good!
Here is my D-30 HP, needs a lot of work, but gonna start on it in the next week or so. Cry-8.25 will also be worked on.
Misc. items:
Led exterior lights, measured up all lights & gonna have a freind work up some steel blanks and install lights. Front, front side, rear lights, Sliders, Wrap arounds for the rear bumpers, on board air....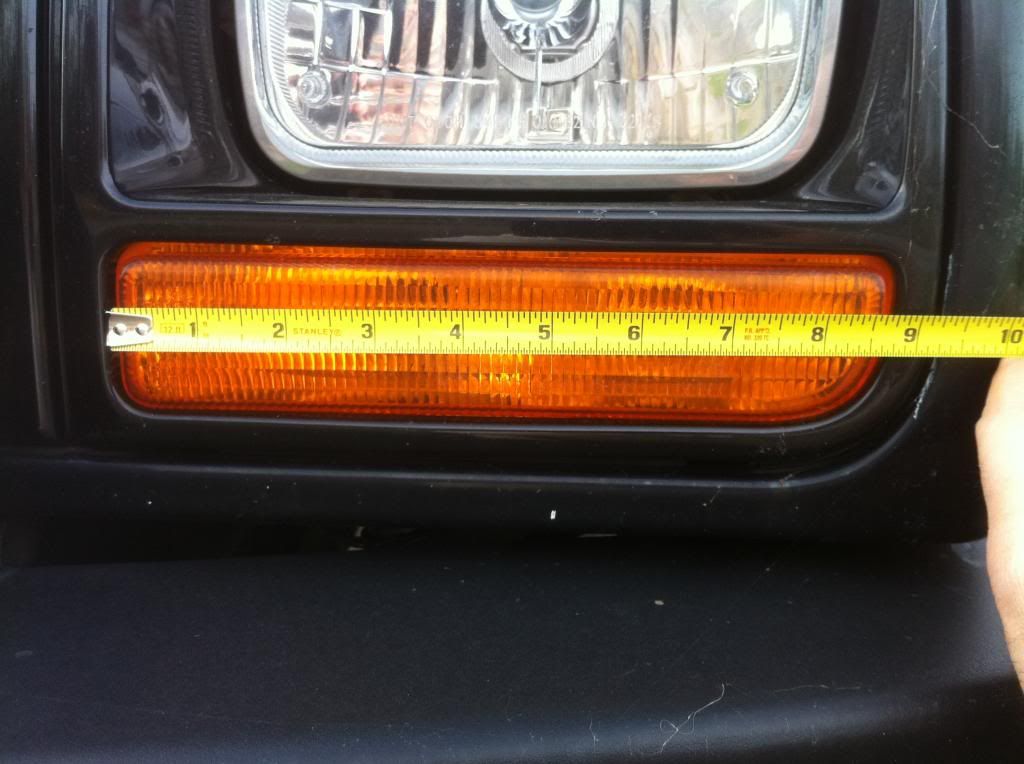 That's where i'm at now, I have been purchasing parts for the rebuild of the axles. Nothing worth talking about, just stock bolts, brake parts, etc...
I've been worried about doing the axle swap since i have the ABS in this Heep! PMed JerseyboyXJ & asked some questions about his C8.25 he did. Now I think i'm ready. Thanks JerseyboyXJ.
Any and all thoughts & ideas are welcome. Hope this is worth posting to everyone on here.
---
Last edited by caronaxtr; 09-16-2013 at

07:53 PM

.

11-14-2012, 01:09 PM
CF Veteran
Join Date: Feb 2012
Location: Hamburg, NY
Posts: 1,258
Likes: 0
Received 0 Likes on 0 Posts
Year: 2001
Model: Cherokee

New Rear Lights:
---
Got to work & dug up my drawing of what I want my rear lights to be. I'm gonna put a bunch of LED's in there & have them really
BRIGHT
! Too many idiots tailgate me for some reason?
I still have to double check all the dimensions but this is a start. Gonna paint the steel boxes Black. Next step is to work on the front blinker / marker lights.

12-09-2012, 02:13 PM
CF Veteran
Join Date: Feb 2012
Location: Hamburg, NY
Posts: 1,258
Likes: 0
Received 0 Likes on 0 Posts
Year: 2001
Model: Cherokee

---
OK, working on the whole fixin' what is wrong... Brought my D30HP to my friends house & I bought his Cry. 8.25 off him.
High Pinion Dana 30:
Before Tear Down:
After Tear Down:
Chrysler 8.25:
Before Tear Down:
After Tear Down:
All Went good except for one of the shock mounts when removing the bolts, the threads broke off... Not a big deal, if that is the worse i'll take it.
My friend thought that his XJ had a LSD (Limited Slip Differental), but wasn't sure..... Sure enough LSD.... That's great, i'll see how that helps on the off road vs putting a locker in the rear.
You can see the clutch plates in there, look close:
Now the D30, Living in Buffalo NY, OUR DOT salts the **** out of the roads, this axle is pretty seized up. And saying that, I'm planning on tearing them totally down & replace everything. This D30HP has the High pinion & the larger universal joints.
I purchased a Spartan for the D30 and recived it a couple days ago.
I'm interested to see what it'll be like to drive my XJ with this in the front. I did have a Lock Rite in the rear of my TJ a while ago & couldn't stand driving it. I pulled it out after a week of driving with it in.
Next Step:
I have to grind and clean both axles & prime/paint the axles. Buy Gears & Master Install kits, New Brakes.
Rear Brakes:
This is what I am planning for the rear:
I was planning on doing a WJ rear brake swap. Everthing in JY's around here is junk/rusted/seized & would cost me more to buy all new instead of just buying TeraFlexs' kit.
Front Brakes:
Gonna put all new slotted disks & new calipers in.
More to come......

12-09-2012, 02:29 PM

---
hell yeah. It's sweet how a few add-ons change the look in such a dramatic way.

I'm in the market for a rear tire carrier, how do you like the TOMKEN? Purchase price?

Nice work on the axles. If I had a garage, I'd be much more industrious.

Curious to see the LED tails. I covet them, but definitely not close to the top of the list.

12-10-2012, 07:12 AM
CF Veteran
Join Date: Feb 2012
Location: Hamburg, NY
Posts: 1,258
Likes: 0
Received 0 Likes on 0 Posts
Year: 2001
Model: Cherokee

---
---
Last edited by caronaxtr; 12-10-2012 at

07:30 AM

.

12-10-2012, 07:24 AM
CF Veteran
Join Date: Feb 2012
Location: Hamburg, NY
Posts: 1,258
Likes: 0
Received 0 Likes on 0 Posts
Year: 2001
Model: Cherokee

---
Ya, Here's my garage.....
The extent of my tools...
It's good to have friends that have lifts & all tools that are required to do this stuff... I give everyone credit here that installs lifts, axle swaps, etc in their garage with minimal tools......

12-12-2012, 09:36 AM
CF Veteran
Join Date: Feb 2012
Location: Hamburg, NY
Posts: 1,258
Likes: 0
Received 0 Likes on 0 Posts
Year: 2001
Model: Cherokee

---
Ok, slow at work today, had some time to put together my shopping list of parts for my front & rear axles. I'm trying to spread the $pending of ca$h over a couple months so I don't take a HUGE hit all in one month. Here's what I have come up with so far.
There is still some misc parts & tools that I have to pickup, but that is minimal compared to the above list. Wholly Crap
, it really adds up if you rebuild the axles & not just swap them in. My Goal is to have everything done & axles installed by the end of March. We'll see how that works out for me....
Bonus so far., I just sold my old TJ rims for $50.00 on Craigs List. Selling old parts is huge.....
I love / loved those old TJ rims, reminded me of the Defender 90 rims....
Sooooo, I've already bought the Spartan for the D-30, now I am wondering if I should have spent even more money & picked up a E-Locker
for the front. Living just South of Buffalo, durning the winter months i'm almost always in 4wheel. So much snow on the roads & especially on the side streets i don't think the Spartan is the right locker for me..... Really don't want to spend that $700.00+ price tag for an E-Locker.
Though they are cheaper than those ARB's...
I'm not a hardcore Rock Crawler, I mostly trail ride, get into some mud, and some rocks....
Any thoughts, Ideas are welcome.


01-23-2013, 10:35 AM
CF Veteran
Join Date: Feb 2012
Location: Hamburg, NY
Posts: 1,258
Likes: 0
Received 0 Likes on 0 Posts
Year: 2001
Model: Cherokee

---
Ok, been layin low for a while & picking up some parts for my XJ. So far I got axle seals for my new-to-me front & rear axles:
For Front Axles:
For Rear Axles:
Read through some other builds on here & decided to finally get some roll on liner for the roof of my XJ (Paint is cracking & looks like crap) & going to do my fenders when I finally install my Bushwackers.
Monstaliner sounded like the best to go with for me:
Also, since I'll be screwing around with taking my wheels off, I'll clean and paint my inner fenders & surounding areas with this:
Also, since I snaped the threads for the lower shock mounts off of my Crysler 8.25 when i was tearing it down, I decided to go with these:
I'm really wanting to get going on the axles, as I would like to have them in by early summer. I still need a TON of parts. Front rotors & pads, callipers, ring & pinions (front & rear), master install kits (front & rear), Teraflex rear disk conversion, front air locker (selling my Spartan now), and a lot of other miscellanous parts.
Since i'm waiting on buying parts, i'll be working on my fenders & installing my bushwackers in the next couple weeks. Also i'll grind down the axles and put a nice coat of Chassis saver on them......
Extremley slow progress right now... hope to pick up some momentum & get moving, seems like i'm always waiting on MONEY$$$$$

02-04-2013, 12:44 PM
CF Veteran
Join Date: Feb 2012
Location: Hamburg, NY
Posts: 1,258
Likes: 0
Received 0 Likes on 0 Posts
Year: 2001
Model: Cherokee

---
Ya, can't wait till I finally get all my parts in to start working on the Axles. Everything is just soooo expensive when you're talking about building/rebuilding axles….
Well, on Saturday, I decided to treat the XJ for a night indoors instead of sitting out in the freezing cold. My DD (VW Jetta) has been acting up so I thought I'd punish her & leave here out while the XJ stayed inside….
On Sunday, Iput some time aside so I could get some needed work done on the XJ. Got to my friends shop & had to do a little cleaning before I got the XJ inside & wormed up.
Once everything was cleaned up (enough to get the Jeep in) I brought her in & unloaded everything:
Pulled some measurements to see what the Stock fenders give you for room:
-
XJ, with Stock Fender Flares and 33" BFG's (+/-6"of lift)
Tore the old Stock fender flares off. Living in Buffalo, can't but plan on some bolts snappin' off. 2 bolts on either side broke, surprising enough, all the other ones came off without anissue..
-
XJ, No Fenders…
I really hate thinking (or doing for that matter) cutting anything on my rigs… Too afraid that I'll cut too much & have to live with a P.O.S. Used Painters tape so I could trace & layout my cuts. Good ol Sharpie comes in handy once again…
After marking & cutting, wheel well is really open up. I always had rubbing on the back of the wheel well. Guess it's safe to say I'll never have to worry about that anymore..
Still have to bend the tabs in….
Pulled the tape off, ground the rust off & sharp edges & used some Rustoleum Gloss Black for now.
Working on the Bushwackers, I'll be taking them off in the spring to Bedline the quarter panels, so I didn't pull the adhesive off the back side of the gaskets. Hope that works….
While I was there with Black paint, I decided to put a quick coat in the wheel wells. Got a little messy, I was in a hurry. Had a Super Bowl party to get going to….
To say the least….. All the cutting, grinding, etc was the easy part…. WTF, installing the actual fender flare to the inner sections is a Frickin' Pain. Nothing lined up…. At the end I got the fronts completed and fully installed. The only ISSUE I ran into, was when I cut the inner wheel wells, I cut WAY too much. Not a huge issue, just gotta go to the JY andgrab 2 new ones.
Final installation:
And to review……. Pay attention to this (it'll be on the final exam):
Stock FenderFlares:
No Fender Flares:
Bushwackers:
Things to STILL do…
-
Install the rear Bushwackers
-
Cut & fold (Patch) rear rust…. Have I shown you this yet
o
That's a Kick in the NUTZ. Bumperetts covered that right up. Really the only rust on the rig though…
-
Chop antenna (it's bent about ¾ of the way up)
-
Grind, clean, paint front axles, knuckles.
-
GET GOING ON THE AXLES…. Next big purchase is from HWK Haus – 4.56 gears (front & rear), Master installs (front &rear), Zip Air Licker for the D30, ARB Air compressor…… Then Hubs, Rear Teraflex disk brake conversion, and misc. items…
Oh ya,ordered up ½ of my LED's for my custom rear lights.
-
2ӯ РM5-HB

Red

for my brake lights (qty 3/side)
-
2ӯ РM5-HB Amber for my Blinkers (qty 3/side)
-
2ӯ РM5-HB White for my backup lights (qty / 2side)
-
2ӯ РM5

Red

for my running lights (qty 1/side)
o
HB stands for BRIGHT
Rememberthis is what I'm going for, hopefully it works out.
And if you are reading this (always wonder if anyone is) you'll notice that I already purchased a Spartan for the front D30, well Chumbucket here on CF saw I mentioned that I was looking to sell it & now it's gone (hope you got it okay)… That money is going tords my Youkon ZIP…. Can't wait..

02-04-2013, 01:54 PM
CF Veteran
Join Date: Feb 2012
Location: Buffalo, NY
Posts: 1,222
Likes: 0
Received 0 Likes on 0 Posts
Year: 2001
Model: Cherokee
Engine: 4.0

---
True story on the Buffalo rust lol I snapped every bolt on the mounting brackets for the stock flares. If you ever want help shoot me a pm and I'll lend a hand if I'm free.

02-08-2013, 07:01 AM
CF Veteran
Join Date: Feb 2012
Location: Hamburg, NY
Posts: 1,258
Likes: 0
Received 0 Likes on 0 Posts
Year: 2001
Model: Cherokee

Slowwwww Progress...
---
Got a package last night:
My LED's came in, I only ordered half of what I need so i could figure the correct configuration. The dimensions are a bit different than I had assumed.
The actual LED is 2"Ø, but with the rubber mounting grommet the OD of the complete light/grommet is 2-¾"Ø..
... So back to the drawing board, I mean AUTOCAD....
Soooo, now i have to refigure my layout and plan. More to come shortly, I hope to be picking up speed on my axle build/swap as I am starting to accumulate quite a parts pile in my garage.