94 Country 5-Speed

01-23-2010, 05:13 PM
Member
Join Date: Oct 2009
Location: Martinsburg,WV
Posts: 202
Year: 1994
Model: Cherokee
Engine: 4.0. H.O. 242 6-Shooter

94 Country 5-Speed
---
Alrighty i just got this like a month ago for 700$ bucks had 125k miles on it and needed a new alternator and serpentine belt to run,its a 5 speed aisin warner with dana 30 front dana 35 back 4.0. inline h.o. so far ive done the following...
-New alternator
-New serpentine Belt
-Oil and filter
-Air filter
-Fuel filter
-Spark Plugs
-New o2 Sensor
-Used 235s to pass inspection
-New sway bar links and bushings
-New rear wiper
Important Fix List...
-Center console compartment button fixed
-Passenger Mirror Bracket Fixed
-Passenger door hinges welded (will pretty much fall off when opened)
-Coolant resevoir thing fixed(leaks)
-My exhaust done, Hangers fixed and need to install my new super 44
-Front end problem needs fixed(shakes real bad, 55-60 is the worst
-Header needs welded
-Volt gauge on dash fixed(reads 18 or 19 all the time)
-Front end damage fixed(passenger side bumper and front quarter panel slightly bent.
Plans
-Installing my super 44 and fixing hangers
-New Header
-Better Intake
-4.5 RC lift
-31 or 32 tires(undecided)
-New Rims(undecided)
-2x MTX CVRs or CVXs
-19 lb 5.0. injecters or 4.6
-Offroad Lights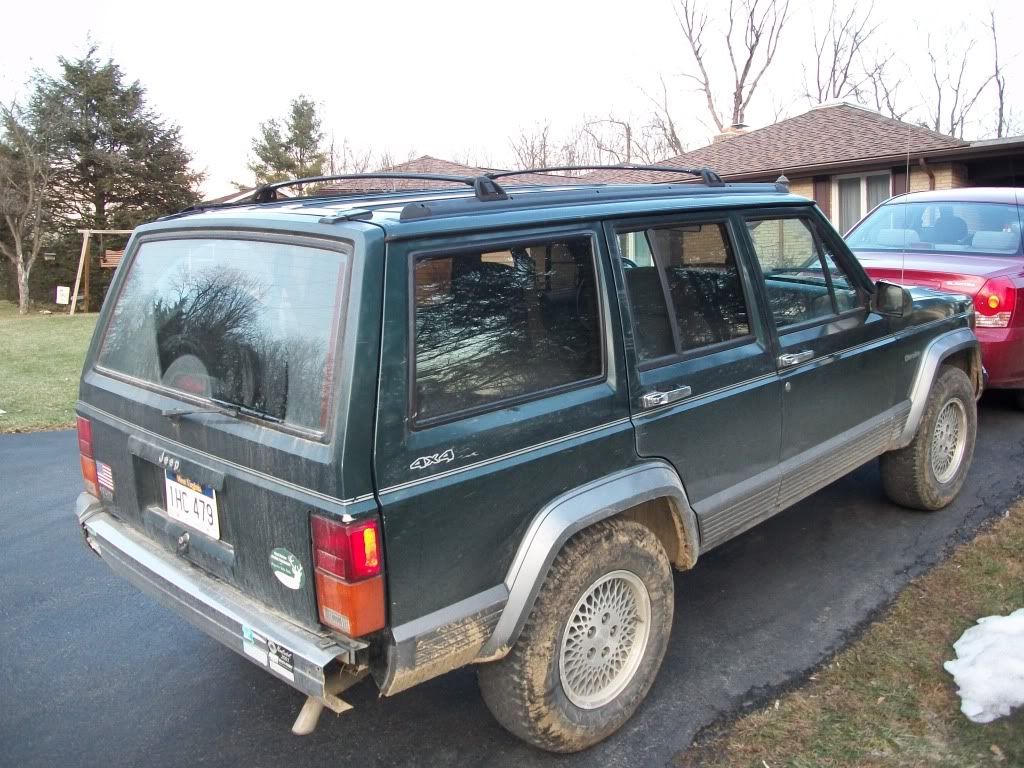 yippie skippie!
---
Last edited by BeepBeepImaJeep; 01-23-2010 at

05:16 PM

.

01-26-2010, 11:15 PM
CF Veteran
Join Date: Aug 2008
Location: Hollidaysburg, PA
Posts: 5,603
Year: 1990
Model: Cherokee
Engine: 4.0 lt. 242 cu.in.

---
Nice jeep. Congrats on the rims. With the 4.5" lift 31s might look a little small. Personally I would do 32s and if you are willing to trim the fenders 33s, but thats jmo. Your plans seem pretty sweet!

01-27-2010, 08:25 PM
Member
Join Date: Oct 2009
Location: Martinsburg,WV
Posts: 202
Year: 1994
Model: Cherokee
Engine: 4.0. H.O. 242 6-Shooter

---
yea thanks guys i love the 5 speed, im going with some aggresive tread 31s so i have good flex without trimming and so i dont have to regear, this is gonna be a DD, later on in the future id like to regear and do some trimming for 33's
Thread
Thread Starter
Forum
Replies
Last Post
Stock XJ Cherokee Tech. All XJ Non-modified/stock questions go here
Modified XJ Cherokee Tech
Modified XJ Cherokee Tech
Currently Active Users Viewing This Thread: 1
(0 members and 1 guests)