92 Desert Comanche

02-10-2019, 10:11 PM
Member

92 Desert Comanche
---
I grew up driving Jeep Cherokees, and my daily all through college was a budget rock crawler XJ. Ultimately the motor died from abuse at around 200k miles a few years ago. I got a reliable daily and the goal was to rebuild that Cherokee from the ground up…. until I spotted this Comanche on Craigslist.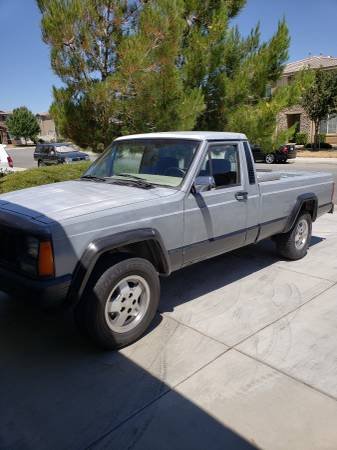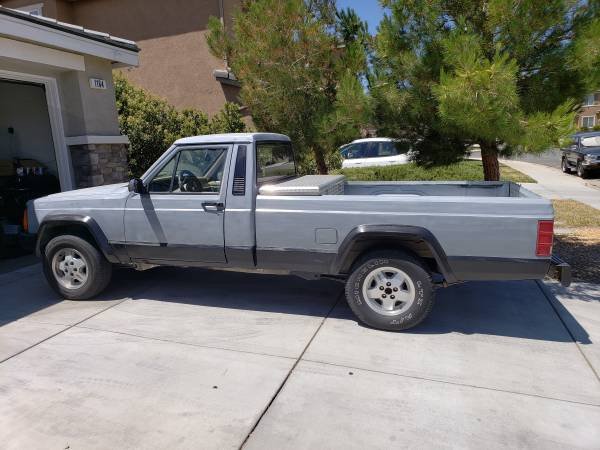 I've always wanted a Comanche, and after going to look at it in person I was sold. It's a 92 2WD long bed with the HO 4.0, and I have all the parts needed to convert it to 4WD.
The game plan was to drive this truck to KOH, which gave me 4 weekends since I don't store the truck at my place.
So I pulled the front axle, drivetrain, suspension, and any little piece I could use off my XJ. First job was to give the front axle some love. I purchased an Arctec truss with Currie Johnny Joints, Solid diff cover, Ten Series tube seals, ball joints, and started to replace everything.
I cleaned the axle down, propped the truss into place, and followed the instructions I got with the kit. The truss needed to be clamped down onto the axle on the backside as there was some gap between the truss and axle tube.
First I just tacked all touching parts to help prevent any warping.
Next I welded it on opposite sides for 1" intervals, and allowed it to cool for 15mins between welding the next spot.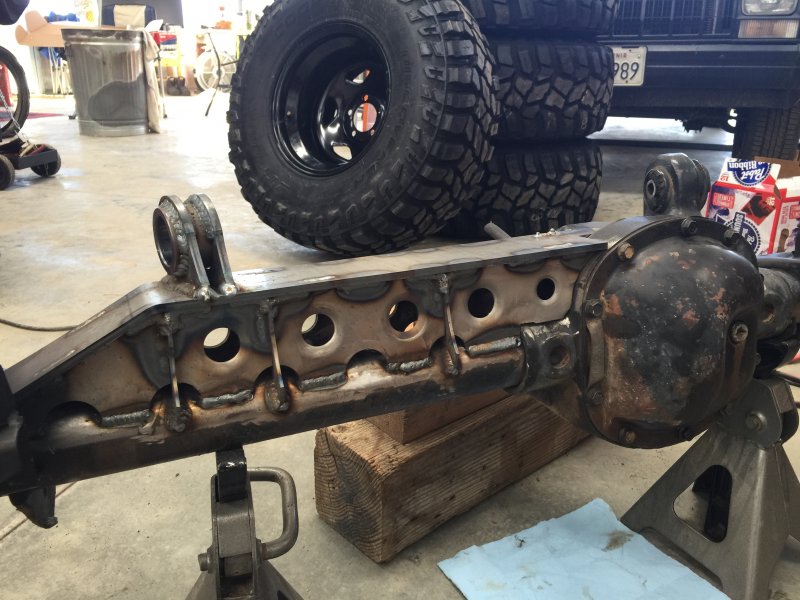 Once all the tubes and end were done it was time for the cast. I read a lot about this, and was a little nervous as this is my first major welding project. My buddy held a torch and heat sensor and warmed it up, but the air was so cold so we couldn't keep it above 200-250 without constant applied heat. (using MAPP gas)
So while it was sitting at 250ish, my friend would concentrate on one area until it hit 325, and when he moved to the next spot I would weld behind him, and I chased him around the axle. When we finished 2 people picked it up by the knuckles, and one person wrapped it in a welding blanket, and we let it sit overnight around 12 hours. (sorry lack of photos, it all happened so fast)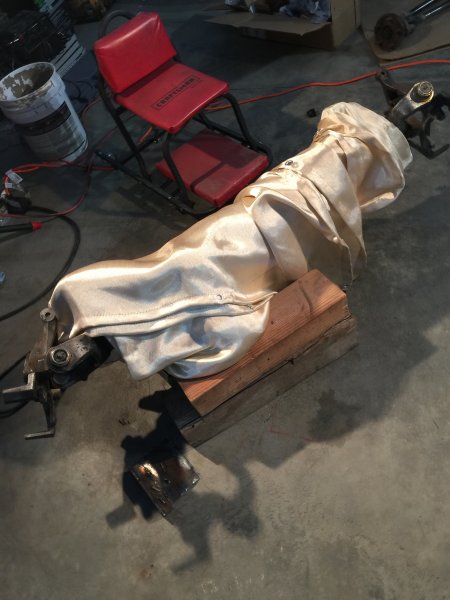 Next morning it all looked good to me, and seems strong!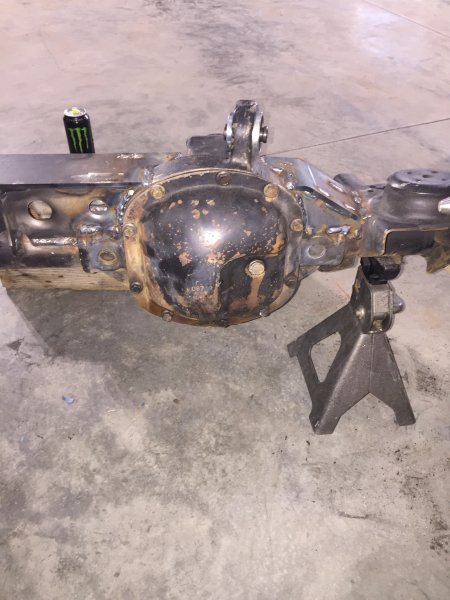 With that done and the axle assembled, it was time to start putting parts on!
The rear was pretty straight forward, new leaf springs and used a Dodge Dakota brake line. One thing that surprised me was the shock, I had Fox 2.0 shocks on my Jeep (for a 4.5" lift kit) and wasn't sure the rear shocks would fit after reading some posts. After measuring in the OEM shock mounts I have around 3.5" down and 4.5" up, and figure the leaf springs would settle with weight in the bed. I also lucked out on the leaf shackles, as the stock ones were too short. I had some aftermarket extended hangers from my old XJ and they worked out well. I'm hanging onto the stock springs for SOA down the road.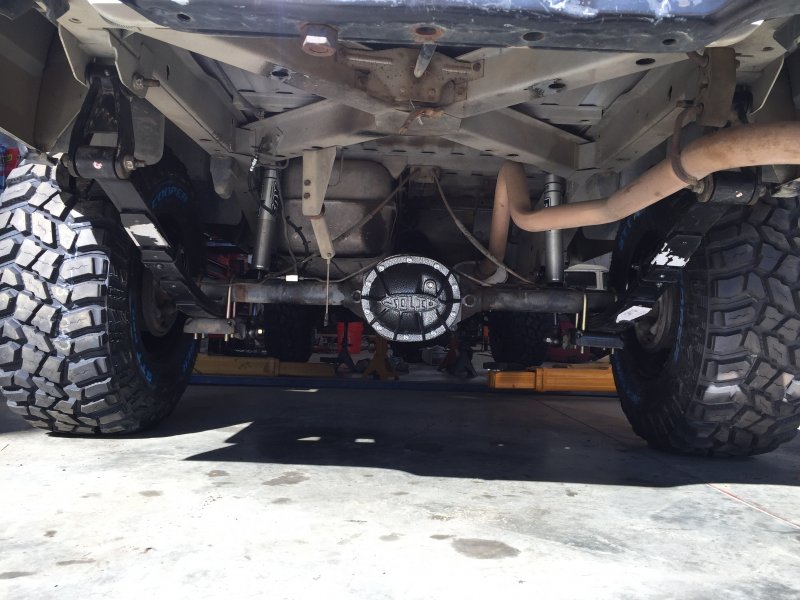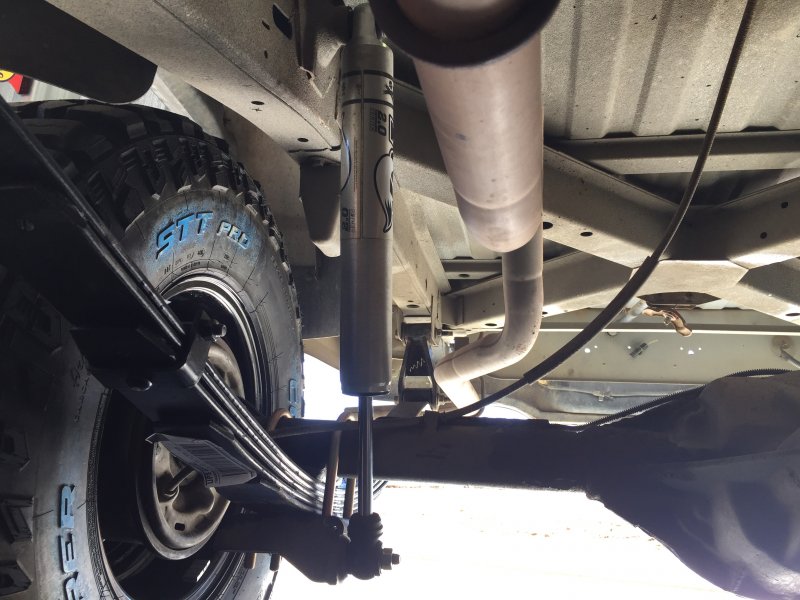 Originally I was planning on using my old steering linkages as I had the solid tie rod from a Grand Cherokee, but the tie rod ends were super worn out. I ordered some new steering parts with my ball joints, but I didn't check the steering parts when I got them and none of it fit together. I decided to pull the trigger on Ruff Stuff's Heim steering kit.
Link to steering build;
https://www.cherokeeforum.com/f58/ruff-stuff-7-8-heim-steering-249675/
As for the front end the whole thing came off, we just unbolted it from the body and rolled it out on the stock wheels. . From my old Jeep I had those Fox shocks, 4.5" rough country coil springs, and some generic extended lower control arms. We got the axle bolted in and the coils in place. I decided to change the lower shock mount because the pin bent the mounting area pretty bad. I welded on a square plate with shock tabs, and gave it a little lean into the body. I also picked up some extended brake lines from Rough Country along with one of their HD Track Bars.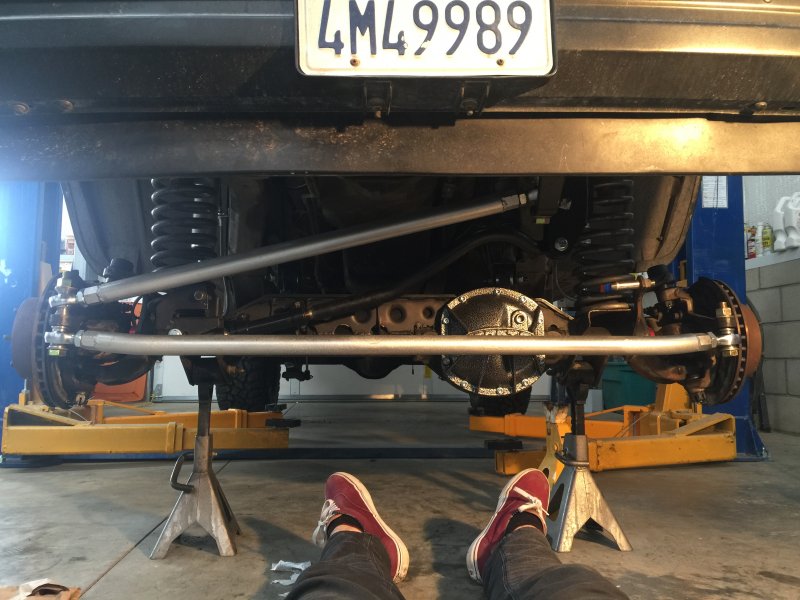 I plan on doing a lot of weekend highway driving in this thing to go wheeling and camping, so I chose to get some Cooper Discovery STT Pro's since I read they are not as loud as traditional mud terrains. I have about 350 miles on these tires now and they have been great so far.
I also took a chance and mounted them on Crager V5 15x10 rims. I've read some people saying you can't air down as far on 10" rims, and some people say they've never had a problem. I just liked the idea of a wider footprint and the look of a more filled out tire.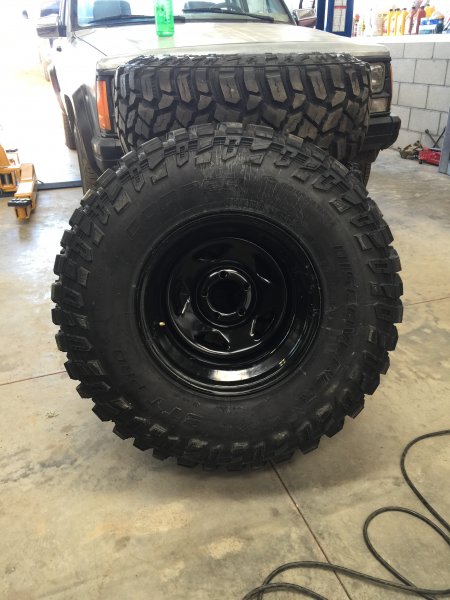 After putting the tires on it was time for some fender trimming.
The rear doesn't rub bad, but the front needed a lot cut.
Here is a guide how to trim and keep your stock front fender flare!
https://www.cherokeeforum.com/f58/relocated-front-fender-flares-249676/
After installing everything I put around 50-75 miles on the truck to find any other issues and then I hit the road!
I loaded up and drove 2 hours out to Johnson Valley for KOH.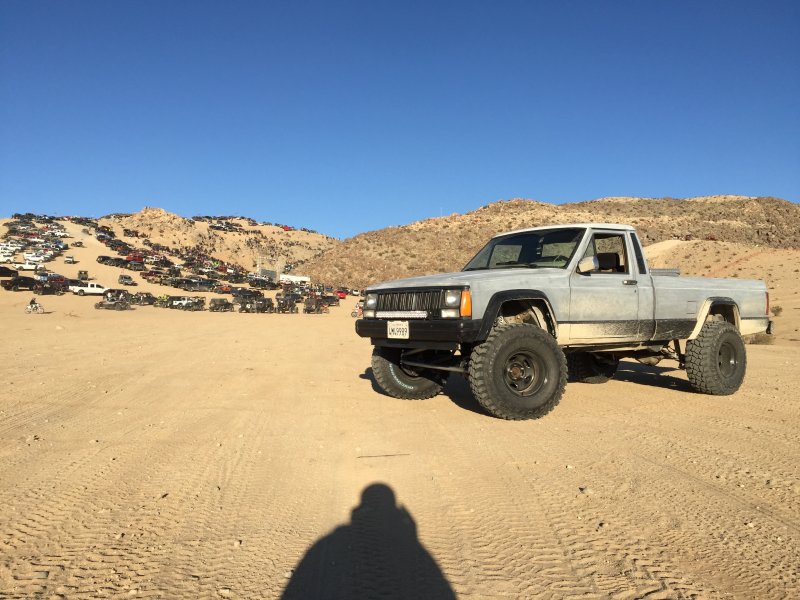 Although it was still only 2WD, I was stoked to get a lot done and put about 300 miles on the truck and see how everything was going to work.
This truck cruises 65-70mph on the highway with no issues, and felt great ripping around the desert all week.
I'll be doing the 4WD conversion early March and plan to document the swap as I go.
---
Last edited by DMiller77; 02-12-2019 at

05:15 PM

.

02-11-2019, 11:30 AM
Member

---

02-12-2019, 11:59 PM
Member

---

I'd also like to redo the interior (bench seat covers, gauge swap, new carpet, sounds system, air conditioning), I plan on driving a lot of highway miles so I want it to be reasonably comfortable.
I am trying to decide on 37s or 35s by end of year, I plan on redoing the suspension a little higher up with different components and axles.


02-13-2019, 11:06 AM
Member

---
The rear will likely get either get a Dana 44 or Ford 8.8, maybe a Dana 60 if I decide 37s.
I'll be keeping the Dana 30 upfront as well unless I do 37s, in that case I'll probably look for a HP Dana 44 front.
Ideally I'd like to do a custom SOA pack from Deaver, but I kept the stock leafs to do a bastard pack if funds get tight.
I think ultimately I'd like to end around 6.5"- 7" of lift.

Yesterday, 01:46 PM
Member

---
Got the motor and transmission from my old XJ separated finally.
It's an AW4 with an NP242, still waiting on some other parts to get here before I can start swapping it all in.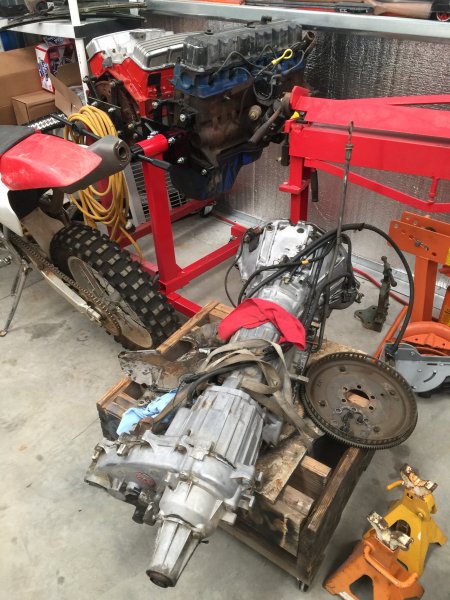 Thread
Thread Starter
Forum
Replies
Last Post
Stock XJ Cherokee Tech. All XJ Non-modified/stock questions go here
Currently Active Users Viewing This Thread: 1
(0 members and 1 guests)