*NEW* COS's Labor Day Outing 2012: (Tons of Pics)

09-11-2012, 09:35 PM

*NEW* COS's Labor Day Outing 2012: (Tons of Pics)
---
So, this trip we were wanting to try something new. Instead of a base camp that we had to drive back too every evening, we just camped out of the Jeeps. After doing this, this will be the way I do this trip from now on!
Jeep loaded, and ready to go. Normally, I would look like a family of Gypsy's moving across country!! This is about 30% of the gear I would bring on a typical base camp situation! Don't judge....I like comfort!! LOL!!
Normally, there would be a ton of gear on the roof rack.....this was much nicer, and kinder to the wallet, as far as gas mileage was concerned!!
Heading south on HWY 115, towards Penrose:
HWY 50, overlooking the Arkansas River valley:
A shot of the Arkansas River between Cotopaxi and Canon City:
Summit of Monarch Pass:
Blue Mesa Reservoir....or at least what's left of it! We need a good snow pack this winter, or we are in for a horrible summer next year!!
Starting up Engineer Pass from Lake City:
---
Last edited by COSXJFAN; 09-21-2012 at

01:51 PM

.

09-11-2012, 09:42 PM

2
---
More shots along the way up Engineer Pass:
We camped right below this cabin. There are literally tons of old structures up in this area of Colorado!
Home for the night!
This creek was 10' from our tents...NICE!!
So we thought....until going to bed. Then I realized....this damned creek is LOUD!! It wasn't as much a babbling brook, but more of a roaring river....at least that's what it sounded like from my tent!! Oh well....more whiskey!!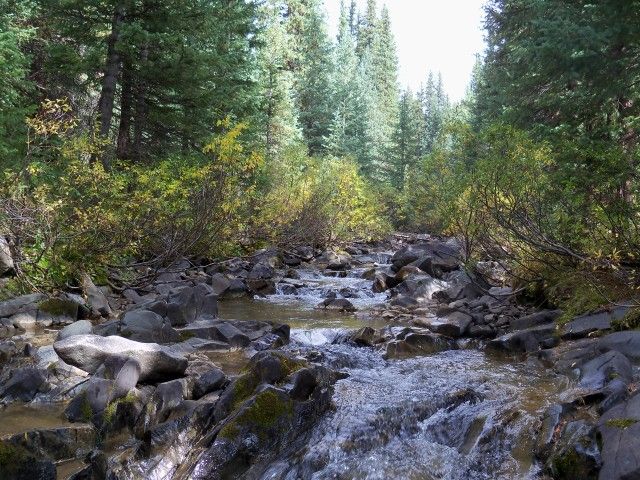 Getting packed up, and ready to go the next morning!
More shots on our way over Engineer Pass: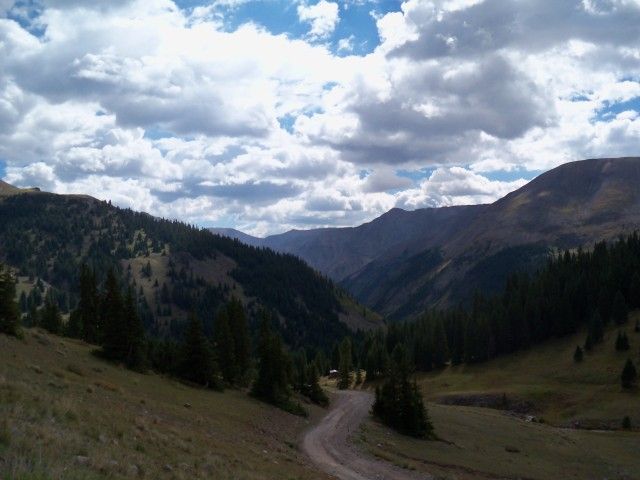 ---
Last edited by COSXJFAN; 09-21-2012 at

01:34 PM

.

09-12-2012, 06:33 AM

3
---
No need for words....WOW!!
Panoramic shot from the 1st summit of Engineer Pass:
My XJ in it's natural habitat....LOL!!
Engineer Pass Summit...the views from atop these high mountain passes are AMAZING!!
---
Last edited by COSXJFAN; 09-21-2012 at

10:18 AM

.

09-12-2012, 06:47 AM

5
---
On the west side of Engineer, near Ouray. These deer got so close....I could have hunted them with a sharp stick!! There were 4 does, and 2 fawns in this group, but I didn't
see
any bucks....this one was the brave one of the group I suppose....or the stupid one....that can be a fine line at times!! LOL!!
We did the Poughkeepsie Gulch trail...but took no pictures during the run. There were only 2 of us, and between winching (for someone else), driving, and potential thunderstorms...there wasn't time, or desire! This is not a trail to run in the wet, so we kept moving!!
Here is a link to a trail description, for anyone that is interested...
http://www.traildamage.com/trails/index.php?id=77
Greg making his way out from Poughkeepsie:
Lake Como, at the top end of Poughkeepsie Gulch....yes, the water is that blue!!
What was the name of this summit again....? LOL, I think you can guess it, if you try real hard!
A shot of the route we were taking down California Pass. For some reason I feel like I'm on top of the world up here!!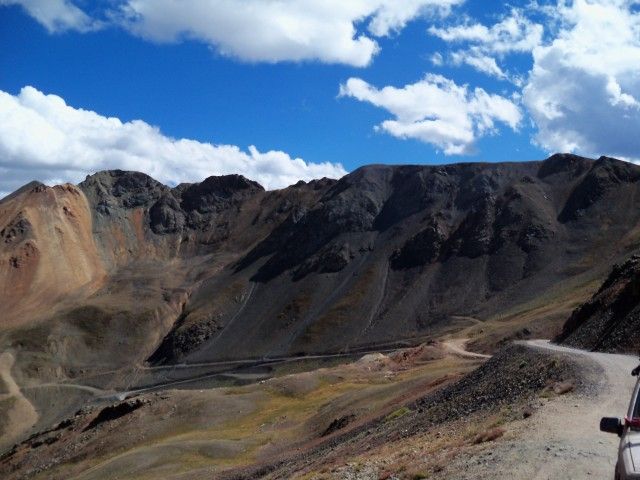 ---
Last edited by COSXJFAN; 09-21-2012 at

01:36 PM

.

09-12-2012, 11:54 AM

6
---
A shot of Lake Como from the top of California Pass:
There were boilers like this one all over the place up here!!
Looking back on the east side of California Pass:
Cinnamon Pass in the distance....and that's where we are headed!
Like I said, there were old structures everywhere!!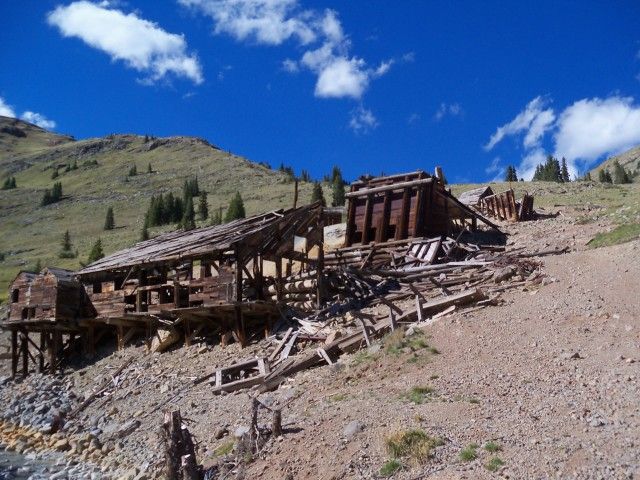 ---
Last edited by COSXJFAN; 09-21-2012 at

01:38 PM

.

09-12-2012, 11:58 AM

7
---
Summit of Cinnamon Pass:
Looking westward from the summit:
Looking eastward from the summit:
A rental Jeep JK making it's way down the west side of the pass:
There used to be road that went up into this upper bowl area, but it has been closed....oh well, plenty of roads up here to check out!!
More old mining structure:
American Basin....I really want to check it out, but we were toast, and running low on daylight, so we opted to head on down Cinnamon Pass a bit, and find a campsite. I want to get back up here, and check this basin out....it looks stunning!!
Whew....camp is set up....now, to the whiskey!!
Home, sweet home!! Little did we know...we had reserved a room with a view!! LOL!!
---
Last edited by COSXJFAN; 09-21-2012 at

01:39 PM

.

09-12-2012, 12:01 PM

8
---
The views I was referring too:
We stayed at this camp site for 2 nights. We needed a chill day too, so this was it!!
Getting back on the road after 2 nights, and heading down the rest of the pass, into Lake City.
This is a shot back up the road, towards where we had camped:
Avalanche chute....stuff like this makes me realize how powerful they are!!
Lake San Cristobal....and the reason for the name
Lake
City:
---
Last edited by COSXJFAN; 09-21-2012 at

12:48 PM

.

09-12-2012, 12:04 PM

9
---
What a cool little mountain town!! Tons of nice houses around the lake, and the whole area, really. Real estate has to be heavy dollars here....I can't see it being a poor Jeeper's hometown....so onward...coveting other people's realities!! LOL!!
Obligatory ***** shot!!
So, we went on into Gunnison from Lake City. This is where my partner peeled off to head home. I wanted to get at least one more night under the stars, so I opted to stay, and go into the back side of Taylor Park from Gunny.
Throughout the trip, I had been hearing some discomfort coming from under the hood, but it sounded like the power steering pump, whining due to hot fluid, so I didn't pay it too much attention. As I pulled into Gunny, it became more audible....and I was able to tell it was the idler pulley bearing telling me good bye!! Hello NAPA parts lady....please have my part!! :fingerscrossed:
They did, so I bought it, and went on about my business. I thought, no biggie, I'll swap it out
if
it goes out.....
Well, well, well....imagine that!! So there I was...in the middle of nowhere...kinda, with this little issue!! LOL!! I had already convinced myself that this would be a 15 minute fix....TOPS!!
WRONG!!
Note to self....make a lacing diagram DUMMY!! Since I didn't have one, it took a little over an hour to figure out how the damned thing went!! I would have bet the house I had whooped it on at least 2 occasions...NOT....DOH!!
So, can you guys see the problem?? LOL!! FYI....these things are hot as poo when this happens....ask me how I know!! LOL!! This little issue makes me think I need to have an idler pulley in my spare parts! I would hate for one to fail back when I was truly in the middle of frackin nowhere!!
Back to the trip....here are a bunch of shots of a mining camp, and a mine up in Taylor Park, off of Lily Pond Road:
Where's Waldo??
---
Last edited by COSXJFAN; 09-21-2012 at

01:13 PM

.

09-12-2012, 12:07 PM

10
---
Anybody want to get your back country doo-doo on?? Here you go!! This was actually in completely useable shape....although I didn't need it at the time.
The mine:
More buildings around the area:
I had never seen a hand hammered spike this size before. Seen some smaller, and some bigger, but none this size, so I had to take a picture of it! Pretty cool to think these guys built this place with handmade materials...not mass-produced stuff, like we use now.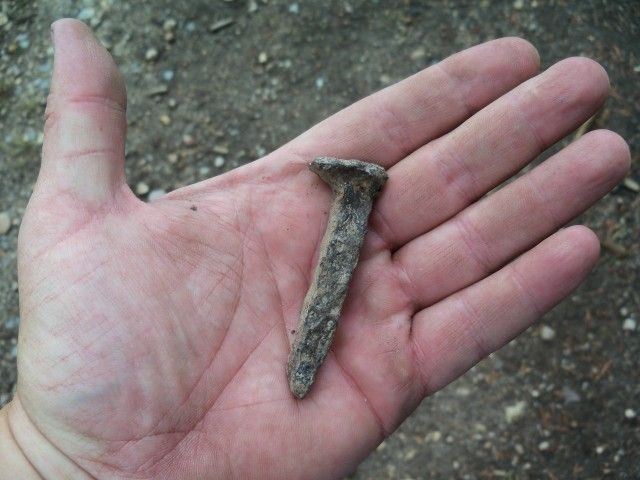 ---
Last edited by COSXJFAN; 09-21-2012 at

01:18 PM

.

09-12-2012, 12:27 PM

11
---
Home for the night:
What a great camp site!! This was the nicest site of the trip!!
The view from my living room....kinda ok, if you ask me!!:
We had great weather all week....until the last night, go figure!! It started raining shortly after I hit the rack, and rained pretty much all night. I got up the next morning to clouds, and a little rain, and thought I was ready to head home. I took a few shots of Lily Pond, and the Collegiate Peaks in the background. The pond is covered in lily pads....so it's more than just a clever name!! LOL!!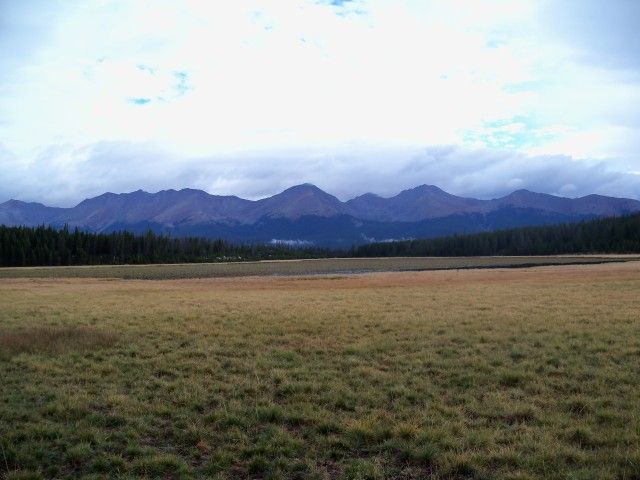 A shot eastward from the summit of Cottonwood Pass:
I have been over Cottonwood more times than I care to count, but I had never been to Cottonwood Lake on the east side of the pass, so I had to go check it out on the way home...pretty nice!! There is some single track access from this side that I was unaware of....I may have to get the dirt bike over here someday! Taylor is a great place to ride quality motorcycle single track trails!!
A shot of some mountains off of HWY 24 looking north. The valley leading up too it merits exploration on the ADV bike at some point. Too bad I have to work....I would make a great retired person!!
We had a great time, and can't wait for the next one!! I feel lucky to live in a state with such accessible beauty!! I hope you guys enjoy the report!!
---
Last edited by COSXJFAN; 09-21-2012 at

01:45 PM

.