Mount Rosa and Mount Baldy, Pike National Forest

07-12-2017, 11:04 AM
Seasoned Member
Join Date: Dec 2016
Location: Lawrence ****ing Kansas
Posts: 384
Year: 1997
Model: Cherokee
Engine: 4.0

Mount Rosa and Mount Baldy, Pike National Forest
---
Colorado or bust! That was my mantra while driving from Eastern Kansas to South Central Colorado - a 10 hour drive - to go off-roading in my new Jeep XJ Cherokee for the first time. Not only had I never been off-roading in the Jeep, I had never been off-roading in Colorado either! So it was about to be a whole new experience for me. However, I promised myself that I wasn't going to attempt any "rock crawling" on this trip due to the lack of skid plates and the true soft belly of the aluminum transfer case. And while I didn't have to break that promise on the Mount Rosa and Mount Baldy trails, I would eventually break it by the end of the trip!
We arrived in Colorado Springs around 6pm and headed strait for Old Stage Road. Where Old Stage Road meets with Gold Camp Road, we tried taking the sharp right turn to go to the tunnels I read about, but the road was immediately blocked off by a big metal gate. So we continued West down Gold Camp Road.
Here's a map that I put together of the roads in the area, including the "Gold Belt Byway". For the full size download of the map which looks great printed on 8.5x11 paper, you'll have to
download it from my website
.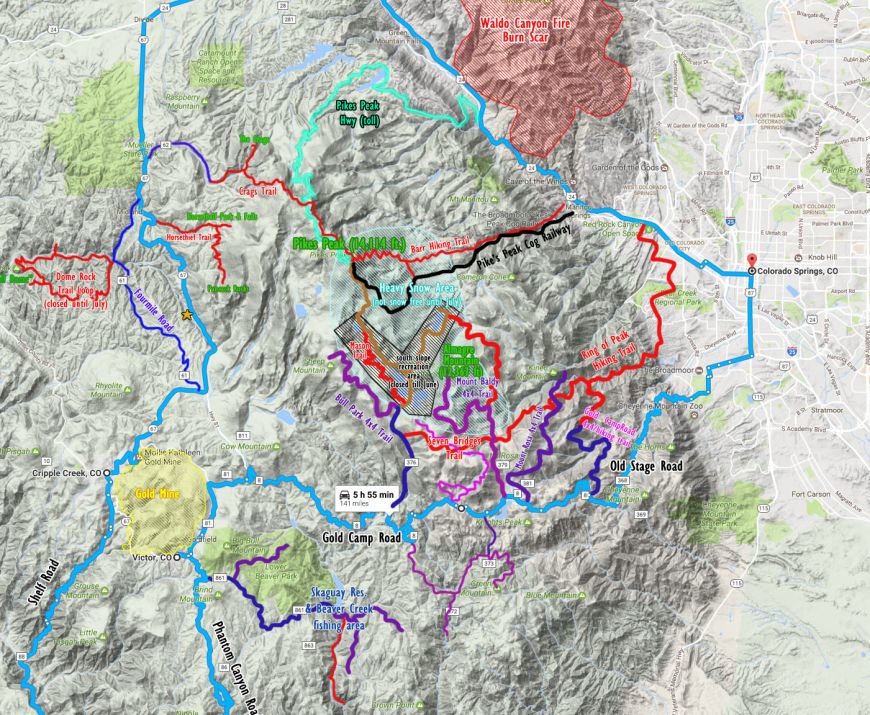 We found the right turn for the Mount Rosa trail and started driving up it as the sun was getting pretty low in the sky.
Mount Rosa 4x4 road was extremely pleasurable, smooth, and had great views to the East of Colorado Springs. We didn't need to air down, disconnect the sway bar, or anything like that. No water crossings, just had to not go to fast over the dips and mounds. A car would have a tough time not bottoming out on some of the bigger mounds to go over, but I'm sure many smaller cars have made it to the top by carefully traversing over the mounds in a diagonal fashion. We spotted a Subaru Forrester having no problems at all, and a newer Toyota 4runner having way too much fun by going fast and bouncing around.
We found a great camp site about half way up the trail. When we woke up in the morning, we noticed millions of bullet casings and spent shotgun shells everywhere!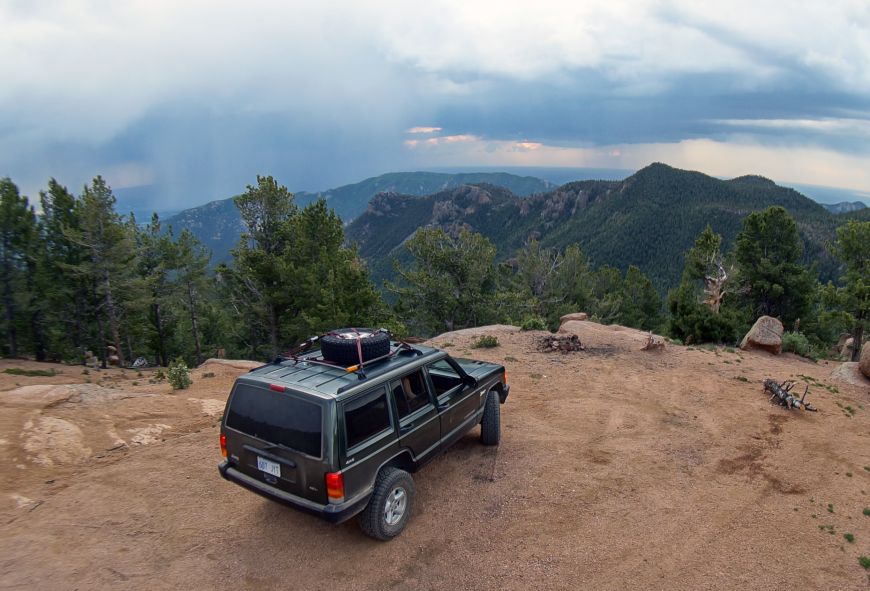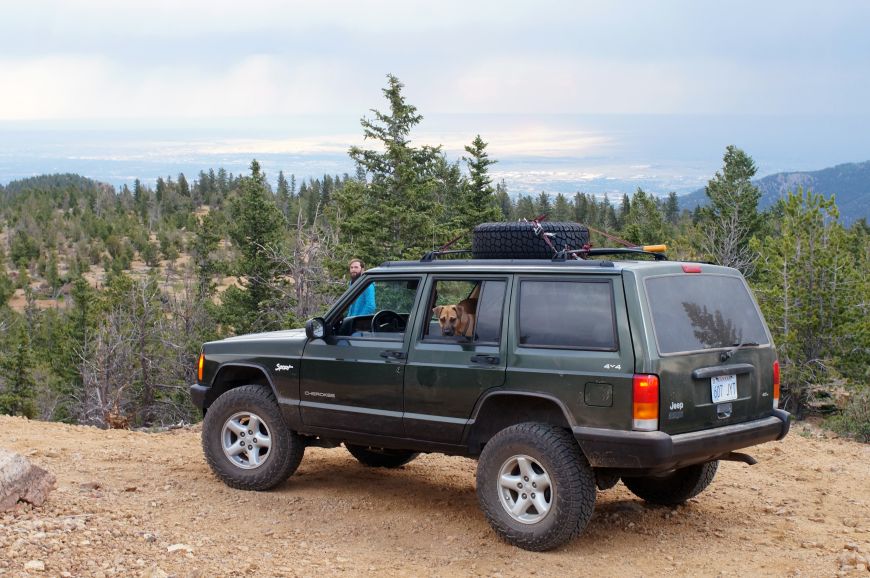 The next day, we drove back down to Gold Camp Road and went a little further West until we found the Mount Baldy Trail.
After a short distance up the trail, we decided to pull over and disconnect the sway bar and let some air out of the tires. It made quite the difference!
The Mount Baldy road was a bit steeper, had some bigger rocks and a few tricky sections - a great trail for a first timer like myself - but was still fairly smooth and benefited from the awesome terrain that I would describe as crumbled granite which makes amazingly smooth 4x4 roads yet poor hiking trails for my poor pouch's paws.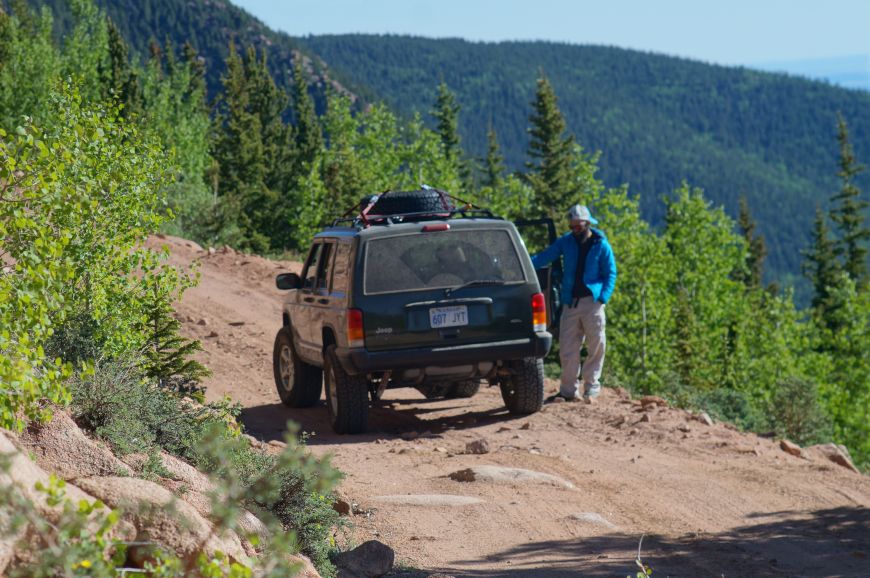 Towards the top of the trail, the last mile or so, it became very narrow and with very few places to turn around or pass another Jeep coming the other way. Not knowing if it got much steeper and technical without any ability to turn around, we decided to park the Jeep at a good wide spot and hike the rest of the way to the top. There was two Jeep Wranglers at the top and I'm certain that we wouldn't have run into any problems had we gone the full distance, but I felt like I was backing myself into a corner (remember, this is my first time off-roading!) and I wanted to get out and do some hiking anyways.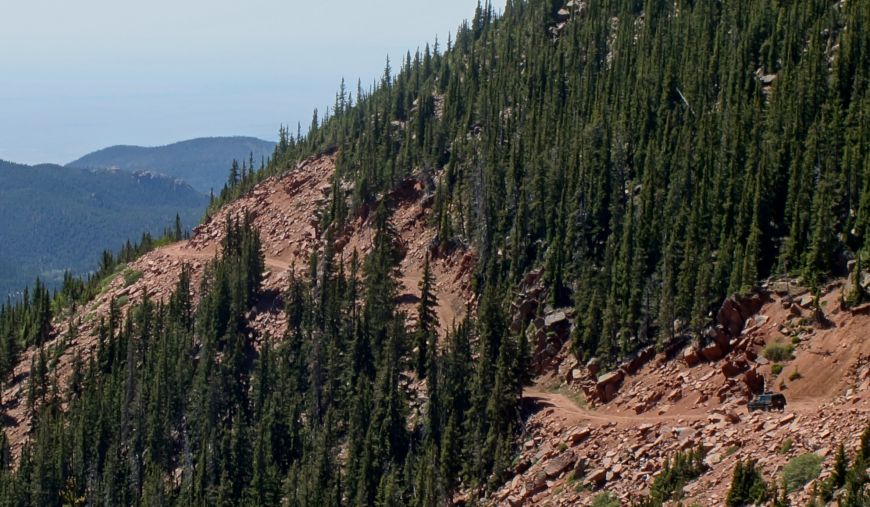 The views at the top of Almagre Mountain (Mount Baldy) was worth it.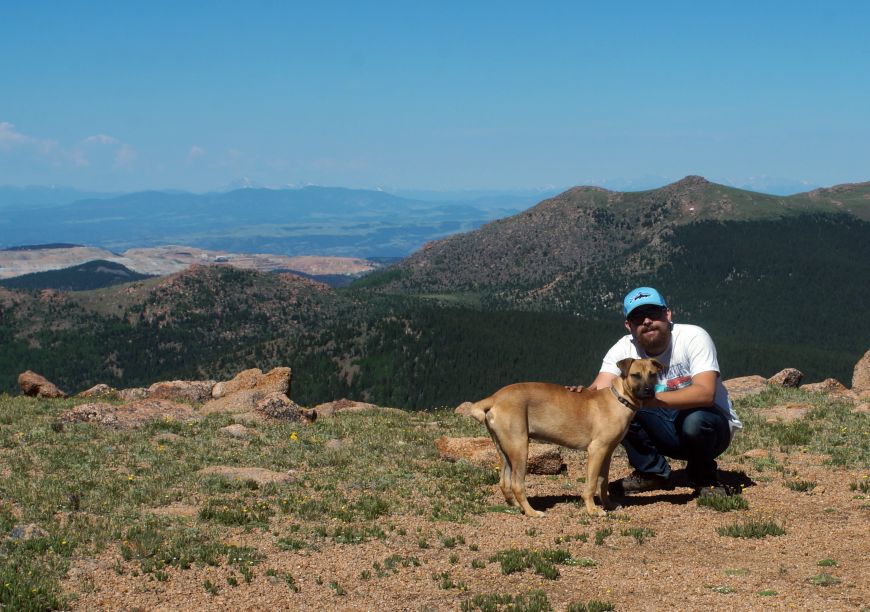 After driving back down and leaving the Mount Baldy trail, I felt like an accomplished off-roader! That feeling was soon challenged by our next trail, Medano Pass, but that's the beauty of our trip! It wasn't exactly planned that way, but each trail we went down was successively more difficult than the last.